How to Pick Art for Your Walls
How to pick art for your walls is in partnership with Minted, all opinions are my own.
Thank you for all the kind feedback on my niece's living room makeover last week! I am so glad that you guys (and my niece) all loved it! Today I want to talk about how to pick art for your walls, using her living room as an example. I've had friends tell me that they really get stuck when it comes time to pick art for their homes so I'm hoping this helps some of you too!
For my niece's house, I chose artwork and throw pillows from Minted*. I love working with Minted for the endless options in customization they offer. They really make it easy to pull a room together with accessories.
I spent hours on the site playing with different configurations. With just one click, you can "try on" different frames for your photos. My niece loved the Melody in White art print, so I started with that, experimenting with it in different frames.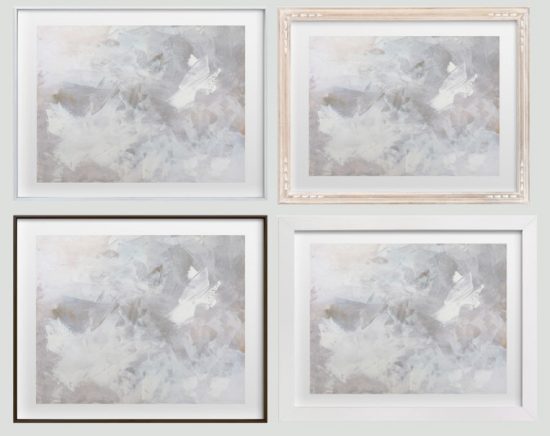 We went back and forth when deciding whether to use blue art and accessories or pink and gray. After talking about it together we realized we were both leaning slightly toward the pink and gray so we went with that. I put together another design board using the Melody in White print along with Randomness (my favorite) and Ethereal Marble.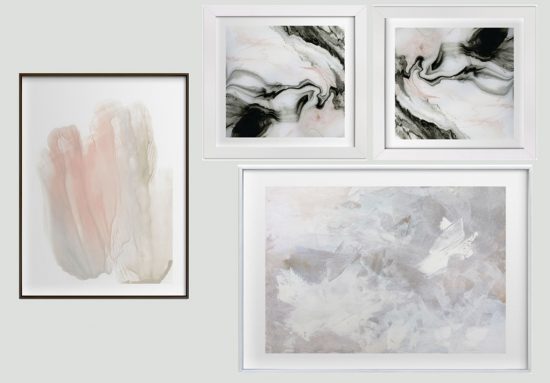 Once that was settled, the two of us started looking at matching pillows. Another reason I love minted for accessorizing is that you can find artwork, pillows, curtains and more all with the same color tones. I made another design board to audition different pillows with our chosen art.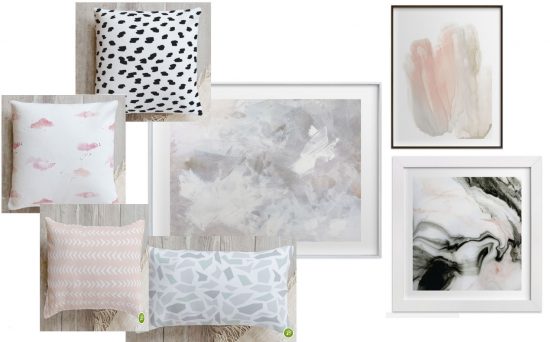 Dalmatian pillow/Cloud Pillow/Chevron pillow/Mosaic pillow/
Once you find a pillow pattern that you like, you can click to try it in different colors just like you can with the frames. All of the pillows are available in different sizes, including lumbar. The pillow covers come off, making it easy for washing as well.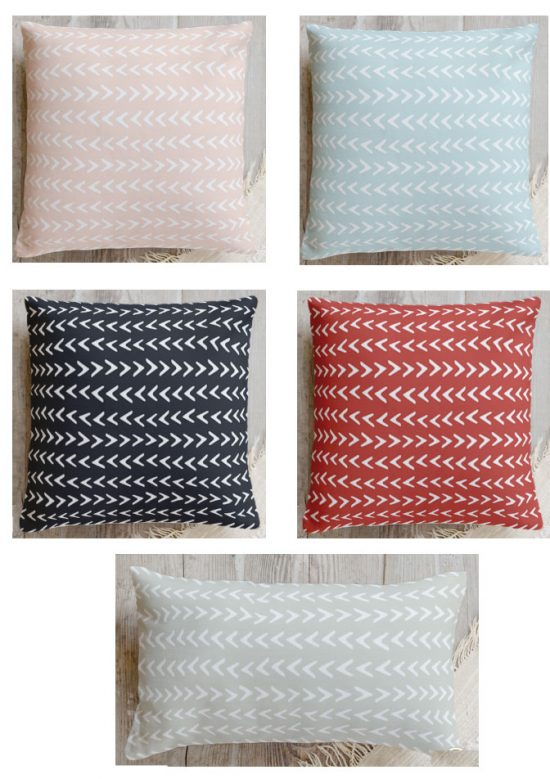 Now you know my resource for the art and accessories, here are some other things to keep in mind when you are looking to pick art for your home.
How to Pick Art
Scale
Where exactly you are hanging the art will determine what size art you need. The basic rule they teach in design school is the art should be the same shape as the area it will be hanging on. So a tall skinny wall would look best with a rectangular piece of artwork. For my nieces living room, I made a square grid with the art to best fit her wall. If I'm being really honest I think overall I should have gone a little bigger with this gallery but we were trying to stick to a budget.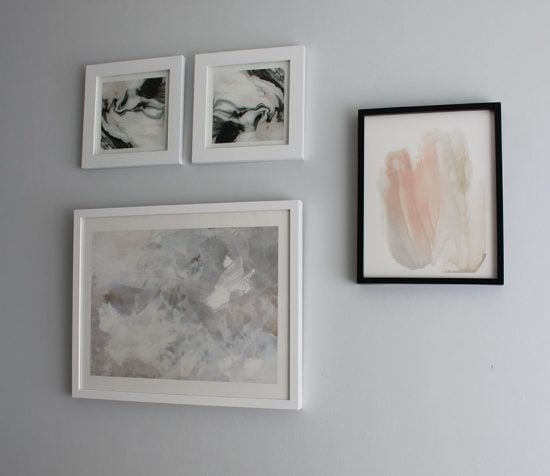 Subject Matter
This is really just personal preference, but the style of your home can help dictate what subject matter to look for when you pick art. My niece knows what she likes, and that is geometric and abstract type prints in both art and in any type of pattern, as in the pillows.
Colors 
For my niece's living room, we had picked the furnishings and wall paint first. As  I usually do, I kept these larger items neutral so the smaller things can easily be changed out seasonally or when you want a new look. However, sometimes I will choose the art first and base the entire color scheme of the room on that. Doing the latter is a great way to easily pull a room together with color.
Style
The frame is what will determine the style. More ornate type frames are better suited to formal spaces, while simple, rustic frames would be best for cottage style homes. I consider my niece's taste to be classic, so I went with basic black and white frames.
Overall, I was aiming for a timeless look for this room, nothing too trendy. I think this design will be relative for years to come, especially considering she can easily switch up the color scheme. I'm saving the blue artwork and pillows from Minted that we were looking at on my Pinterest boards for when she's ready. 🙂
*This post may contain affiliate links, you can read my full disclosure here.