Before and After Living Room Makeover With Bassett Furniture
We all love a good before and after, don't we? Although I haven't mentioned this, I've been working on another project over at my niece's house the last few weeks. You may remember we did a budget-friendly makeover of her kitchen last year.  I've now moved on to her living room. My niece is not a fan of the farmhouse style at all, so my challenge here was to keep all things rustic and chippy out of her living room makeover.
Here is a before photo of the what I was starting with.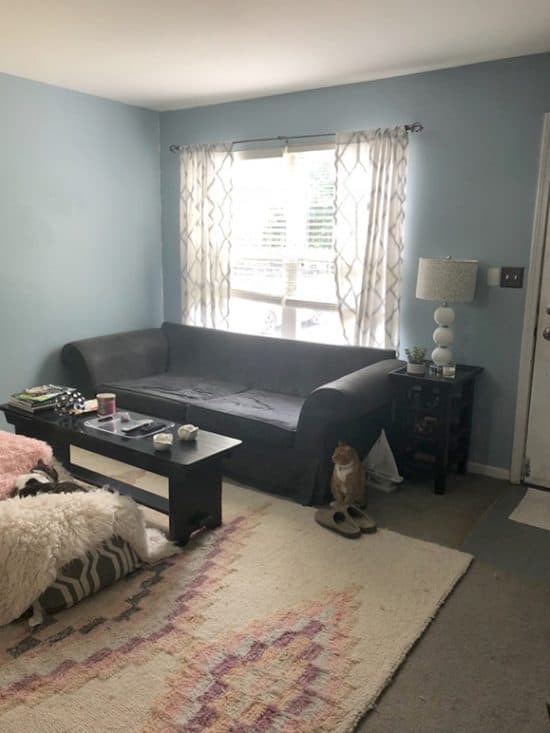 Her old sofa was really worn out. Other than the black bench which I really like, this room didn't have much going for it. Those windows are the only windows in the room. With the gray furniture and dark blue walls, it was looking very dark.
The first thing we did was lighten it up with paint. I recommended my niece repaint the walls with Sherwin Williams Rhinestone. We used that in her kitchen and I've used it in my daughter's room.  It's a very light gray but still contrasts nicely with white trim. We gave the front door a new coat of shiny white paint as well.
Next up was replacing the furniture,  I found the perfect sectional for her space at Bassett furniture. I was hoping she would agree to a slightly off-white color to further brighten the space. When I showed her the Gleason sectional she agreed with me that it would be perfect for her living room. As you can see, it's quite a dramatic before and after!
That is my niece's cat, Spanky Jones. He was all too happy to pose for some photos, he loves a good before and after too!
Though I did like the black bench she was using as a coffee table, it wasn't going to work with the sectional. I was envisioning a round cocktail table instead. When I saw the Chelsea Pier round cocktail table I knew that was the one.
We also picked out this Bella Chairside table. I was able to get that approved from my niece even though it has a hint of rustic charm with a slightly distressed finish. It fits the space so perfectly. My only regret on that is that we didn't get two of them!
It pairs so well with the sectional. I should mention the Gleason sectional can be customized to different configurations & sizes to best fit your space.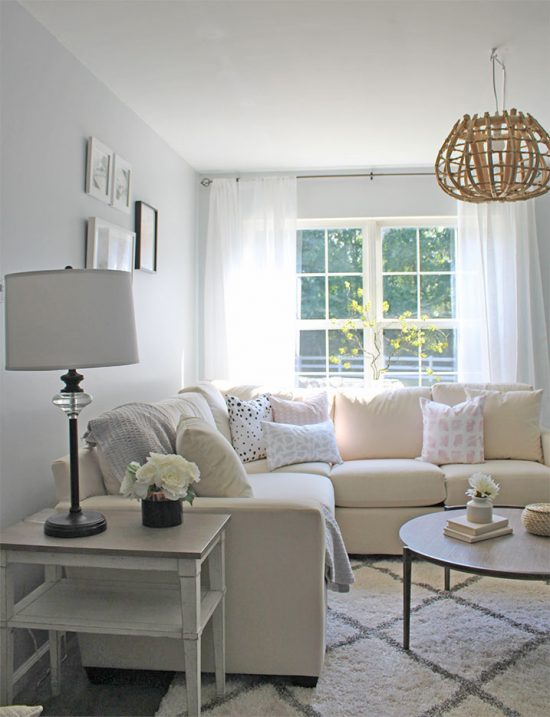 I also wanted to cover up some of the old carpets in the room because they were adding to the dark feel of the space before. My first choice was a floral area rug but my niece is not a fan of florals. She is more into geometric prints. She fell in love with this beautiful Roma area rug. That ended up being the right choice for her living room because it also helps brighten up the room considerably.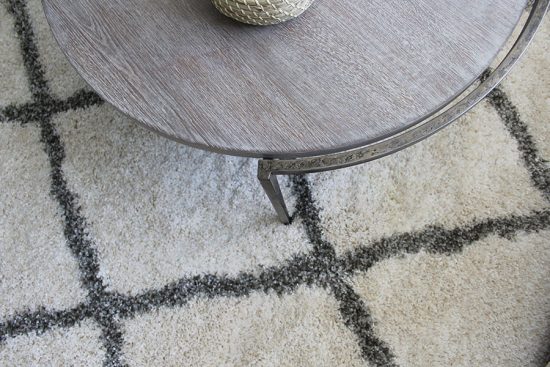 When we were planning accessories for the room we were back and forth between using pink and gray or shades of blues. We first picked these 2 pieces of art called Teal Horizons, these are no longer available at Bassett.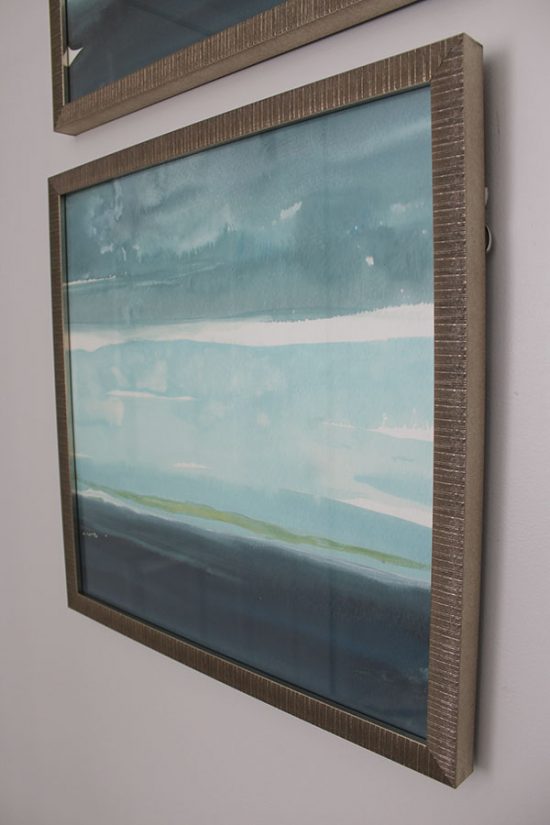 Shortly after we changed our minds and decided pink and gray would be a fun change. Especially considering there was so much blue in this room before. We did end up using the blue artwork on a side wall as well because we liked it so much.
The black lamp on the side table is also from Bassett furniture. This too, is no longer available.
Spanky Jones approves, he's looking forward to our next before and after which will eventually be my niece's dining room!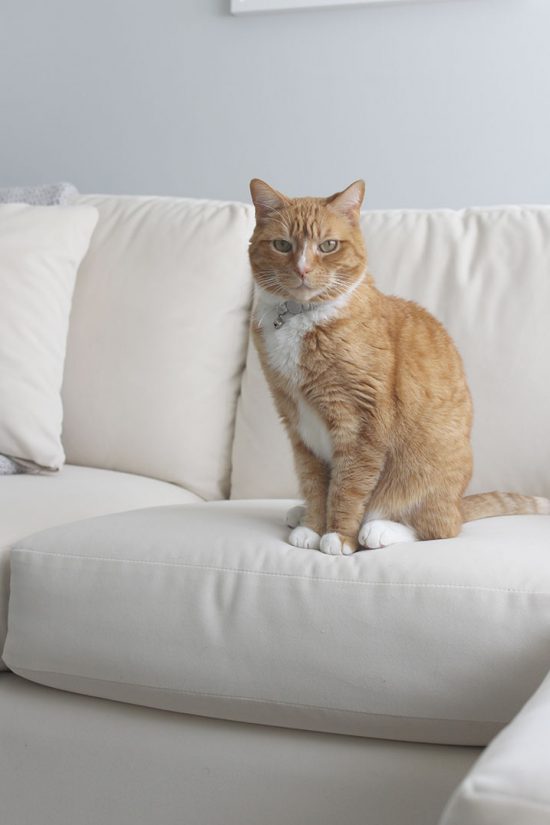 If designing a room yourself is something that intimidates you, Bassett furniture has professional designers on hand to help you with that!
Thanks to Bassett furniture for sponsoring this post, all opinions are 100% my own. You can read my full disclosure here.
Pin it for later: