Budget Ideas for Your Floors
New flooring can be a huge investment, but these budget flooring ideas can help you transform your home without breaking the bank!
Flooring is one of the biggest investments you can make in your home. It's also one that will pay off. Not only will it transform your home, but it's estimated to be one of the best investments for resale value.
However, if brand new hardwood floors aren't in your budget right now, there are lots of other options for you. With a little time and some creativity, you can have beautiful floors without breaking the bank!
Budget Vinyl Flooring
We installed vinyl flooring that looks like real hardwood in our daughter's bedroom. They look beautiful, are easy to maintain and cost only a fraction of the cost of real wood flooring. You can save even more money by doing them yourself. Installing vinyl floors is a relatively easy DIY project!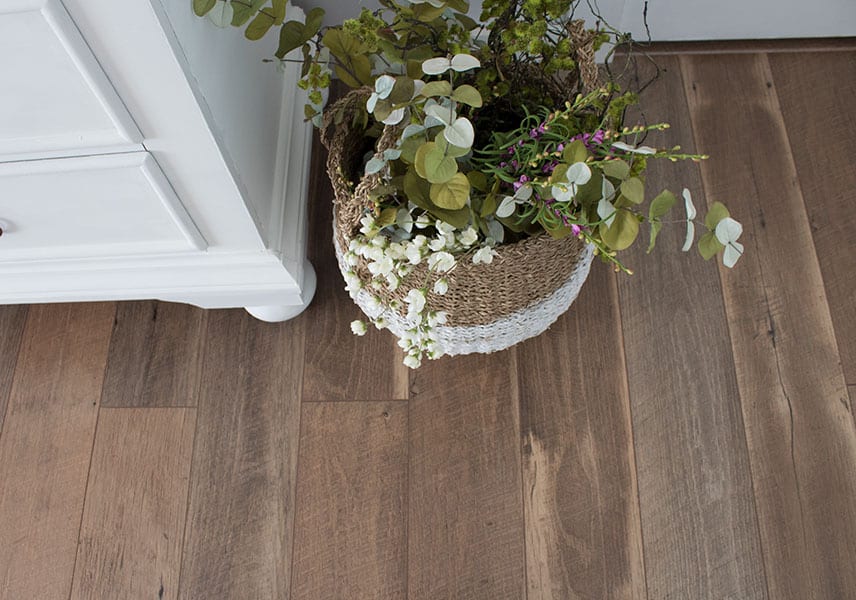 Stick-On Flooring
Over at Hazardous Design they used peel and stick tiles. This is a great way to get a whole new look on a budget!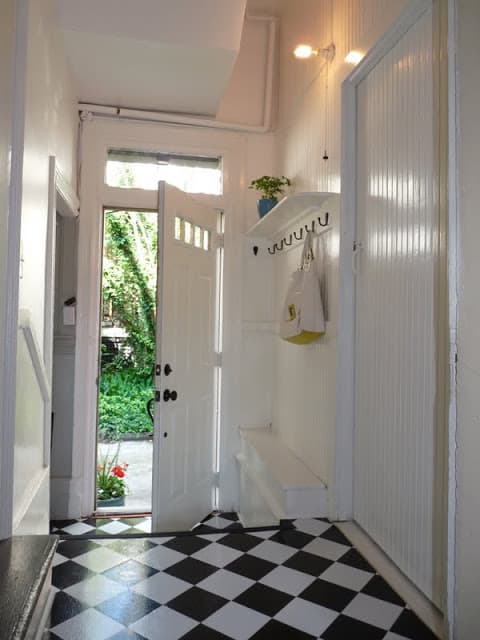 Similar to that idea are floor decals. They're even easier to install, all you need is a pair of scissors! I used these floor stickers in my bathroom, not only was it the easiest DIY ever, they really look amazing!
Ideas For Painted Floors
Painted stripes look as amazing as a runner. This look can be easily achieved with painters tape and a little bit of patience! The result would be well worth the effort!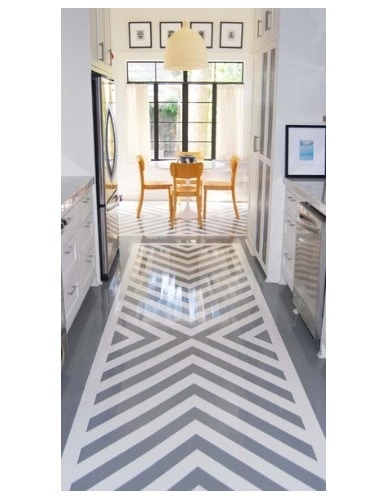 If refinishing your hardwood floors isn't an option, you could try painting subtle stripes on it as they did below. (Via PopSugar) Isn't that pretty?
Did you know that you can paint right over linoleum? I attempted this at my niece's house and we were both happy with the results. I got the look of patterned tile with a paint sprayer and a stencil!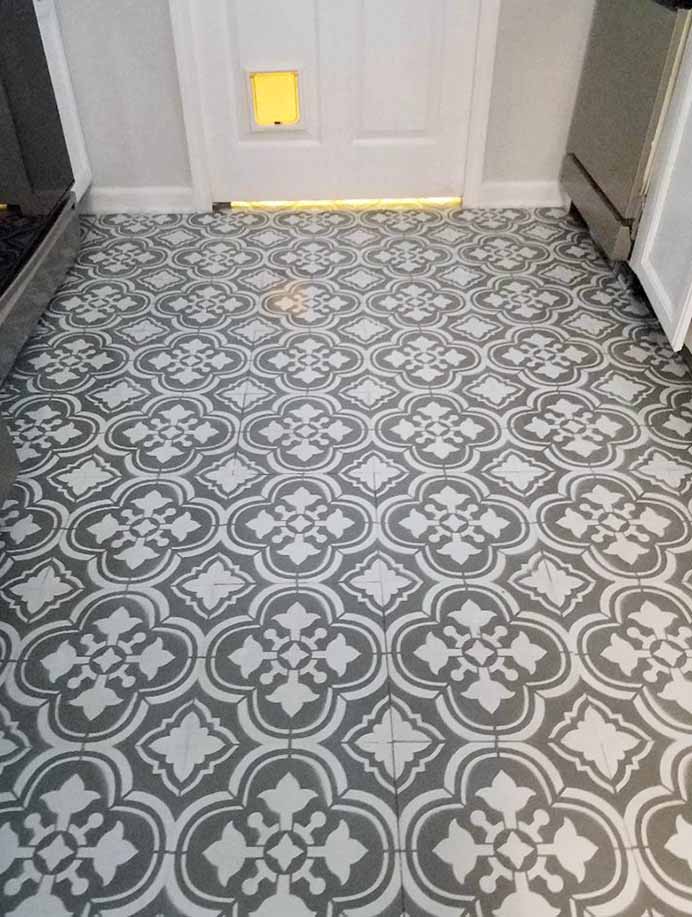 In fact, I liked that idea so much, I did it again when I was part of a design challenge in Minnesota about a year ago. Here is how that turned out. Not too bad, right?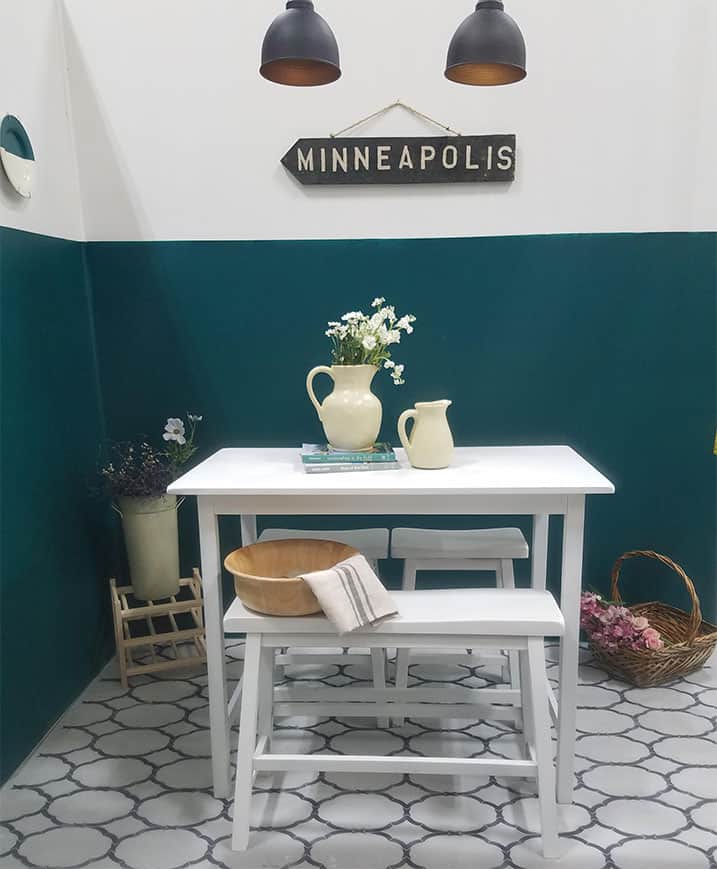 You can also paint right over your existing subfloors. This one was painted and stenciled with a beautiful design. (via Addicted to Decorating)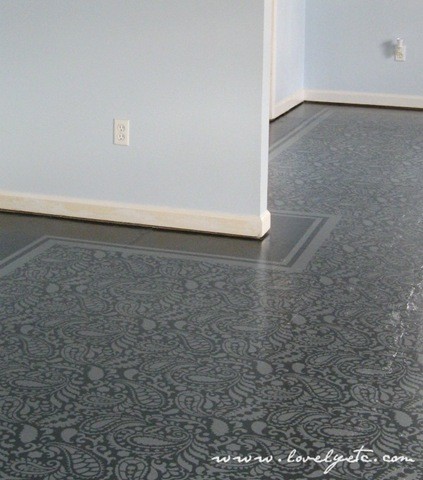 Environmentally Friendly Ideas
Landscape rocks set in concrete look very spa-like. This one shown looks like it's in a shower. It might not be very practical for a whole floor from a comfort standpoint, but it looks amazing. From the DIY network. For the price of a bag of concrete and some rocks, you can really make a design statement on a budget!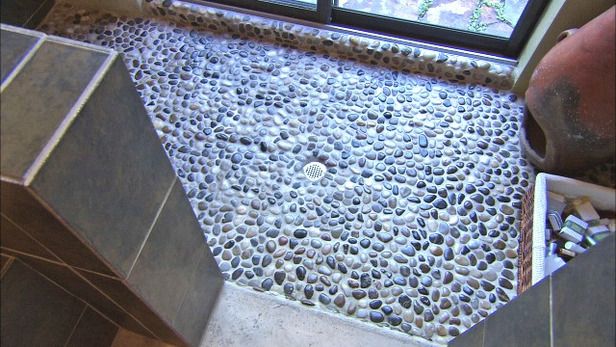 When it comes to budget flooring ideas, this one fits right in. Here they got really creative and used pennies! (via Wiki How) If you're interested in getting this look, I found an article on how to shine the pennies from E is for Explore.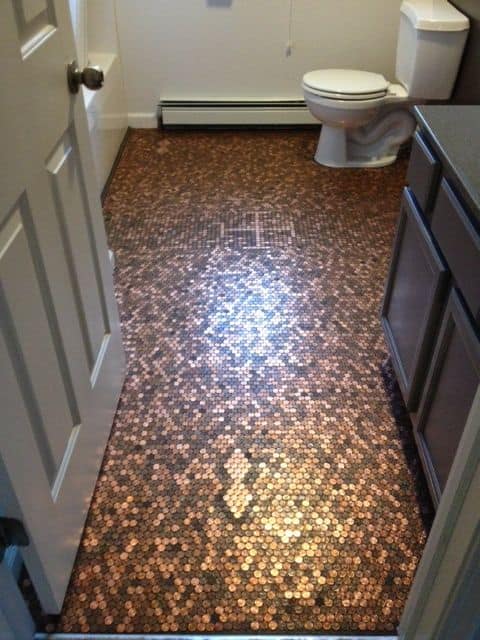 Next is an upcycled floor made out of paper bags from Curbly. What do you think of this look?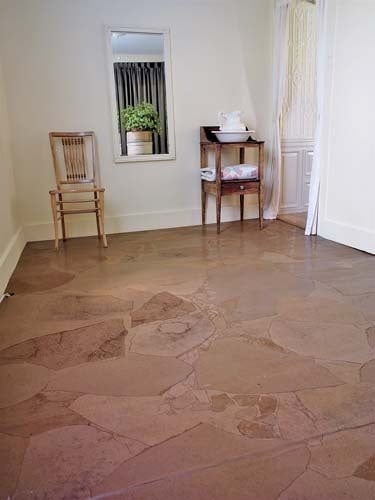 Another idea that's both environmentally and budget-friendly is using cork! It also gives you a great excuse to drink more wine. 😉 (via This Old House)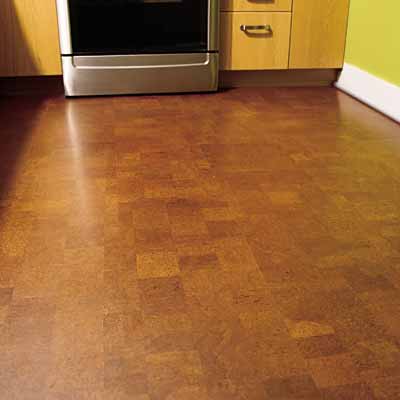 Most Creative DIY Floors
These DIY geometric floors are crazy-cool. Made with plywood and cut to size, they are definitely unique!
Outdoor Floors
Last summer I even took my budget flooring ideas outside and transformed my porch floor with paint! I painted it to look like wood planks and it's holding up amazingly well!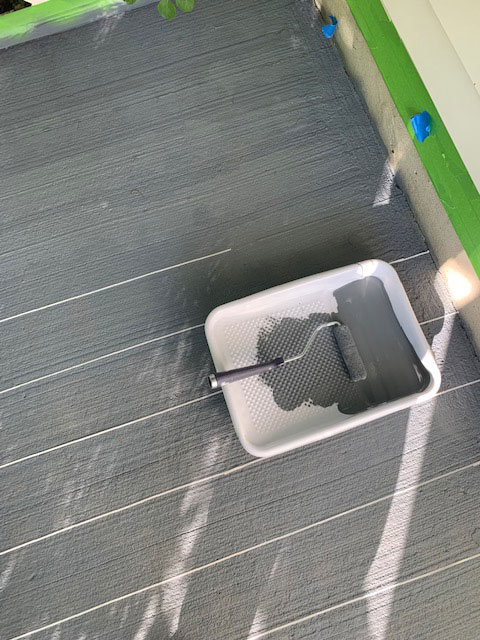 Of course, before choosing any of these budget flooring options, you should do your research. For example, cork flooring can fade in direct sunlight. Do you have any suggestions for budget-friendly floors?
Pin For Later: