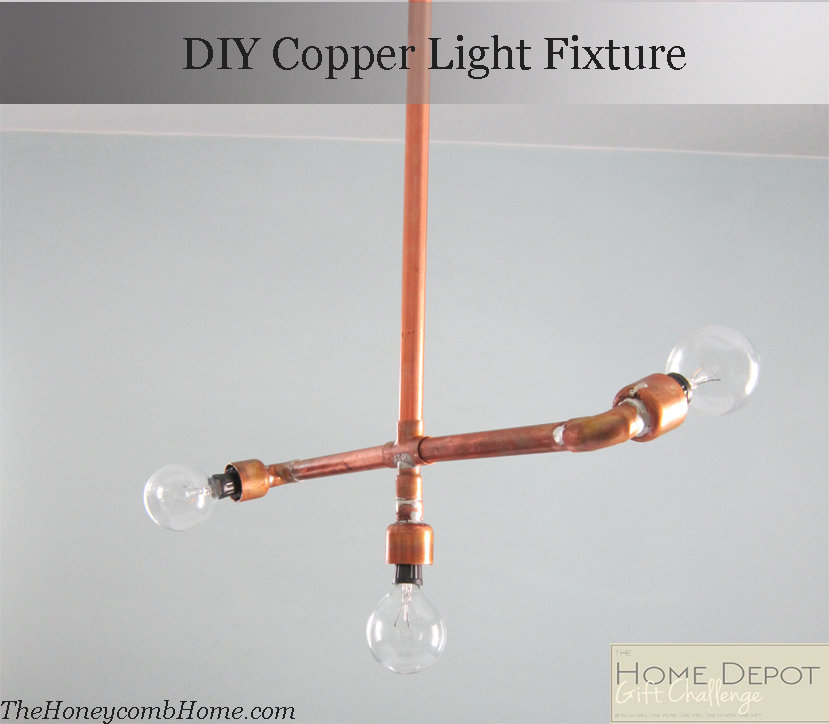 Today I've teamed up with a group of other bloggers for a design challenge. Each month one of us will pick an item from Home Depot that we have to make something out of. The catch is it has to be a gift for a specific person each month. This months chosen item is this little copper "t".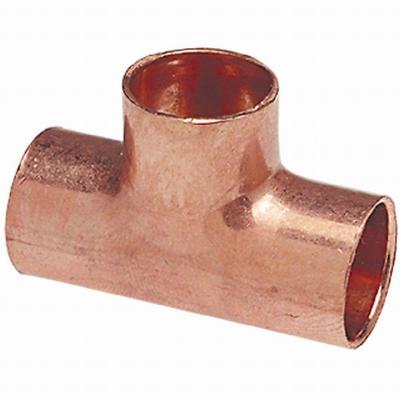 After seeing the chosen item for the first time, my very first thought was industrial light fixture, but I quickly decided that would be too hard. I spent days trying to think of something interesting to make with it. My daughter suggested a wine opener, which was a good idea but I didn't know how I'd make that a functioning wine opener. After a week, I was starting to worry that if this were a reality show, I'd be the first one voted off the island.
I decided to just put it out of my mind for awhile. Like in the movie Men In Black (#3, I think) when they "have a piece a pie". In the movie, that is a metaphor for giving yourself a mental break if you can't come up with a solution. Of course, that is when I found one.
I was surfing the Urban Outfitters website and saw this copper light fixture.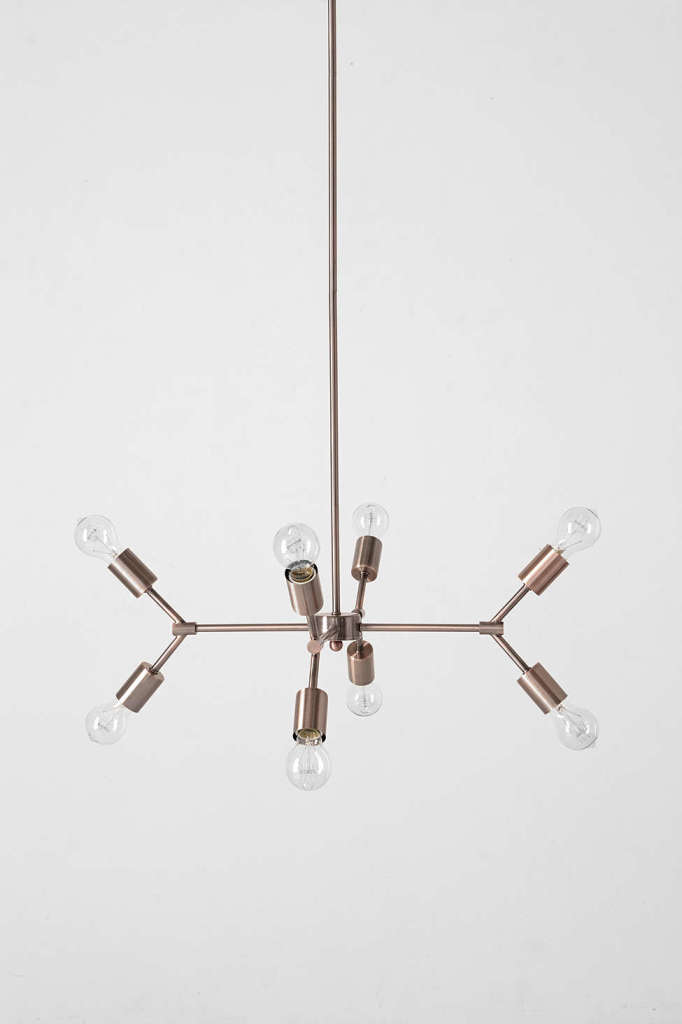 My light fixture does not look like this one,  it just gave me the inspiration I needed to go with the light fixture idea. I have to admit, I have an advantage in the lighting department. My husband is great with electrical. But to balance that advantage out, he really does NOT enjoy DIY projects and usually thinks my ideas are crazy. And you better believe I have tons of ideas for light fixtures! Remember my knock off Restoration Hardware chandelier? So I convinced him to go to Home Depot with me and see what we could come up with. We picked up a variety of copper parts.
I showed him the Urban Outfitters copper light to give him a general idea of what I was thinking. Then my husband came up with a concept for our version, he drew it out to show me his general plan.
I asked him if we could also include a third light in the center. We got started assembling the pieces using solder.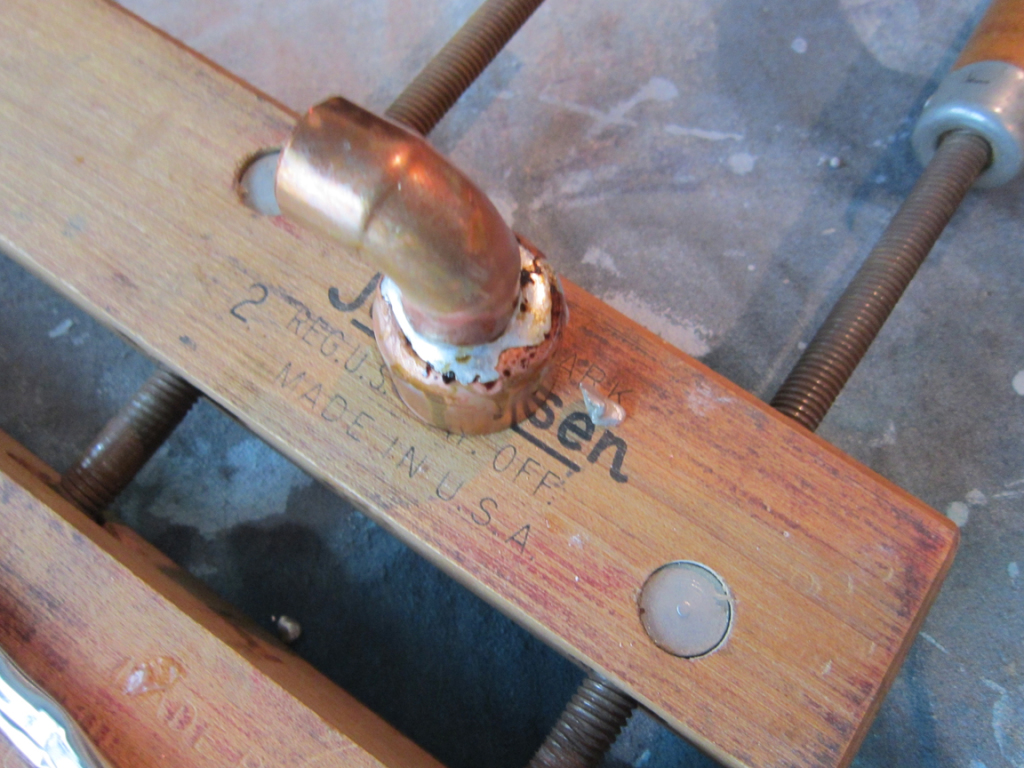 This next picture shows the center of our fixture which contains the "t".
We also picked up 3 of these lighting switches which were to become the sockets for each of our lights.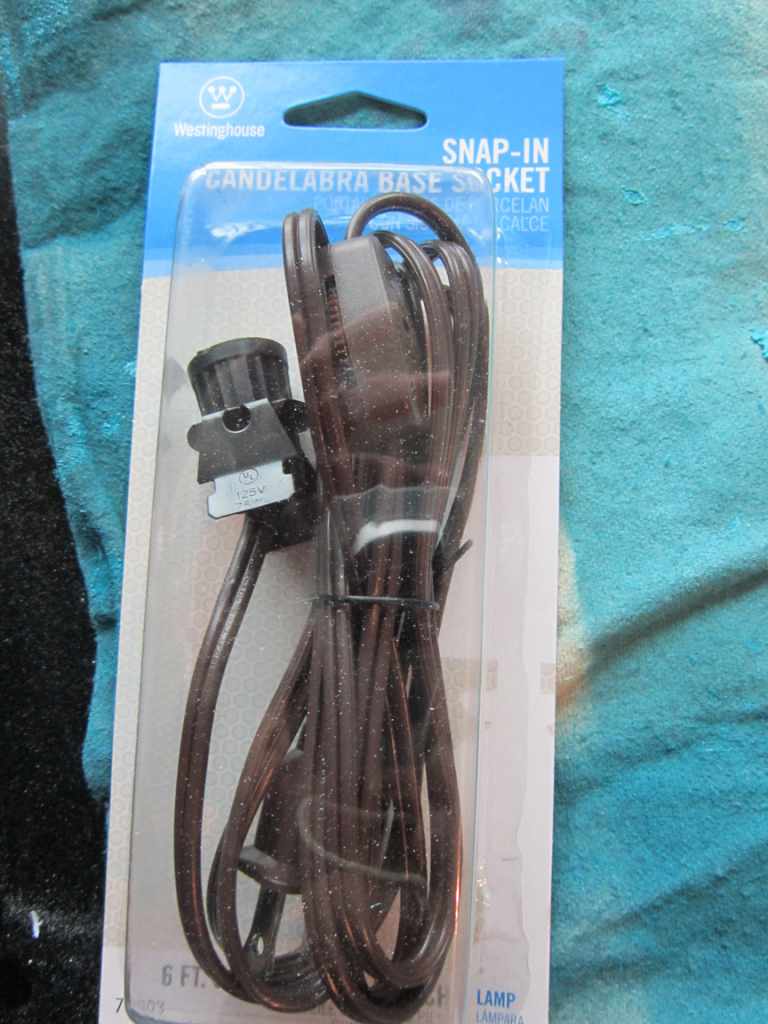 My husband cut them down and removed the dial switches.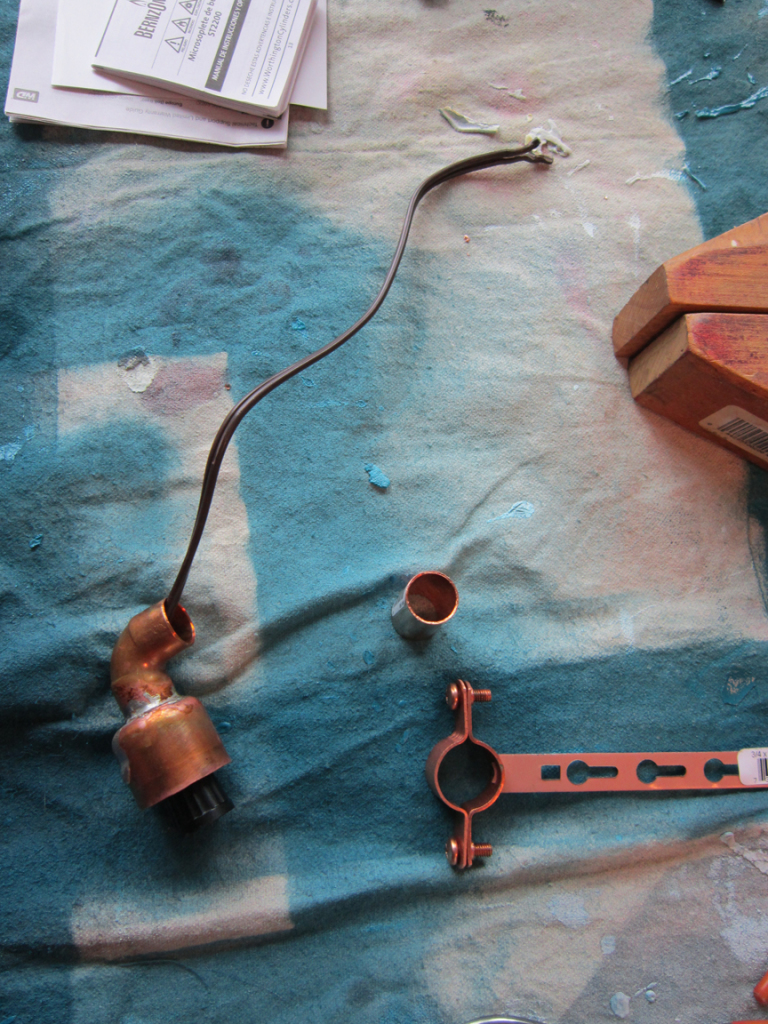 Not long after we started assembling this, my camera battery died. When my husband is in DIY mode, we stop for nothing for fear the mood will pass. So I don't have pictures of every step. We were somewhat winging it as we went along anyway, so this really isn't a step by step tutorial.
Here you can see how he wired it and spliced the wires together.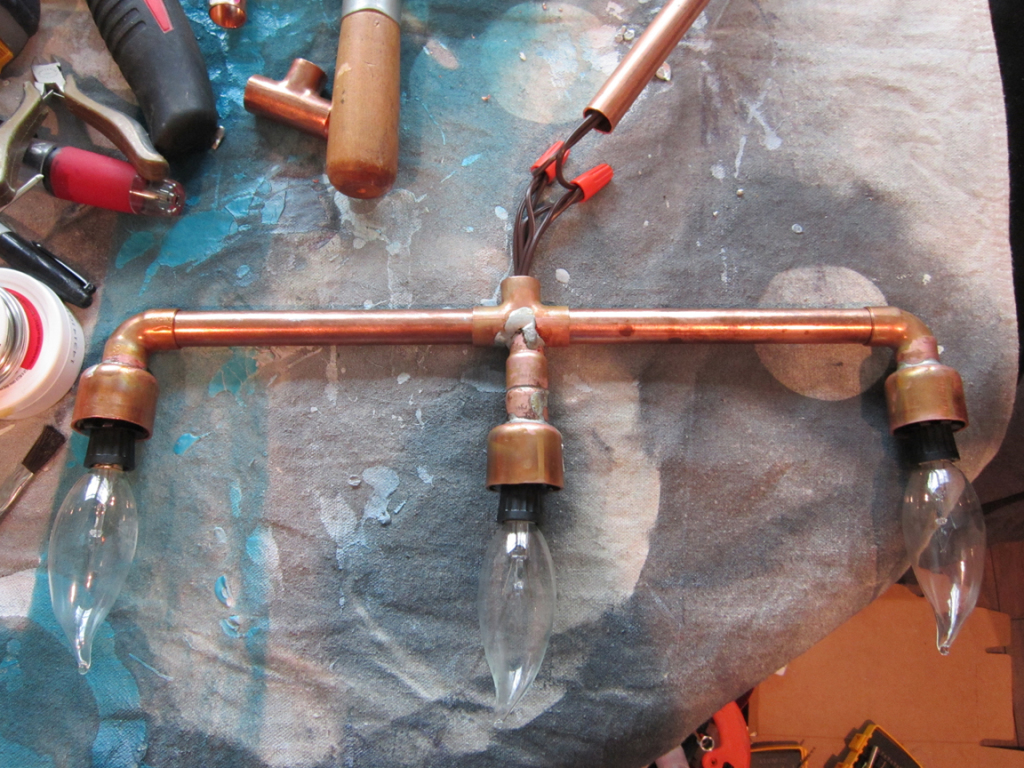 After completing it, I switched out the light bulbs for round ones rather than the chandelier bulbs.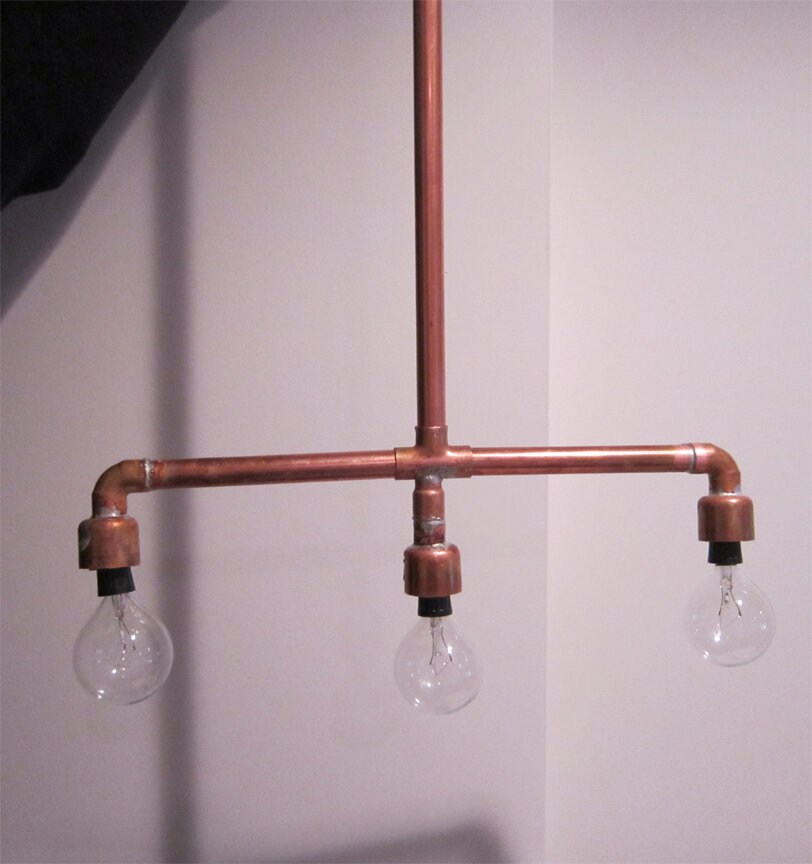 The arms are adjustable, they can hang straight down or out to the sides for a more modern look.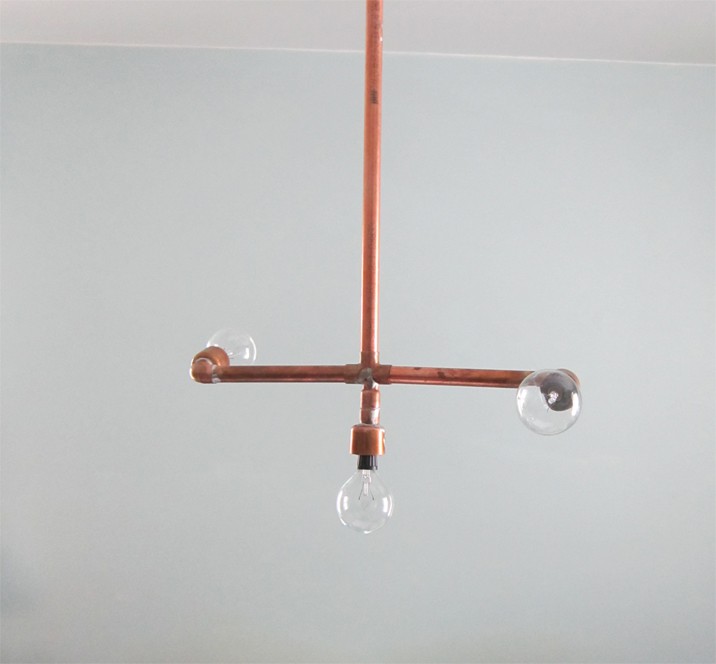 We haven't actually installed it yet. We are undecided on whether we should keep it or actually give it to someone to fulfill the gift part of the challenge. Thanks, John for helping me make this!!
And here is what everyone else came up with, such amazing ideas all around!!