There are some areas of my home that need making over, but I don't have a clear vision yet of what the end result should look like. My entry and staircase area is not one of them. I have a super clear and detailed plan of what I want there.
I've been thinking about a staircase makeover for years. Removing the carpeting makes a dramatic difference. You may have seen some great staircase makeovers on Pinterest. Many of these are doable DIY projects with amazing results.
One thing I've been wondering about is exactly what is under the carpeting. Some people are fortunate enough to have actual hard wood under the carpet. If that's the case, you can sand, paint and stain them easily enough. But if it's plywood, which is what I suspect mine is, the process is a little more involved. The 2 links below, Classic Style Home and Southern Hospitality,  give great detailed instructions on how to handle it if you have the plywood. To sum it up, you basically have to add wood to the treads and also to the risers over the existing plywood for a more finished look.
Another problem with my future staircase makeover is that there is a wall that I really want partially removed so that I can add a banister. It looks similar to the Southern Hospitality picture above. My front entry is a very small space. You open the front door and see the stairs immediately in front of you and the living room is immediately to the left.
If we were to partially remove that wall, it would look something like this.
It would really open the space up and make it feel much larger. So that would have to be done before adding any wood to the treads because the treads may have to be extended out a bit for the banister.
Once the wall is down, the stairs are prepped, and a  banister is in place, I would then paint the risers white and stain the treads.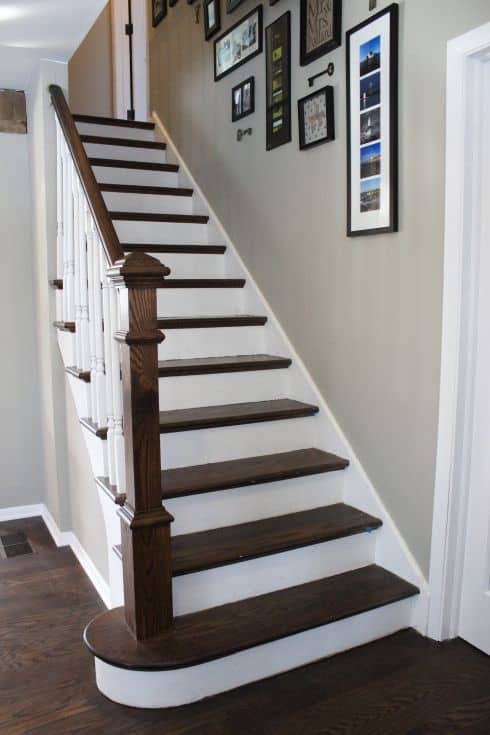 Of course I wouldn't stop there. I would need some type of wainscoting on the wall too.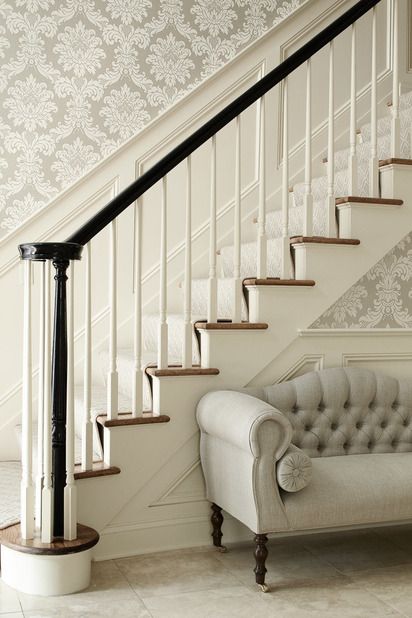 Or beadboard.
Or maybe plankboard. I love this picture frame shelf shown below.
Then to finish it all off, I would add a little gallery wall that would be visible from the living room.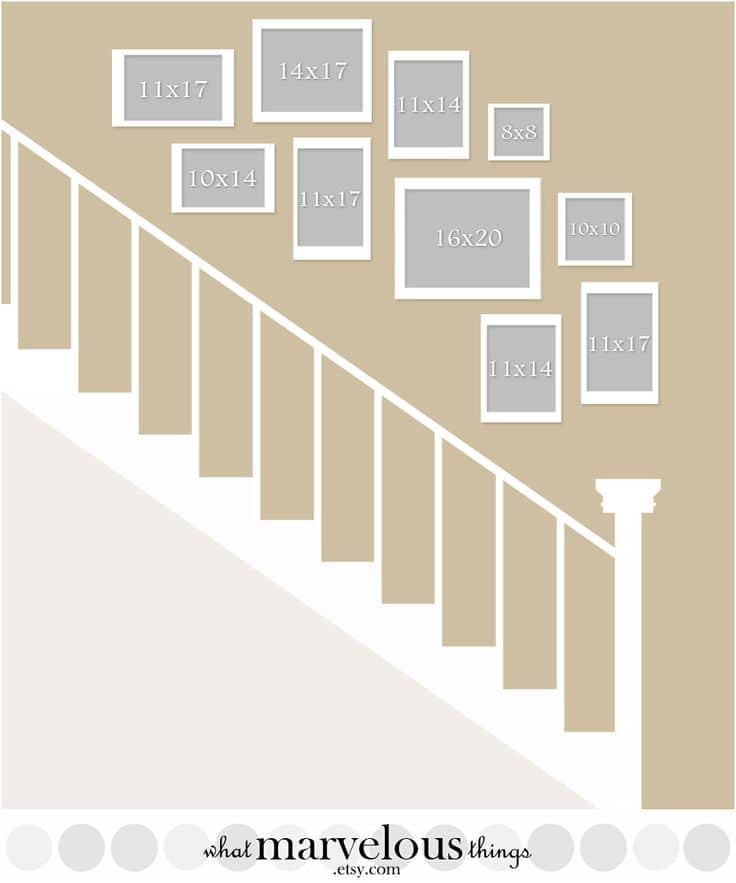 To complete it, I would rearrange my living room furniture for overall better flow. Ideally,  I would also like to replace the living room carpeting with wood (or faux wood) floors to match the treads. I also wouldn't mind repainting the space blue like in the makeover from Classic Style Home shown above.
Even though my staircase project is going to be a good bit of work, it's definitely on my list. Especially since it's the first area you see when you walk in my front door. It's just not on the short list right now.
Have you entered the Luck of the Irish Giveaway yet? $1,500 in Paypal cash is up for grabs!