Small Front Porch Christmas Decorations
Ideas for small front porch Christmas decorations on budget!
I'm going to keep it real here today you guys.
Decorating the exterior of the house for Christmas can sometimes be a challenge. Every year when we start to see other people's houses decked out in lights, I get the craving to do ours as well.
This year I had a pretty brilliant idea for lining the windows with Christmas lights. It was so good that when I told my husband he was so on board that we were at The Home Depot the same day getting supplies.
And that never happens!
Usually, it takes months to years to convince him on my ideas! So while he worked on that project, I started working on decorating our small front porch for Christmas. I had painted the porch floor this summer so I was anxious to finally be able to make a pretty Christmas display without the stained cement ruining the effect.
I added a mini white pine tree in my vintage bucket easily enough.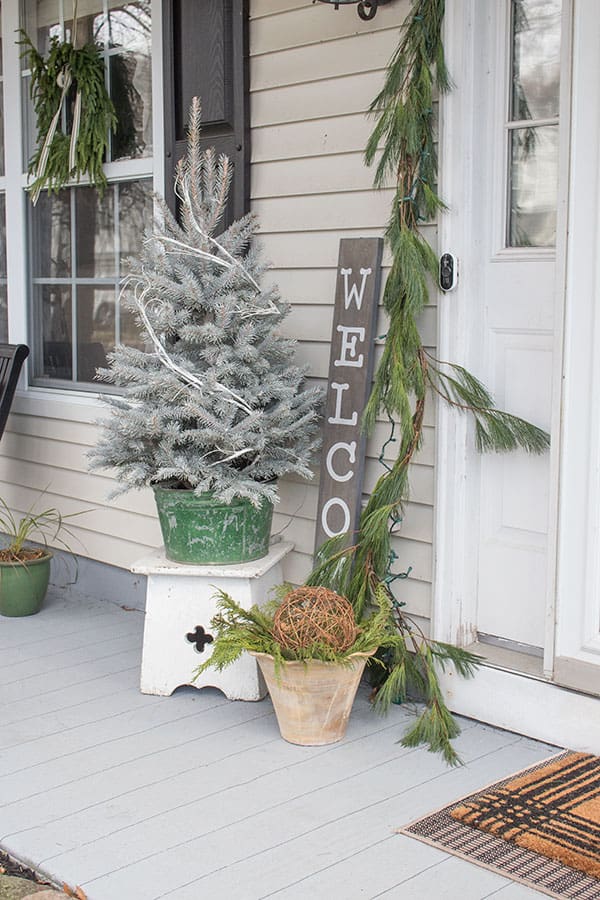 The terra cotta planter with fresh cedar and a twine ball of lights was also quick and easy. By the way, the cedar I used here is from the same 18′ garland I used in both my living room and family room this year. I really stretch it out.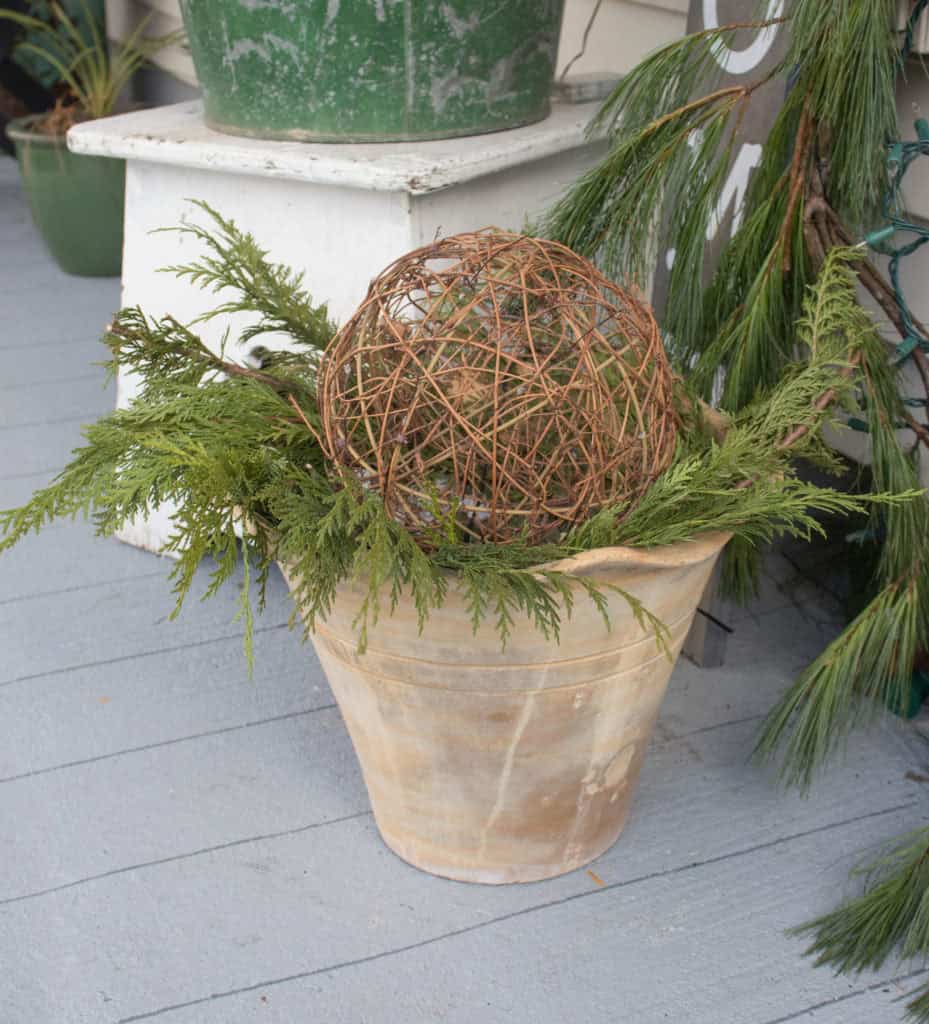 In my basket, I put a mix of fresh greens, different types of eucalyptus and lights. I bought pine cones for this as well and totally forgot to use them.
So you'll have to just imagine its more abundant with pine cones in there. 😉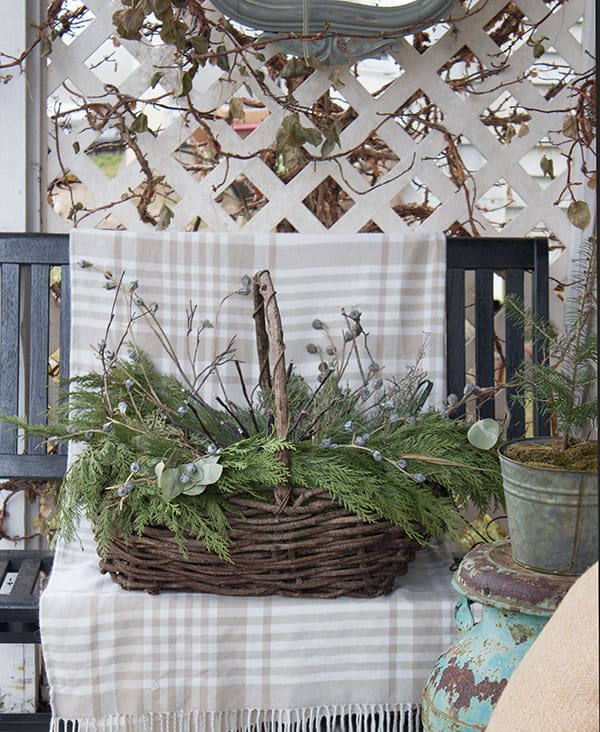 On the mirror that I added to the porch this summer, I hung a fresh swag of greenery. I tied gold bells and my favorite ribbon onto that.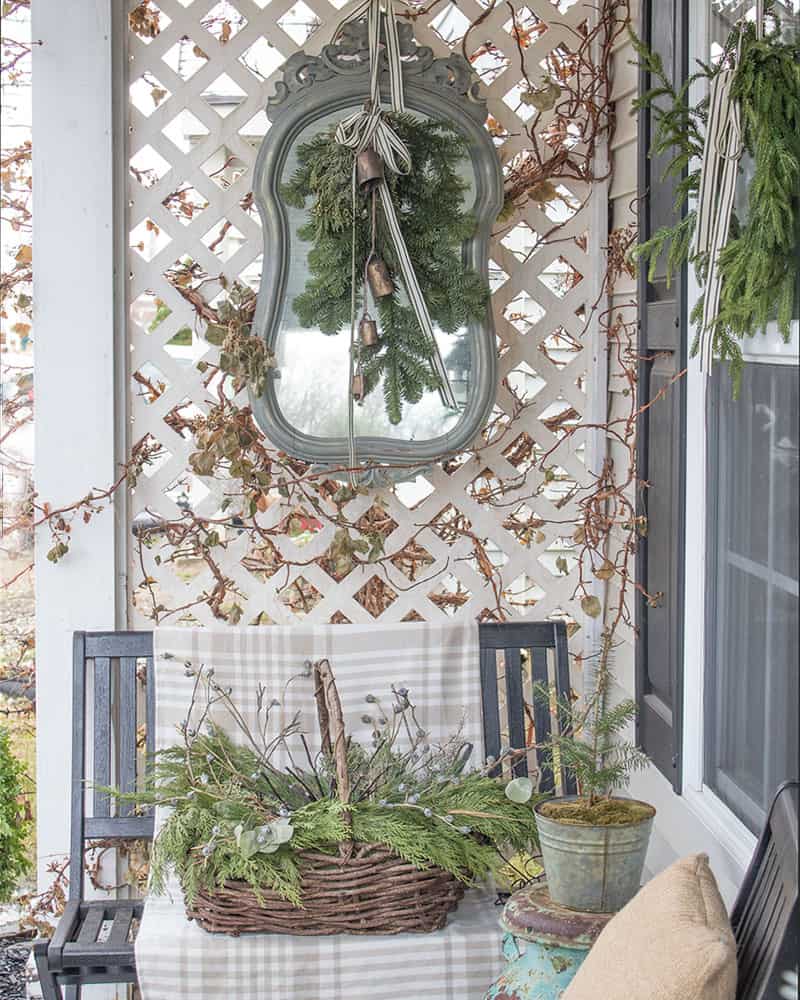 Next, I hung these two artificial wreaths on my windows with command hooks. Only I messed up one of the sticky things and had to run back to the store for another set. I bought a few things, and when I got home I realized the clerk forgot to give me the command hooks that I paid for so I had to go back again.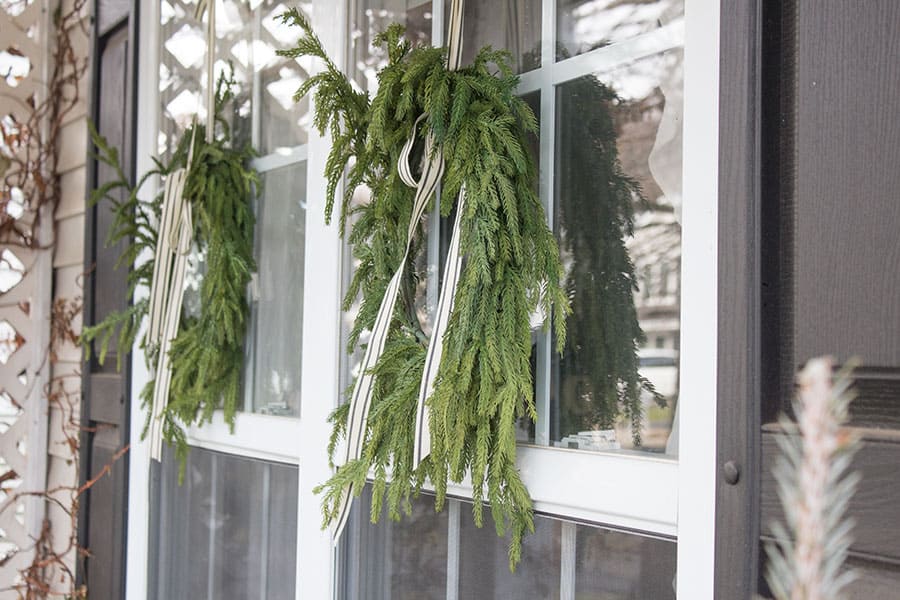 At this point that Christmas song "The 12 Pains of Christmas" starting ringing through my head.
So after the wreaths were finally hung, my husband appeared to help me hang the garland. Only at this point, he had had enough after project A so he wasn't exactly feeling the Christmas spirit. He hung it up quickly using small command light clips (the only thing I could find) and was done.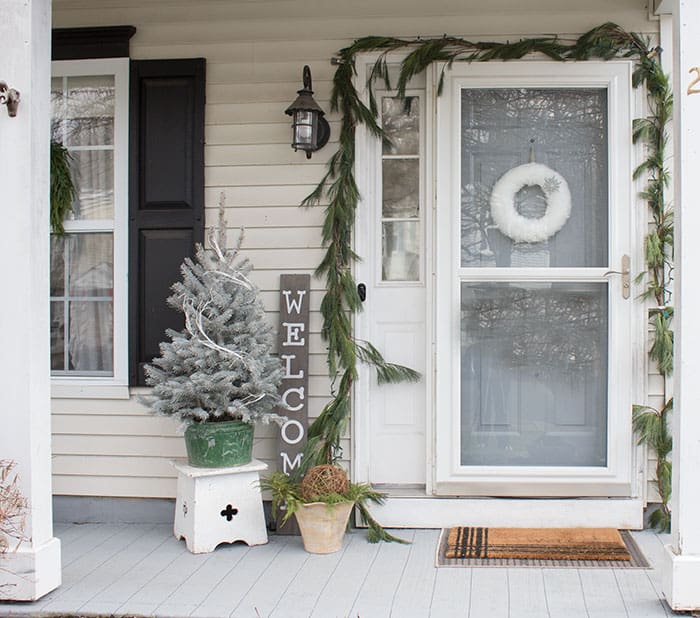 So how did my brilliant idea turn out?
That's a story for another day, but it's safe to assume you won't be seeing it on the blog this year.
I finished up by adding lights into my garland and calling it a day.
Later, after dinner, I went outside to admire the porch lights. As I was standing in the driveway thinking how pretty it looks, the entire garland and lights fell down.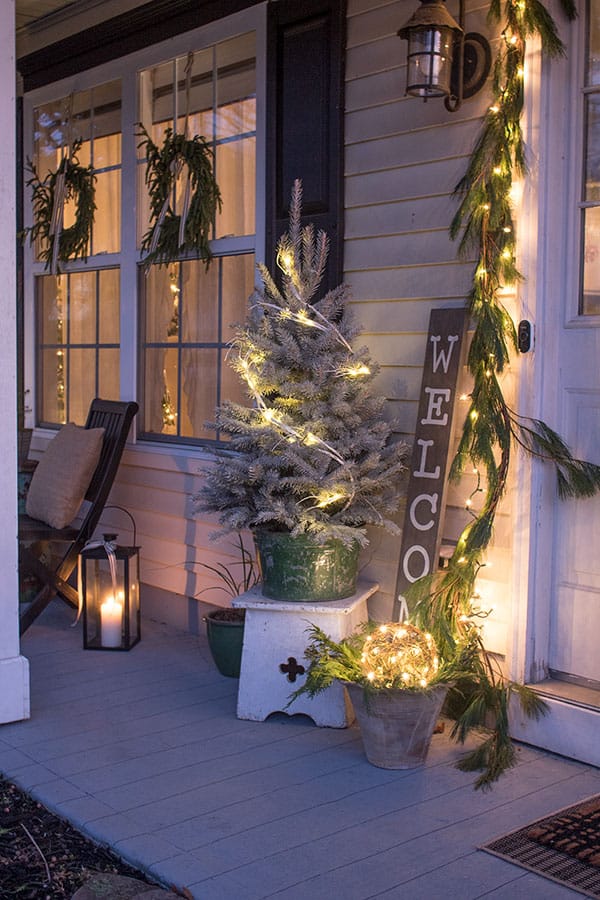 I calmly stepped over them into the house and closed the door.
Christmas lights can be quite a pain sometimes. Even our small front porch Christmas decorations and lights gave us a run for our money this year.
It's not all hot chocolate and happy kids running around. In fact, I doubt it's ever really like that anywhere.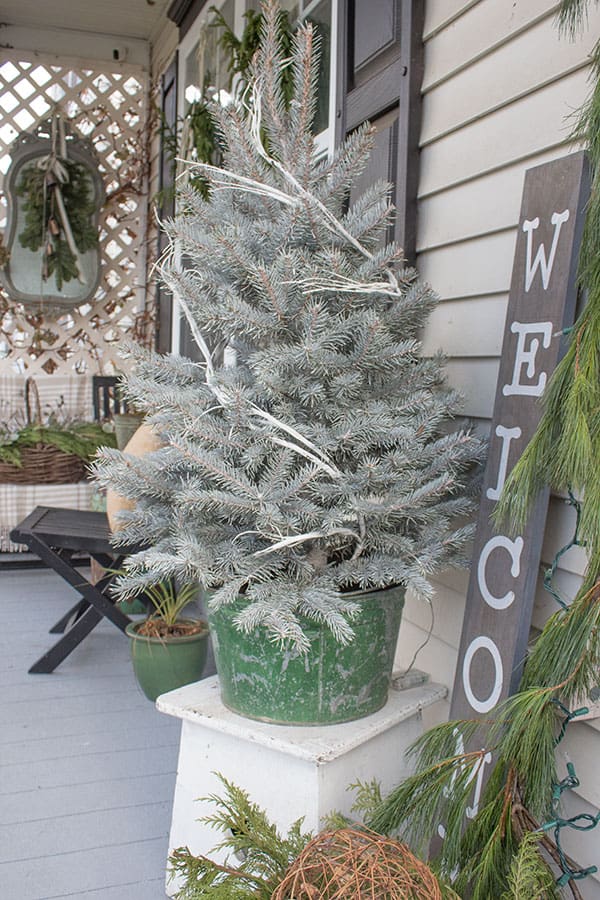 In the end, I used clamps to hang the garland back up. You can see them if you look for them. It's not the prettiest but I guarantee that it won't be falling down again, lol.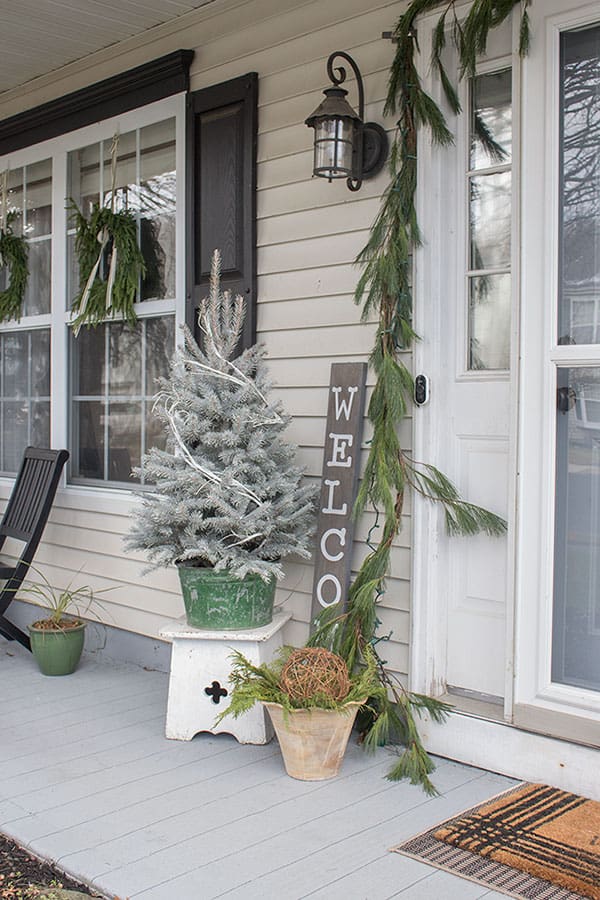 As for the wreaths on the windows, one of them did fall off the next day. After adding a fresh command hook it's now stayed up for a week or two so I think we're safe with those.
I hope you enjoyed a look at what really happens behind the scenes here. I would imagine this is the real story behind most of the pretty pictures we are inundated with!
For more Christmas decorating ideas, check out our free magazine, Simply Christmas.
Almost everything on the porch was a flea market find, other than the wooden welcome sign which was a DIY and the Christmas decorations. But here are a few similar items I've seen around the web.