Home Bar for Serve-Yourself Holiday Drinks
This post was in partnership with The Home Depot, a brand that I love. All opinions are 100% my own.
How To Turn Any Area Of Your Home Into A Makeshift Bar for Serve-Yourself Holiday Drinks and Appetizers
When you live in a smaller home and host a holiday, you need to get creative with how you arrange that. Years ago we converted our garage into usable space which has been hugely helpful. Especially around the holidays.
We divided up the extra space into a family room and a dining nook. This year, I decided to set up my sideboard as a station for holiday drinks. Fully stocked, this makes it easy for guests to help themselves. But in order to do that, I needed to freshen up my barware.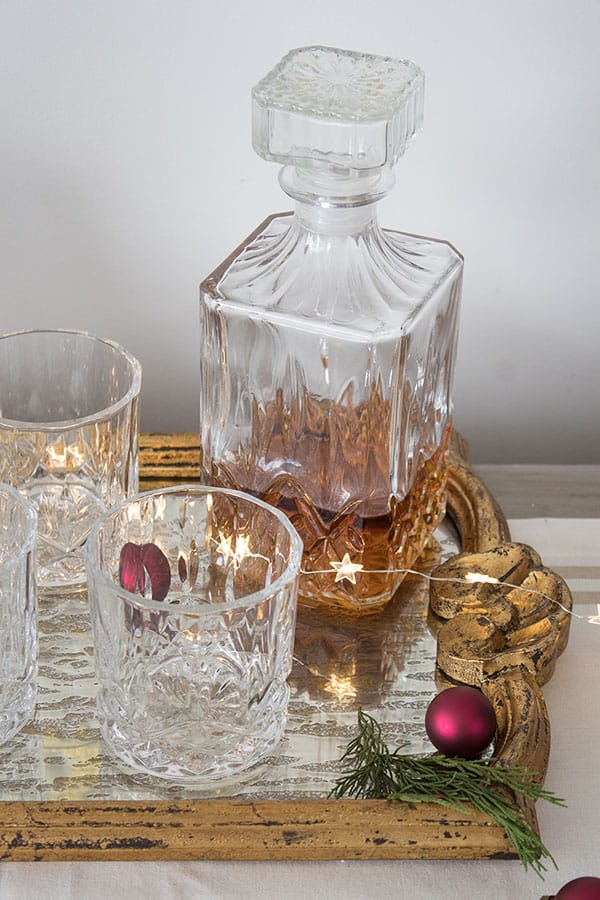 When it comes to anything home-related, I like to shop around. You may be surprised to learn that often I find perfect solutions for home decor at The Home Depot. Did you know they offer home decor from leading brand names in every category?
This was really last minute on my part but fortunately, The Home Depot offers two-day shipping to home option as well as a pick up in store option.
My husband has been into bourbon and whiskey lately, so as an early Christmas present I ordered him a crystal whiskey set. It comes with the decanter and six whiskey glasses. It's made of crystal and it's so pretty you'd never guess how affordable it was!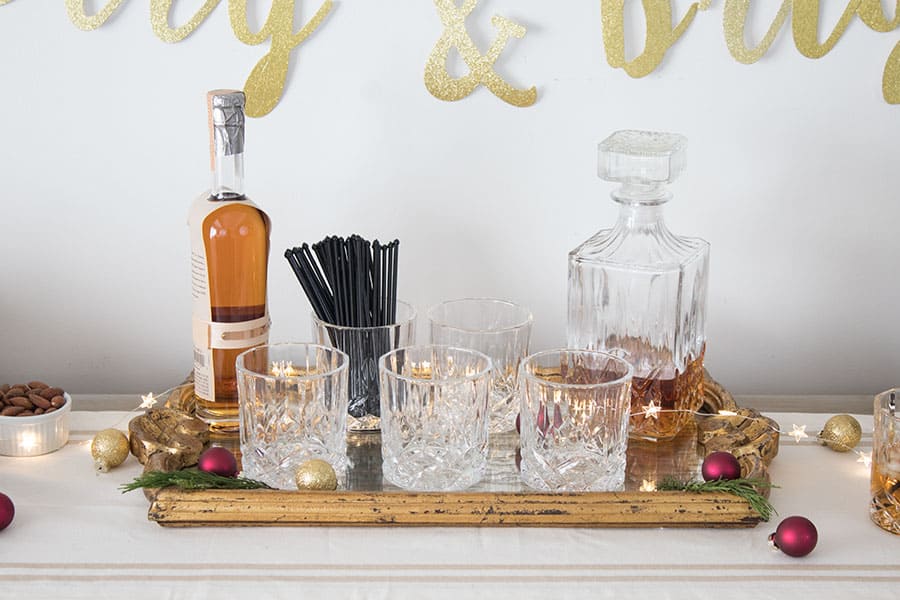 The whiskey set needed an equally beautiful tray to set it on. I absolutely fell in love with this antique-style gold mirrored tray. I'd have to say that it was a Christmas present to myself! 😉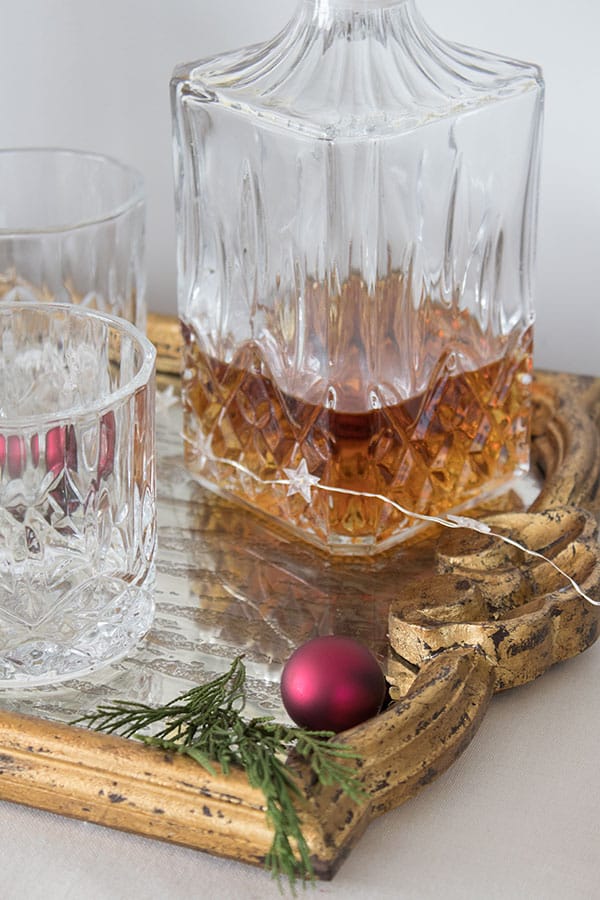 The antique style mirrored serving tray is so authentic looking you'd never guess this was a new buy!
In addition to the whiskey, I put out wine to chill. No home bar is complete without a bottle of red. A few essentials, such as drink stirrers, oranges slices, and cherries to make it easy for our guests to serve themselves holiday drinks.
The sideboard which I'm using here as a makeshift bar area is really in need of refinishing (definitely will be one of my first projects of 2020) so I wanted to cover that up a bit. I found the perfect solution with the chambray french striped table runner.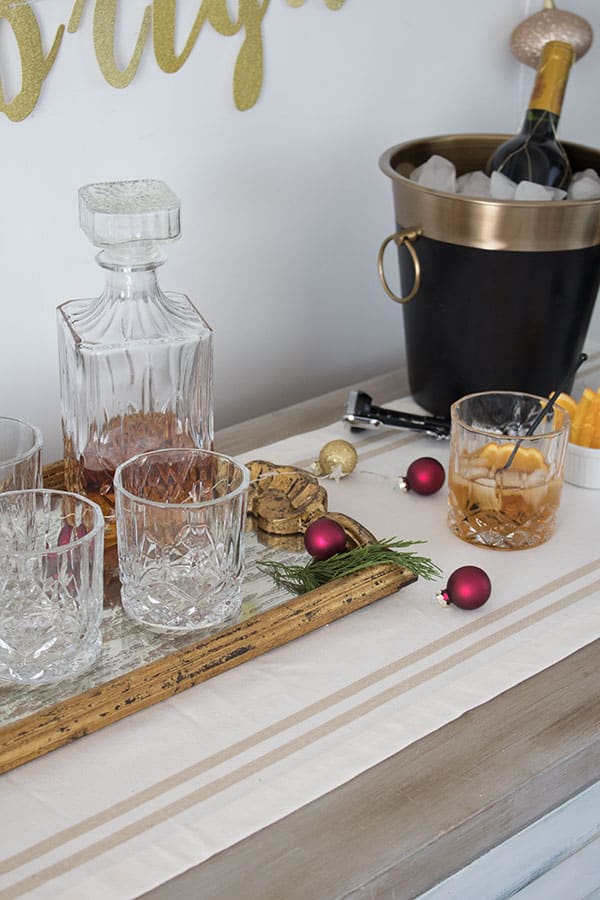 The colors match my decor in this room perfectly.
Lastly, I also ordered this set of three wooden serving trays that are perfect for serve-yourself cheese and crackers.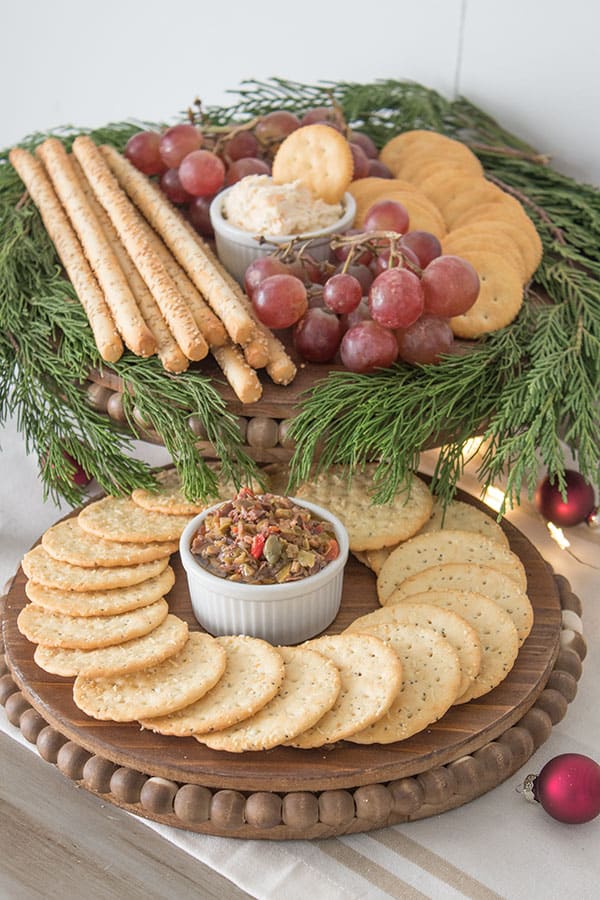 Aren't they beautiful? They will definitely get lots of use all throughout the year.
I elevated one of the serving trays by using a bowl underneath. This helped me fit a bit more on the sideboard without it looking cluttered. Going vertical is always a great small space solution!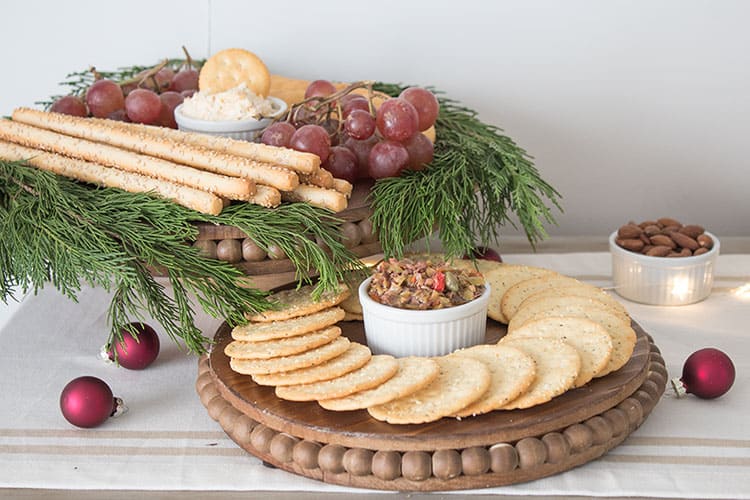 Setting up a serve-yourself station whether for holiday drinks of appetizers makes things much easier when you're hosting. I'd love to hear any tips you may have to make hosting easier!
I would like to wish you all a very Merry Christmas! Thanks so much for taking the time to visit me over here in my little corner of the internet!
Cheers!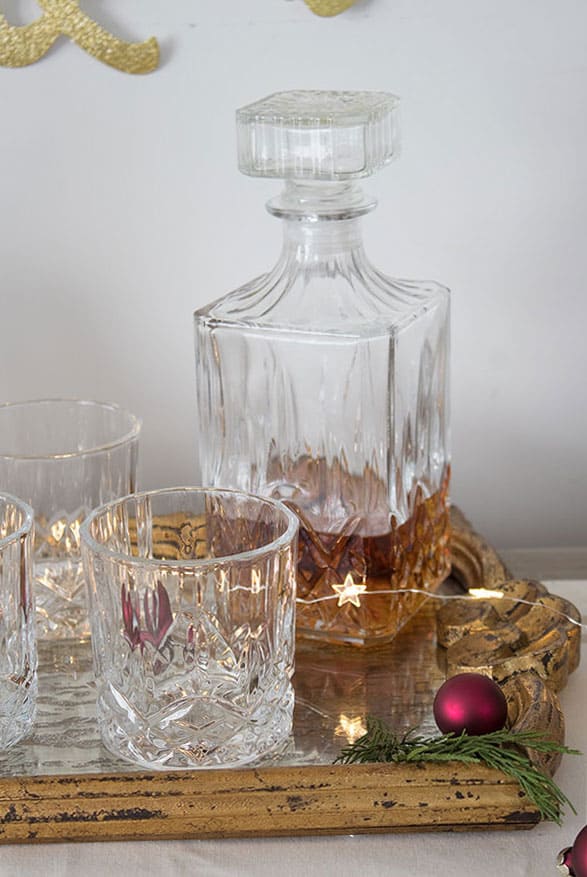 You can shop the look below!

This post may contain affiliate links, you can read my full disclosure here.