7 Christmas Decorating Ideas in 7 Minutes
Quick and Easy Christmas decorating ideas that are so pretty no one will know you pulled them together in only a few minutes!
After spending so much time on decorating my Christmas showhouse, I realized I was really running out of time to get my own house ready for the holiday. Somehow, though, I managed to get my family room decked out in record time.
In fact, it was SO quick that I thought I'd share these quick Christmas decorating ideas with you in case you're short on time as well!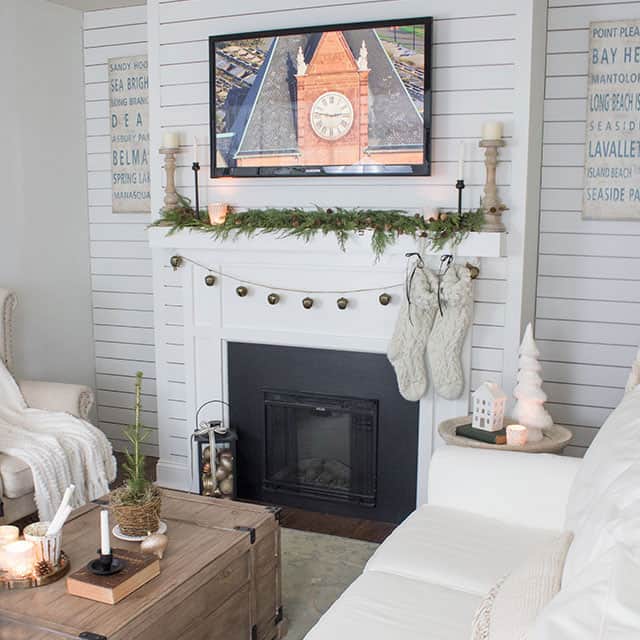 Add Candles for A Christmas Glow
Remember my post on versatile decorating accessories? Well, all of these ideas today are either on those lists (see part 2 here) or should be!
Candles definitely fall into the versatile category. Quick, inexpensive and easy! I used pretty mercury glass votives along with a vintage-style black candle holder (see similar here) on the coffee table. This similar set is on clearance for under $20 right now which is a steal because they usually are $40!
Under the votive grouping, I used a vintage-style round mirror to reflect the candlelight. It's a simple idea that makes a big impact!
Add Greenery for A Natural Element
Adding greenery isn't just for your holiday decor, this trick works all year long. You'll see my mantel isn't too much different than how I decorated the mantel in the showhouse. For mine, I also added pinecone glimmer strings into my fresh cedar garland.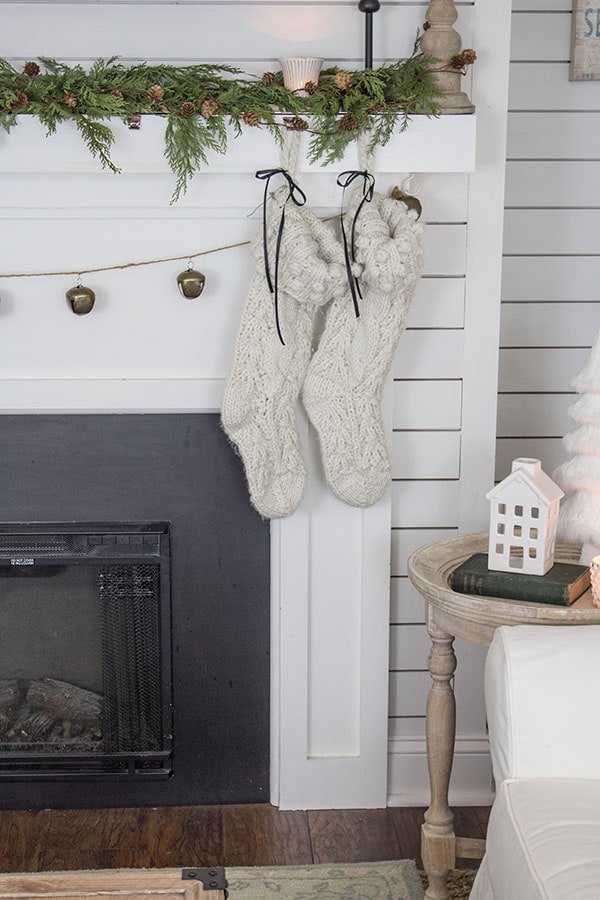 A mini Christmas tree in a basket also adds some cheer. With the tree and the fresh garland, it also brings in a nice Christmas scent.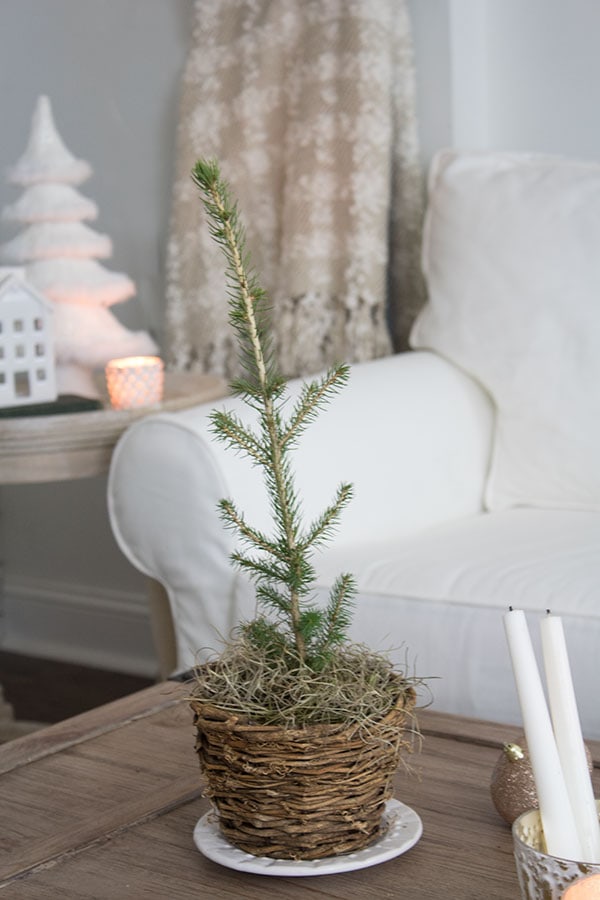 Decorate With Ornaments
Ornaments get the MVP for most versatile Christmas decorations! There are just so many ways you can use ornaments to decorate with.
I have tall willow branches in several rooms of my house. Here in the family room, I hung simple white crocheted star ornaments from them.
Use Gifts As Decor
First, you take the time to shop for the perfect holiday gift. Then you take the time to wrap it up beautifully. Why not display it as decor?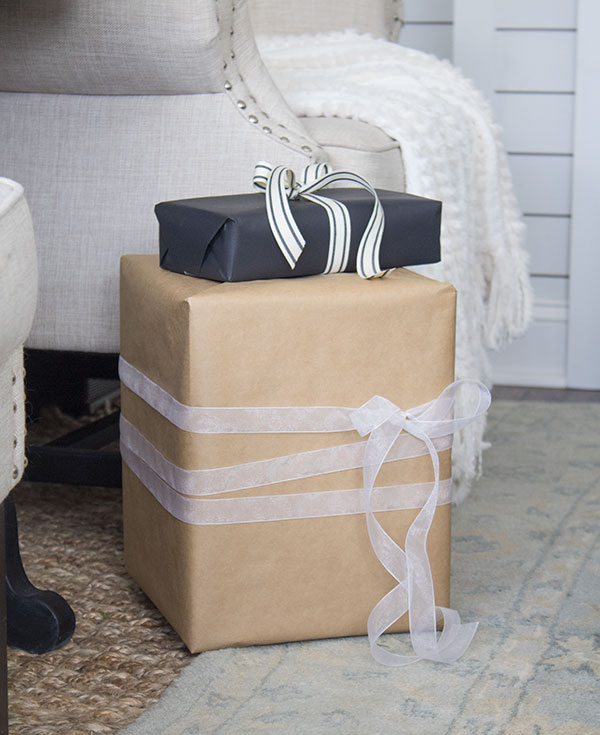 The best part of using gifts as decor is that when Christmas is over, and the guests leave you'll have that much less to put away!
Use Vintage Paper
Clearly not everyone has vintage paper lying around. I found these beautiful music sheets at a thrift store. However, you can easily create this look with book pages or any type of paper you have around.
You could also use inexpensive scrapbooking paper like I did with my flower cone door hangers.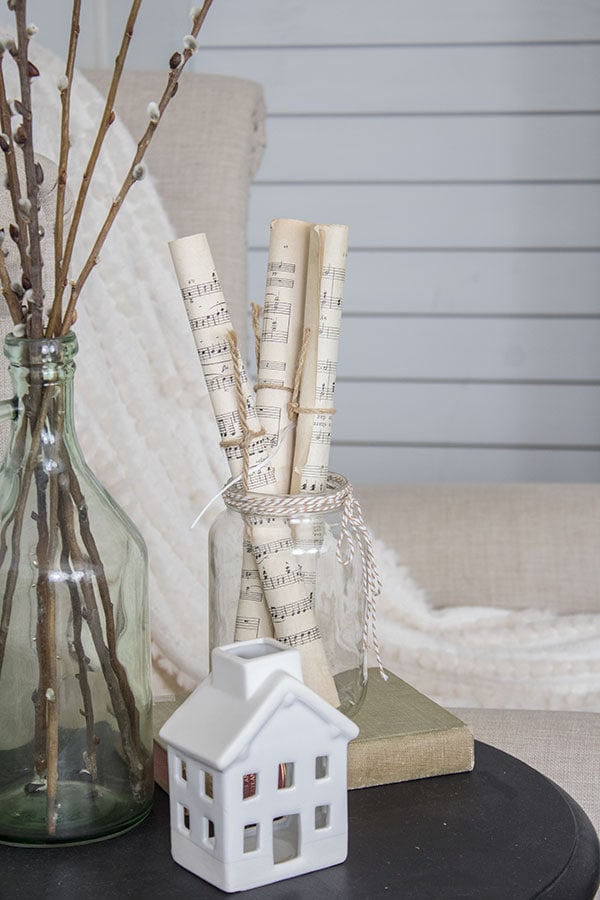 Another thought to take this idea up a notch and add a Christmas ribbon to wrap the paper rather than twine.
Add A Lantern
Add lanterns to the most versatile list! Filled with ornaments instead of candles they make a pretty Christmas display. I also added my favorite ribbon to finish off the top.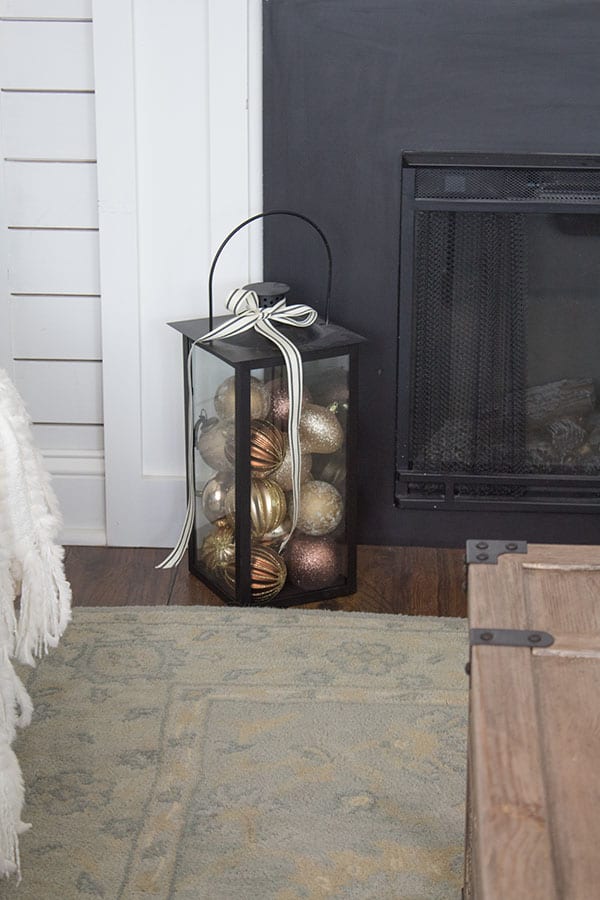 Elevate With Books
Vignettes always need a little height in some areas and that's where my vintage books come in handy. You'll notice this on the coffee table as well as the end tables.
That's it! Seven Christmas decorating ideas you can do in around 7 minutes. Using things you likely already have around the house!
Do you have any quick last minute decorating ideas that weren't mentioned here? I'd love to hear about them in the comments!
You can shop the look below!

PLEASE PIN: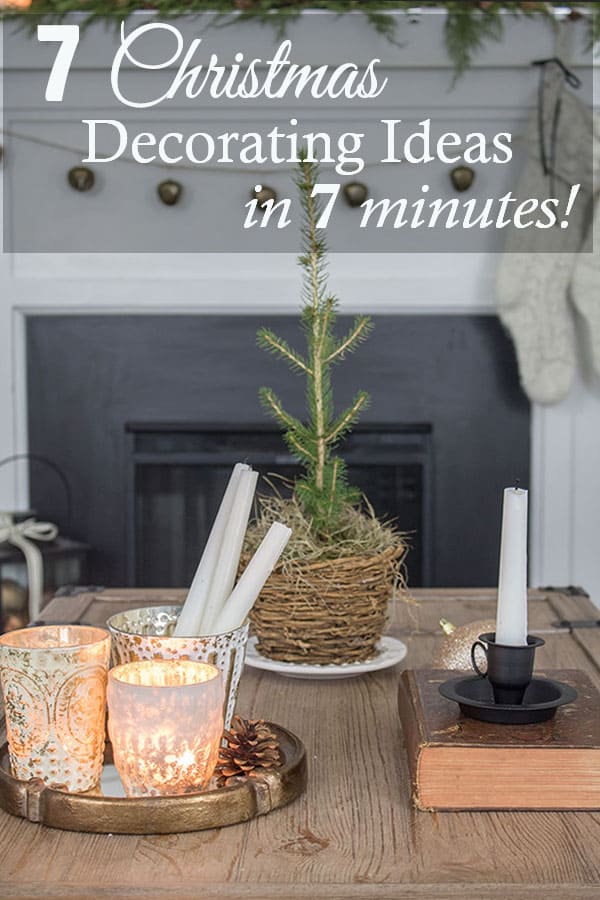 *This post may contain affiliate links, you can read my full disclosure here. Linking up with BNOTP.