My Fall living room is feeling warm and inviting this year. I used only things I already had around the house with the exception of purchasing a few dried gourds and mini pumpkins.
I mostly added the fall decorations to the mantel, but did warm up the rest of the room with everyday decor in warm tones. Now I'm thinking I may keep warm tones in here permanently and move away from cool colors.
Fall Mantel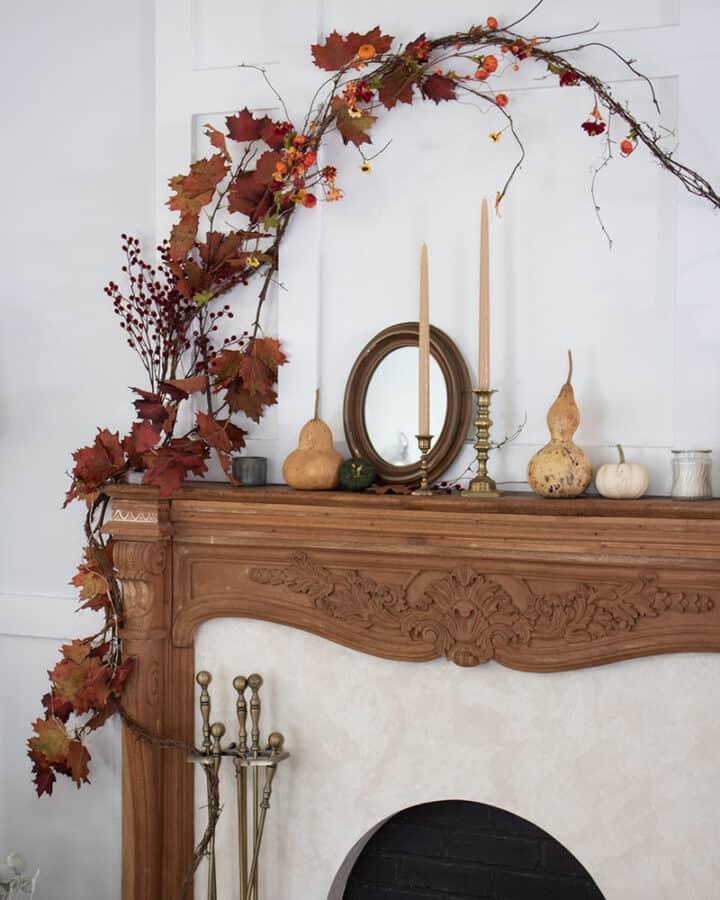 My Fall inspired mantel looks much more difficult to create than it was. I had several bunches of faux fall leaves from last year I wanted to use. Rather than just make them a garland across the mantel shelf, I draped them above the mantel.
To do that, I used a grapevine that I had left from last Christmas. There is one nail above my mantel that is there for seasonal decorating so I attached one end of the grapevine to that. Here's a photo of what that looked like, don't mind the terrible lighting in this one.
Next, I attached the bottom part to the mantel with a clamp to keep it stable. Then I simply added the stems of the faux leaves in the grapevine.
I did find another garland I had used for my Fall entryway decor a few years back and added that too. Then I just adjusted it all until it looked right.
On the mantel shelf, I used vintage items from around the house mixed with the gourds and a mini pumpkin. I wanted that very minimal so as not to compete with the garland.
Fall Entry Decorations
In the entry this year, I used nothing more than the rest of the fall leaves. You may remember I used the leaves last year for my Fall table setting.
I bought those at the Christmas Tree Shops. They look surprisingly realistic!
They also coordinate well with the rug by the front door. I picked that up at Christmas Tree Shops this year. Because my cats ruin all rugs, I only will buy the least expensive rugs I can find because they won't last long. Rarely do I buy anything with red in it, but I liked this one for fall and it was the best option available that day.
TV Stand Decor
I've been working on changing up the TV stand decor in my living room for a while. It just so happens that what I put together works really well with my fall living room decor.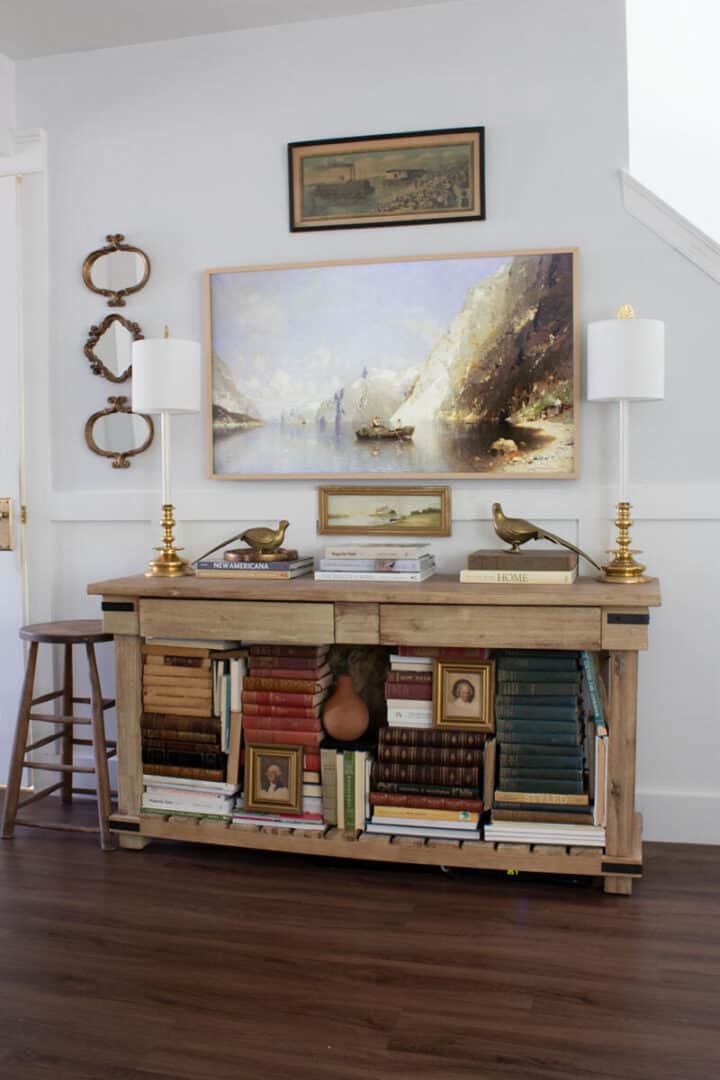 What took the most time here was collecting enough vintage books to fill the bottom half of the TV stand. Ever since I did that book collection in my daughter's dorm house living room, I've wanted to recreate something similar here.
I started with a mix of old and new but it didn't have the same effect as the vintage books. Most everything else on the table is thrifted as well.
The lamps were an excellent flea market find and the brass birds were from an estate sale. I don't even like birds but I really fell in love with these, lol.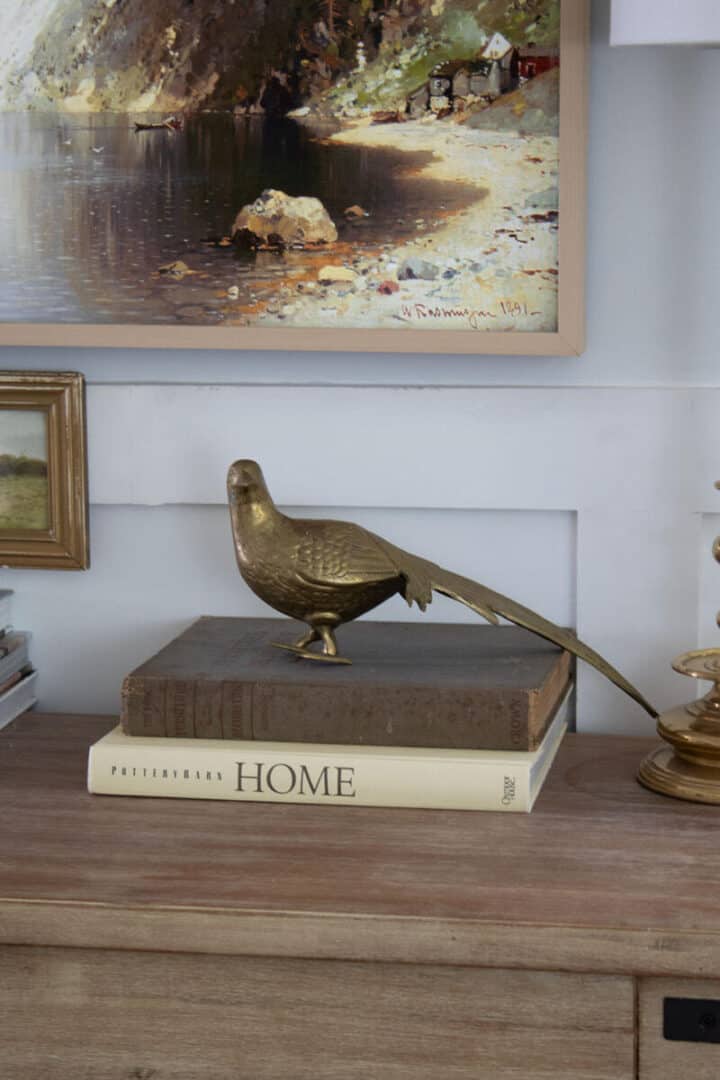 Mixed in with the stacks of old books are some fun vintage art pieces.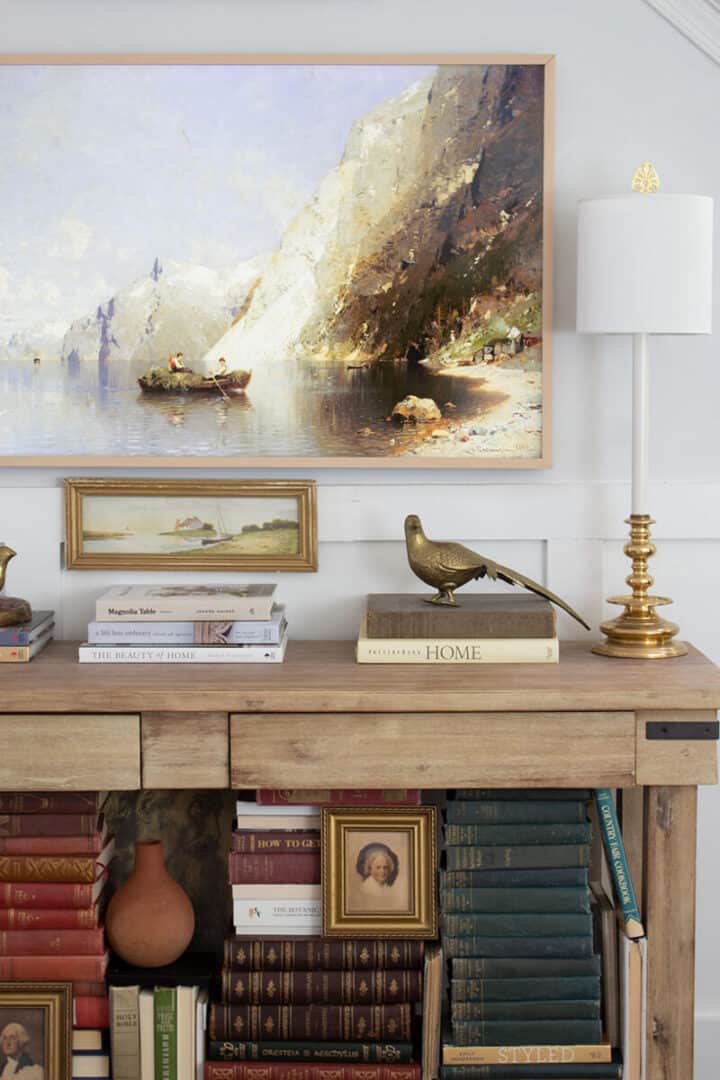 I've got framed George and Martha prints as you can see. And if you look closely behind the terracotta vase you can see another sketch art print peeking out.
I love how collections of books add such warmth to a room. I'm on the hunt for more because I have several more ideas of ways to use them around the house.
As you can see, I didn't go all out with seasonal decorations for my fall living room. I used what I had and mixed in a few natural items and warmer tones.
A few candles and string lights never hurt either. 🙂
---