Vintage Living Room Decor
Hello you guys. I've been a little bit busy lately but even when I'm not physically doing projects, the wheels are always spinning. I had a free day last weekend and was able to do a little redecorating with vintage living room decor.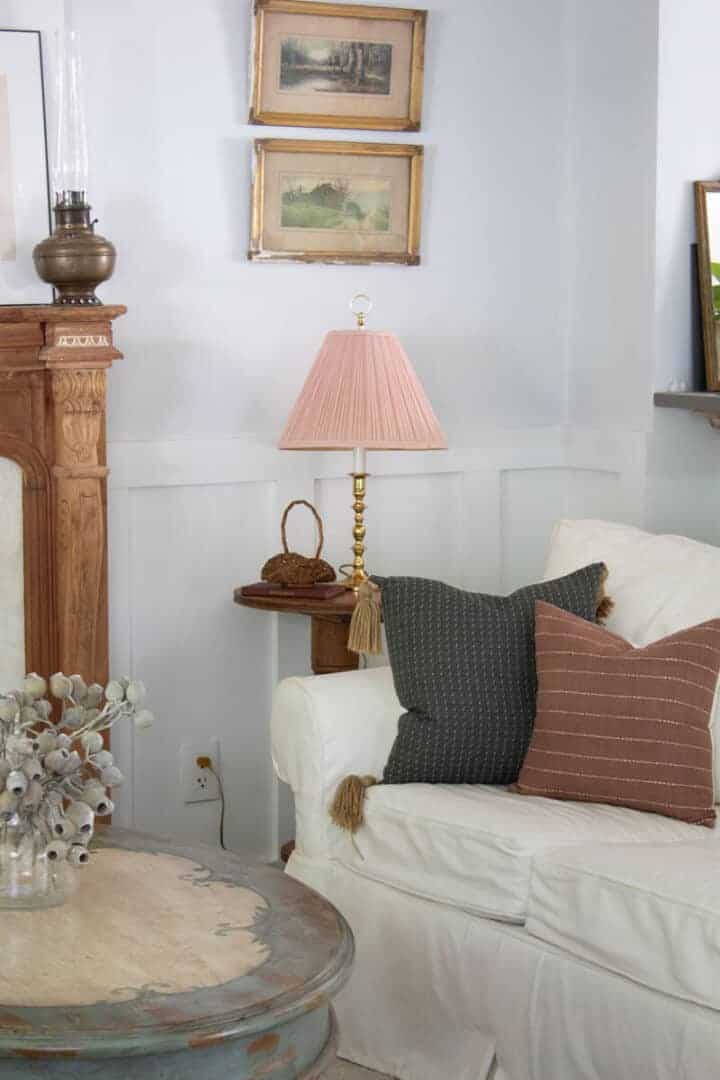 I've picked up a few vintage pieces recently between flea markets and Facebook marketplace. I'm SO happy flea market season is back!
First, I changed out my coffee table. I really liked the style of the previous table but it wasn't working in the room and had been bothering me since I got it. I saw this unique table on marketplace a few weeks ago. It was local and it was affordable so I took a chance on it.
I really love the shape and style of it.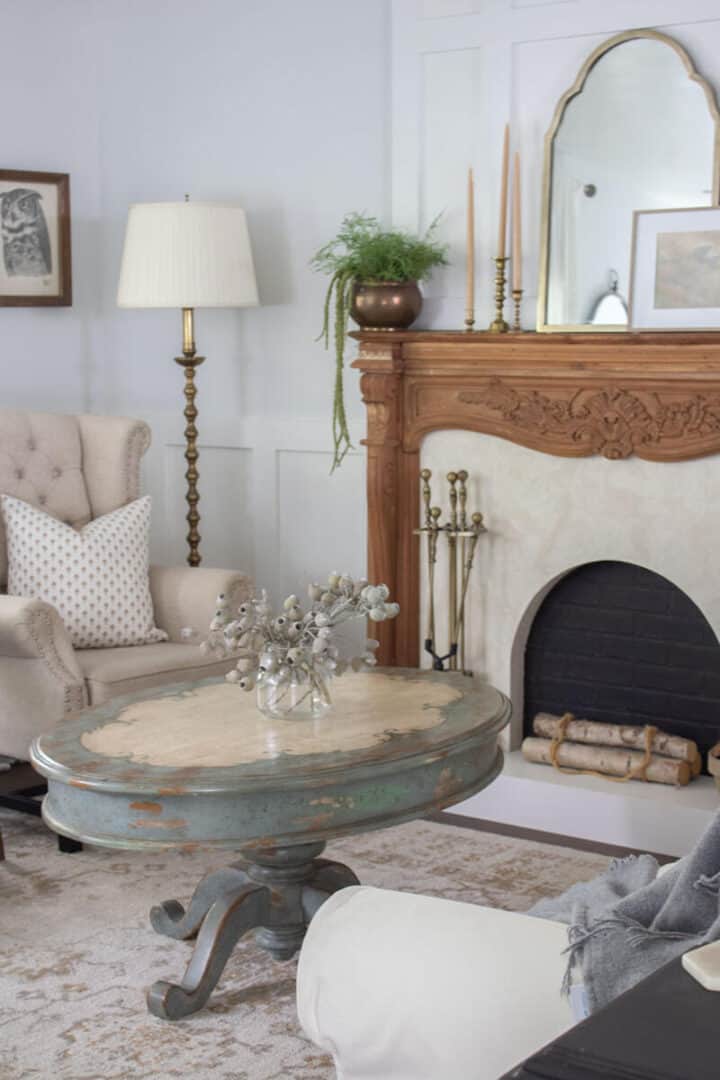 It has this distressed painted finish in a blue-gray color. One day I might strip the finish down to raw wood but for now, I'm enjoying this unusual design.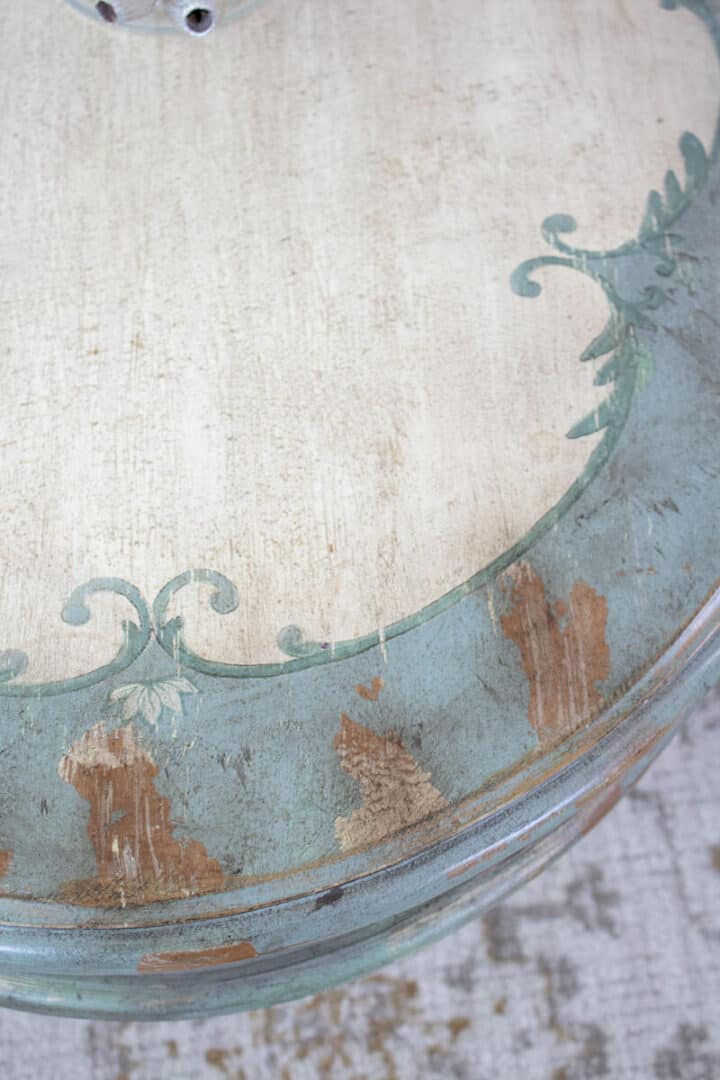 The mantel hasn't changed much since redecorating it after Christmas.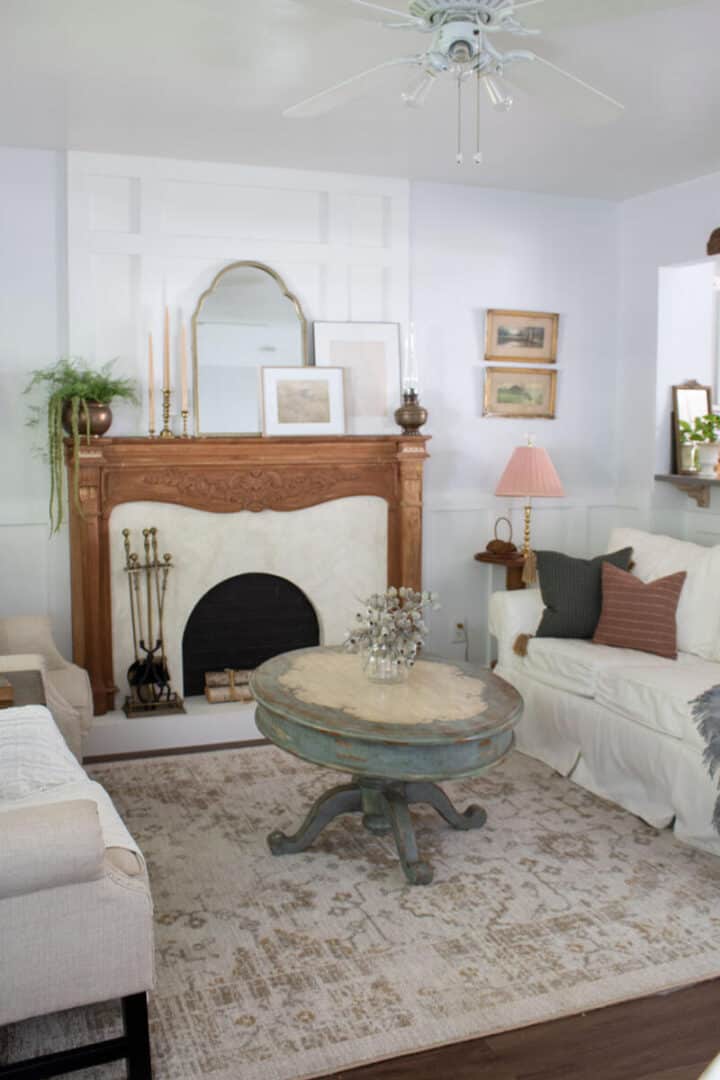 What is different is everything in this corner. I found the two framed art prints on marketplace. They are SO old the wood was chipping off. I fixed them up and secured them like I did when framing vintage art.
And how about this pink brass lamp? I definitely wasn't looking for pink but I found two of these at the flea market for $20 and could not pass them up. They're so good! I'm trying them out in here for a bit.
You can't really see the end table in the photo above but that was another excellent marketplace score for $20. It's a gorgeous old antique. Here's a better look at it.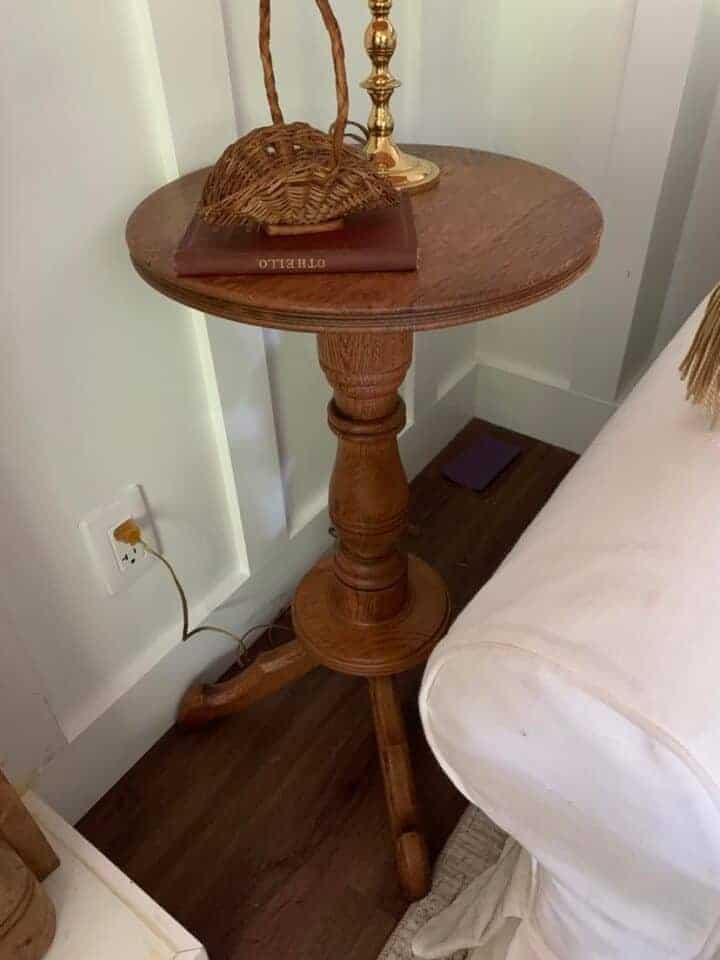 The base was loose when I got this one home. I had to secure it with wood glue. That is the only downside to thrifted items, they may require a little work. It's worth it to me to have beautiful and unique pieces.
The owl print below is another recent find. I usually avoid anything with birds on it but I really loved this one. It has writing on the bottom that says Proverbs 3:7 which sold me on it.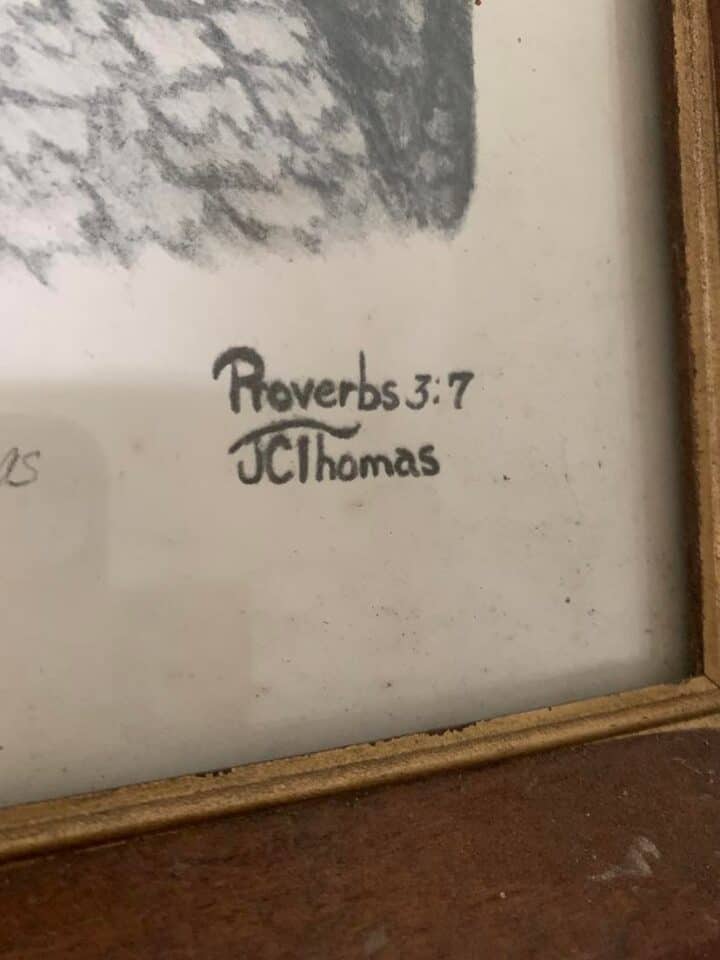 Initially had bought it for the frame which I was going to reuse with my vintage art, but once I got it home I noticed the writing and couldn't part with the owl.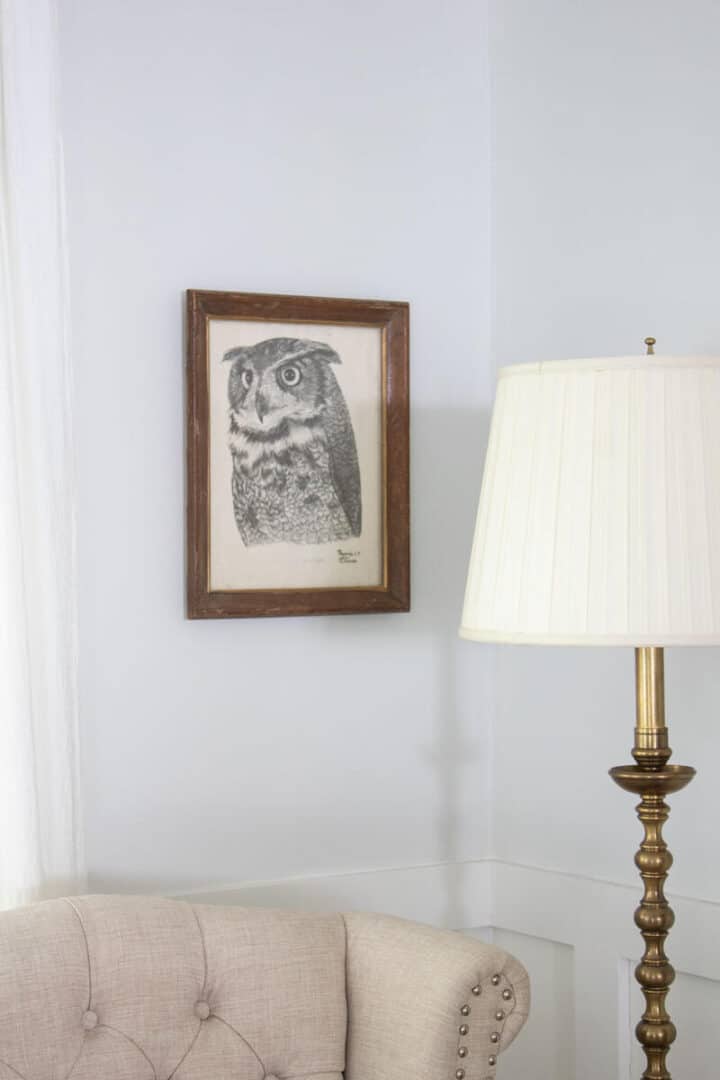 The floor lamp is also vintage. Buying lamps at the flea market is always a risk because you don't know if they'll work. I've been lucky so far with that. This floor lamp is one of my favorite-ever finds. Store bought floor lamps always tilt, never stay straight, and drive me crazy. This one is solid, sturdy, and straight.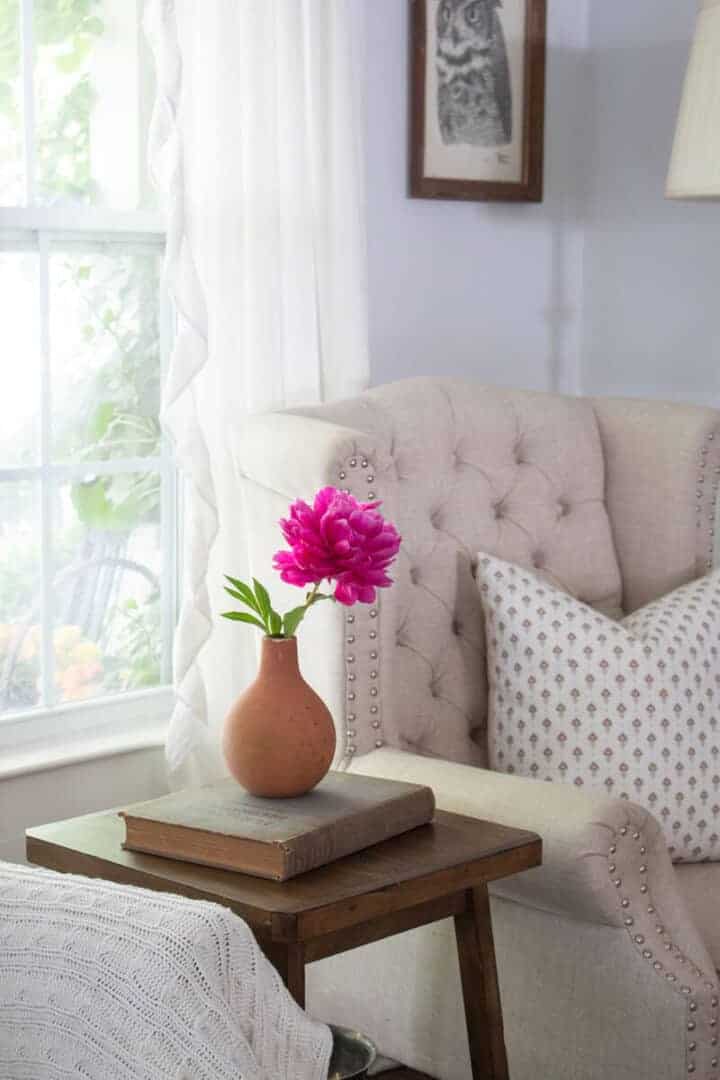 Lastly, the book and the vase also add to my vintage living room decor. I found that book for $1. It's an old interior design text book from Harvard University from 1936!
Isn't that incredible? One dollar!
One thing I picked up on by watching HGTV shows, is often the designers will have multiple furniture pieces delivered for a room. They try different options to see what works. Wouldn't that be nice?
For most of us in real life, that is not an option. However, I do find that when I shop flea markets and marketplace it does give me the opportunity to say this doesn't work and then resell it and find something that does.
Do you guys like seeing other people's vintage finds? I enjoy seeing what other people score and how they decorate with it, it inspires me even further to keep hunting for treasure!
---