Easy Watermelon Strawberry Smoothie Recipe
THIS WATERMELON STRAWBERRY SMOOTHIE RECIPE IS AS REFRESHING AS IT IS EASY! YOU ONLY NEED 3 INGREDIENTS!
If you are looking for a low fat, super easy, refreshing, and delicious smoothie idea you are in the right place!
My husband has always loved when I make healthy smoothies for breakfast. With his recent health struggles, I make them more often than ever. I've tried a ton of different combinations lately and this one has been our favorite.
Fortunately for me, it's the quickest and easiest smoothie I've made so far.
With grocery prices getting so high, I've been buying more frozen fruit. Not only do they cost less than fresh, but there's less waste because they don't go bad. I've heard there isn't any nutritional difference between fresh and frozen.
I stock up on these frozen berries. They're only about $2 a bag.
Watermelon Strawberry Smoothie Ingredients
Fresh watermelon chunks
Frozen strawberries
Coconut water
Lime (optional)
The frozen strawberries give it more of a slushy consistency which I like. I prefer smoothies with coconut water over milk. They're less fattening and taste more refreshing. Combine that with watermelon and frozen strawberries and it's the most refreshing thing you can imagine!
I'll add the recipe at the end of this post but I usually just eyeball it. There's no combination of those three ingredients that won't be good.
The splash of lime is optional. My husband prefers it with lime, I prefer without. The watermelon strawberry smoothie is so clean tasting that I feel the lime is completely unnecessary. It does look cute as a garnish on the glass though. 🙂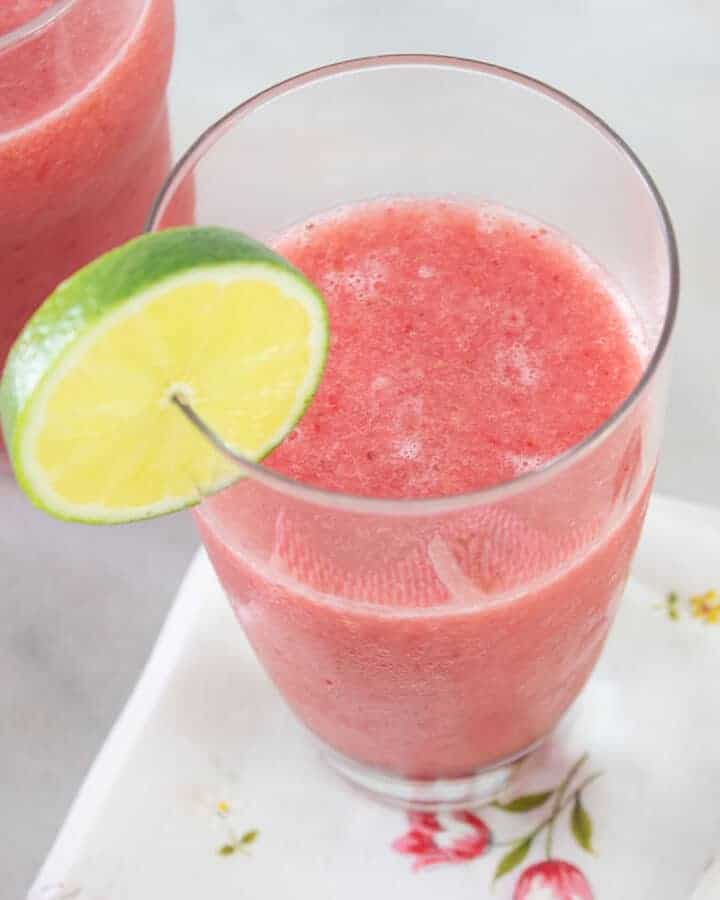 Another idea for this simple recipe is to add a splash of your favorite alcohol and make it a cocktail! It would be equally refreshing without being too sweet.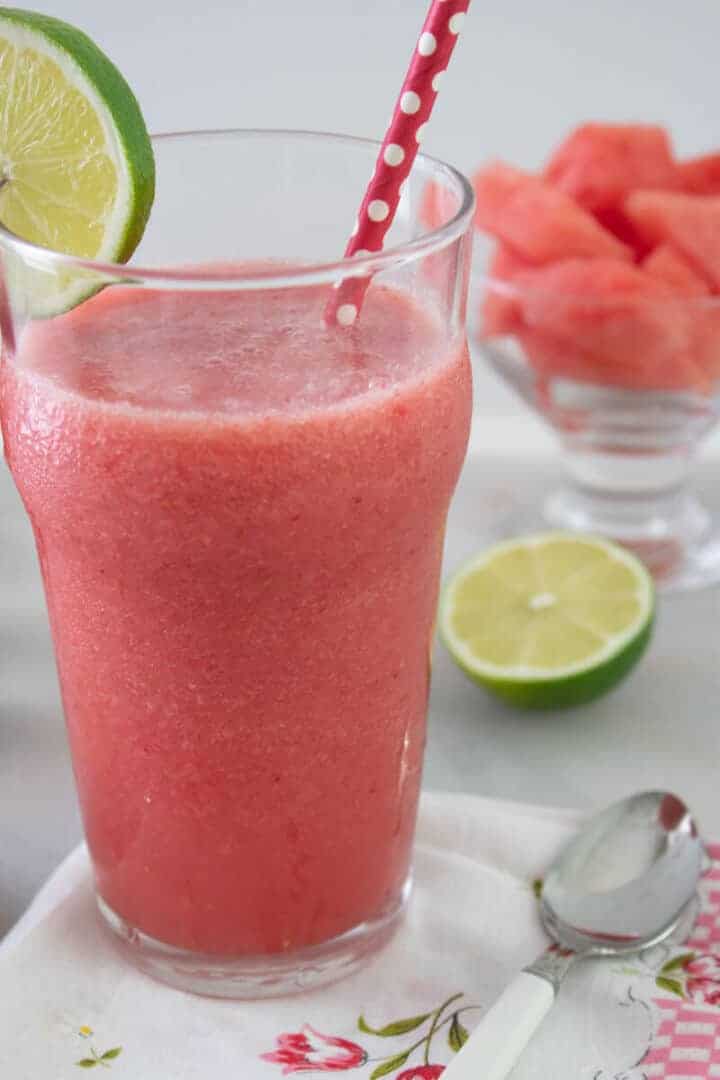 Another way to keep this super simple is to buy your watermelon already cut up. I really can't stand cutting up watermelon, it's so messy. For me, it's worth the extra dollar or two for the convenience. You can grab these three ingredients and have this watermelon strawberry smoothie whipped up in minutes.
Next time, I am going to freeze watermelon and see how it tastes with both fruits frozen.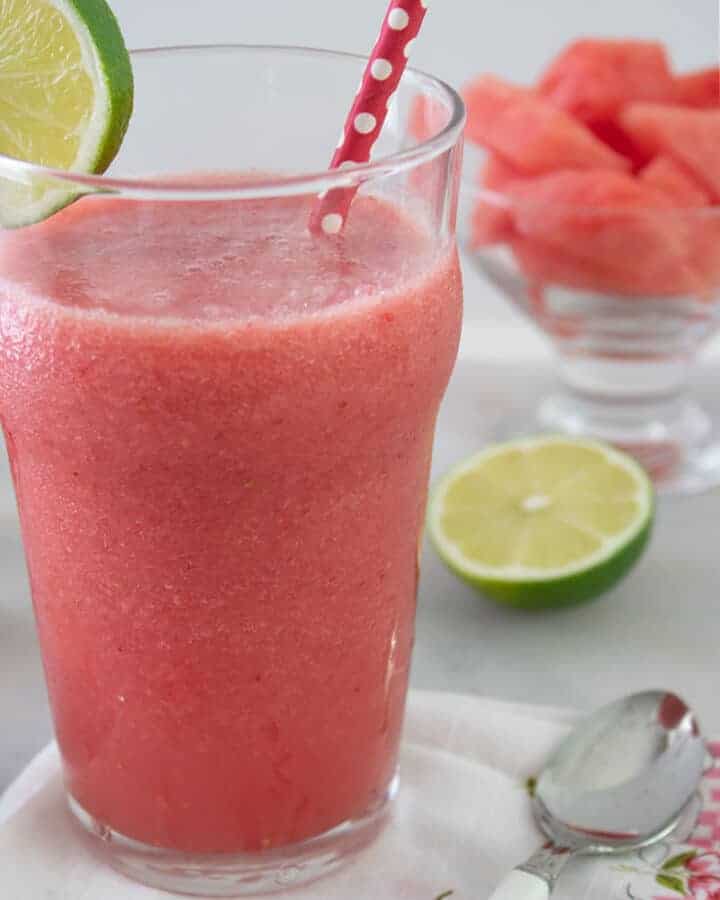 Seriously, how good does that look?
---
Watermelon Strawberry smoothie recipe:
Watermelon Strawberry Smoothie
This easy smoothie recipe is so refreshing and only requires 3 ingredients!
Ingredients
1

cup

Strawberries

frozen

2

cups

Watermelon

cubed

3/4

cup

Coconut Water

Lime

splash, optional
Instructions
Blend watermelon, strawberries and coconut water in blender on high speed. Add a splash of lime if desired. Add more or less coconut water for desired consistency.
Notes
To make this super quick, buy watermelon already cubed.
To make this a cocktail, simply add a splash of your favorite alcohol!
---