How To Print Art In Odd Sizes (& A Giveaway)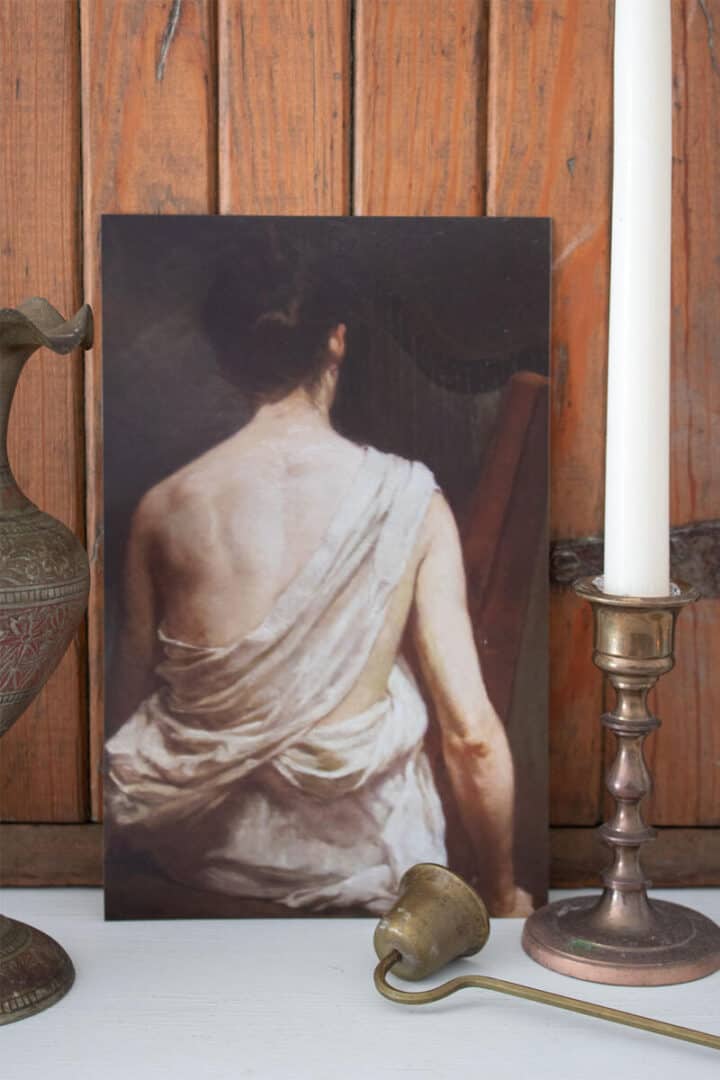 When I'm shopping at flea markets and thrift shops, I often come across beautiful old picture frames. However, after buying several I've discovered the old frames are usually not sized to modern print sizes. It took me a while, but I've figured out how to print art in odd sizes to perfectly match antique frames.
I wrote a few different print companies and found one (MPIX) that could do it if I edited the photos before sending. Fortunately, I know my way around Photoshop so this wasn't difficult for me but you could use any photo editing software that you are comfortable with. Or get a teenager to do it for you, lol.
How To Print Art In Custom Sizes
Here's how I do it in Photoshop. Open your art (shop digital art here) in Photoshop. Then resize it to the size of the frame you want to use.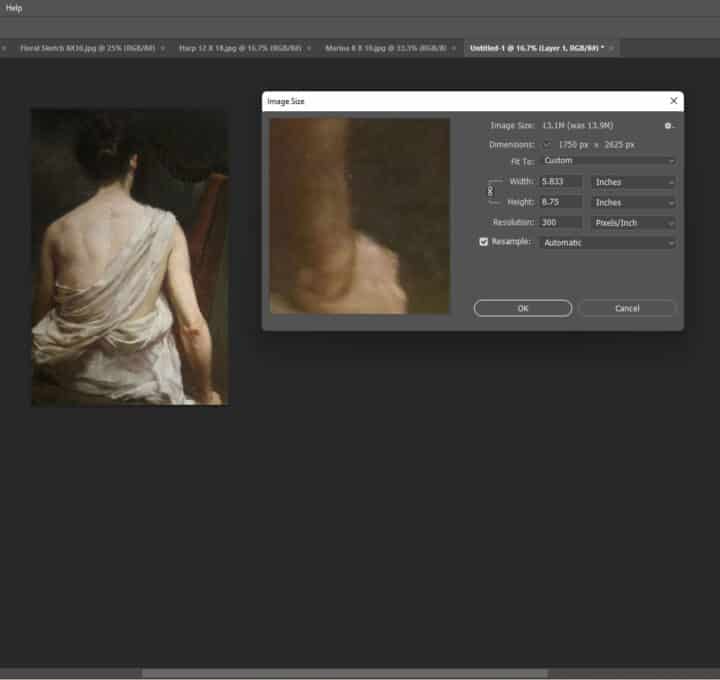 As you can see above, my frame was approximately 5.833 by 8.75.
Next, open a new document in photoshop and size it up to the next highest standard frame size. For me, the next size up would be 8X10.
Now go back to the art you've sized and copy and paste it into the new document. There will be a white border around the picture.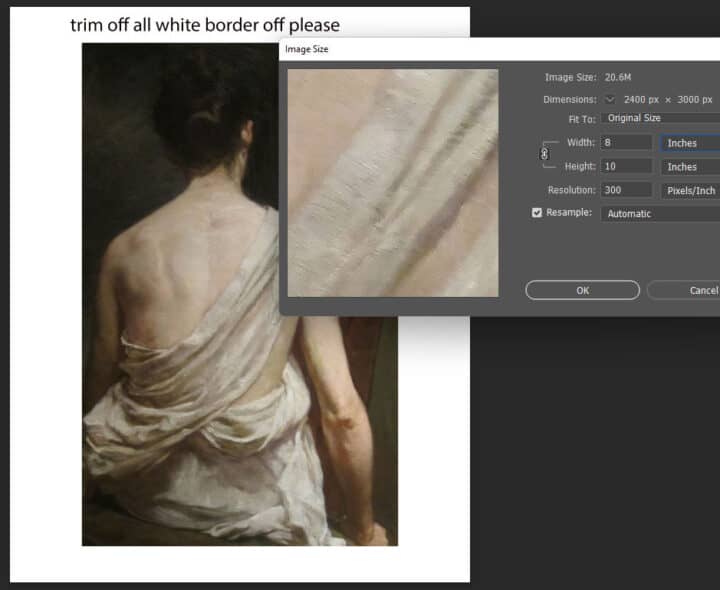 Now select the text tool and type in "trim off all white border", as shown below.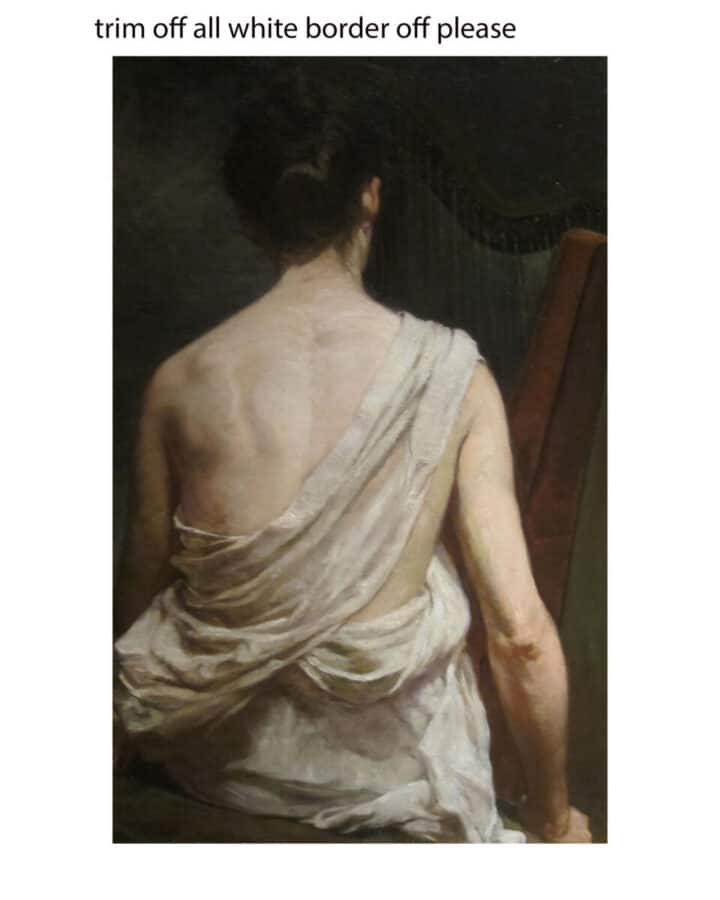 Save that file to your computer. You will use that file when you order from MPIX. Be sure to choose the correct size (for me it was the 8X10) and they will automatically trim off the white areas and ship you the custom size!
If you're using photo frames without glass, you can choose their fine art paper with double matboard. Or you can choose deep matte photo paper, it's thinner in case you need to trim any further or fit it into a glass front frame. (update: MPIX now only offers double-weight matboard on photo sizes 10×15″ and larger). 
I'm so happy I found this option because vintage frames are one flea market find I can never pass up! It's that easy to print art in odd sizes!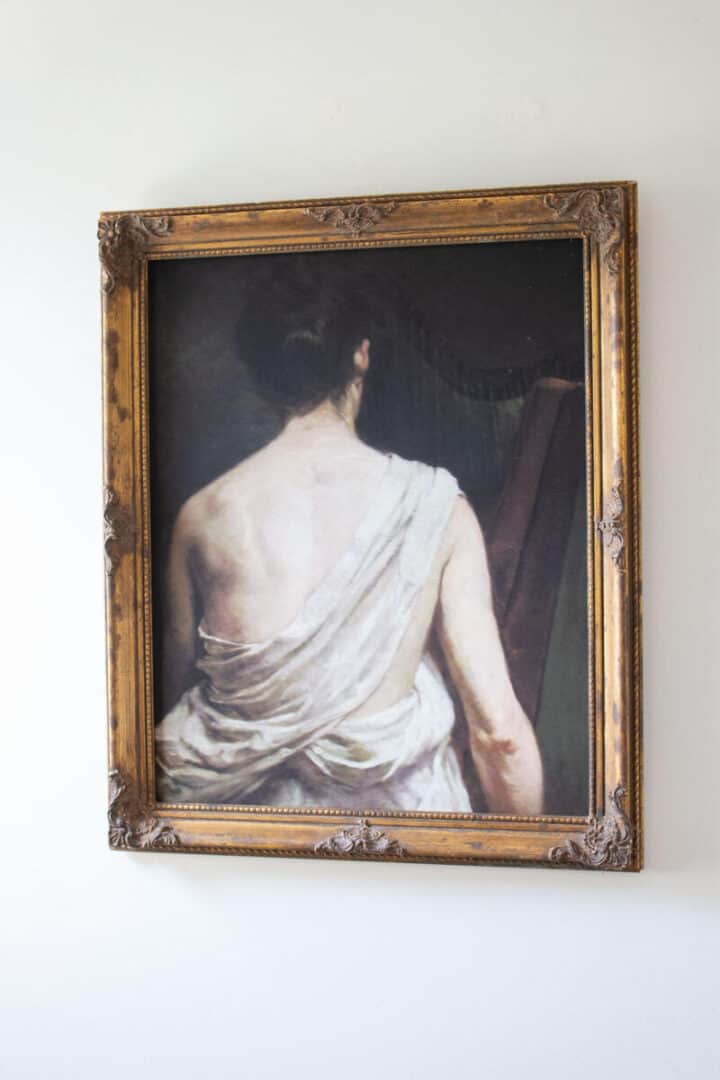 Art Giveaway
I ended up printing this photo twice. I first ordered it in the small size as I demonstrated but I loved the print so much, I ordered a larger size for a bigger vintage frame I had. You may remember seeing it in my bathroom makeover recently.
Because of that, I am going to give away the smaller photo to one lucky reader! In addition to that, the winner will also receive one digital print download of their choice from our art shop!
There are two ways you can enter. You can follow my art shop on Instagram, Old Home Revivals, (comment there so I know you followed) or visit our art shop website, Shop Home Revivals, and leave a comment here letting me know which is your favorite print. There's been lots of new art added recently!
I'll pick one winner by random on Friday! Good Luck!
Additionally, if you'd like to order from MPIX you can click here for a $10 off coupon to MPIX . This is not a sponsored post, I just really like some of their photo printing options!
---
YOU MAY ALSO LIKE: