Coastal Interior Design Style
We are continuing on with our interior design style series today with a focus on coastal interior design.
Everyone is familiar with coastal or beachy style decor, but it's fun to look at the many variations. Personally, I like coastal best when it's done subtly; using mostly texture and color to tell the nautical story with few beachy accents.
Coastal interior desgin characteristics
natural materials
breezy
weathered wood
texture
coastal colors
nautical accents
Coastal living room designs
The living room is the most obvious place you'll see coastal interior design highlighted.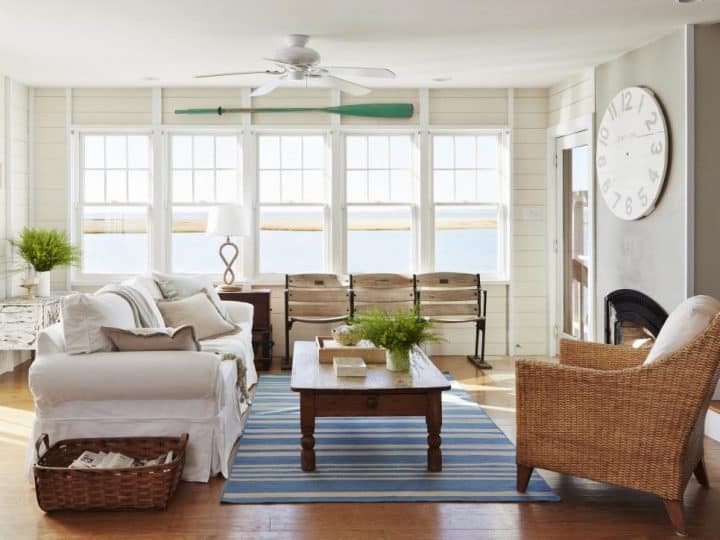 The slipcovered sofa keeps this look casual along with the textured rattan chair. The blue and white striped rug and the simple oar on the wall are subtle nods.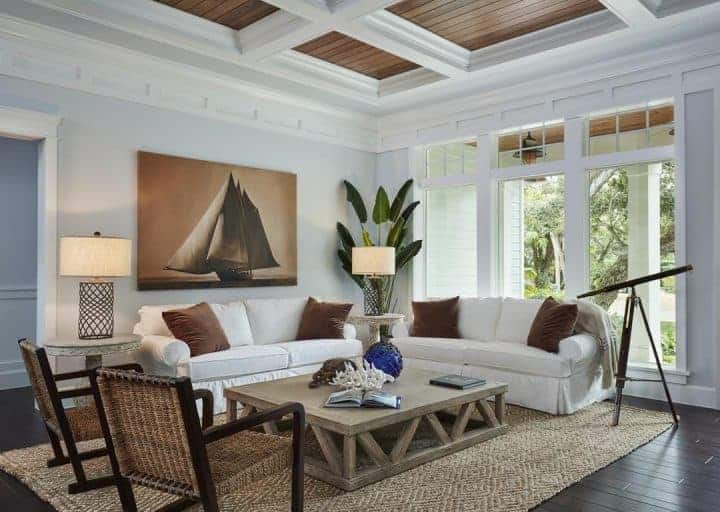 I chose the second living room as an example of how it can be done with little to no blue. The brown and white color scheme with the textured rug is beautiful.
coastal style kitchen ideas
How to infuse coastal interior design into the kitchen? Here are two very different ideas.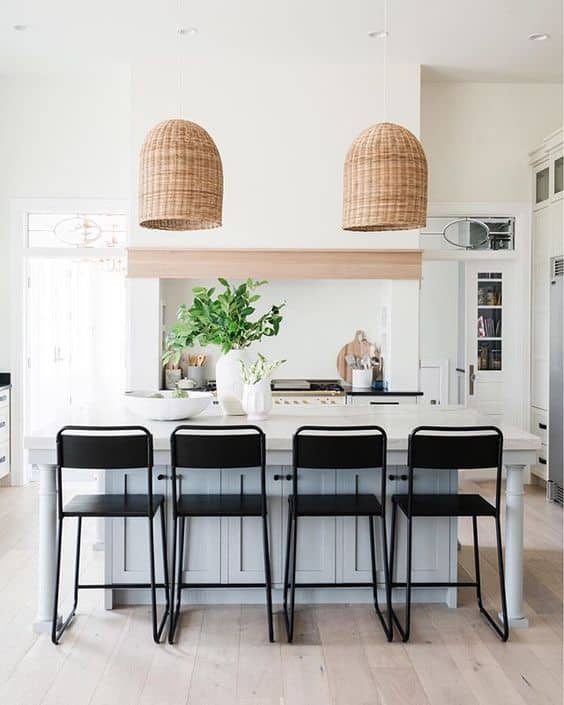 The first kitchen has no obvious coastal indication. However, the all white walls paired with the almost white washed wood floors and wicker pendants easily pass for a breezy coastal kitchen.
The second is a fun, kitschy take that I think is really well done. It has a perfectly collected-over-time look that I love.
beachy style dining room ideas
Beach days are fun and relaxing and I love how these two dining rooms reflect that vibe.
I'm a sucker for mismatched chairs. The color scheme of this dining room is so cheerful and bright.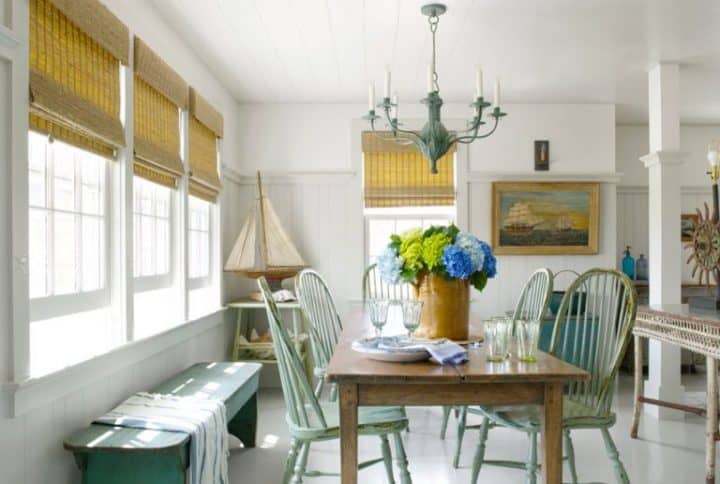 The informal and weathered elements of this dining room make it feel like a place you could sit and hang out for hours. Just like the beach.
Coastal Interior Design: Bedrooms
If bedrooms are supposed to be relaxed and restful, going with a coastal vibe is a natural fit.
I love the textured bed, the interesting lamp on the dresser, and all of those exposed beams and walls. Beautiful.
Small but adorable, I love the coordinating (but not exactly the same) quilts so much!
Coastal Style Bathroom Ideas
Bathrooms are another place to have a little fun with your design and showcase your coastal style.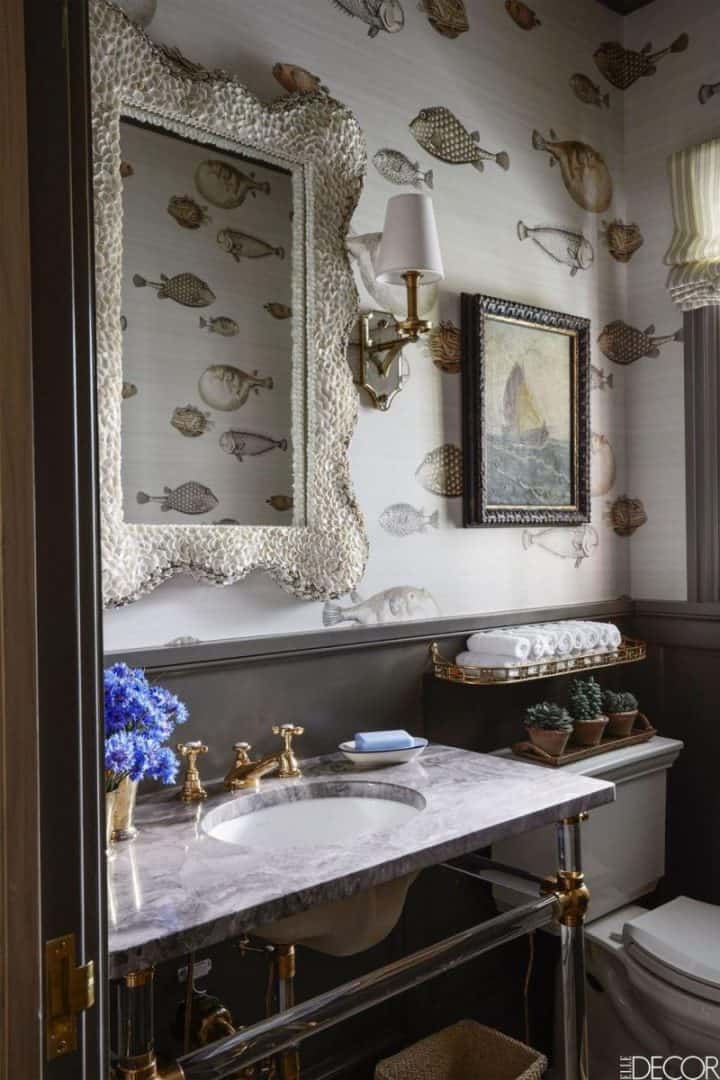 If you want to go full out with your beachy style, this bathroom is a beautiful example of how to do it! So unique.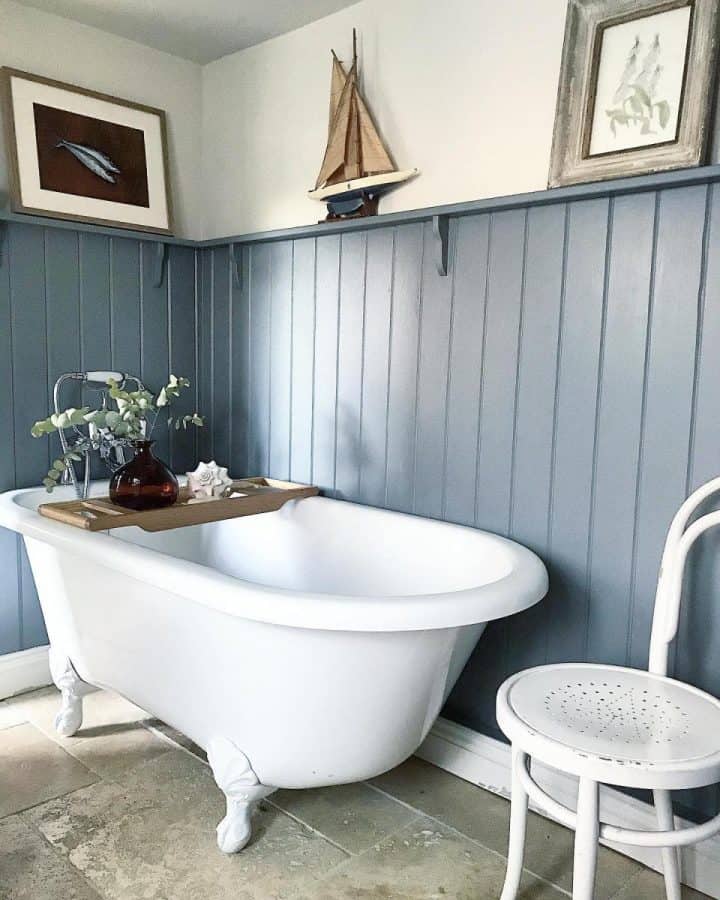 Paneling is another element that speaks to coastal interior design. The blue color and little sailboat make this feel like a calming place to unwind.
What do you think of coastal interior design? Love it or not for you?
---
Check out the rest of our interior design style series:
---
I had intended to finish this design-style series before the end of summer but got behind. I intend to wrap it up next time with eclectic design styles.