Relaxing Bedroom Ideas For Better Sleep
These relaxing bedroom ideas are in partnership with Walmart Home, all opinions are my own!
You guys, for the first time in my life I've started having problems getting to sleep. It's no wonder with everything going on in the world, I know many people who have said the same. So today I thought I'd talk about relaxing bedroom ideas for better sleep.
While we can't fix the world's problems we can try to make some minor adjustments to combat a multitude of sleeping issues. Most of these are simple, small changes that will make you feel positively pampered!
Relaxing bedroom ideas
Find the right type of pillow for how you sleep
Luxurious sheets at a bargain price (win-win!)
Calm relaxing bedroom colors
Ideas for a calming environment such as light therapy
Find The Right Pillows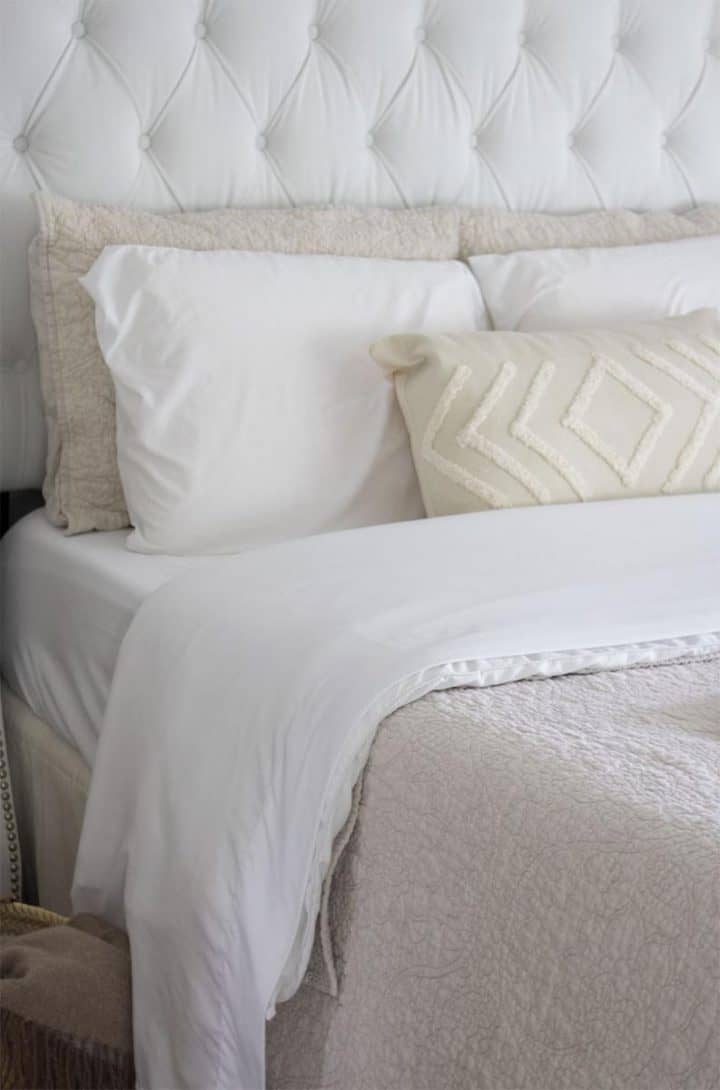 There are so many options when it comes to pillows! I recently discovered Walmart Home's sleep well shop and it made it much easier for me to pick the right pillows.
I found this set of 2 pillows for under $20. Not only can you choose the size of the pillows but you can also pick between firm, extra firm, or medium. The set I got is specifically designed for stomach sleepers! If you are a back or side sleeper then check out this set which will provide extra firm support.
Who knew they designed pillows for the way you sleep?
Additionally, sleeping on the wrong type of pillow can cause body aches. If you find you're waking up with neck or shoulder pain it may be worth trying out a new pillow. It's an easy fix.
Super Comfy Sheets
I think one of life's best little luxuries is getting into bed when you have a nice crisp set of clean sheets waiting for you!
Don't you?
Even better, I'm pretty sure I've found the most perfect set of sheets! These sheets are 1500 thread count and are under $30! They are said to be made with yarns that are finer and stronger than silk.
Another feature I like is they have a cooling effect. There's nothing worse than being too hot when trying to sleep! Sleep experts say optimal sleep temperature is between 60-70 degrees, FYI.
Did I mention these sheets are wrinkle-free? I love fabrics that are wrinkle-free. I do make the beds every day so I appreciate that feature.
RElaxing Bedroom Colors
Keeping the bedroom clutter-free is one recommendation to help you sleep better. It makes sense that if your environment is cluttered it may trigger stress when it's time to sleep.
Another thing that comes to mind when I think of relaxing bedroom ideas is the color scheme. I really like a neutral color scheme in our bedrooms. Usually, I'll stick with whites and soft neutrals. The lumbar throw pillow on the bed here is new and it's another pretty accent with the monochromatic bedding.
If You Can't Sleep
With everything going on in the world it's no wonder so many of us have trouble getting to sleep at night. We all know we shouldn't watch the news before bed, but actually keeping a TV out of the bedroom all together is a good idea.
I recently gave my bedroom TV to my daughter for her apartment. Now I find when I go to bed I will read or relax rather than turning on Netflix. It does help.
An exception to the no electronics are devices that promote sleep. Such as a relaxation sound machine, a cool mist diffuser or a light therapy lamp (all from Walmart Home). All three of these are worth trying if you have trouble sleeping or even if you just want your bedroom to be more relaxing.
Create A Calming Environment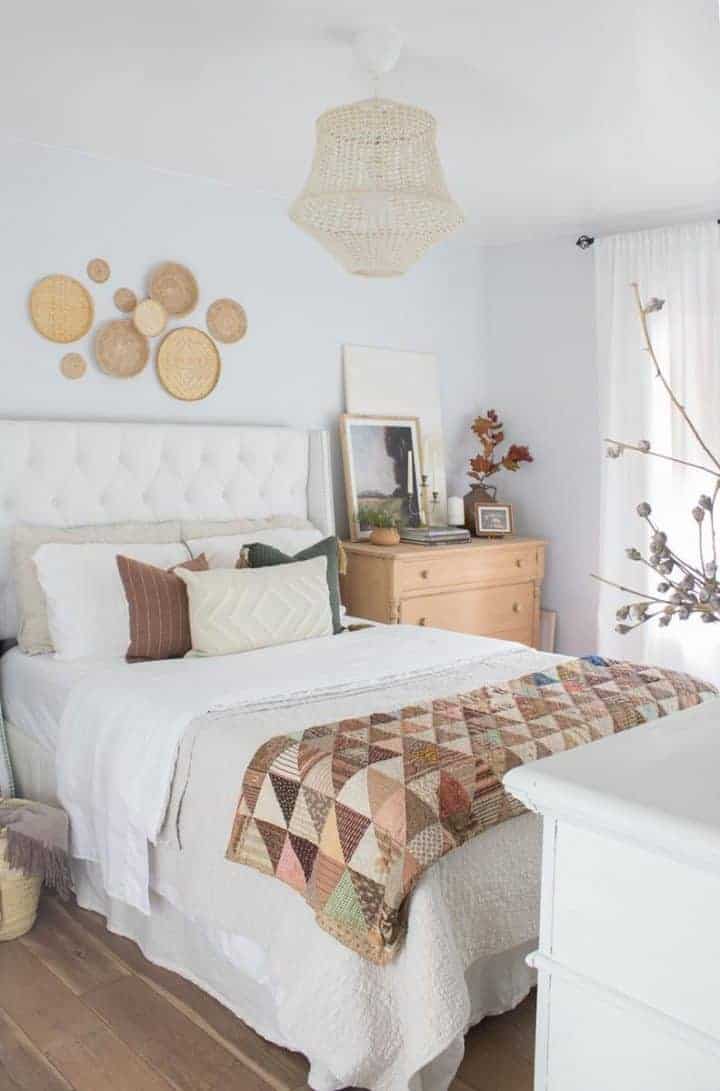 The bottom line is to do what works for you. Creating a calming environment for me includes fresh flowers or plants, neutral colors, and lots of texture. Hanging a gallery of wall baskets above the bed was one way to bring in extra texture. Your idea of relaxing bedroom decor may be very different. Experiment!
But get the sheets, they're awesome!
Walmart Home's sleep well shop is a great reference for whatever ails you. You can shop products specifically for back pain, allergy relief, snoring, and much more.
---
See these products and others below, click any photo to learn more.

---