French Script DIY Christmas Ornaments
This may surprise you, but I don't consider myself a crafty person. Give me a full room makeover any day and I'm a happy girl, but small craft projects can sometimes really stress me out (remember these DIY Christmas stockings?). Considering these French Script DIY Christmas Ornaments are my second craft project (see my Christmas door swag here) in as many weeks I'd say I'm two for two already this year!
What You Will Need*:
Paintbrush 1.5:"
How To Make French Script DIY Christmas Ornaments:
The first step is to simply paint the unfinished ornament. I used Rescue Restore paint in the color Blessed. I bought the  16 oz. jar to use on a dresser I'm planning to paint, but it's also available in a 2 oz. which would be plenty for this project. Give the ornaments two coats of the white paint, letting it dry in between.
Once that's dry, you are ready for your stencil. The french script stencil I used is a mesh stencil. Rather than using paint with it, chalkart is preferred (the color I used is called Preaching to the Choir). You apply the chalkart with a spreader as opposed to a paintbrush. These mesh stencils give a more crisp finish than traditional stencils. I've never had great success using stencils with paintbrushes. Paint sprayers give a nice result but are better for larger projects (for example, these floors).
I made sure the ornaments were straight and level using a ruler before applying the stencil.
This stencil has a light adhesive backing on it, so when applied to your surface (in this case ornaments) it will not slide around. It's large enough to cover 6 of these unfinished ornaments at a time, making this project go quickly. I forgot to order the spreader when I purchased the chalkart, so I improvised with this little pan scraper  I have. The chalk art spreader is under $1, and is more flexible than this scraper so I plan to order that next time.
As you can see above, I lightly spread the chalk art over the stencil. You don't need to use much of it, less it more. Here is how they looked when I lifted the stencil.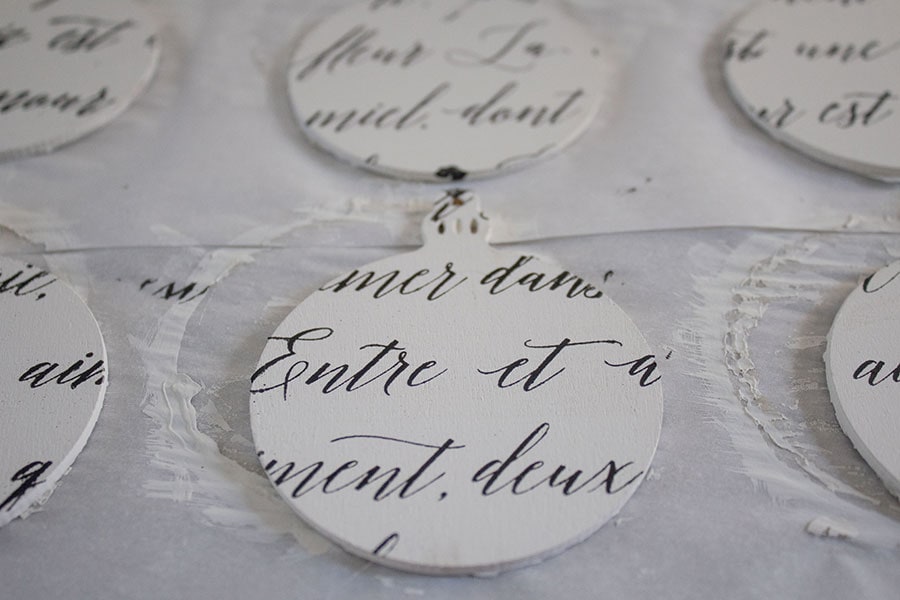 Using a small artists brush, I applied gold paint to the top of the ornament as you can see below. I bought thin ribbon (1/4″) in both red and gold to use as my trim but ultimately decided to stick with the gold. I tied it onto the ornaments so I can easily switch it later if I change my mind.
These DIY Christmas ornaments were such an easy project, it would be great for kids as well. Another bonus to using chalk art is you can erase it with a damp cloth if desired. You can also seal it if it's something you know you want to keep permanently.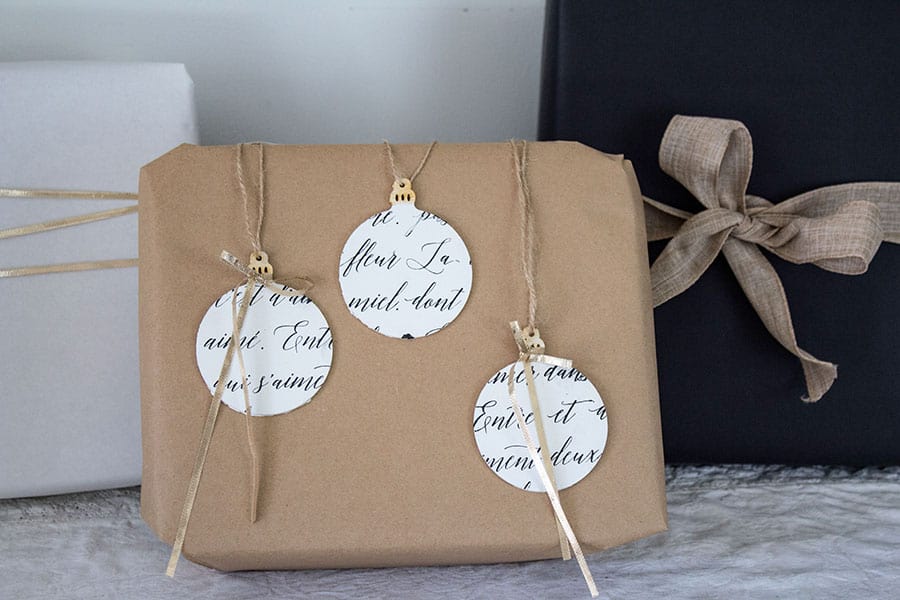 The mesh stencils are reusable, mine easily cleaned up with a wet sponge after. You can find more holiday stencils to choose from here.
I thought it might better help you to see how to apply the chalkart with a video. Thanks to my friend Rachel of Craving Some Creativity for helping me put this together!
Learn more ways you can get creative here and possibly even make a side income from it!
*This post may contain affiliate links you can read my full disclosure here.