Let's Get Creative – Paint Your Way To A Side Income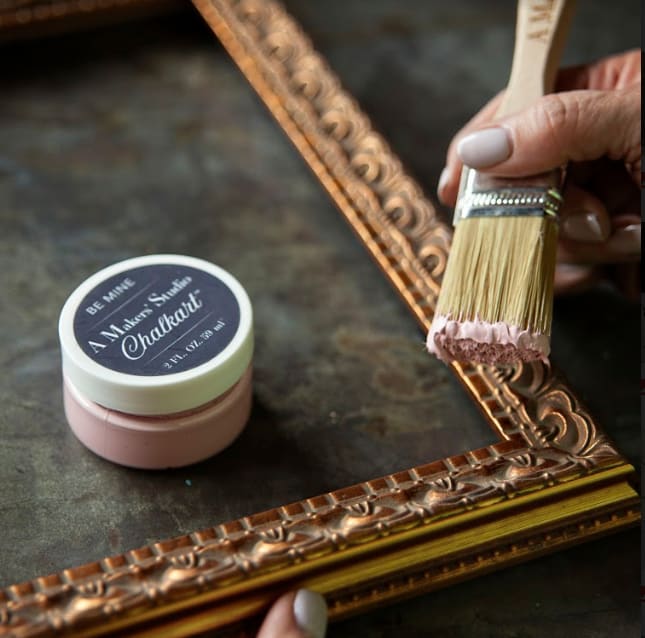 I firmly believe everyone needs a creative outlet. For me that is home decorating, refinishing furniture, reviving flea market finds and anything home related. If you follow along with me, I'm guessing all of this interests you as well so let's get creative together!
Today, rather than show you what project I'm working on, I want to encourage you to get started on projects of your own. I've been researching a line of paints by Amy Howard Home*  for months and I really like the products as well as the programs that she offers.
The products range from furniture paints to stencils and everything in between. I just ordered the Rescue Restore One Step Paint (in the color Blessed) and after trying it out on some craft projects, I can't wait to repaint my daughter's dresser with it. No sanding or priming is necessary with this paint and it works on most any surface, including metal. Another huge bonus is that it doesn't need to be sealed!
Get Creative With Project Kits
Also offered are complete project kits to help you get creative. They come with everything you need (plus plenty leftover) to make the project as well as detailed how-to instructions. For example, you could create this beautiful wall art for your home.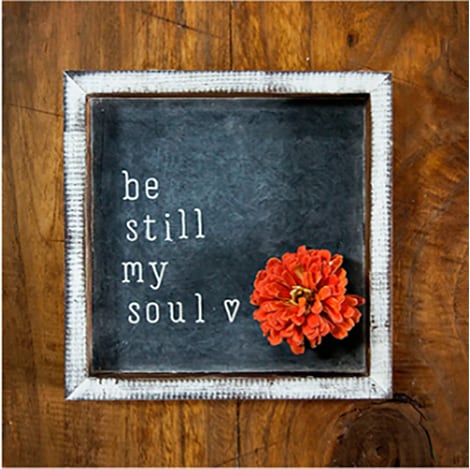 Inside this kit you will find the stencil, chalk art, paint and tools you'll need to make it. When you're done, you'll have the stencil to keep for future projects as well as all the other supplies.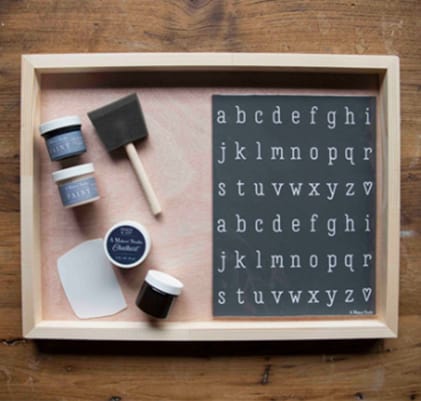 One of the things I liked best about Amy is that whether or not you feel you are the creative type, her products fit anyone at any experience level.
For example, if you like to learn by watching, Amy Howard hosts live Facebook videos where you can create projects right along with her using one of the featured project kits. This would be a fun idea for hosting a girls night! The next one is coming up on October 27th and Amy will be teaching how to make this "Simple Beauty" DIY wall art.
You can order the supply kit for these lives ahead of time so you'll have it. However, even if you can't attend the event live, you will receive a replay link that doesn't expire.
If you see a past live that you would've like to make, you can still order the supply kit and get the link for the replay video.
Get Creative & Become A Maker
If you already are the creative type or are business-minded,  you may want to consider becoming a "Maker" yourself as part of the Maker's Program. This is great for serious painters or crafters because you will earn 25% back on all of your purchases. That was a huge selling point for me considering how much paint I buy. You can also earn money by hosting your own workshops or selling Amy's products. You can even host in-home parties for family and friends.
I believe the popularity of this Maker's program is only going to grow, so now is a great time to get on board while it's still relatively new! It could be a great side business or supplemental income. You can't have all your financial eggs in one basket these days!
Become a "Maker" and you will have access to a mentor, tons of information, and promotional materials to get you started. Also included is an invitation to the private Facebook group.
One of the many things you'll find in your Maker's dashboard is recipe cards, which I love! These cards show a finished project with a complete "recipe" on how to make it. It details the supplies needed as well as step by step instructions with photos.
I just ordered the French Script stencil (shown in the photo with the rose), I have about 5 ideas on ways to use that! Of course, I'll be sharing all my DIY's here as I make them so keep an eye out for those!
Head over to the Maker's Studio now to find out more. Be sure to check out the digital catalog while you're there, it's full of beautiful ideas to inspire. Whos ready to get creative with me?
"Making something beautiful with your creativity and a handful of helpful products is rewarding. Making something beautiful alongside others is a gift."
~Amy Howard
Pin it for later:
*This post may contain affiliate links, you can read my full disclosure here.