Fall Home Tour 2016 (And a Giveaway!)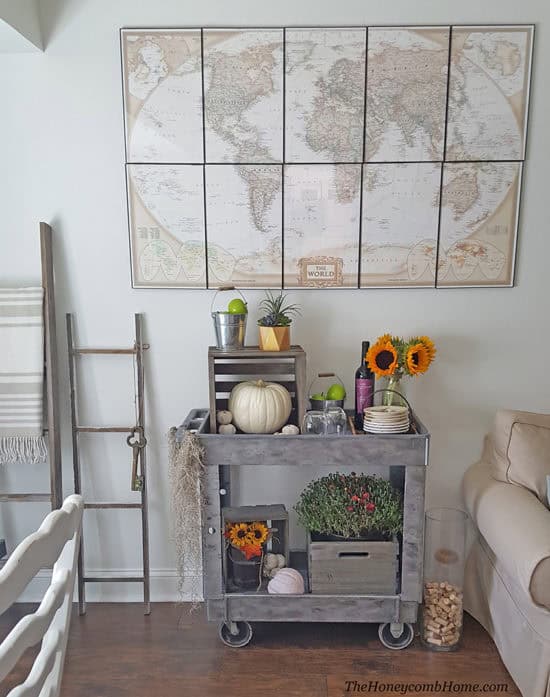 Welcome to my Fall Home Tour! I've teamed up with some of my blogging friends to bring you tours of our fall decorated homes. There is so much fall inspiration, my brain is on overload. I have also teamed up with Crates and Pallet to give one lucky reader a $50 gift card to Home Depot, where their products are sold. I used some of their crates myself, on my bar cart (above) to hold various fall items, such as mums. The crates are the perfect little fall touch!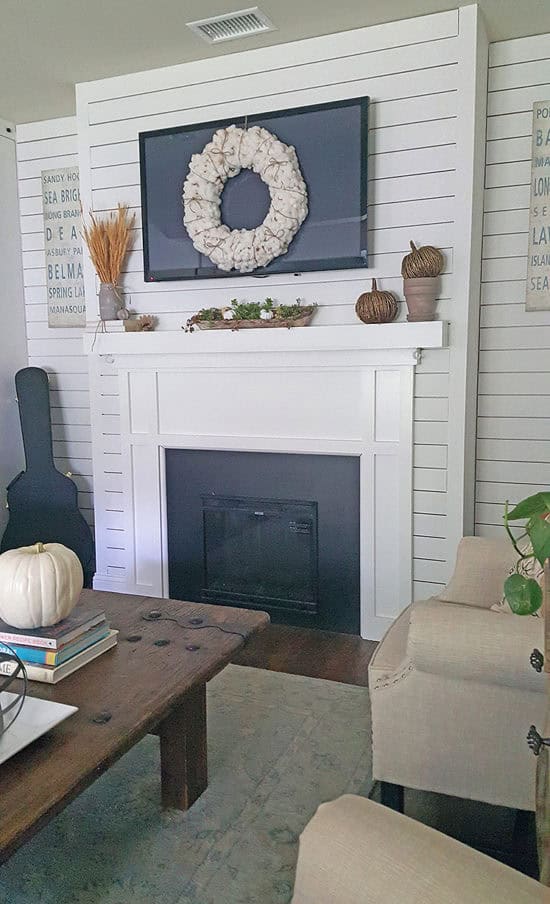 On Monday, I showed you how I made a fall centerpiece with succulents, which I decided to keep on my mantel instead. I've already shared my fall mantel (maybe over shared but it's where all my favorite things end up because it's my favorite spot in the house) and my cotton wreath if you want to find out more about those.
I changed a few things up on my coffee table after finally finding some mini white pumpkins at a nursery last weekend. I really think I'm going to try to grow my own next year, because I want them all over the house!
I added a few small touches of fall here on my sideboard vignette as well. I used a plant from the yard that is called Autumn Joy Sedum Pink, I think it may be a form of succulent, but I'm not sure on that. I also added in apples, white pumpkins (some that I bought from Home Goods and two that I painted)  and my DIY decorative bowl fillers.
Here's  a closer look at that.
Here's a closer look at my pumpkin/Sedum mix.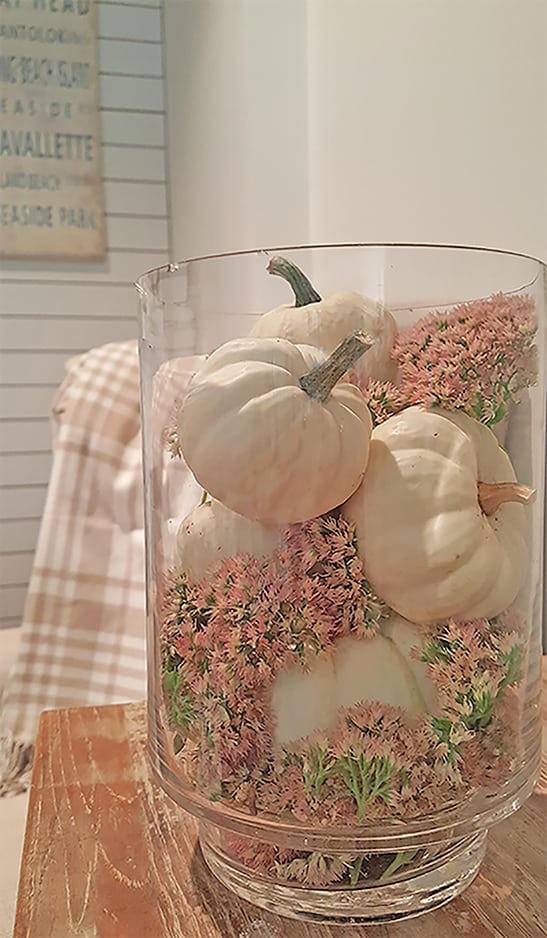 If you've been reading for a while, you may remember that my bar cart used to be my husbands tool cart. I gave it a galvanized finish with paint, and now it serves as our bar cart. That sunflower shown in this photo, I actually grew myself. I've tried to grow these before without success, but this year I got several.
This next photo is from my living room which is currently under construction, so that's all you'll see of that for now. I covered the books on the side table with fabric, you can see how I did that here.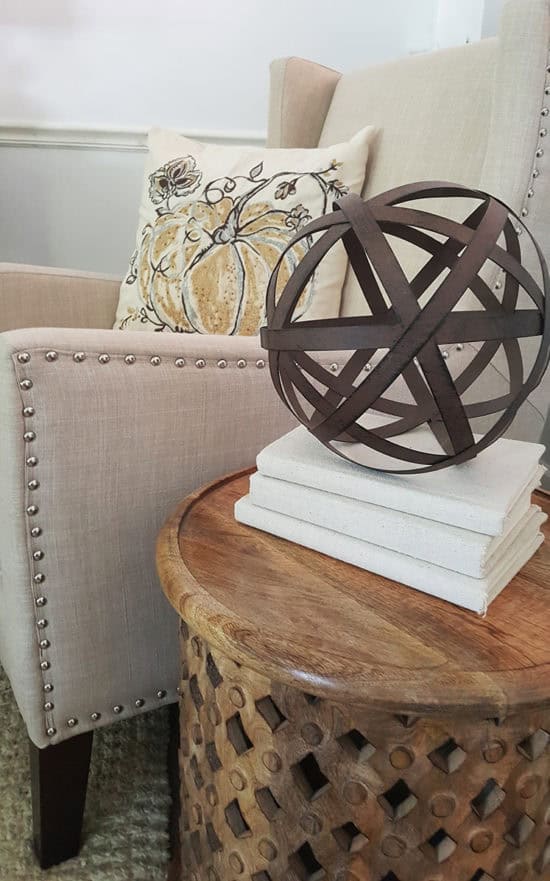 Of course, since I finally got to redo my kitchen this year, I had to add a little bit of fall decorating in here as well. If you're new here, you should check out the before and after of this space – it was a major change!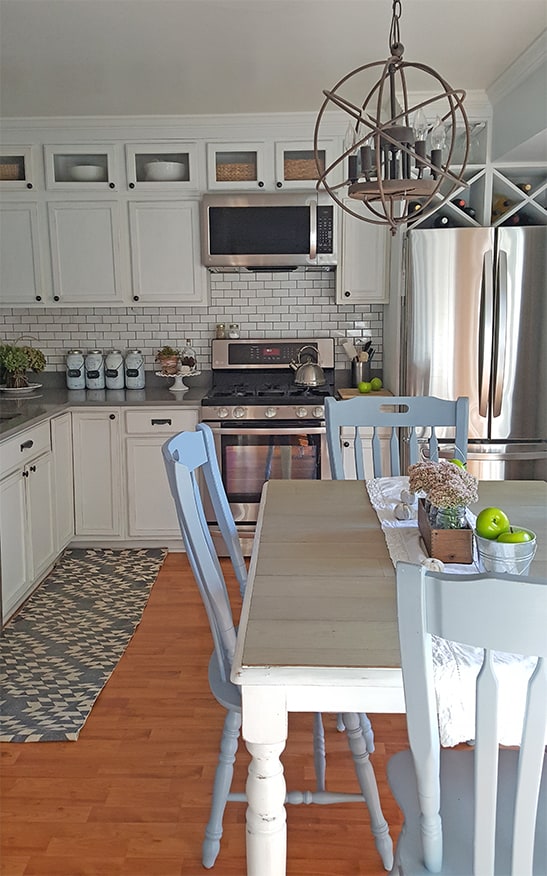 The rustic box I use as a centerpiece is one of my favorite flea market finds. I added simple mason jars and more of the Sedum picked from my yard. I really wanted 3 mini mums in here, but I couldn't find the mini ones anywhere so I improvised.
I've been collected mismatched white plates for a while now, and this one is really beautiful. The linen napkins* are from Pier 1 Imports. And a few more of the mini pumpkins from Home Goods.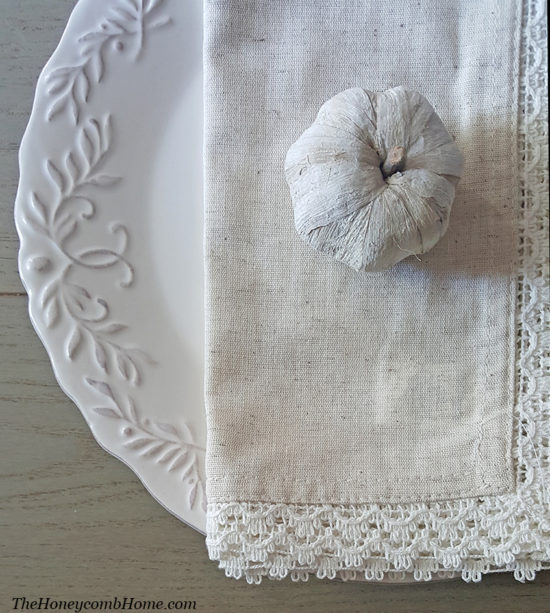 I've been auditioning different fall items on my white cake stand. First I tried this arrangement in my DIY branch vase.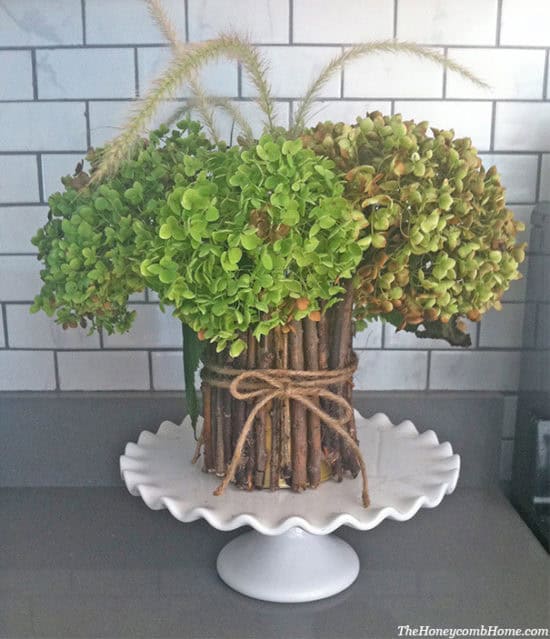 But I ultimately, went with this little vignette instead.
They both look pretty on my kitchen counter.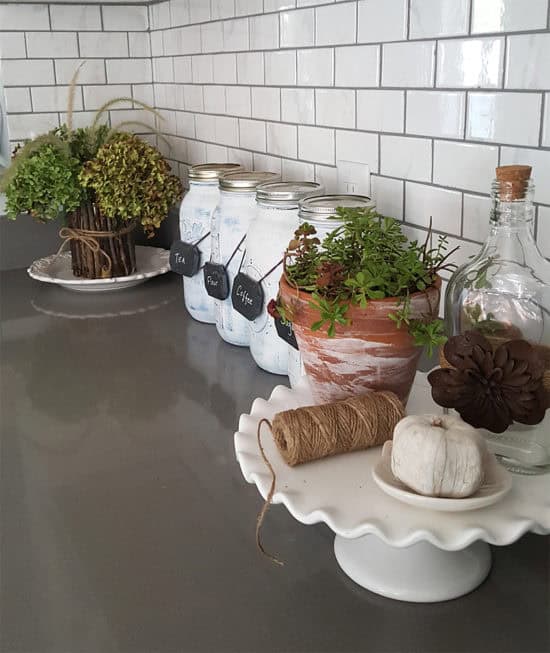 Here is one more look at my bar cart with the crates from Crates and Pallet. These came unfinished and I gave them that weathered look myself. I'll share how I did that next week. They have a great selection of both finished and unfinished crates to choose from so be sure to check them out!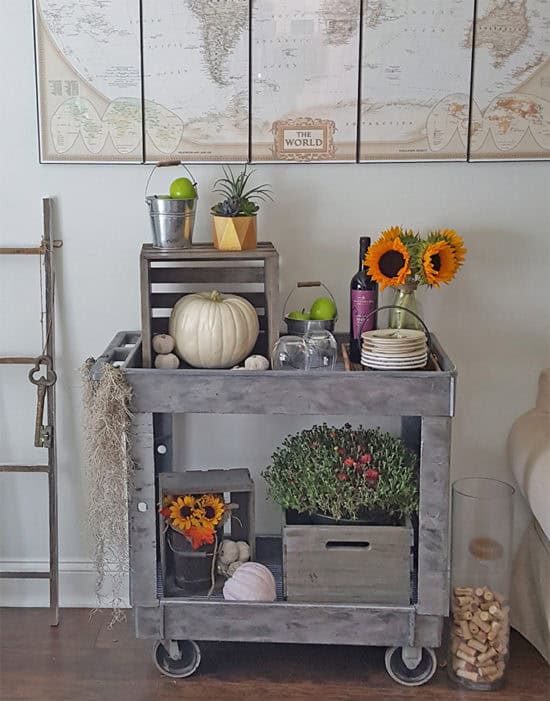 You can enter for a chance to win the $50 Home Depot gift card below! Be sure to check out my friend's home tours after you've entered. Good luck!
Visit my friend's home tours via the links below:
Monday
Craft and Tell
Little Bits of Home
Tuesday
Wednesday
Sharon Joyce Interiors
2 Bees in a Pod – Vicki's house
Thursday
2 Bees in a Pod – Jenn's house
Go Haus Go
Friday
*This post contains an affiliate link, you can read my full disclosure here.