How to Age Wood for a Weathered Look
Hello! Last week I shared my fall home tour and I mentioned that I had given my crates an aged look. I really love how they came out so I thought I'd share with you how to age wood to get that weathered look. I've done this several different ways on several different projects, but I do think this finish is among my favorites so far.
A company called Crates and Pallet were kind enough to supply these crates for me, as well as for one lucky reader. You can find the details on how to enter to win your choice of crates here.  The crates I chose  arrived to me unfinished.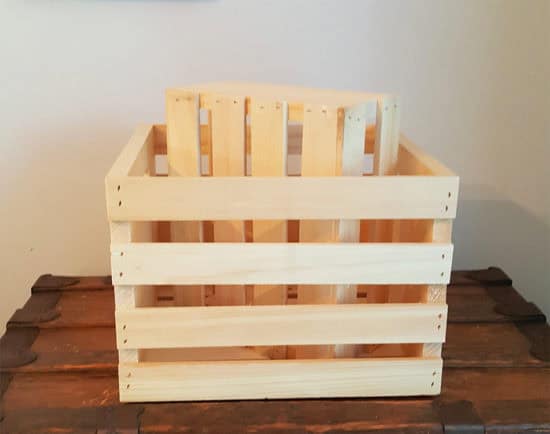 After experimenting on some scrap wood, this is the technique I went with. I started with a can of Rust-Oleum weathered gray stain*. It's easy to apply. You brush it on with a paintbrush, let it sit for a minute or two and then rub it off gently with an old cloth. Once that was fully dry, I knew it needed something more. After trying a few different things,  of course I ended up using my Annie Sloan dark wax. I applied that directly over the stain. If you want more details on how to apply the wax, you can see how to do that here.
You can see above how it looked before and after the wax. The crate on the left has only the Rust-Oleum stain, the one on the right has the stain followed by the wax. It's amazing what a difference the wax made, isn't it?
I would also suggest that you use these products outside or in a well ventilated area because they both give off a stong odor.
I have lots of ideas for using these crates for decorating and for organizing, so I'll be ordering several more. If you want to see how I styled these crates, you can check out my bar cart shown in my fall home tour post. Be sure to enter the giveaway while you're there for a gift card to the Home Depot, where these crates are sold. They also have many other styles and finishes to choose from, shown below. Good Luck!
If you'd like to see other techniques I've used to achieve a weathered, distressed look check out these posts:
Get a Galvanized Finish With Paint
Pin it for later:
*This post contains an affiliate link, you can read my full disclosure here.