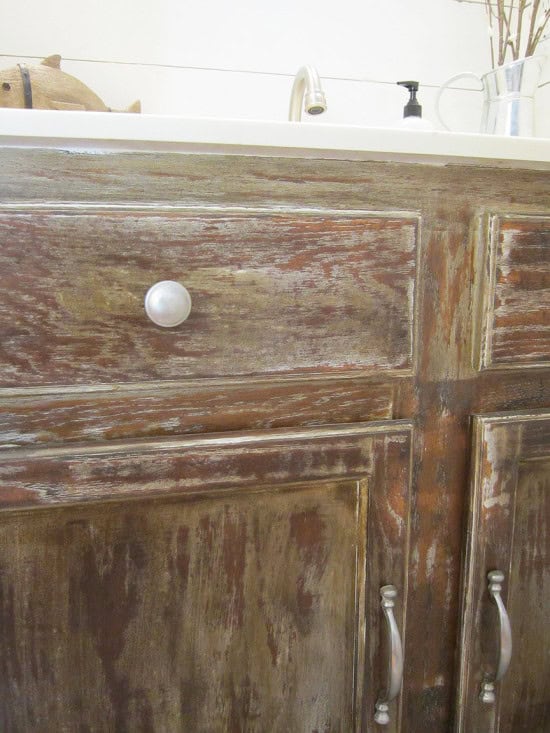 Hi guys! On Monday I shared my half bathroom makeover. My little half bath still had many of the builder grade finishes from when we first moved in. I switched out most of them in my makeover with the exception of the vanity. The vanity is built-in and provides a ton of much needed storage space. Because I didn't want to lost that space, and because my husband didn't want to change it out, I had to work with it. This is what the original oak cabinets looked like.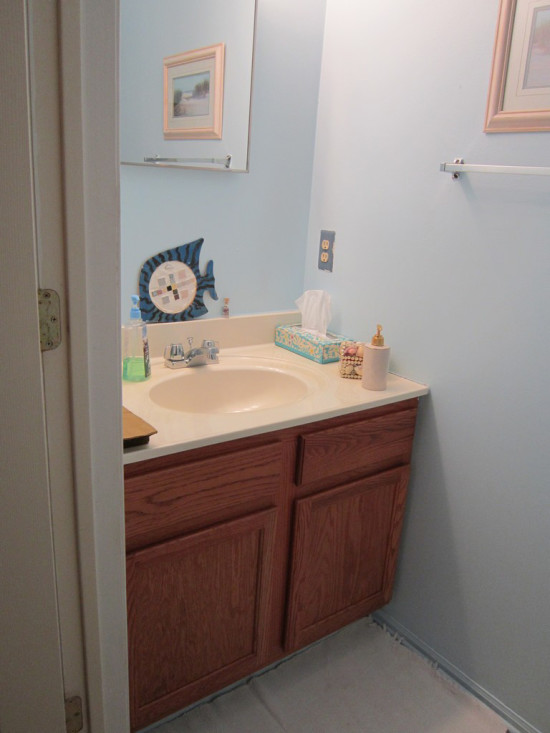 A few years back, I painted them white. I never liked the white only because the sink top was an off white and the cabinets being pure white really highlighted that fact. Since the mirror we hung in place of the medicine cabinet is a rustic bronze, I decided to go darker with the cabinets to match, and also to contrast the sink. I was aiming for a DIY barn wood cabinet finish. I started by sanding off as much of the white paint as I could. This was my first time ever trying something like this and I really didn't know what the outcome would be. In retrospect, I would have sanded off less of the white.
I planned to stain right over the sanded cabinets in the hopes of getting a weathered barn wood look. I practiced on the inside of the cabinet doors with the stain, which was Minwax dark walnut. The stain on the left was applied with a cloth and the one on the right was applied with a paintbrush. Who knew the application tool would make such a difference? I liked the darker look of the one on the right, so that is the technique I used.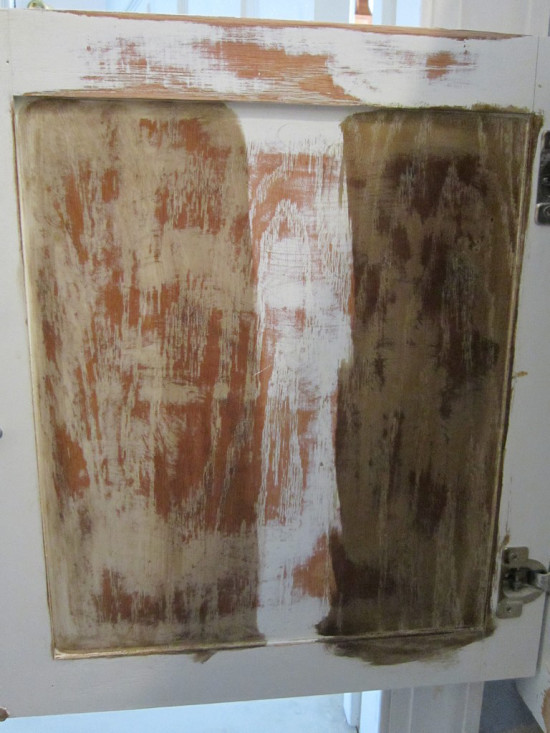 If you look at the stain on the right, you can see various shades. Where you see the lighter brown/gray shade is where the stain was applied over the white paint. That is why I said I would have left more of the white paint had I known this, that was my ideal color. Because my little bathroom doesn't have any windows, it is hard to get decent pictures in here. The cabinets are showing a little darker in these pictures than they actually are.
After the stain fully dried, (which took days by the way) I went over them with a sanding sponge to distress it a little further. I would say I am pretty satisfied with my DIY barn wood cabinets,  much better than the original builders grade. It may be time to move on to bigger furniture now that I've had some practice!
You can see the full bathroom makeover here.