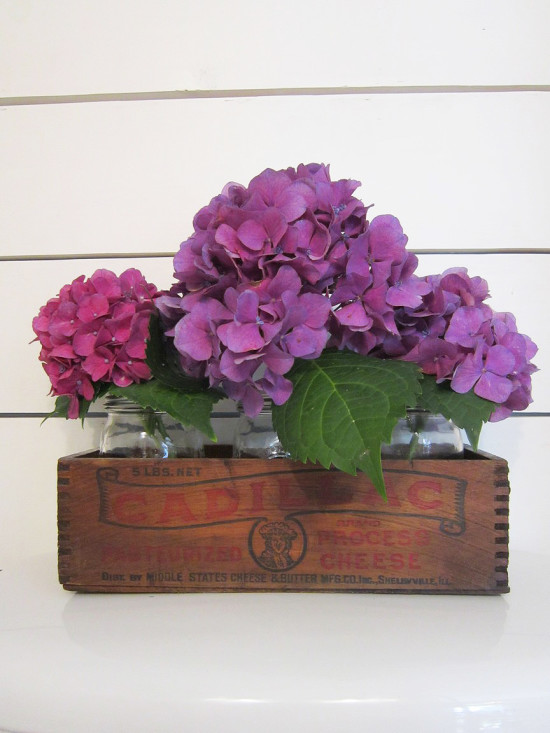 We have a tiny little half bath downstairs that tucks under our staircase. It was all builder grade finishes when we moved in. I attempted years ago to begin a half bathroom makeover in here. We upgraded the original light fixture to the one shown below. I painted the walls blue to cover up the original off-white color and I painted the oak cabinets white. We also replaced the linoleum floors with tile. Here is what it looked like at that point.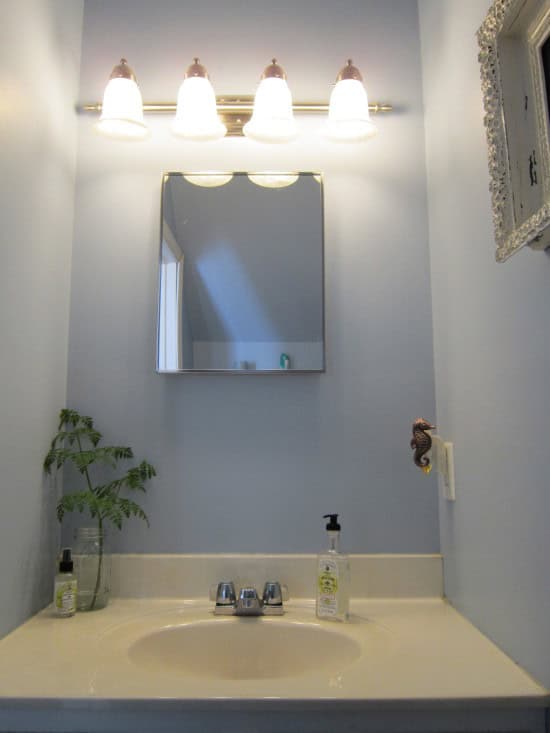 Still pretty sad looking. I never liked the cabinets white, only because the sink is off-white and it highlighted that fact. My husband wasn't interested in removing the vanity so it stayed that way for a long time while I debated what to do. One day last year when I was in Home Goods, I found the perfect mirror, just like this one shown below.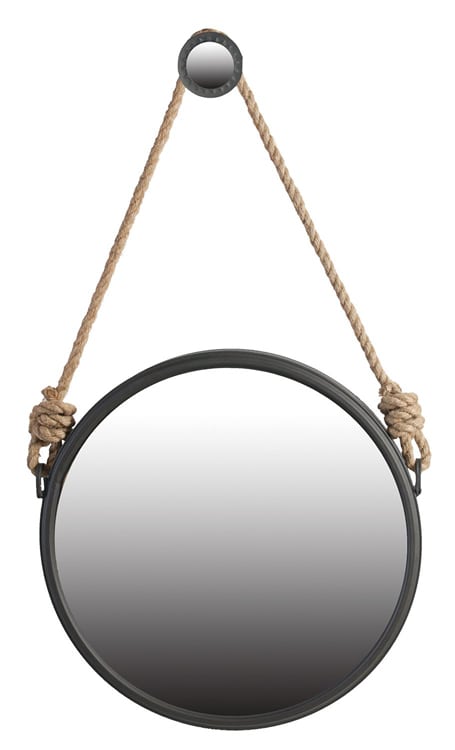 It was a steal for under $30 so I grabbed it. When I got it home I knew it would be perfect in the bathroom. I had always wanted to remove that medicine cabinet and replace it with something nicer. My husband definitely was not thrilled with this idea, he is not an enthusiastic DIYer! So it sat in my family room for months. Finally, last spring (as in 2014) my husband agreed to remove the medicine cabinet and hang the mirror. We also realized that the light fixture would  have to be switched out to accommodate the height of the rope hanger on the mirror.
It is so hard to get decent pictures in this room because there aren't any windows. I ended up purchasing galvanized metal sconces online, that are actually meant to be outdoor lights. You can use outdoor lights indoors, they are often much less expensive.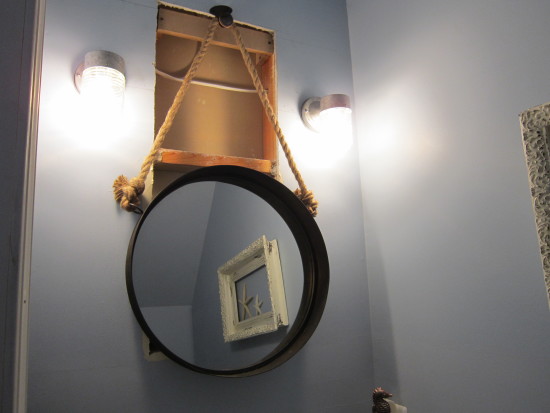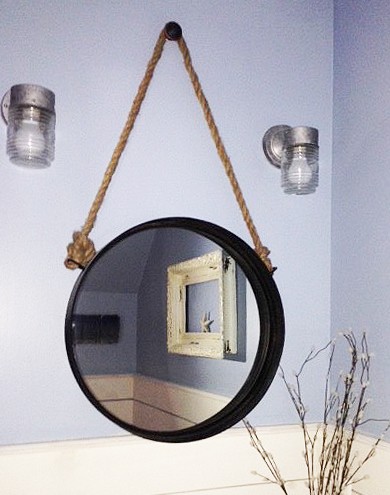 After the mirror and lighting were installed, it sat this way for another year before I convinced my husband to add plank board. Fortunately, one day a few months ago something happened to our toilet and it had to be removed to be repaired. My husband decided that since it had to come off anyway, that would be a good time to do that planking.
I'm not going to write a step by step on how to plank board because there are plenty online to choose from and it's actually not that hard. I painted my planks in a dull white so the off white sink wouldn't stand out as much.
We also switched out the faucet fixture. That turned out to be the most difficult part of all. We kept the vanity because (1) my husband wasn't about to change it and (2) I really didn't want to lose all of the storage space under there. I couldn't leave the cabinets white so I decided to try a distressed, stained barn wood look to match the mirror.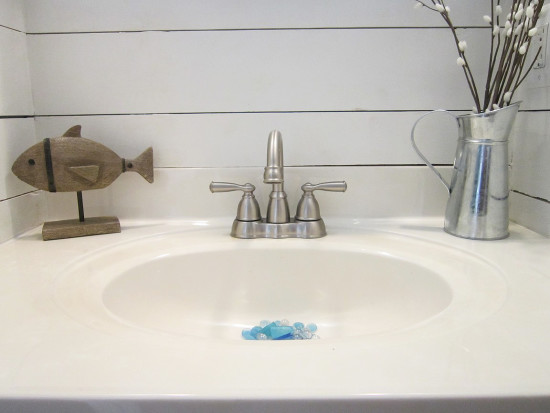 The cabinets look darker in the pictures above than they actually are. This picture  better represents how they really look. I will write a post on how I got that finish soon.
One thing I couldn't find online was a how-to on finishing off the plank board when only doing a 3/4 wall. We decided to just go with quarter round molding.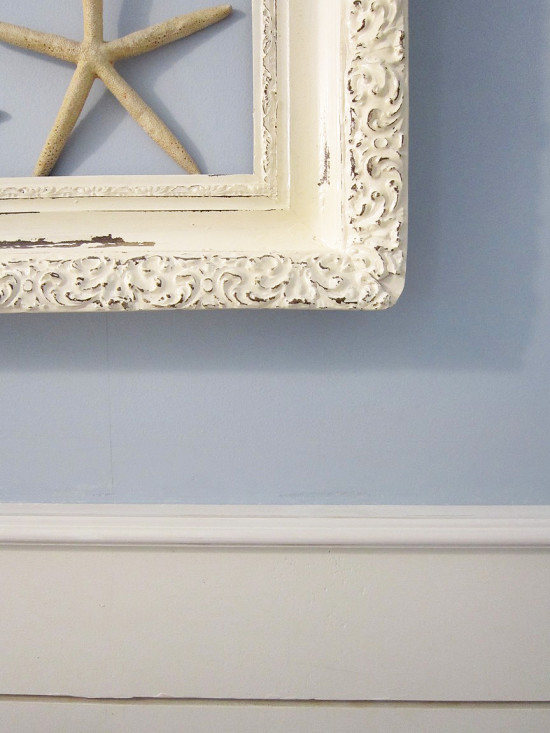 By Using the quarter round, it gave a nice little ledge around the bathroom where we can display things if we choose.
My wooden whale and the rustic box that holds the hydrangea's both came from my favorite annual flea market. The whale was one of this year's finds, the rustic box was last year.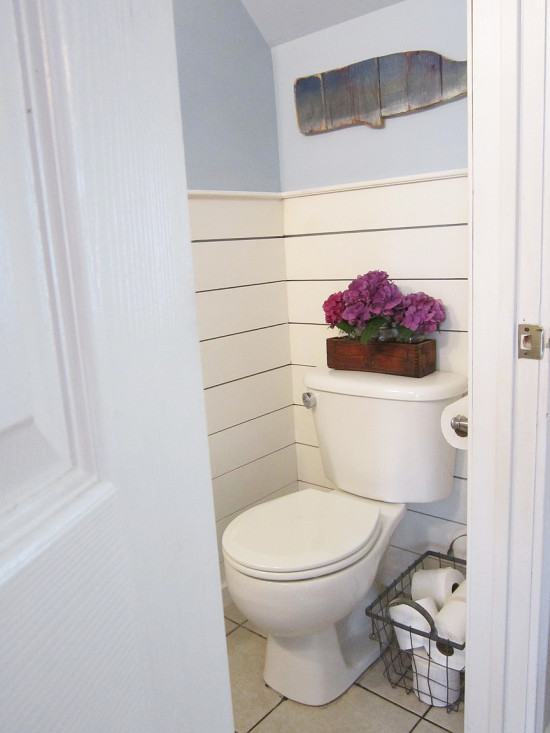 I plan to change up the display in the box with the seasons. If you follow me on Instagram, you may have seen this picture I posted for the Fourth of July.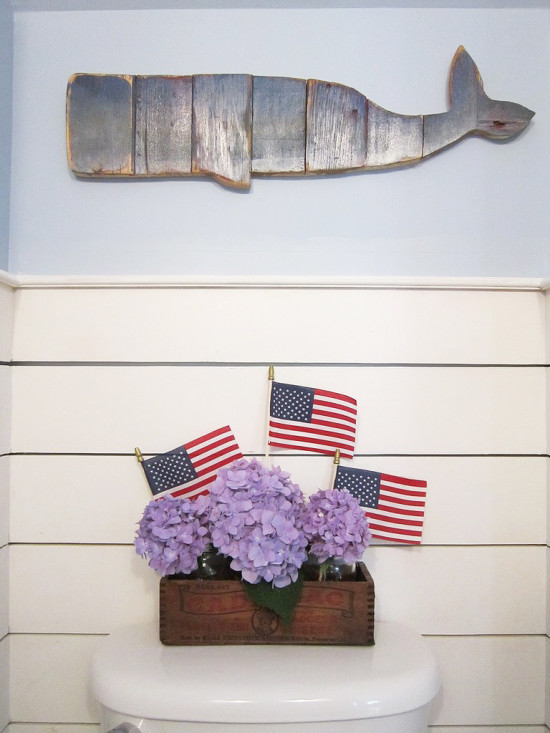 One final touch I'd like to add in my half bathroom makeover is a Kilim rug. That may be an upcoming DIY project because the room is so small I cannot find one that fits. You can read how I got the barn-wood, distressed look on the cabinets here.
Update: See my DIY Kilim Rug here
 This post contains an affiliate link.