Hi guys! How was your weekend? I was in my happy place on Saturday, which is at my favorite flea market! It was unbearably hot, but totally worth it for the amazing finds. I'll share more on those soon! I'm getting very inspired by fall this year, more so than usual. I completed a quick little DIY Branch Vase this weekend that turned out super cute. The funny thing is, this is such a simple idea and I've always wanted to make it. I just never got around to it until now. This clearly isn't rocket science, but I'll share how I did it anyway.
Supplies Needed:
Empty Coffee Can
Gold Paint
Twigs or Small Branches
Hot Glue Gun
Twine
Fresh Flowers
I don't drink coffee, and my husband only uses K cups so I had asked my mother (thanks Mom!) to save me a few of her empty coffee cans for various project ideas I had in mind. The first thing I did was paint it with a gold acrylic craft paint. I knew some of the can would show through in between the branches, so I wanted it to be cohesive.
After the paint had dried, I gathered small branches and twigs from my yard and hot glued them all the way around the can. I was originally going to make them all the same height, but I liked the more rustic look with them being slightly varied.
Then I tied a piece of twine around the whole thing. Just like with my cotton wreath, the addition of a little twine really adds that something extra.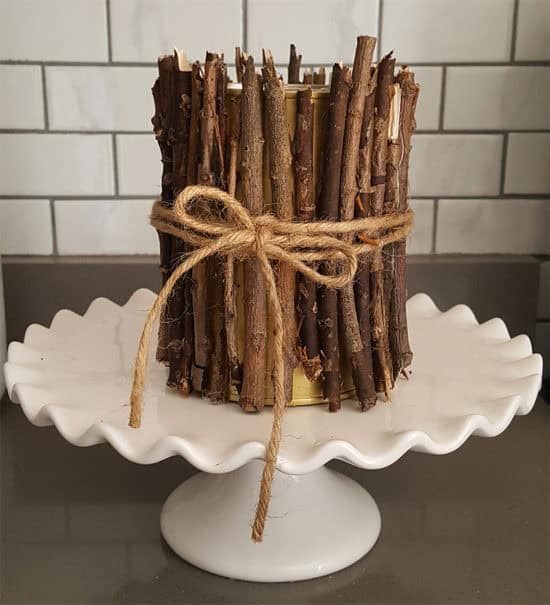 I picked up a small bouquet of carnations at the farmers market, and cut a few mini roses from my yard to fill the vase.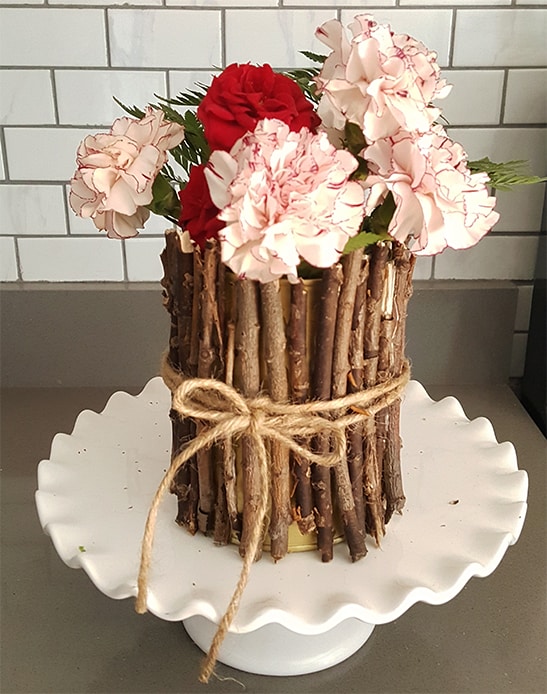 I thought the bouquet needed a little something more, so I went back outside and found these tall grassy sprigs (I'm sure they have a more official name, I just don't know what that is!) that I used to give it a little height.
On a side note, my cat found those tall grassy sprigs to be an irresistible snack. Unfortunately they did not agree with him, so keep those plants away from pets.
Overall,   I really love how this turned out, isn't it adorable?? And the best part is that it's free to make! My daughter has already requested that I make her one. 🙂