Easy-To-Install Plate Display Wall
---
BRING A WHIMSICAL TOUCH TO YOUR HOME WITH A FUN AND EASY-TO-INSTALL PLATE DISPLAY WALL!
---
Do you have dishes tucked away somewhere for a special occasion that you never get to enjoy? Whether you prefer a modern or vintage look, a plate display wall is a great way to display a collection! It's also an easy way to fill empty wall space.
This brings me to a pretty set of cabbage plates I found recently. Finding those led to me transforming my breakfast nook. Again.
Things don't stay the same here long! It's always a work in progress, and my love of hunting vintage only takes that to new levels.
Not long ago I shared the changes in this space, which you can see below. I really did love how this looked. However, not long after, I thought it was feeling a little dark and not entirely "me".
I'll still be using the art, but breaking it up into different spots around the house.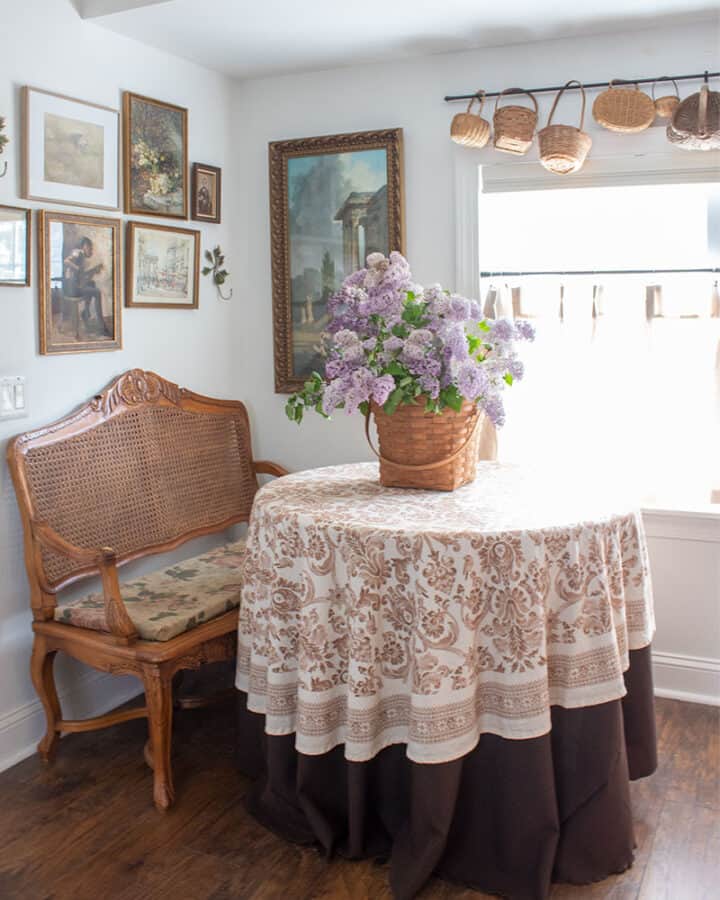 But what really caused me to change this up so soon was the set of beautiful vintage cabbage plates I found on marketplace. This style of vintage dishes from Bordallo Pinheiro is really having a moment right now.
Vintage Cabbage Plates
When I went to pick up the set, the seller showed me she also had the smaller geranium plates. I loved the size difference between the two and knew they would look amazing hung as a plate display wall.
The green color of the plates is so pretty as well. I immediately felt these would give a vintage cottage vibe, which is more my style.
Arranging plates on wall
You don't even want to know how many holes I made in this wall by trying different layouts. My husband really doesn't want to know that either, lol.
I went back and forth between a symmetrical versus an asymmetrical look. Obviously, the symmetrical option won here. (I am a Virgo.)
Rather than making a million tiny holes, I should've traced the plates onto paper and hung them until I decided but I just went for it this time. Nothing a little spackle couldn't fix.
Plate Holders wall
There are a few different types of plate holders for walls. I only use these metal holders because they secure the plate very well. There is an option called flat disc holders that only attach to the back. Those don't have the metal showing from the front but the reviews I've read on those always say they tend to fall off the wall.
Here is how the metal holders attach to the back of the plates.
The coils stretch to keep it taut. I usually purchase the set that has a variety of sizes so I have options when I find vintage plates and platters. I've been hanging sets of plates at the antique shop lately as well.
To secure them to the wall I used these hooks which are super easy to install (no tools required) and the plate holders hang on them perfectly.
Round Tablecloths
After hanging the plates, I felt the table needed a little pop of green in it as well. I ended up trying out this green and blue tablecloth and really love how it looks with the plates.
My search for the right tablecloth was exhaustive. Finding a round 90″ tablecloth that isn't overly expensive isn't easy.
The Etsy shop I ordered from had so much to choose from and seemed to have the overall best prices.
At first, I tried finding vintage options but finding one in the right size was impossible.
You can see I also swapped out the artwork next to the window for a large vintage cutting board I found at Brimfield. I really loved both looks in here but I'll be keeping this one for a while!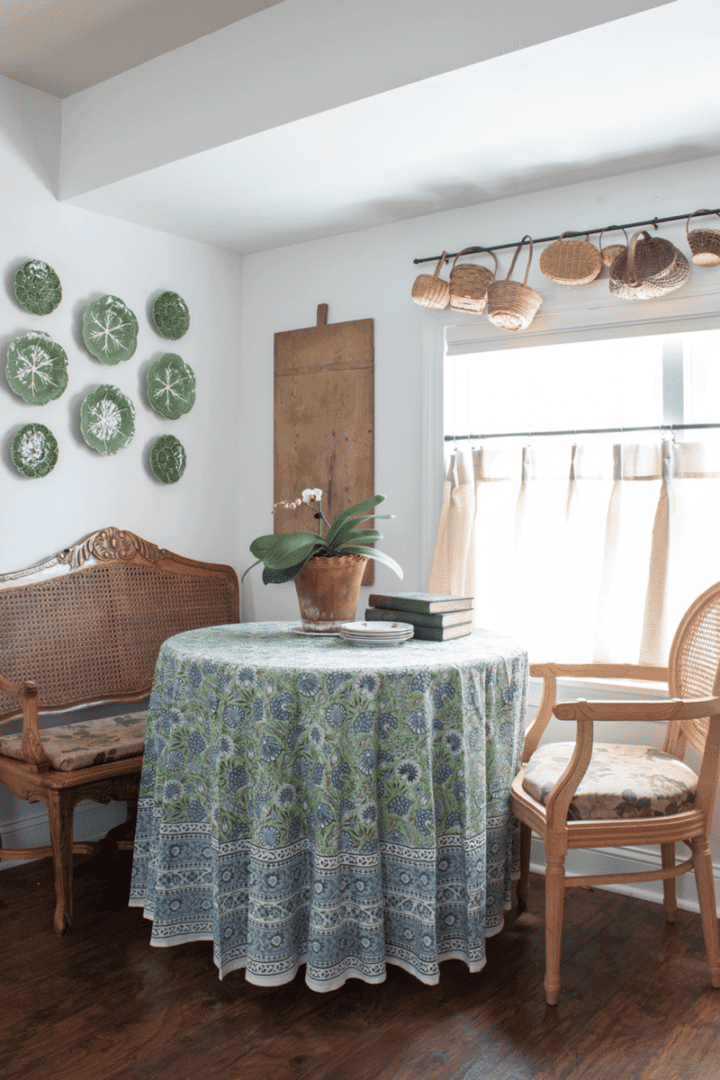 Here's a peek at the other side of the room. You can see I was trying out a different vintage tablecloth in this photo but the size just didn't look right.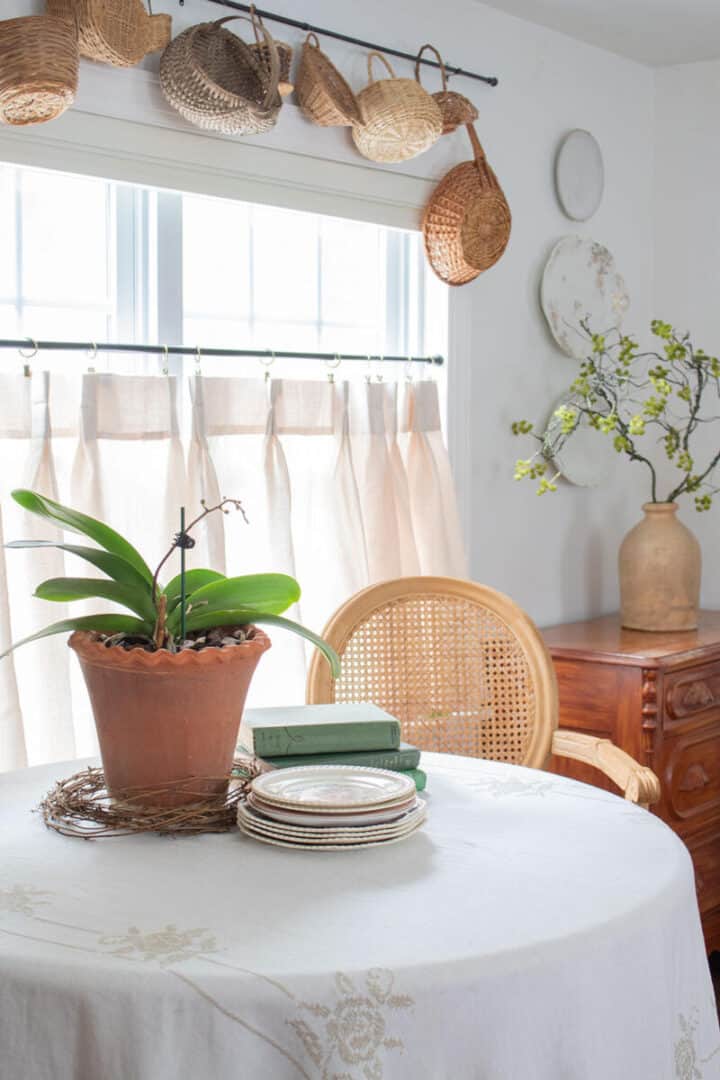 Also across the room, I added a bit more green with the vintage quilt that I found several weeks ago.
Another Plate Wall Design
To give you another idea for a plate wall display, shown is a set I hung at the antique shop. For this one, I used a platter in the middle of the four matching plates. (You can also see a couple more vintage cabbage plates I found that I ended up not using at home).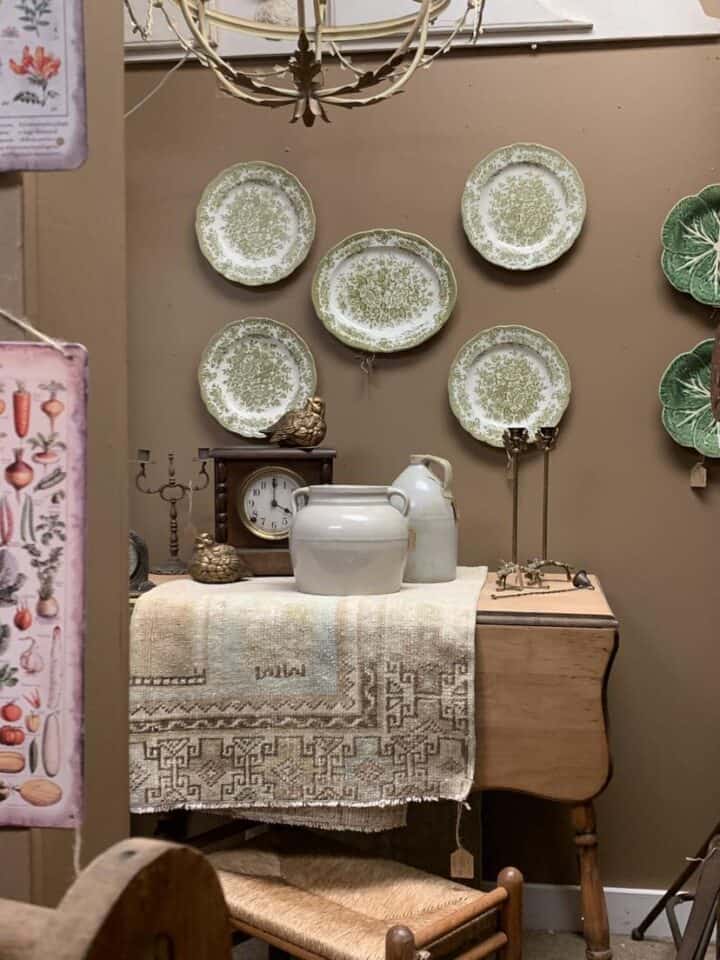 I've really been on a vintage dishes kick lately. If you don't have a set of dishes to display and can't find a full set you love, try buying single plates. Mismatched sets can be just as beautiful. Sometimes when I shop the clearance aisle in Home Goods I'll find singles plates for just a few dollars!
Below I'll round up some of my favorites that I spotted online along with matching tablecloths. If you're local, I have several sets of beautiful dishes in the shop right now!
Vintage dishes + Tablecloths

---
YOU MAY ALSO LIKE: