After recently making a trendy diamond jute rug for my front door area, I thought I'd also share my small entryway ideas with you.
If you are fortunate enough to have a separate space as a foyer, you are lucky. In my house, the front door opens right up into the living room. There's also a staircase right there without much space between.
I had to get creative to make the most of this small entryway. Because you still need landing spots for everything. I think I packed a lot of function into the tiniest of spaces here.
Small Entryway Table
First, you need a landing table. Most houses that have doors that open into the living room will have a solid wall next to it. That is a perfect spot for a small entryway table.
We used to have a tiny table here but I found using a slightly larger one actually looked better. Often a bunch of tiny things in a tiny space end up looking cluttered.
The table I have here is a Facebook Marketplace fine. It has storage in it, which is a must. We can put our sunglasses, hand sanitizer, lint rollers, and anything else we need to grab on our way out.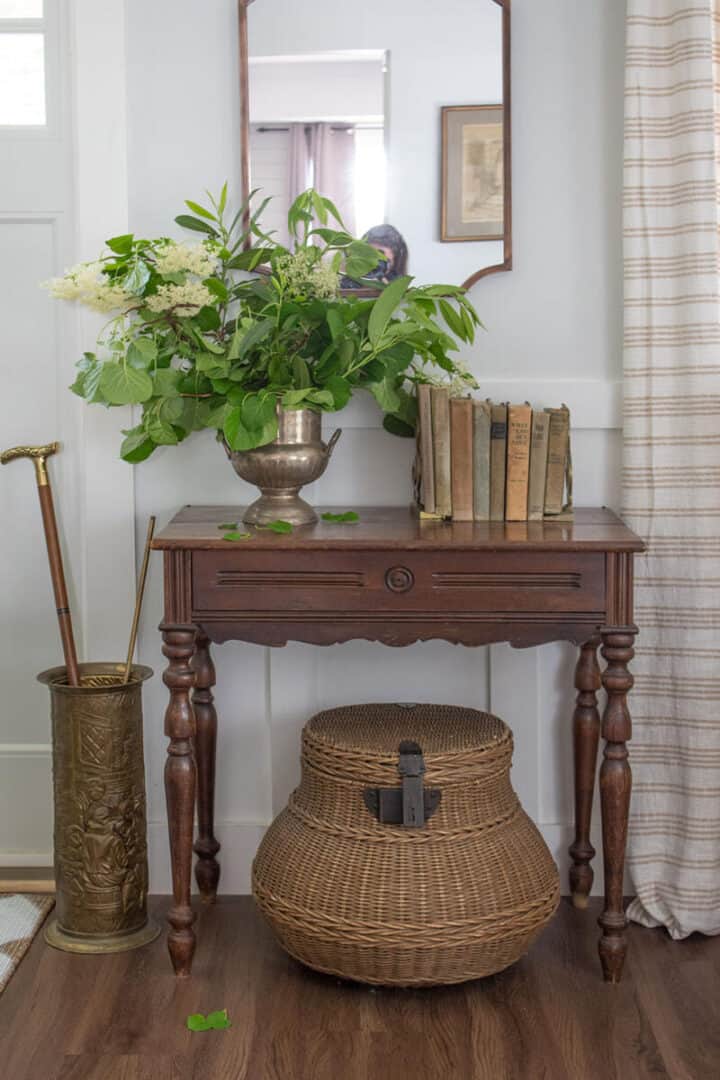 Small Entryway Shoe Storage Ideas
Why there is never enough shoe storage in my house I don't know. We really don't buy that many shoes but they seem to be everywhere!
My best solution for creating shoe storage where there's literally none is to use decorative baskets. I love this basket and it does hold a lot of shoes! It tucks right under the entry table so it doesn't take up any additional space in the room.
Not to mention it looks super cute.
Entryway Wall Decor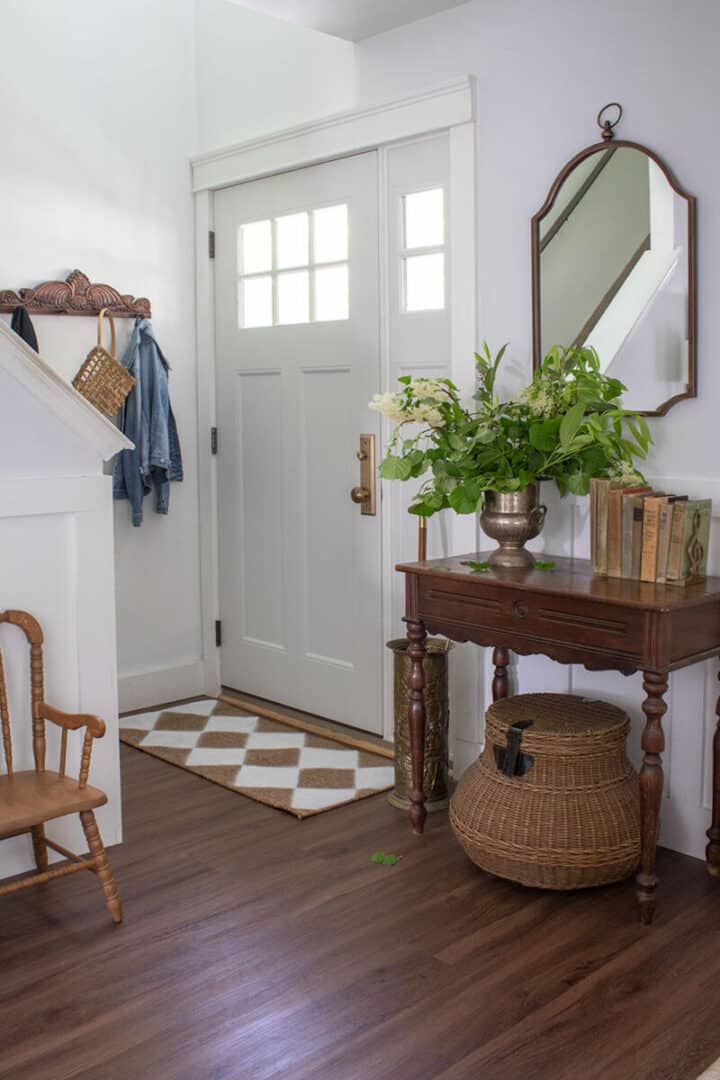 In small spaces, utilizing vertical space is a must. For the entryway wall decor, I used a mirror. Mirrors always help small spaces to look larger by reflecting light. I also like a mirror here so you can check yourself before running out of the door.
You can also see we have a peg rack behind the door for jackets. I try to only keep a few coats here, switching them out seasonally. If you have a little extra room you could also use a free-standing coat tree.
small foyer decorating ideas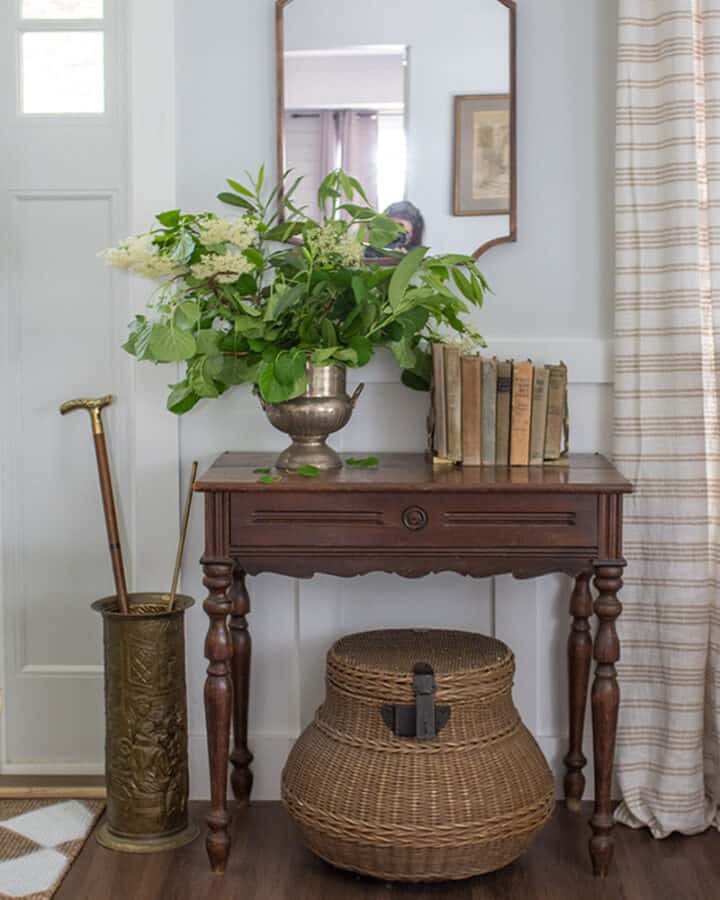 Just because your foyer is small doesn't mean it can't be cute. I added a few things to make ours more appealing. The vintage books for example. They have absolutely no function other than aesthetics but I love them. They also help tie in my color scheme for the rest of the living room.
I usually keep some type of vase here as well for seasonal flowers. The champagne bucket was a recent find, I've been on the hunt for one forever! With the specific intention of using it as a vase.
After I finally found that champagne bucket wouldn't you know I found a second one a few weeks later? I bought that one as well and it's for sale in my antique shop.
In the entry, I also have a vintage umbrella stand. It holds umbrellas as well as my husband's canes. Many designers use canes for decorative purposes but ours are actually functional.
Front Door Ideas
My biggest tip for small entryway ideas is to consider a pretty front door. Changing ours out made such a huge difference here. The windows in our new door also help it to feel a little brighter and more airy. Additionally, we added custom doorknobs that we installed ourselves (throughout the house).
It's the little details in small spaces that make a difference!
If you check out my Instagram page, you can see how our small foyer gets refreshed seasonally without much effort!
Small Entryway furniture and decor
I've rounded up similar items to recreate this look. Included are many vintage items available online. If you're local, I have several pieces in my antique shop that would work to recreate this as well!

YOU MAY ALSO LIKE:
---