You guys, going to the Brimfield flea market in Massachusetts has been on my bucket list for a long time and I finally made it there!
If you've not heard of it, it's one of the five largest flea markets in the United States. It runs for about 5-7 days and is made up of many small markets, all within walking distance of each other.
One or two of the smaller markets charge admission to enter but most do not. May's Landing was one area that did charge. A couple we met who are regulars at Brimfield said some sellers will take their items from one market, move it to May's and raise the price because May's is the higher-end area.
Admission was $8 for this area and we did go in. I didn't find it any better or worse than the rest of the flea market overall. I don't think I even took any photos in that area because I was tired and hot by the time we got to it.
But I did take a ton of photos of everything else because there were so many fun finds!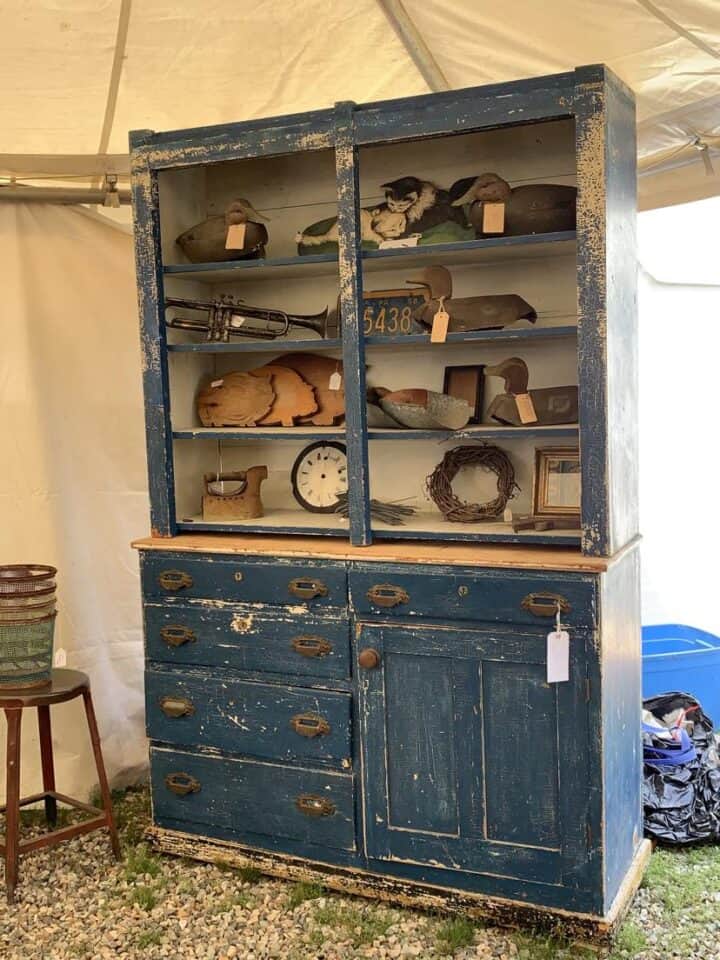 Lots of amazing primitive style hutches to be found. But what I really loved were the more unique pieces like this cabinet below.
This was a storage cabinet for flower bulbs. The holes are to allow airflow. I really loved this piece!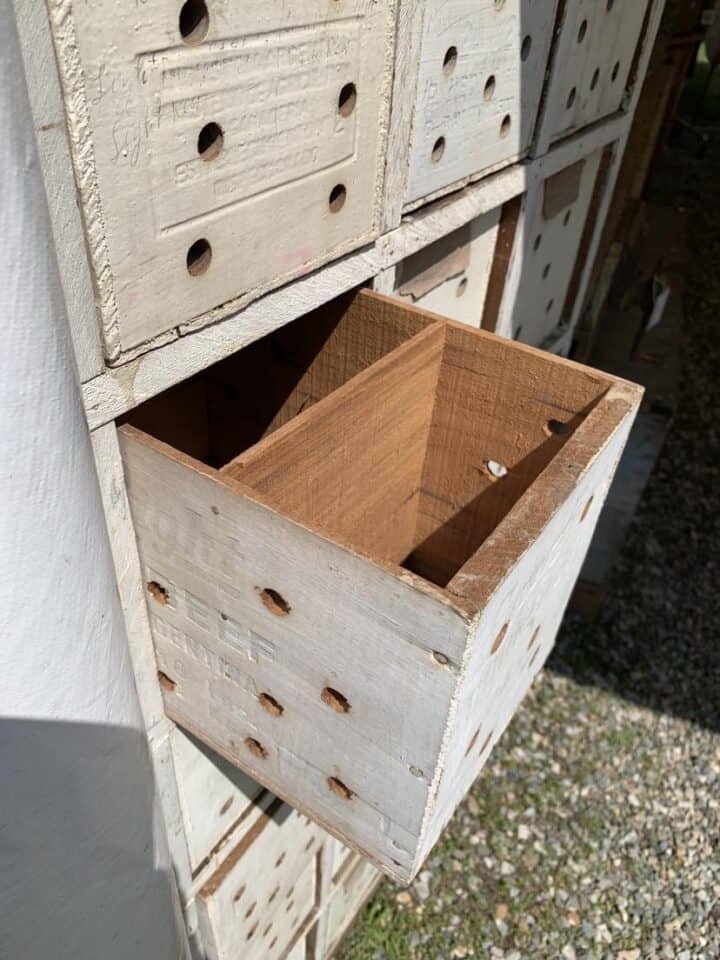 Another really cool antique was this ice cream cabinet. Made all of wood, it had double doors on the front and a compartment that opened at the top. The patina was perfect.
Brimfield is said to be known for its vintage Turkish rugs. There were many shops that offered those.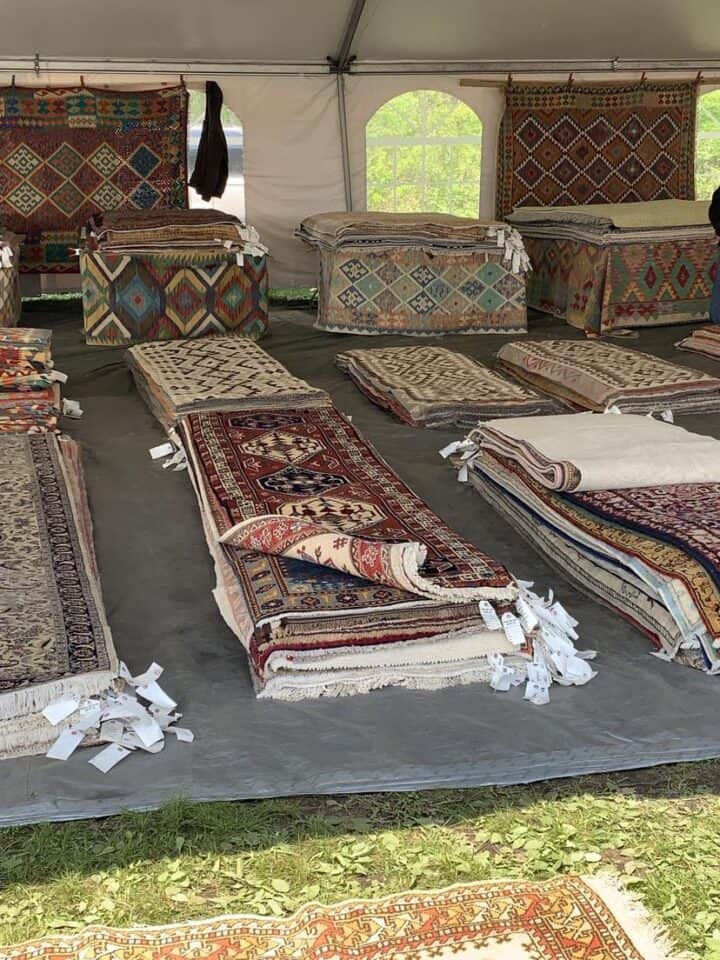 Another favorite thing I spotted was this piece. I'm not sure but I think it's a baker's table because the bottom drawers were curved underneath, which you can't really tell from this photo. It made me think they were used for flour or sugar which was probably scooped out. Such a pretty natural wood on that one.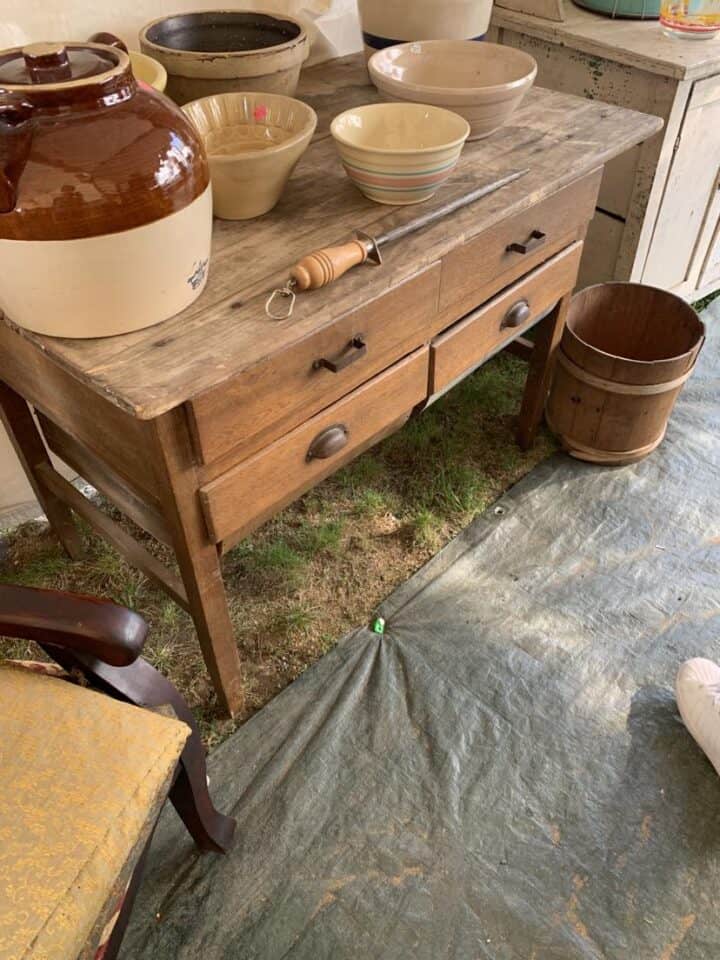 We stopped and talked to many of the people selling and got to hear about where they came from. The sellers that had this display below were really cool. They said they had mostly sold out already but look at those amazing green doors. They were gigantic!
My only complaint overall is that I was totally sticker shocked at the prices. It was very expensive! However, it was enjoyable just to browse and see all the amazing displays. Many were so elaborate!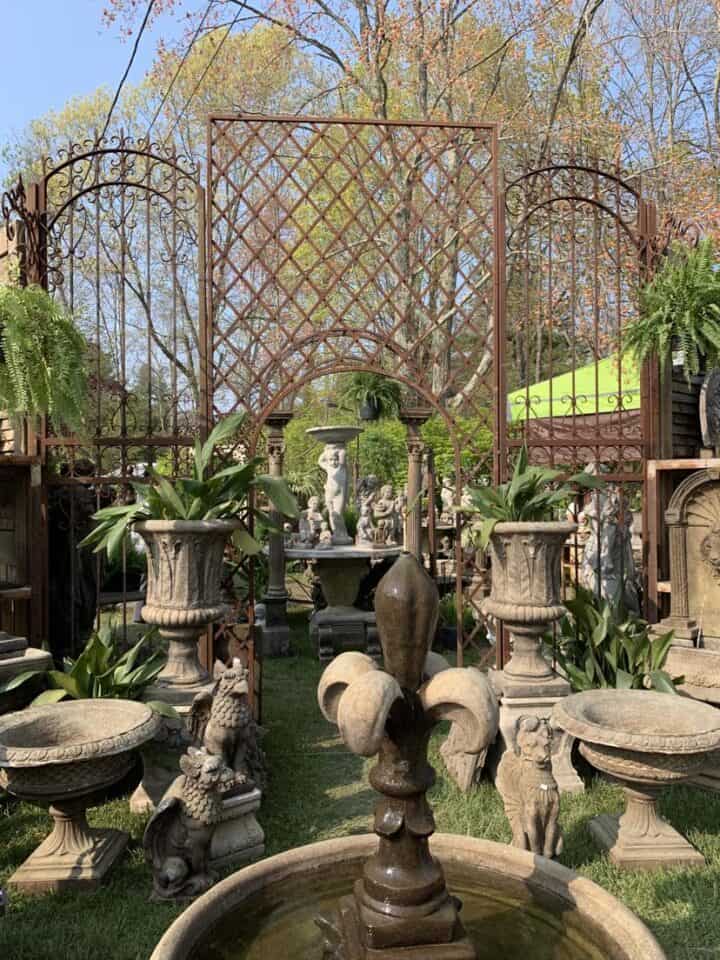 Due to the prices, I didn't buy much. But I did find a few deals. One of which was these amazing antique breadboards from Germany. Which I bought from a German man who was quite the character.
I picked up a few really large-sized boards. I'll be selling them at the antique shop soon (and keeping one for myself).
Overall it was a really fun experience and I got to spend time catching up with a friend I hadn't seen in a while!
If you're considering going, just keep in mind it's expensive and it does get very crowded. But if you're looking for something extra cool for your house, you're sure to find it there. You can find more information about the Brimfield antique show on their website.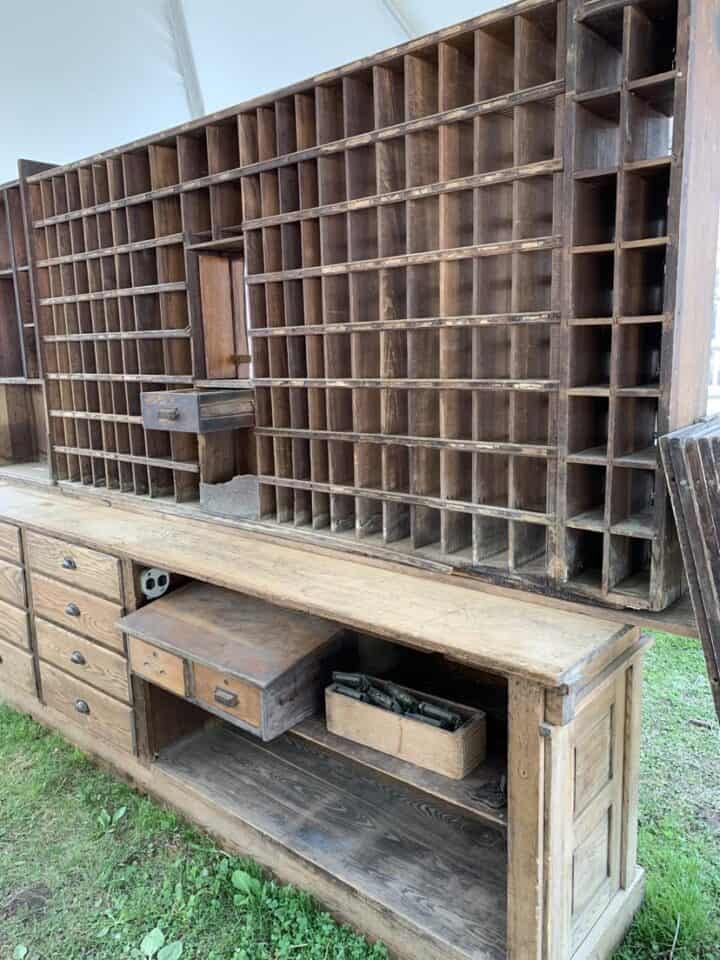 Now that I made it to the Brimfield flea market, I need to check the others off my bucket list! Round Top is one of the five and I would love to go there again. The other three are said to be Scott Antique Market in Atlanta, Rose Bowl in CA, and Springfield in Ohio.
I recently attended another popular market called Lucketts in Virginia, which was a great one too but much smaller than Brimfield.
---