Vintage Furniture and Round Top
A LOOK AT VINTAGE FURNITURE SHOPPING AT THE ROUND TOP EVENT IN TEXAS.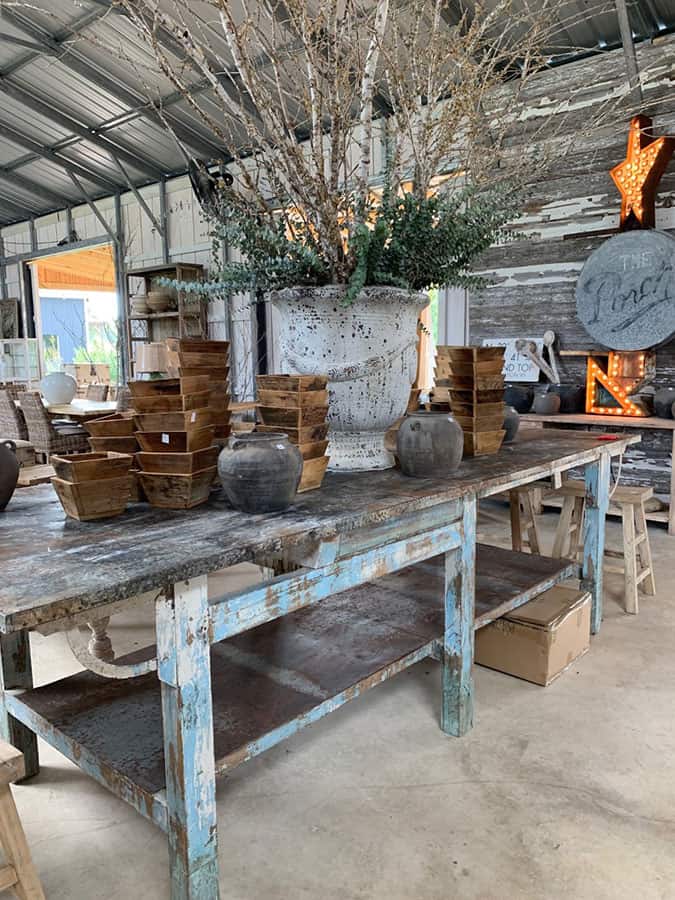 Hey there guys. Today's post is a bit of a continuation from the Texas farmhouse tour I shared a few days ago. If you missed that one, you might want to go get up to speed before reading this.
Don't worry, we'll wait.
So while we were down in Texas for our meeting, we scheduled in some shopping time at Round Top. I have always wanted to go to Round Top, so this was really exciting for me.
For anyone who doesn't know what Round Top is, it's basically a flea market/shopping event that happens in Texas every year for two or three weeks. I believe it covers a three-mile stretch of highway. We were actually there before it officially started, but there were plenty of vendors already set up.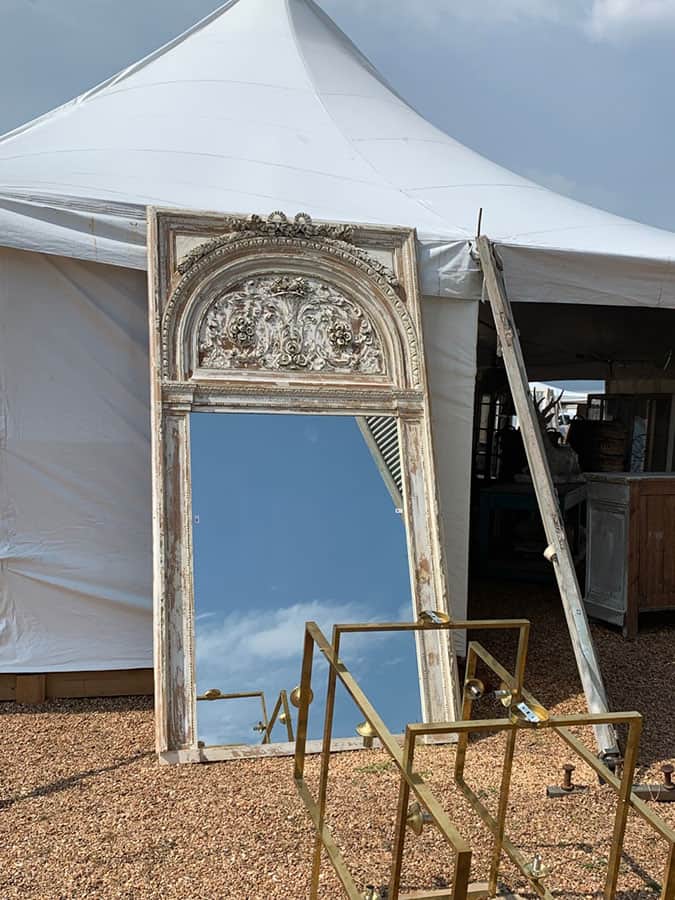 My vintage-loving heart skipped a beat when I finally got there and saw how good it really was.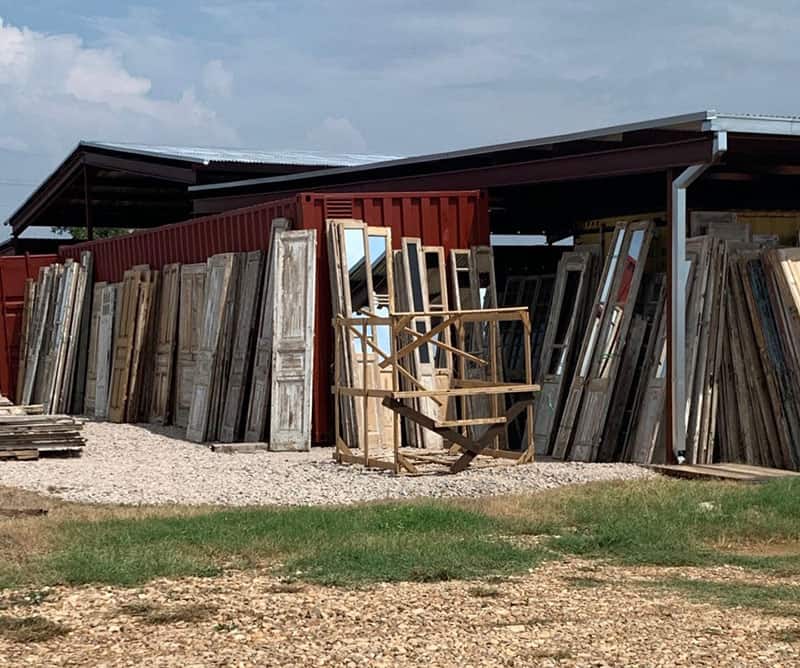 Some vendors were set up in tents, some were open-air structures and some were in barns. Look at the size of this chandelier below. Everything really is bigger in Texas, lol.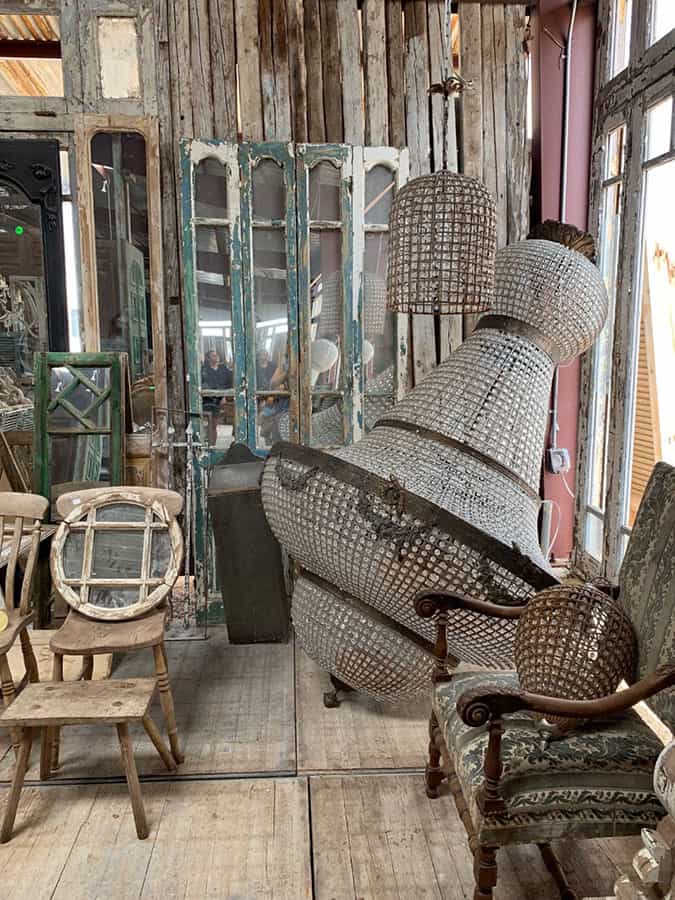 Some vendors were set up more like design stores than flea markets. It was a nice mix of old and new.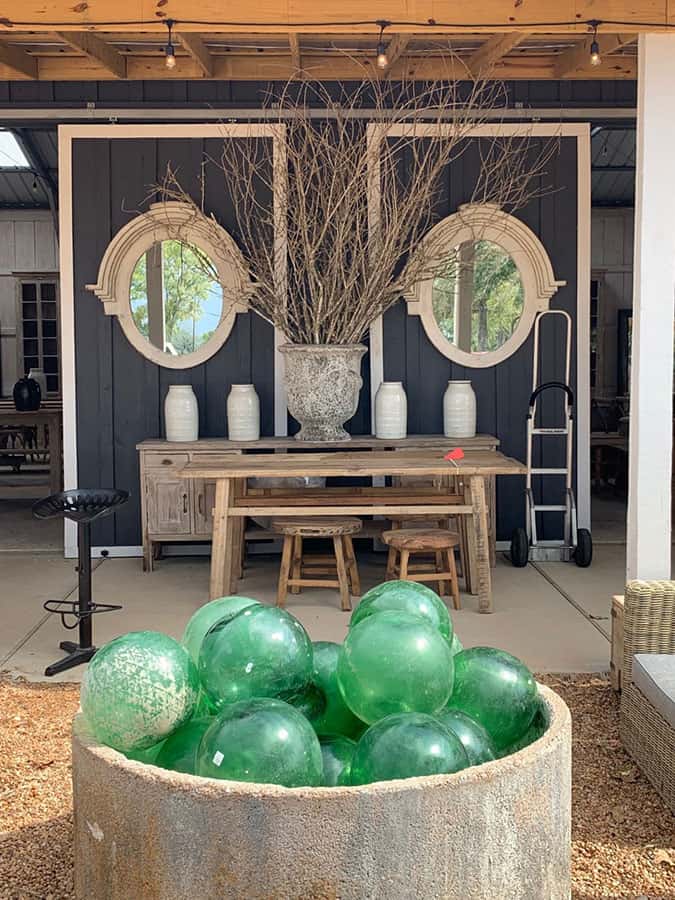 This console table had to be at least 15 feet long. I would've loved to take one of those mirrors and a white vase home with me.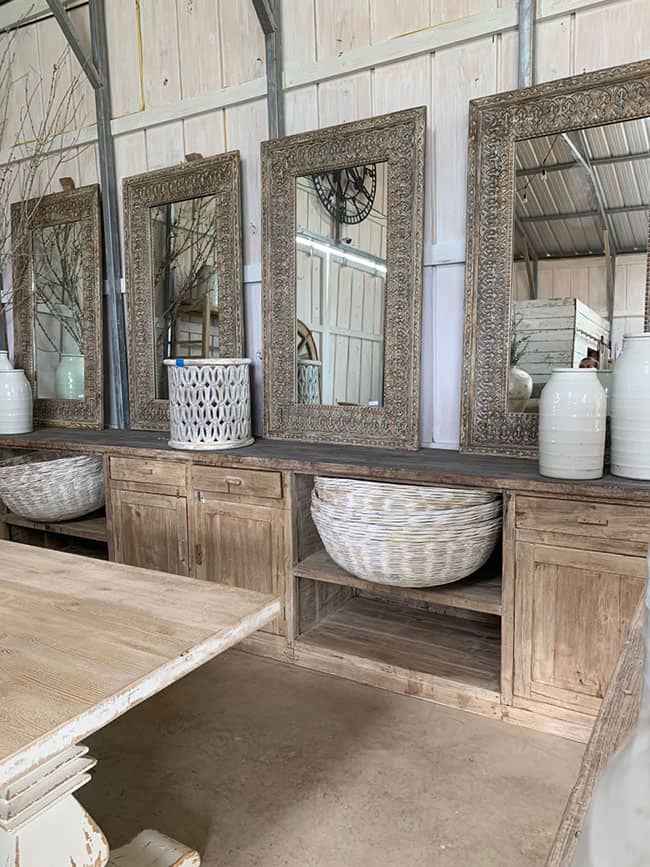 Sadly this beautiful table wouldn't fit into my suitcase. Actually it probably wouldn't have fit in my kitchen either!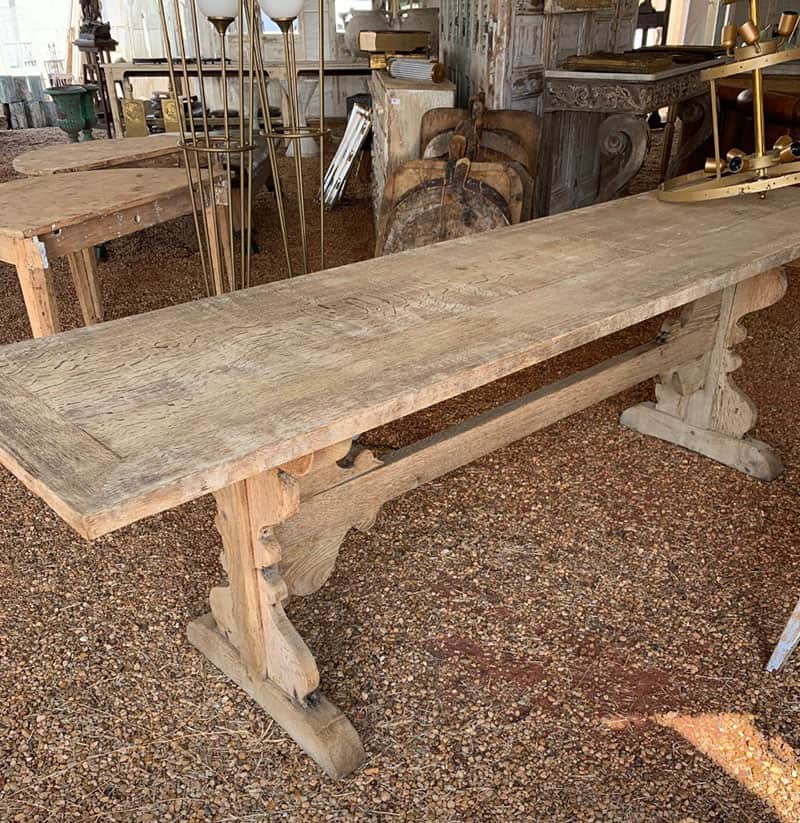 I think I know now where Joanna Gaines gets all her vintage furniture and architectural pieces.
Where to Eat in Round Top
That evening, we drove over to this place called Bader Ranch. While there is more vintage furniture for sale in this barn, there is also a pop-up restaurant that's only open during the Round Top event.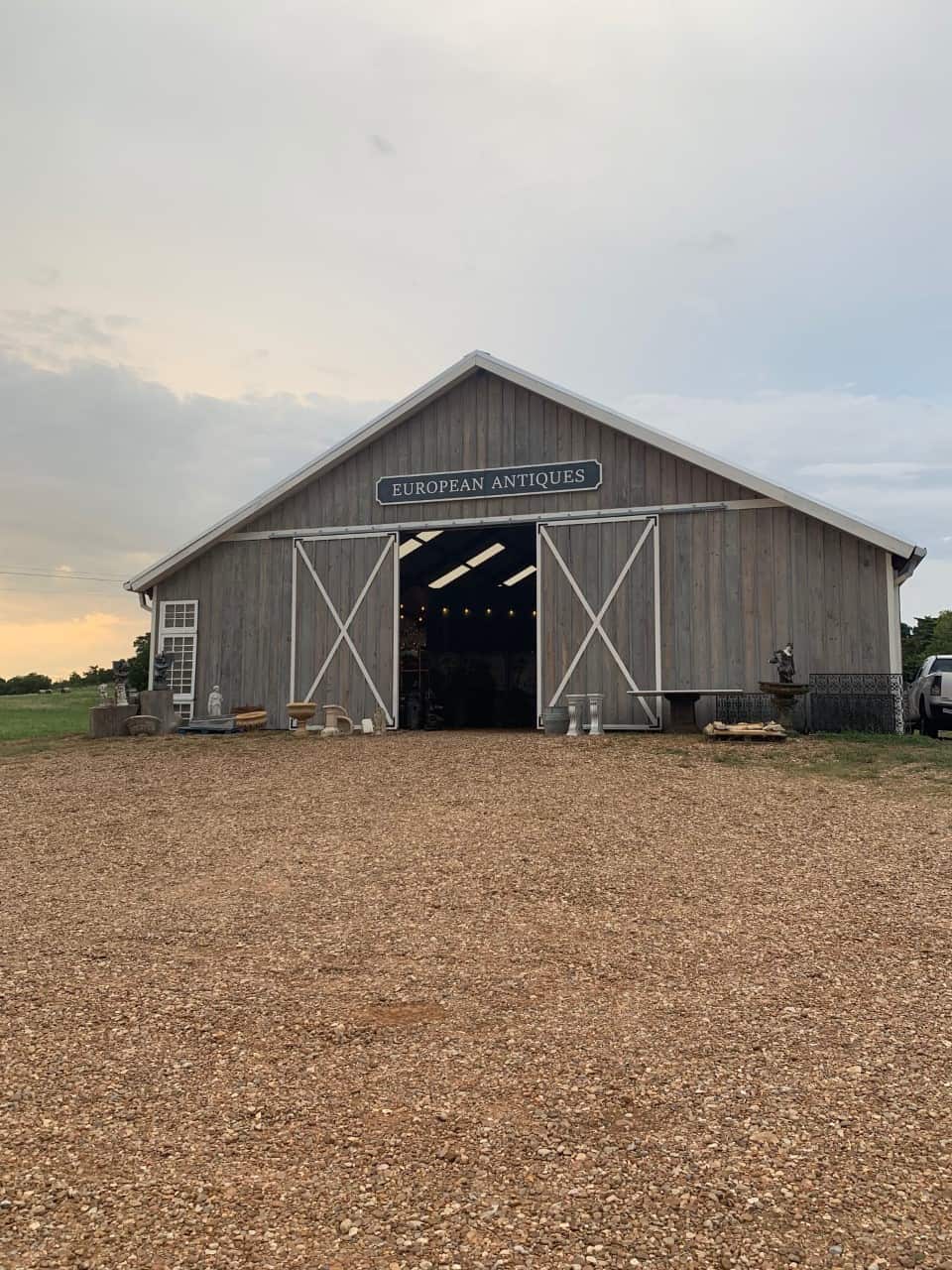 They have a beautiful seating area tucked into one corner with a full bar and a cooking station for the chef.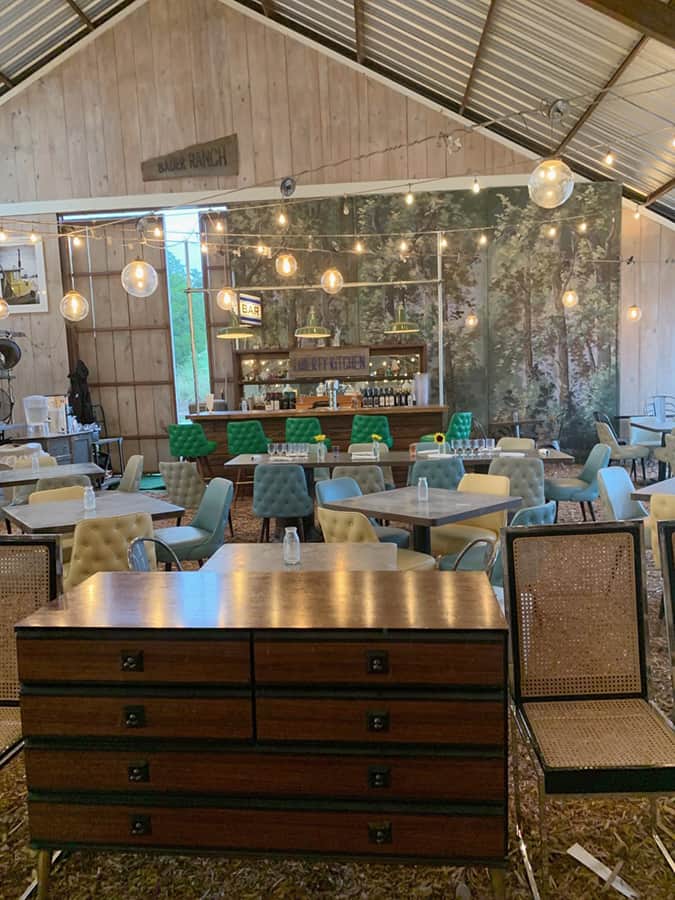 Imagine sipping wine here with a beautiful breeze, soft music and watching the sunset through the open barn doors while waiting for the famous chef (Lance Fegen) to prepare dinner. It was truly amazing. There's not much I love more than vintage shopping, and I'm not even a foodie, but this dinner might have been the highlight of the whole trip. I'd recommend making a reservation if that's something you'd like to do. If you'd like to see more of Bader Ranch, you can find them on Instagram.
My friends and I hammed it up for a few pictures outside before dinner.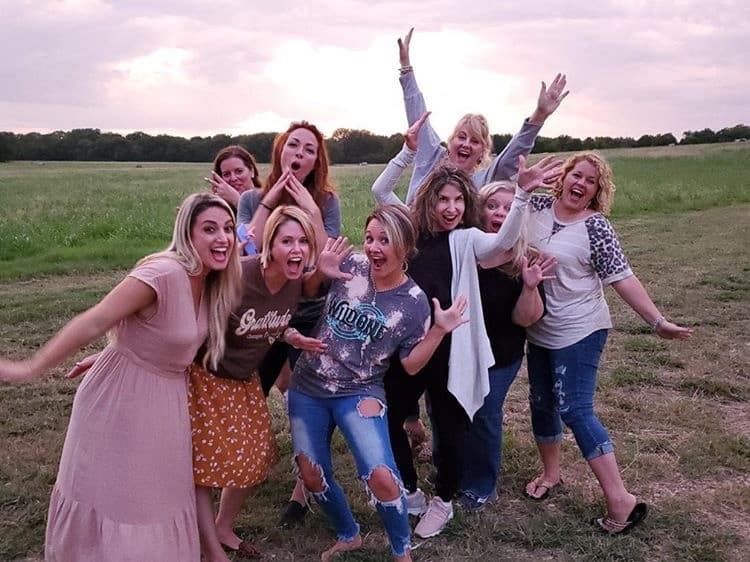 I hope you enjoyed a glimpse into Round Top. If you're in the area or in need of vintage furniture, I'd highly recommend checking it out. I need to start a campaign to get Round Top here in NJ!
Can't make it to Texas? Shop for vintage furniture online!
I realize a big percentage of you are not about to hop on a plane and head to Texas right away, so I'm including some great places to shop for vintage pieces online.
Facebook Marketplace
This is my go-to for vintage pieces this year. It's the quickest way to wade through the masses and hone in on just what you're looking for. The best part is the prices are usually along the lines of yard sale prices.
eBay
Obviously eBay might not be your first thought for large furniture pieces due to shipping. However, you can find furniture that's "local pickup only" and you may get lucky. Of course, it's also a great place to shop for smaller vintage home decor.
One Kings Lane
Did you know that One Kings Lane doesn't only sell new goods, but they do have an online vintage section?
Everything But The House
Similar to eBay, Everything But The House in an online auction but for all things home related. Definitely worth a look!
Etsy
Etsy also has a vintage furniture offering in a wide variety of price ranges.
Some other online retailers that offer vintage are Jayson Home, 1st Dibs, Rejuvenation, and Pamona. Pamona is unique in that you can also order the vintage furniture with custom upholstery, which is awesome. I usually stick with the first 5 I mentioned because they're more affordable.
That's it for today. I'll be back with part 3 (the final part) of my Texas adventure soon, I have one more house tour that you have to see!