Hey everybody, I'm back after a little hiatus. If you follow along with me on Instagram you already know that I went on a trip to Texas last week and today I want to share an amazing Texas farmhouse with you.
Though it was a work trip I went with other home decor bloggers and you better believe we worked in all of the home decor inspiration that we could. I wanted to share more of that here because I know you love all things home as much as we do! I'm sure you'll glean some ideas as well.
We flew into Austin and made the drive over to a town called Burton, which is right outside of Round Top. We arrived at our Bed and Breakfast, called The Heritage Sunday House. As soon as I walked in the door I was completely in love with this beautiful house.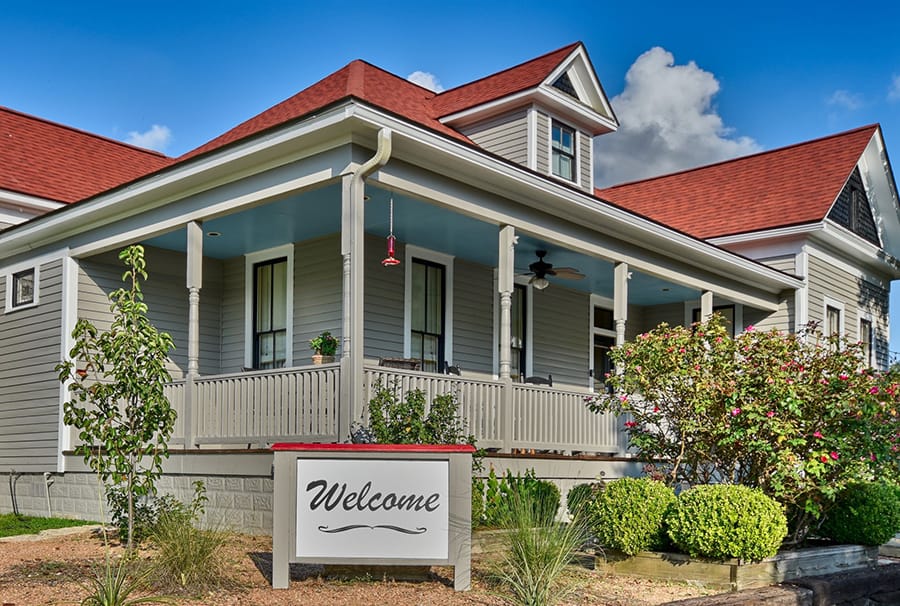 It has 5 bedrooms each with its own private bathroom and endless amounts of vintage charm! Check out the interior shutters in this pretty bedroom.
The bathroom was equally charming. The walls were a beautiful mix of beadboard and shiplap.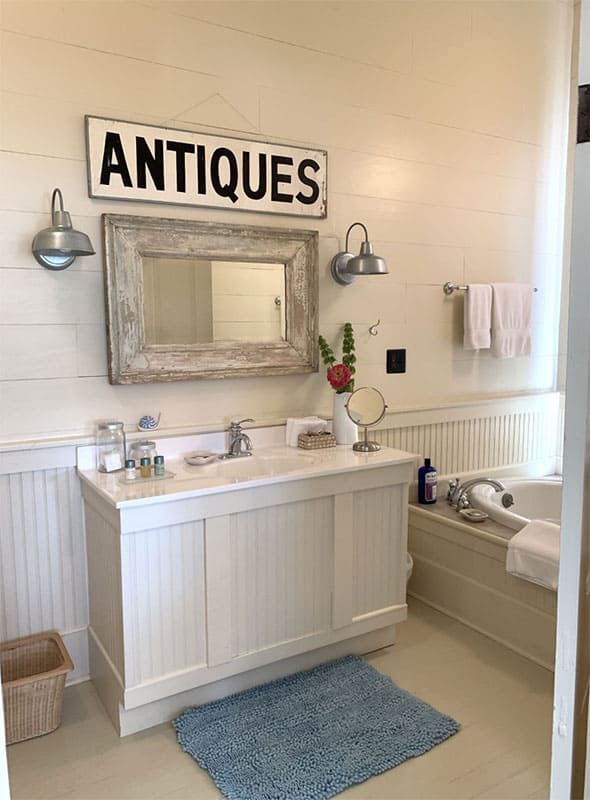 The bedroom that I stayed in had the most amazing canopy bed.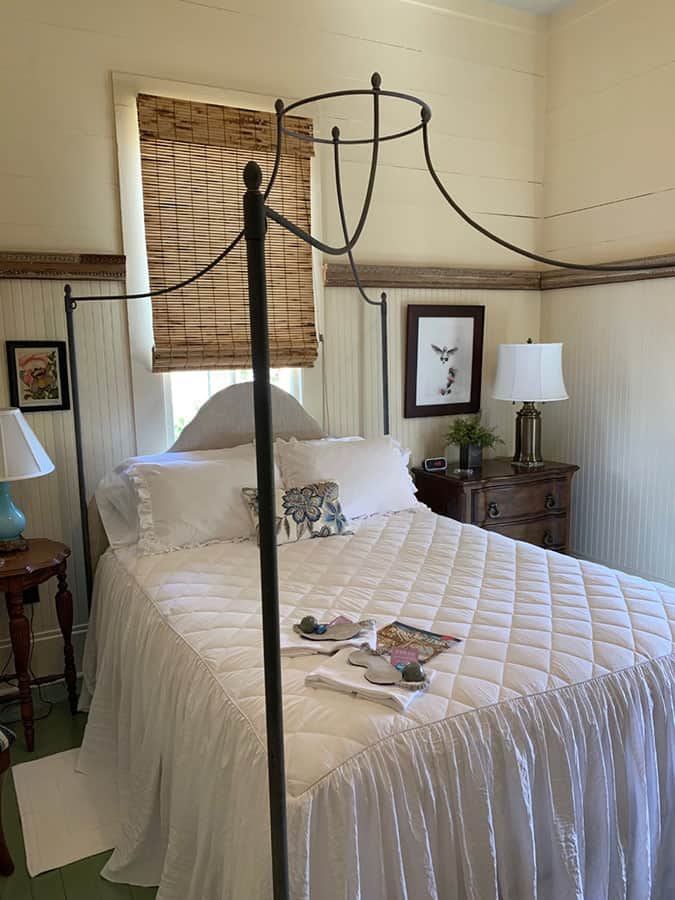 As amazing as that was, what really stole my heart in this room was this wood molding. It separated the beadboard on the bottom portion of the walls from the shiplap on the upper half. Isn't that incredible?? All the ceilings in this house were at least 9 feet tall.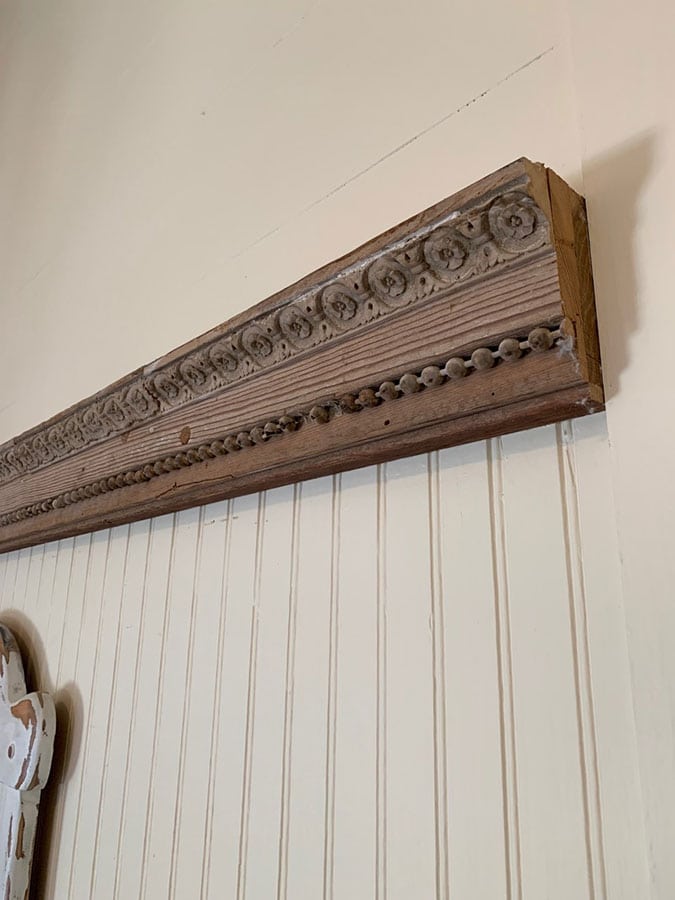 The bathroom attached to this room was equally stunning. I really loved these vintage sconces on the wall next to the mirror.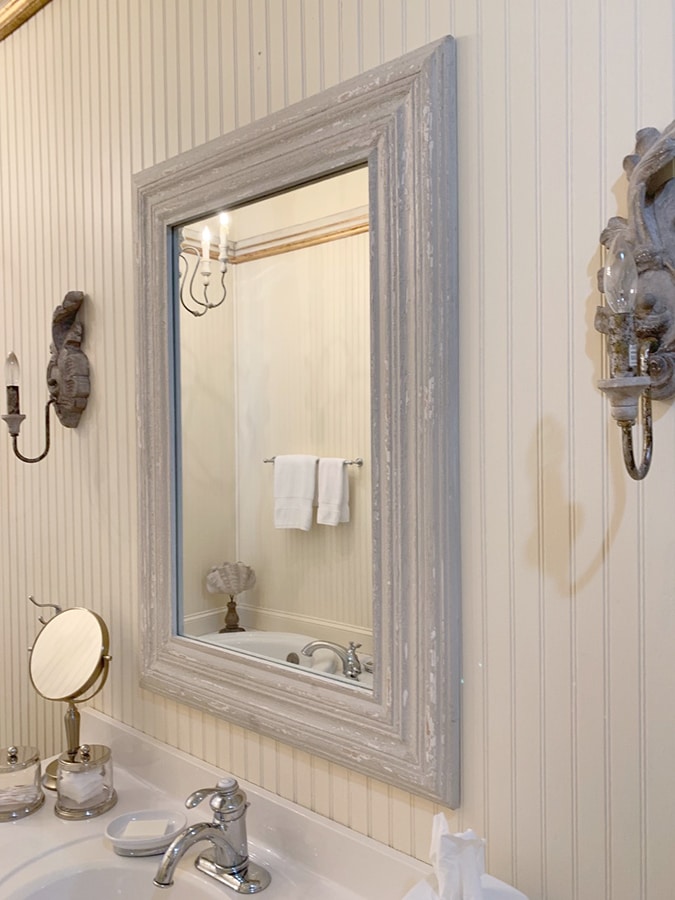 As well as the vintage chandelier over the soaking tub.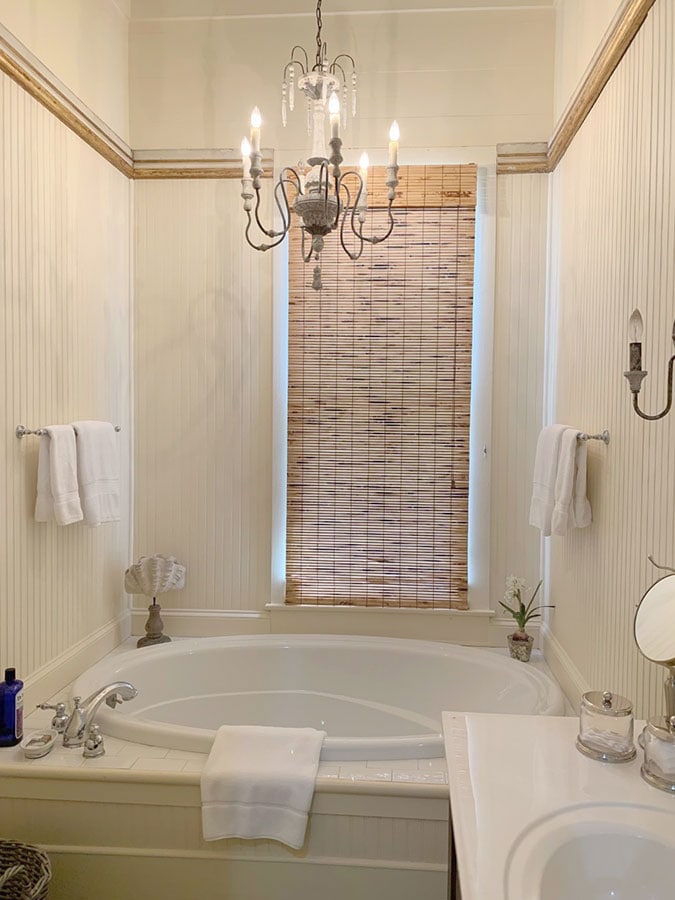 One of the other bedrooms downstairs had a beautiful poster bed that I liked almost as much as the canopy bed in my room. This was a brilliant choice for the room because it draws the eyes up to the gorgeous ceiling. No detail was left undone.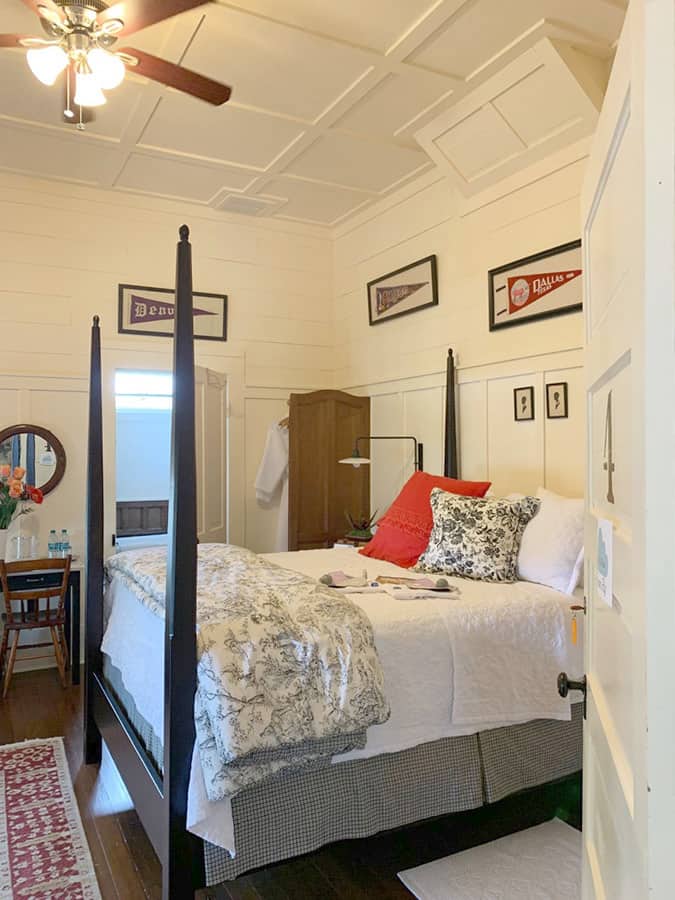 Another of the bathrooms was my favorite. I love the wood paneling on the lower walls and the wood crown molding in contrast to the rest of the walls and ceiling.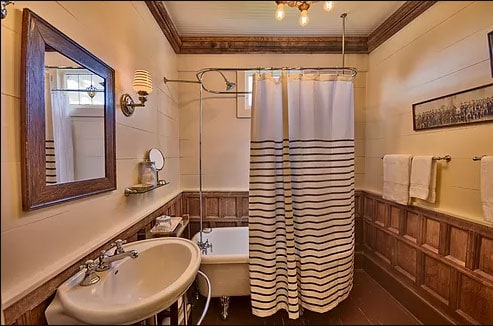 Upstairs there was one more large bedroom with 3 single beds.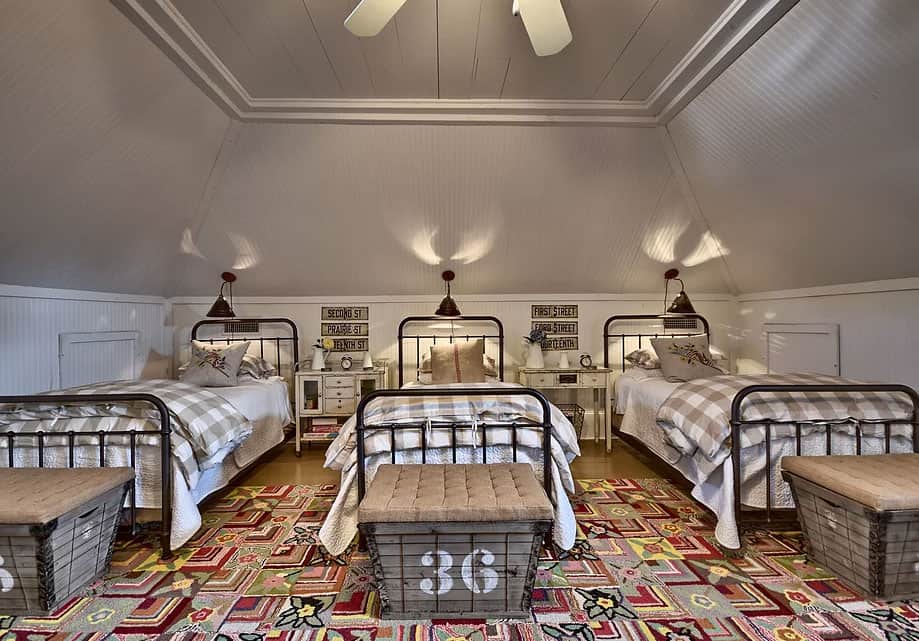 With its own bathroom containing double pedestal sinks. And did you notice the height of that baseboard molding? That was all throughout the house.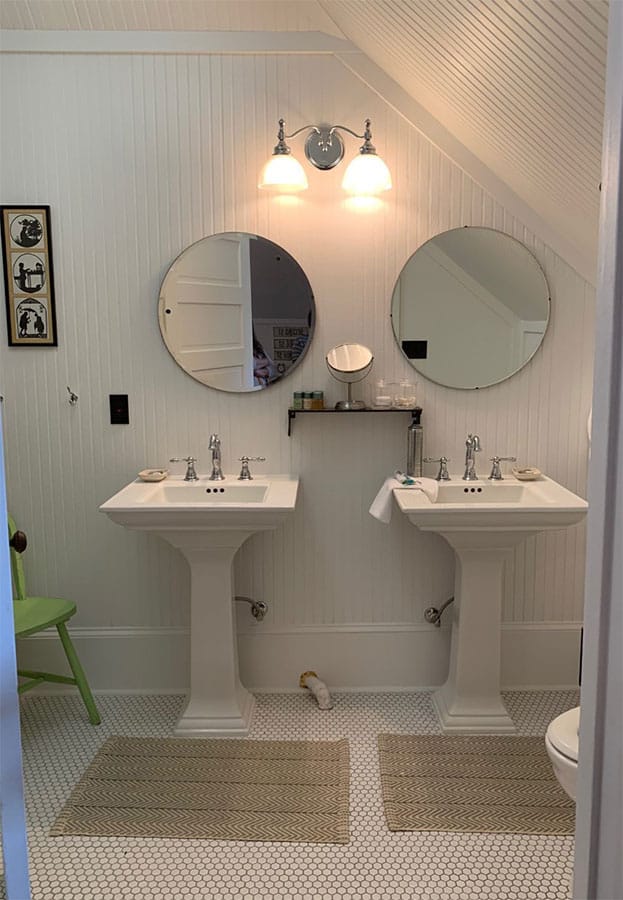 There are wood floors throughout the home, some are painted and some are natural. All are beautiful.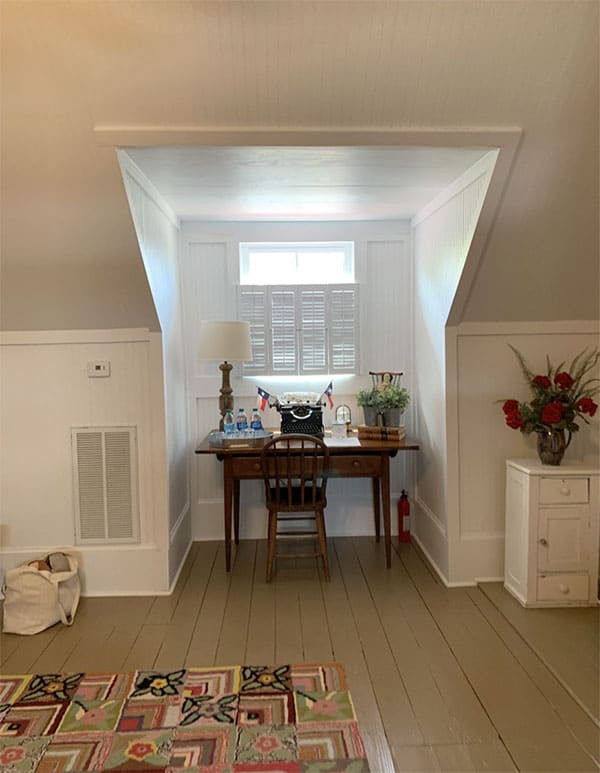 And there is vintage home decor sprinkled all throughout the home as well.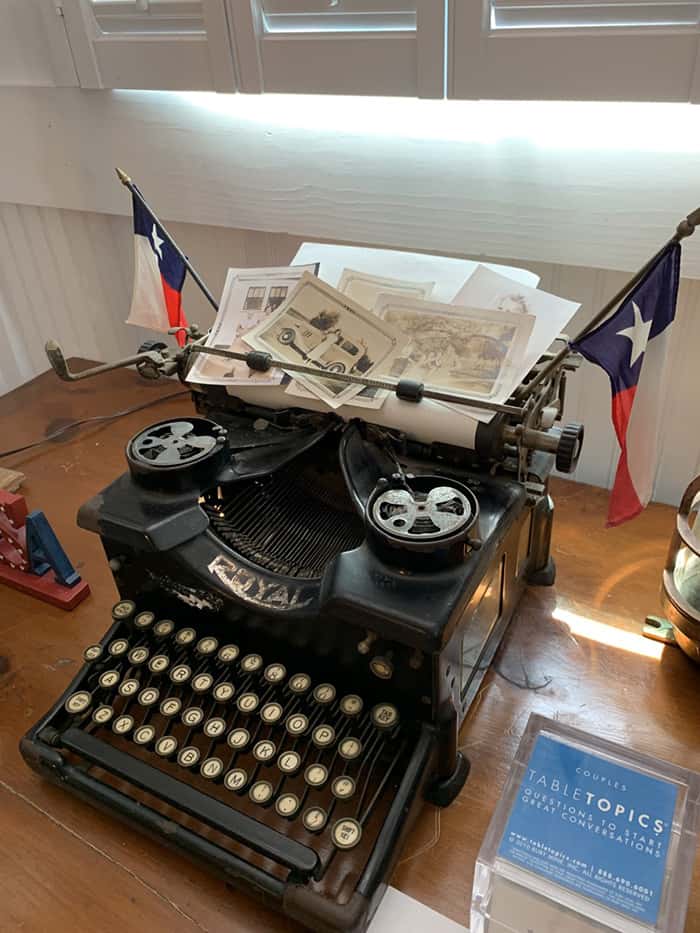 There is a second house on the property and that is where we conducted our business meetings. I didn't take many pictures over there (though it was as beautiful) but check out the large entryway with rustic metal ceilings.
I had looked at photos of the house online before I went and I knew it was going to be pretty. But when I saw it in person I really was blown away. Experiencing the charm and the design in person was a true treat. Everything felt so authentically vintage in this Texas farmhouse.
Here's a quick video tour!
The home is located just a few miles down the road from where Round Top is held every year. There was the cutest little breakfast spot called The Blue Willow Cafe within walking distance and a little store around the corner where you could get some drinks and basic things. Here's a photo of all of us having breakfast at the cafe.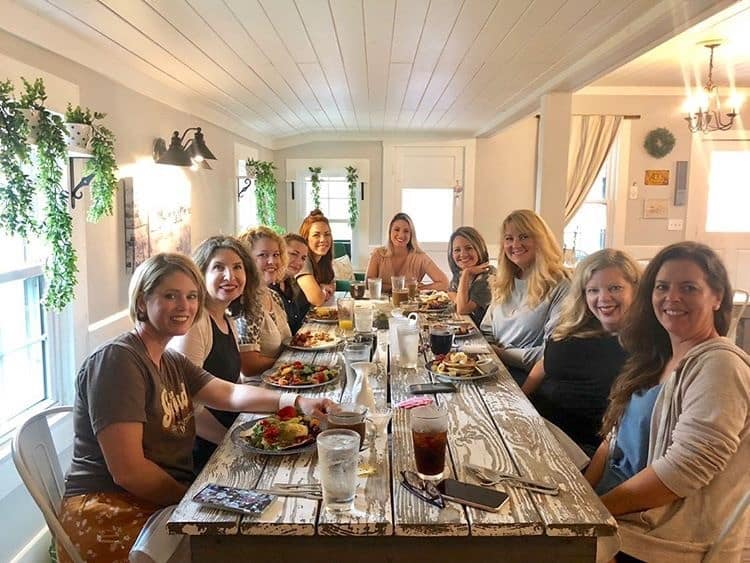 I had such a great time with these ladies discussing our businesses and bouncing ideas around the room. Here is a list of those in attendance if you'd like to check out what they do.
Kim from Salvaged Living, KariAnne from Thistlewood Farms, Jillian from Catch My Party and Milo Tree, Tamara from Southern A-Door-nments Decor, Deb from Seeking Lavender Lane, Brooke from Re-Fabbed, Rachel from Craving Some Creativity, and Susie from Shop From Susie.
And a huge thanks to Kim from Salvaged Living for organizing this whole trip. I'll share more on Round Top and our Waco adventure soon.
If you're ever in the area, I would highly recommend the Heritage Sunday House! I hope to go back again. I'm including a round-up below* of similar furniture and decor from the B & B if you'd like to try and recreate any of the looks.

I'd also like to thank these amazing businesses for sending us gifts in our swag bags: And Sew On, Royer's Pie Haven, Hot Mesh Mom, Thymes, Scout and Cellar Wine and Holly Kuhn for this beautiful book.
What was your favorite part of this Texas farmhouse?