Christmas Decorating in the Kitchen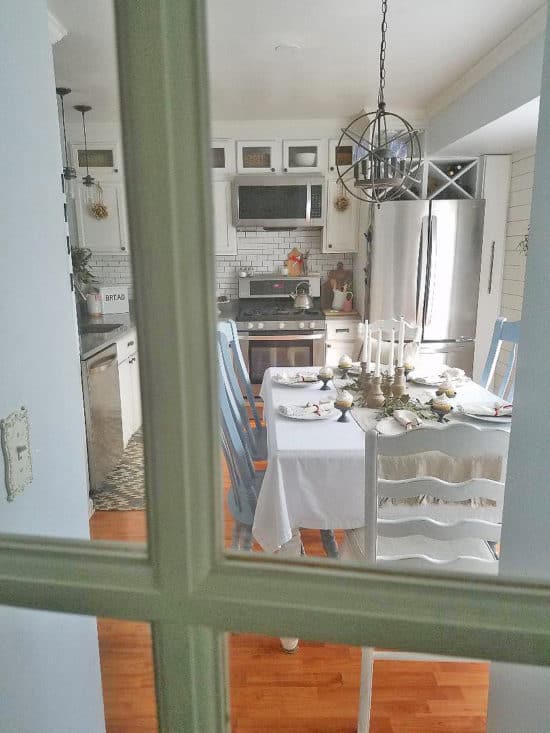 Happy Friday friends! Instead of my usual Five for Friday post today I'm sharing my Christmas decorating in the kitchen. This is part of a week-long Come Home for Christmas Series hosted by 2 Bees in a Pod.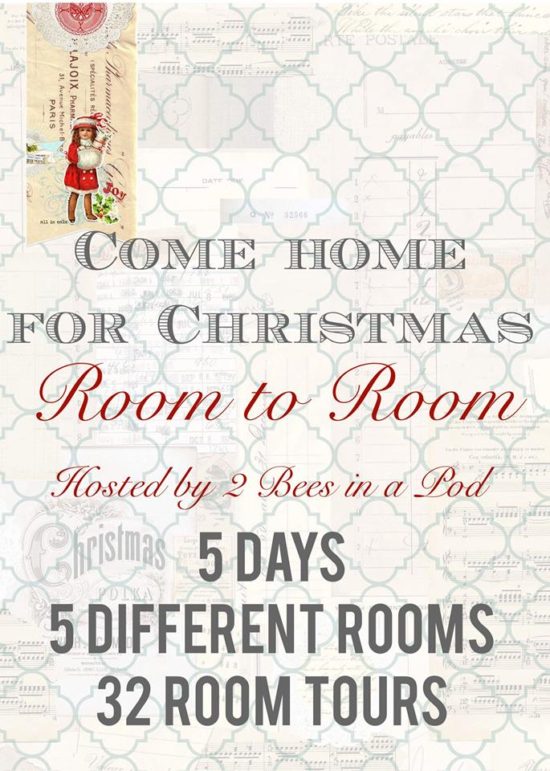 I don't have a dining room in my small house, so my kitchen functions as the dining space as well. I wanted to keep the Christmas decor*  in here neutral considering I have blue chairs. I ended up going with a natural, rustic theme in here. Big surprise, I know.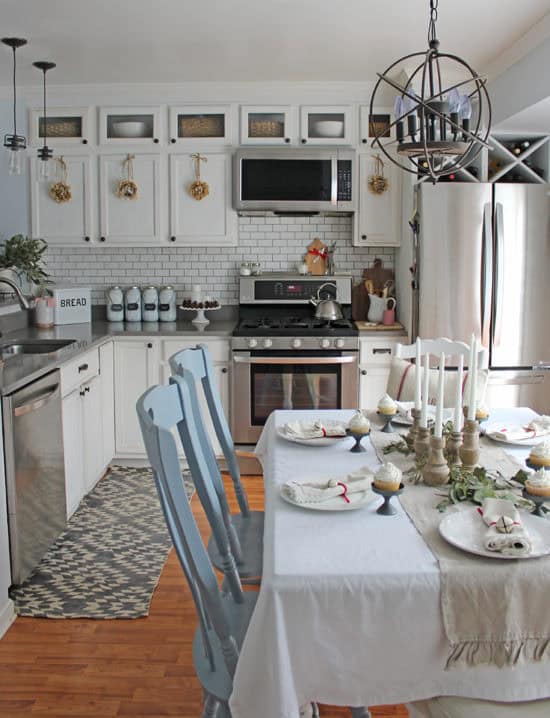 For a centerpiece on the table, I used these beautiful wood and gold candle holders and added a bunch of fresh seeded eucalyptus.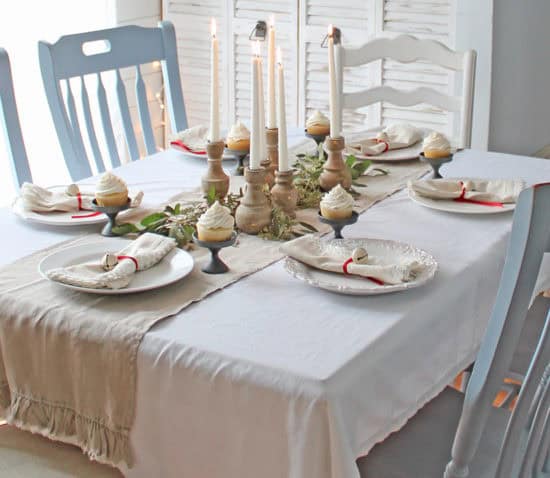 That linen table runner is new, I love the ruffled edges on that.
I purchased these vintage-style cupcake stands a few months back and I just love them.
My daughter loves to bake, so I asked her to make some all white cupcakes for me. They were as delicious as they were beautiful and they were gone in 60 seconds after these photos were taken!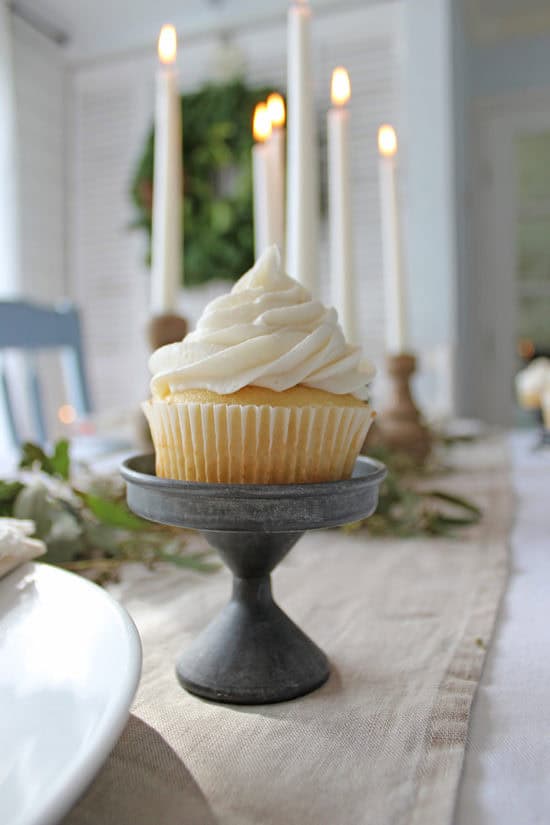 My dinner plates consist of non matching vintage-looking plates. I keep them all white but I like to mix up the patterns. I always keep my eye out for pretty white plates with texture.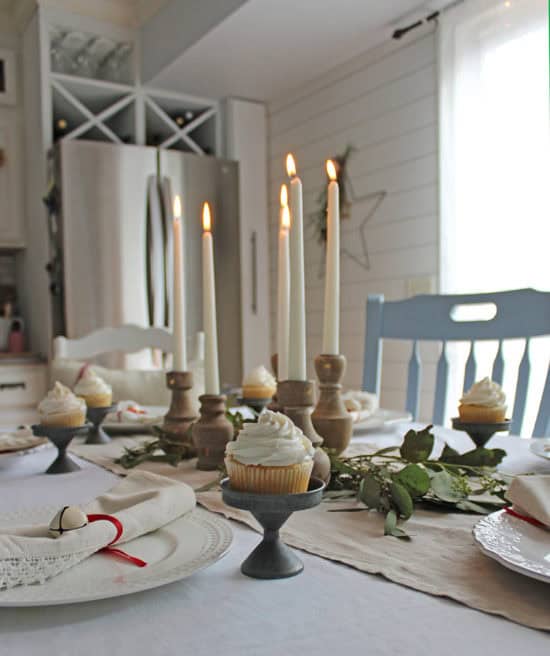 I bought this little honeycomb jar for my niece's kitchen, but until I'm ready to accessorize over there I thought I'd borrow it for my kitchen. I couldn't resist that honeycomb pattern.
I added candles and pinecones to my fluted cake stand for a simple, natural touch.
You may have seen the tree shaped cutting board in my gift guide on Monday. It's so adorable, I added it to my stove shelf until I'm ready to use it.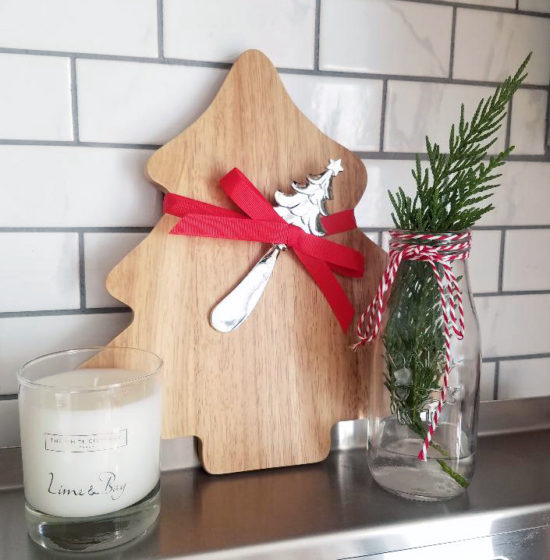 If you follow along on Instagram, you may have seen this star on my wall. This is one of my favorite buys this year.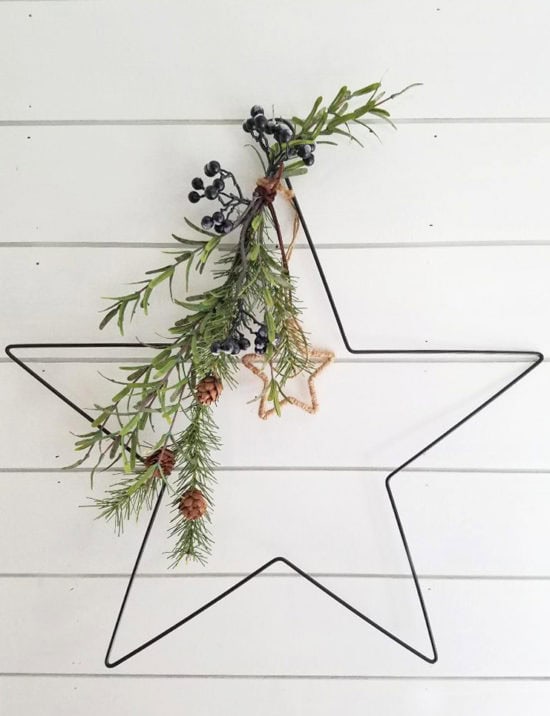 The merry & bright pillow is from my friend Lisa, she makes beautiful farmhouse style pillows.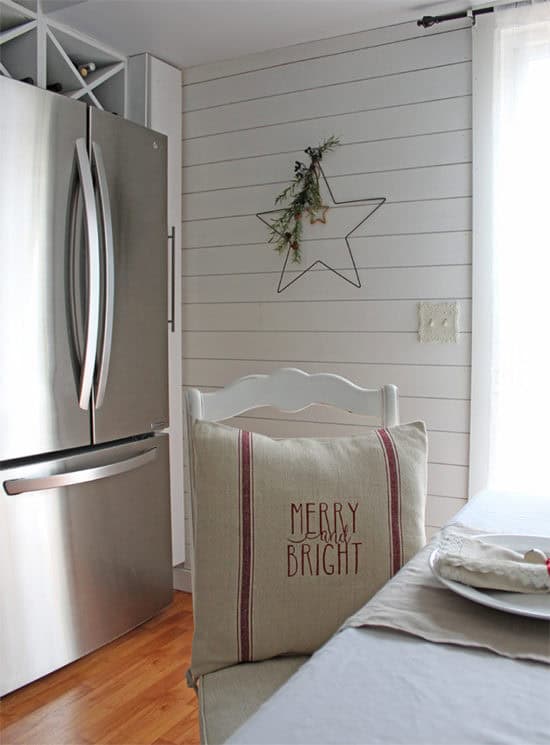 Similar to last year, I wrapped my linen napkins with a small bell ornament as opposed to a more traditional napkin holder.
The chandelier in my kitchen was a DIY project (we made that for under $30!), you can see that here. The little wreaths hanging on the cabinets were also a DIY,  I made those out of book pages.
I hope you enjoyed my little kitchen tour! If you'd like to see more Christmas decorating in the kitchen, as well as every other room in the house, visit the links below to see what my talented friends are doing with their homes!
MONDAY – Christmas Foyers
TUESDAY-Living Rooms
Wednesday-Bedrooms
Thursday-Dining Rooms
Friday – Christmas Kitchens
Home with Cupcakes and Crinoline
*This post may contain affiliate links, you can read my full disclosure here.