Farmhouse Christmas Home Tour
Okay,  so I don't really live in a farmhouse.
I just love farmhouse style. Today I'm sharing my Christmas home tour with you along with some of my friends because blogging is more fun when shared with friends. If you follow me on Instagram, you may have seen a sneak peek already. So let's get right to it.
Christmas in the Living Room
My daughter and I totally bribed the cat with treats to pose in this first picture, she just looks so perfect there!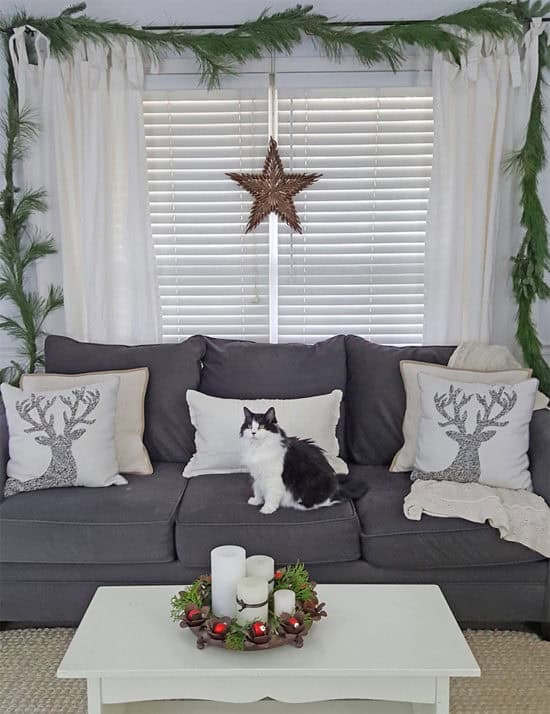 I bought the adorable deer pillows* last year, they are so perfect against the gray sofa. And that mini tree in the galvanized pot came from Home Goods. I wish I had bought more of those, it's so adorable.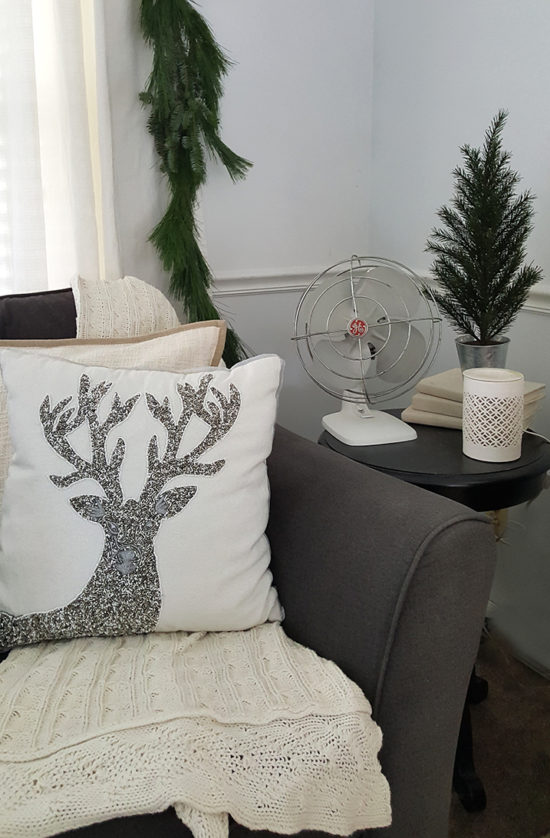 I've been working a little bit on my living room  since last Christmas, but it's still in a transition phase – I have many plans for this room, though none of them are small projects which is why it's taking so long. I picked up this piece of furniture shown below at an antique store for only $50 a few months back. I really love it, and had planned to give it an update, use it as a media stand and move my TV over to this wall. However, that plan has changed already due to a 100 year old vintage mantel I found last month at a flea market, which is now going to be in this spot. After the New Year, I will get back to working on this room.
I've changed the Christmas vignette on that sideboard a few times already, the rustic star is new this year and is getting a workout with me moving it all around.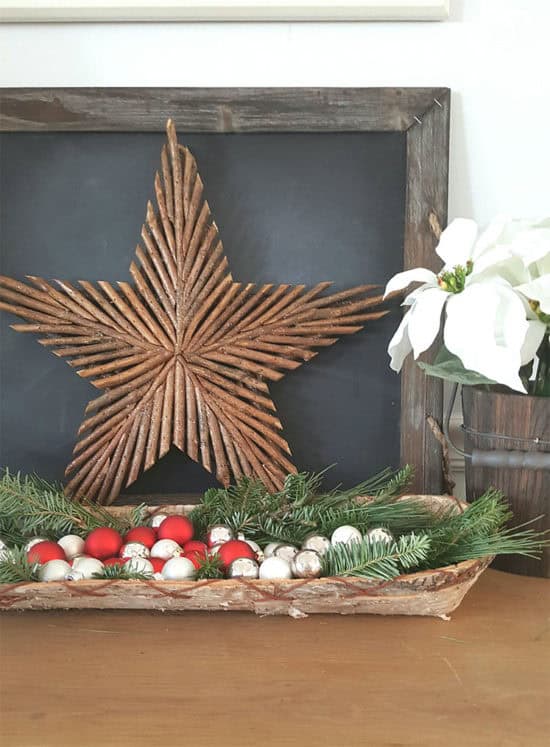 Christmas in the Kitchen
I have an open pass thru between my living room and kitchen. The shiplap wall my husband installed for me for my birthday helps this view, as does the wooden pediment I found at a flea market.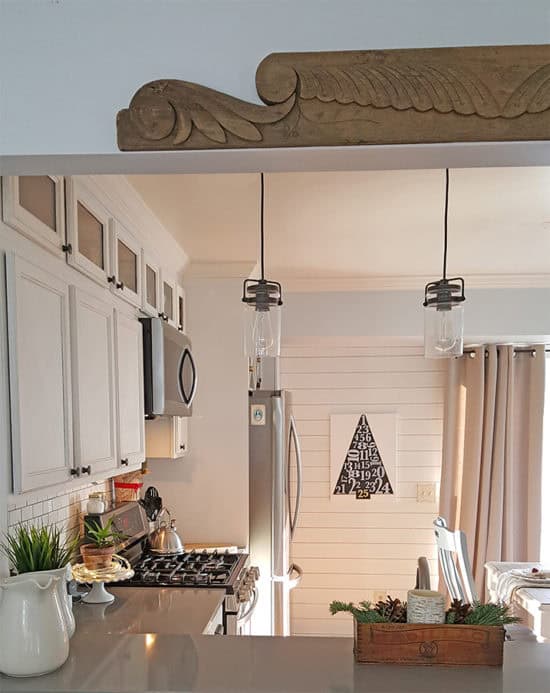 I used several mini boxwood wreaths in my kitchen this year. These are so versatile, they look great anywhere.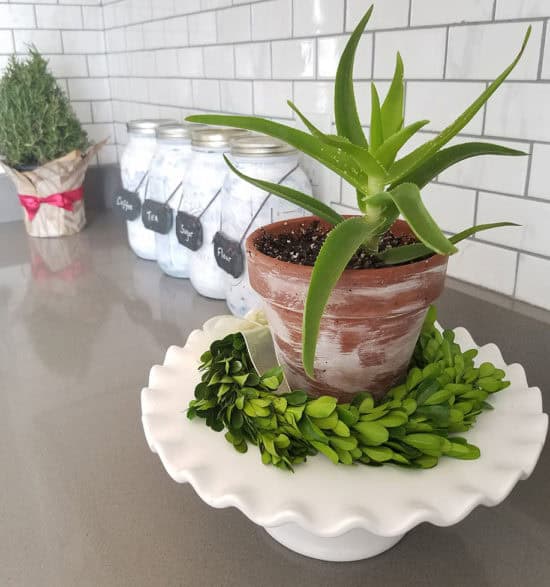 Including on my kitchen table as a centerpiece.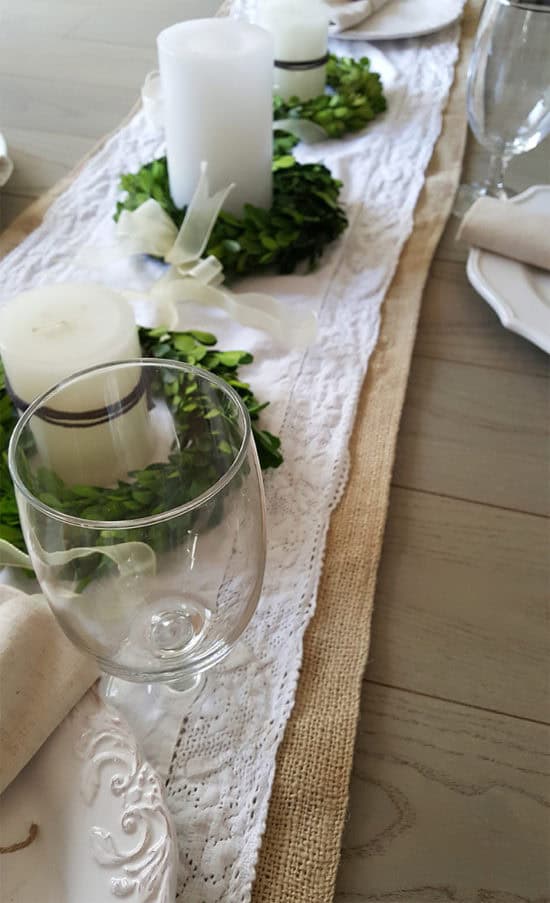 I used some leftover bells from my Christmas garland as napkin holders.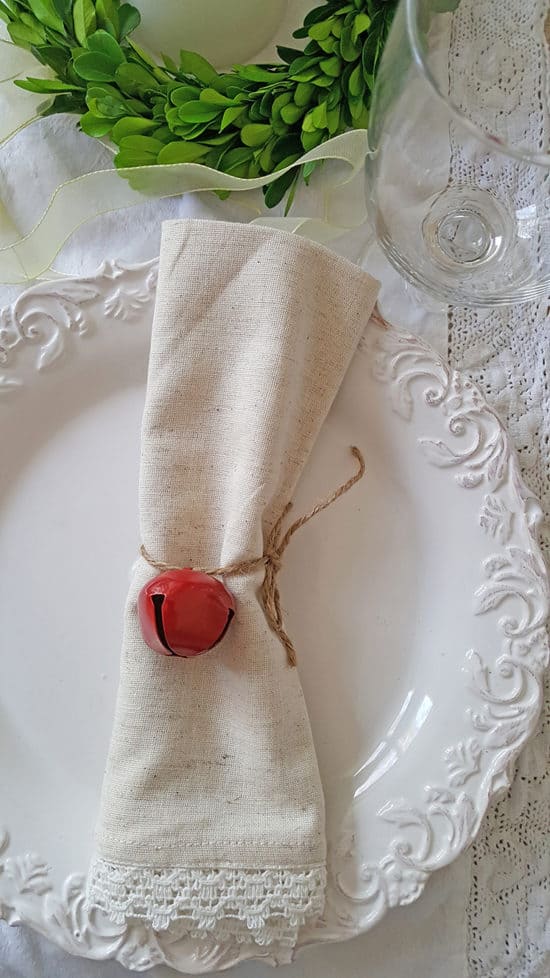 I found this tin of pretzels at a summer festival, and I will admit I bought it just for the tin. It looks so cute with my poinsettia in it. (Note to my daughter in college who is studying animal science: YES the poinsettia is fake, I KNOW they are poisonous to the pets!)
Christmas in the Family Room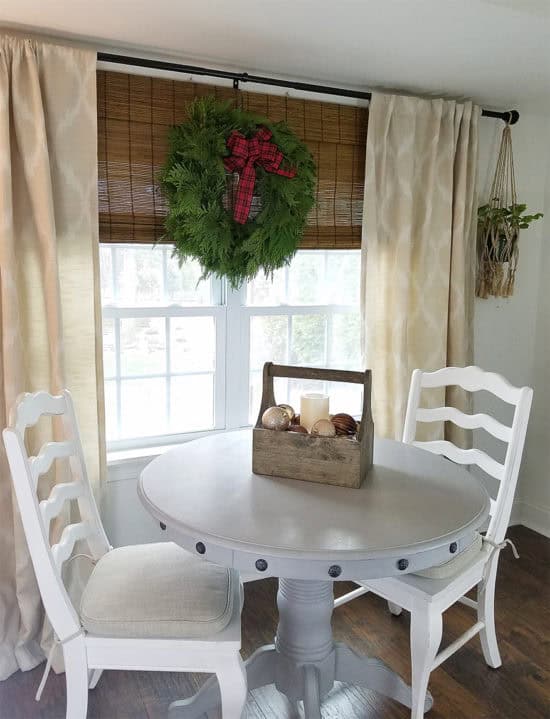 My daughter gave me the small rustic ladder as a gift last summer (great gift, love it!) but it looked a little sad on its own so I purchased the larger ladder to go with it.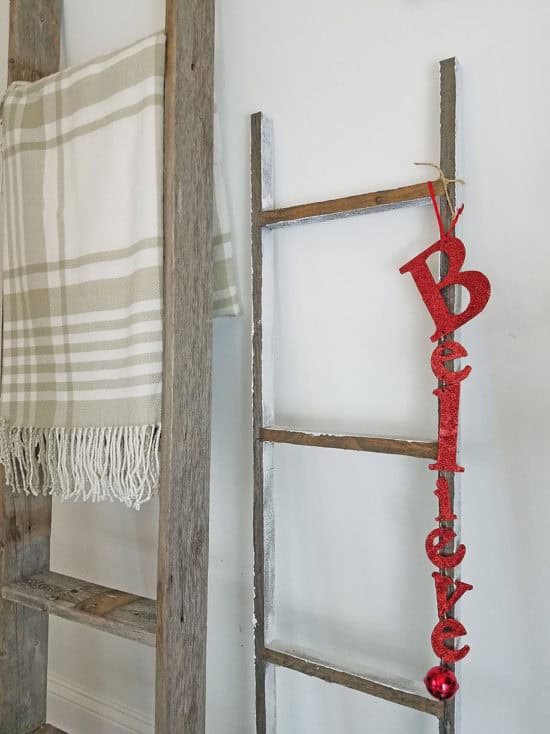 I wanted to keep the mantel simple this year with some gold candles and fresh greens.
I made a little Christmas banner from some large burlap Christmas ribbon to hang under my framed burlap. In my usual fashion, I replaced it not long after with my DIY Christmas bell garland.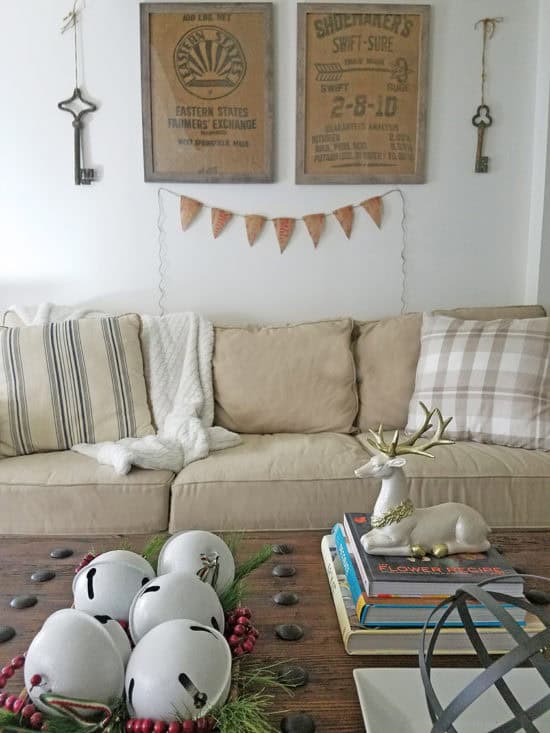 My stockings were a DIY and they are a no-sew alternative for those of you who do not sew, but they definitely weren't easy!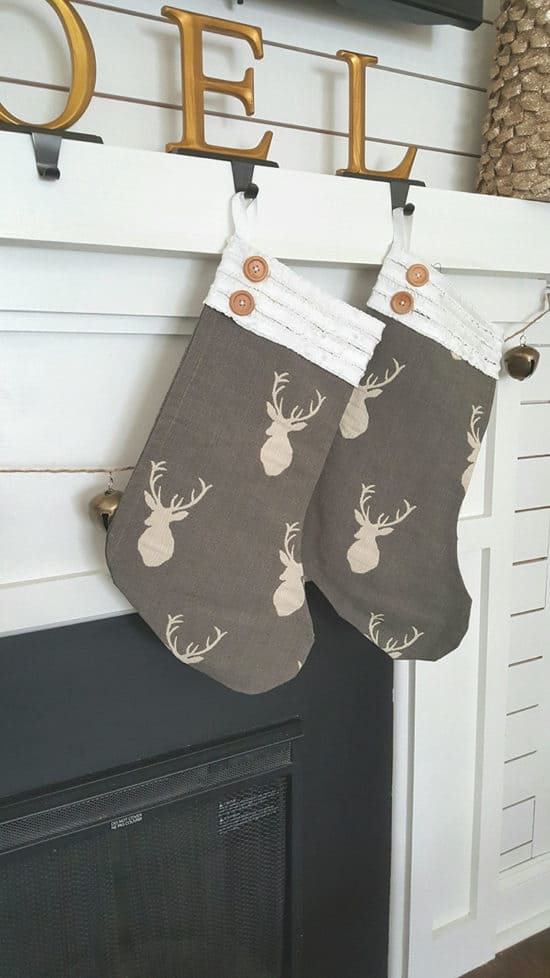 Christmas in the Bedroom
Honestly, I do not usually decorate the bedrooms for Christmas but I was inspired to add a little decor into my daughter's room this year.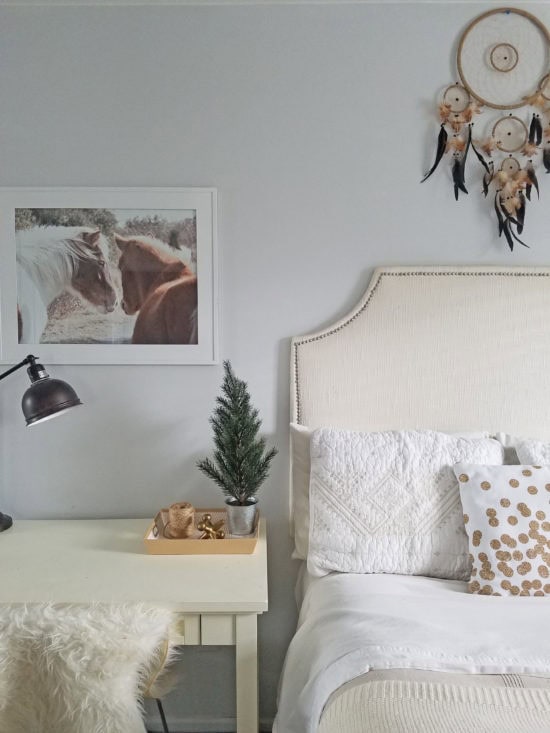 The mirrored closet doors in this room were such an easy DIY project, with huge impact.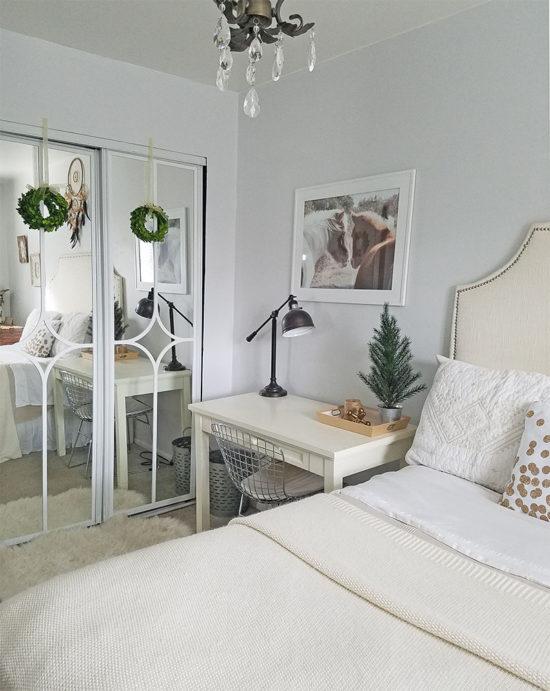 I have a few more DIY projects planned for this room after the holidays that I am excited to get to!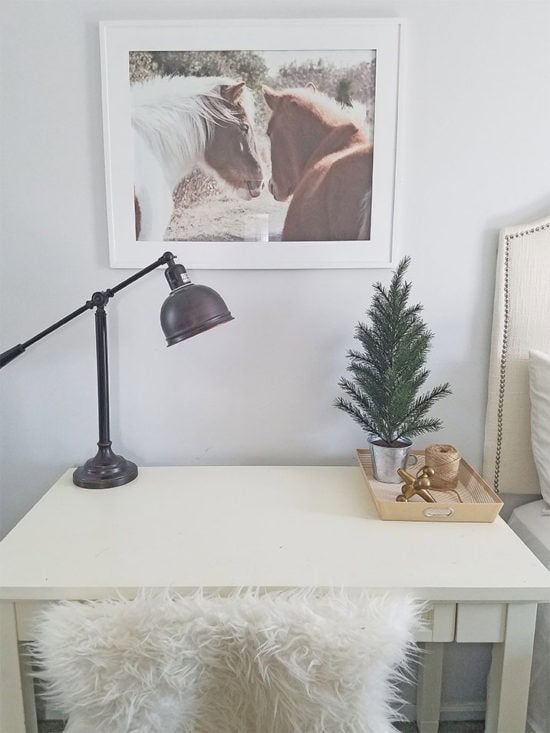 You have probably noticed that there is not a Christmas tree in any of these photos. That is because we get a real one every year. We plan on getting it this weekend. Thanks for visiting my home tour! Be sure to stop by and see my friends home's all decked out for Christmas (links below)!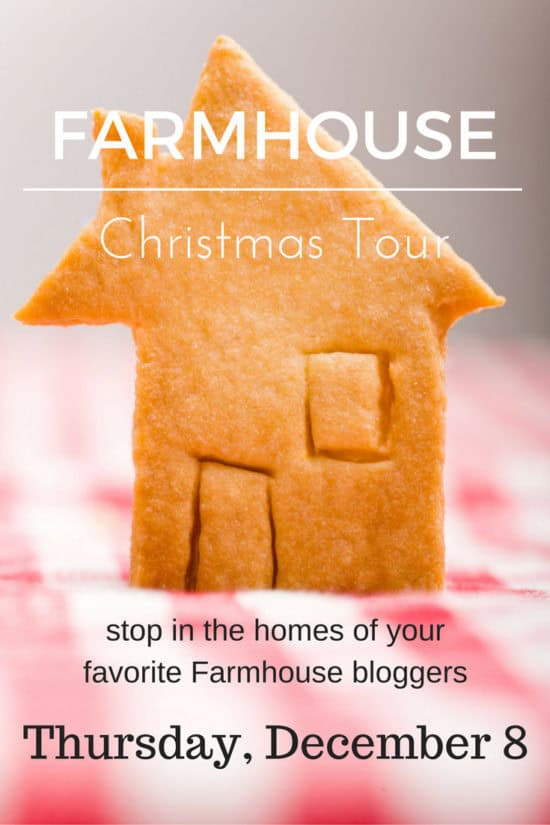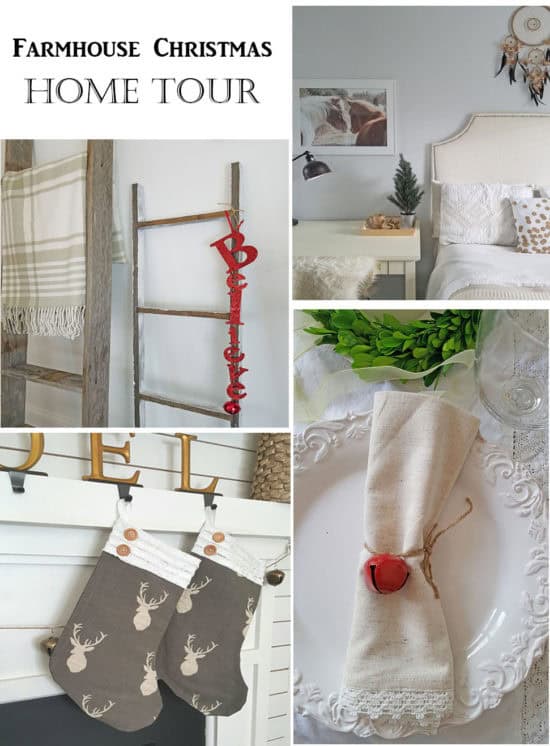 *This post may contain affiliate links, you can read my full disclosure here.