When furnishing our garage turned family room, I knew I wanted a round table with some chairs in there.  This way the room could double as extra dining space as well, or as desk space.  I had my eye on the Weston Crank Bistro table from Arhaus furniture for a while.
Weston Crank Bistro table from Arhaus.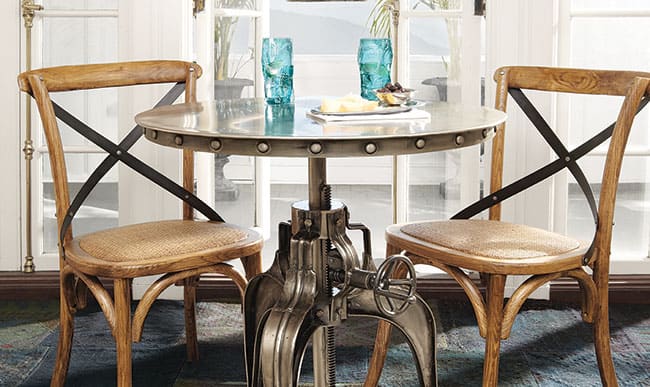 I really love that table.  However it was too small for my space and the price was more than I wanted to spend.  It was definitely the right style.  I also found another amazing table featured on Houzz, that I liked even better.  This one comes from a company called industrial-chic, and I believe it's to the trade only.  This is kitchen is by Interior Designer Brain Watford.  Image via Houzz.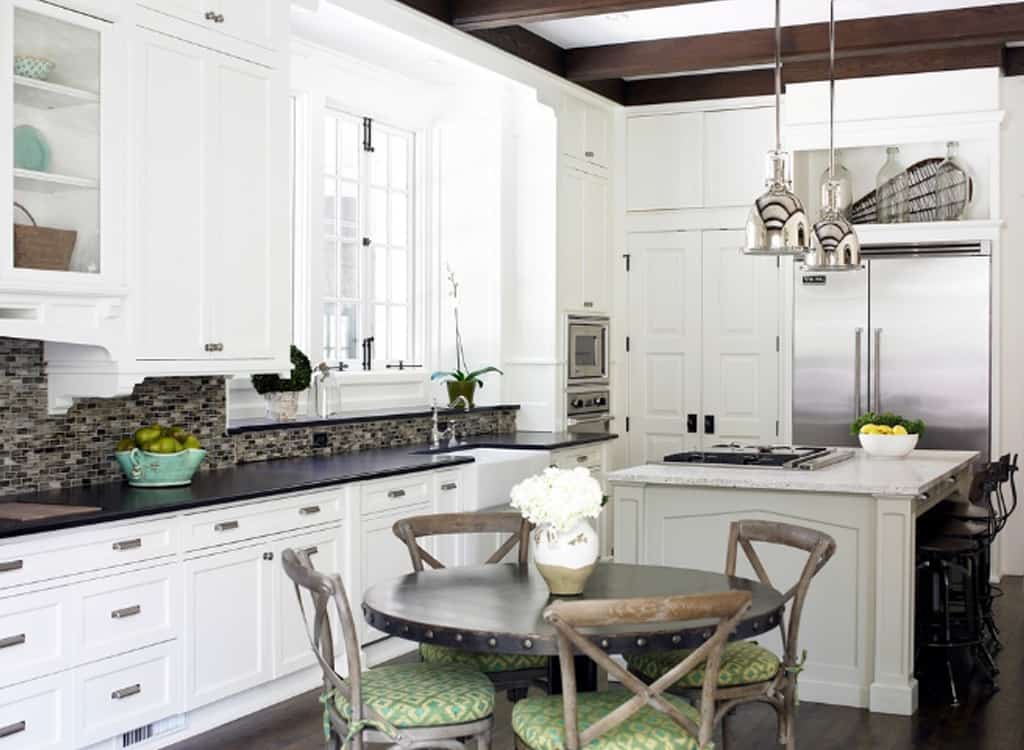 I found a similar table at Pier 1.  I chose this one not only because it was the right size (38″ diameter) but also because it had the flat side panels.  I knew I'd eventually add the nailhead trim to the side.  I can no longer find this exact size on the Pier 1 website but they have similar tables  here and here.
The chairs in the photo above are pulled from my kitchen for now, until I am able to buy the ones I really want.
I found some larger sized nailheads on Ebay that were perfect.  They are 1″ in diameter.  I love the hammered metal finish on these.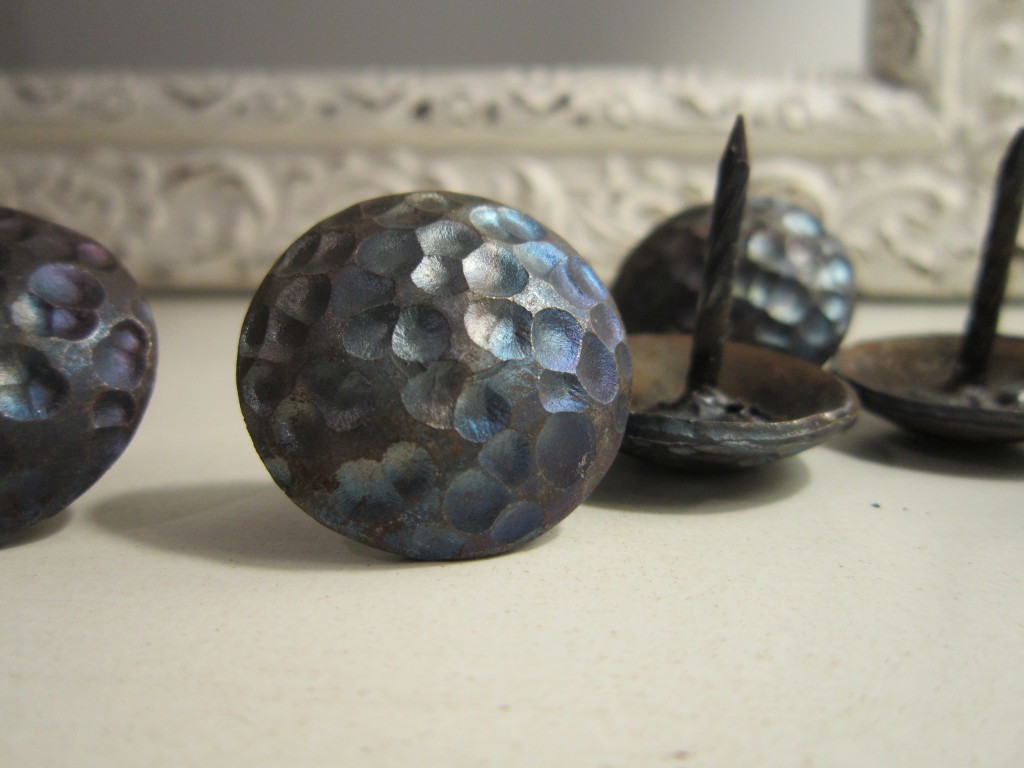 The first thing we did was turn the table upside down for easier access.  Then John taped around it with painters tape so we wouldn't scratch or chip the finish while working on it.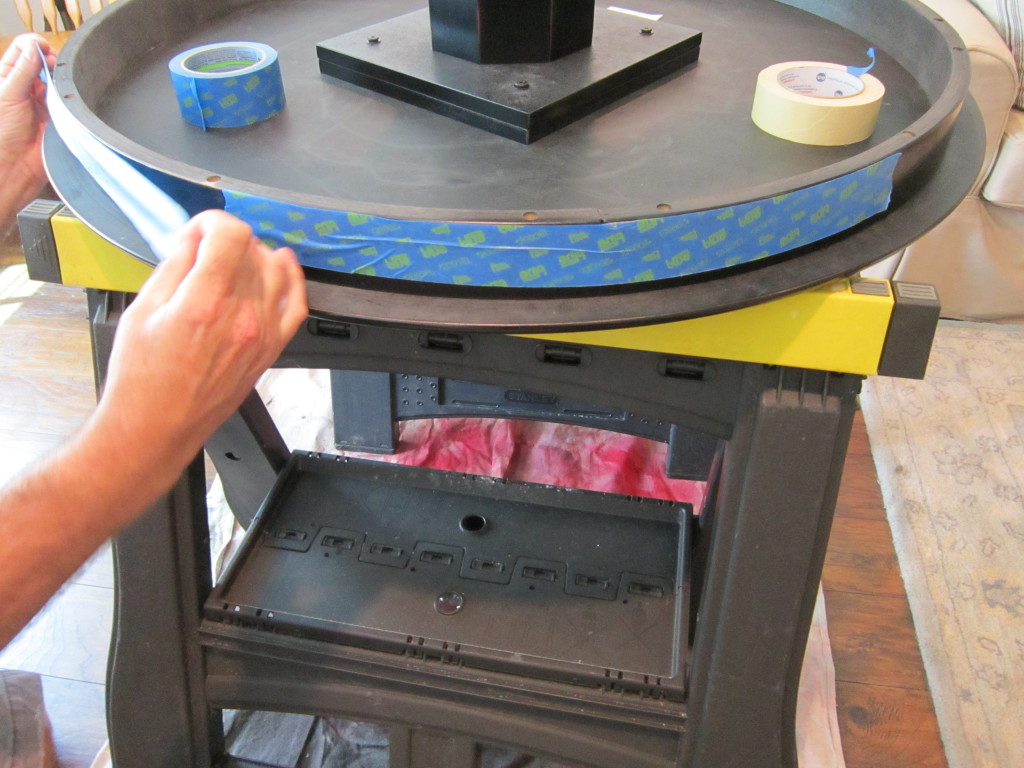 Then I placed the nailheads around the table to get an idea of spacing.  We really didn't do any exact measuring, we just eyed it.  I had 25 nails to work with and the table is 38″ in diameter.   We ended up placing them every 6″, and I had a few leftover.
Next, we measured and marked the height where each nail would go.
After we had our spots marked, John used this hole punch to notch each spot.  The purpose of this is so that the drill doesn't slide.  In the spirit of full disclosure, we messed up here a little bit. We actually made our hole punches too close together before realizing we wouldn't have enough nails if we placed them like that. Because the nails were from Ebay, I couldn't order additional. So we have a few more holes punched than we should have.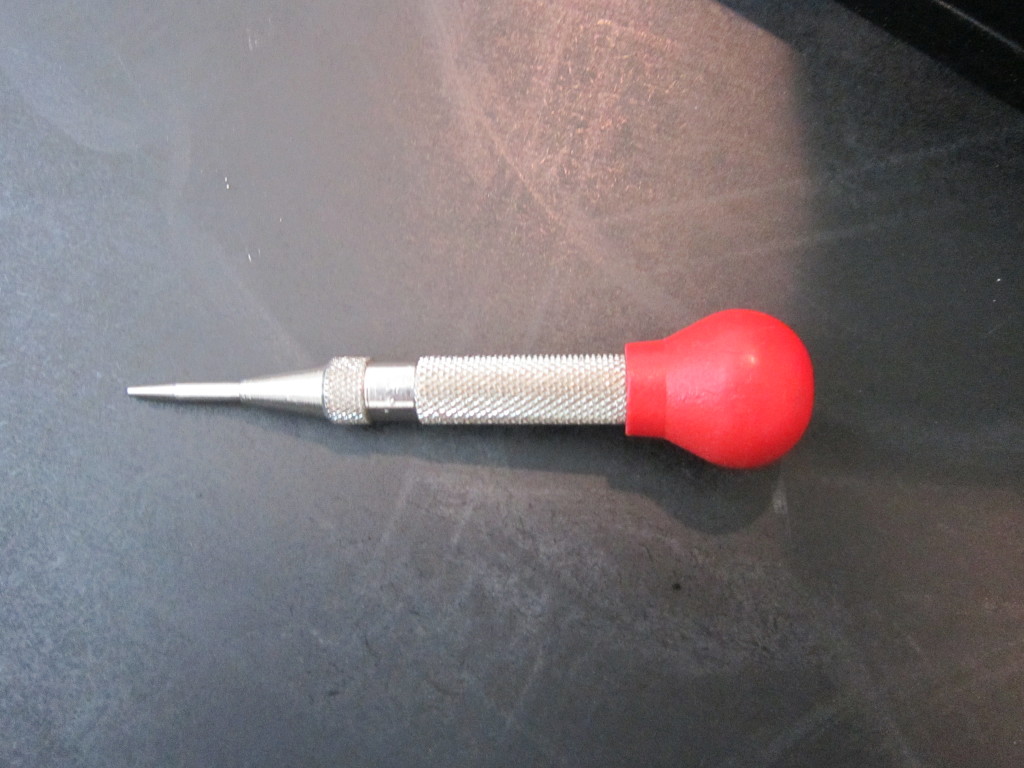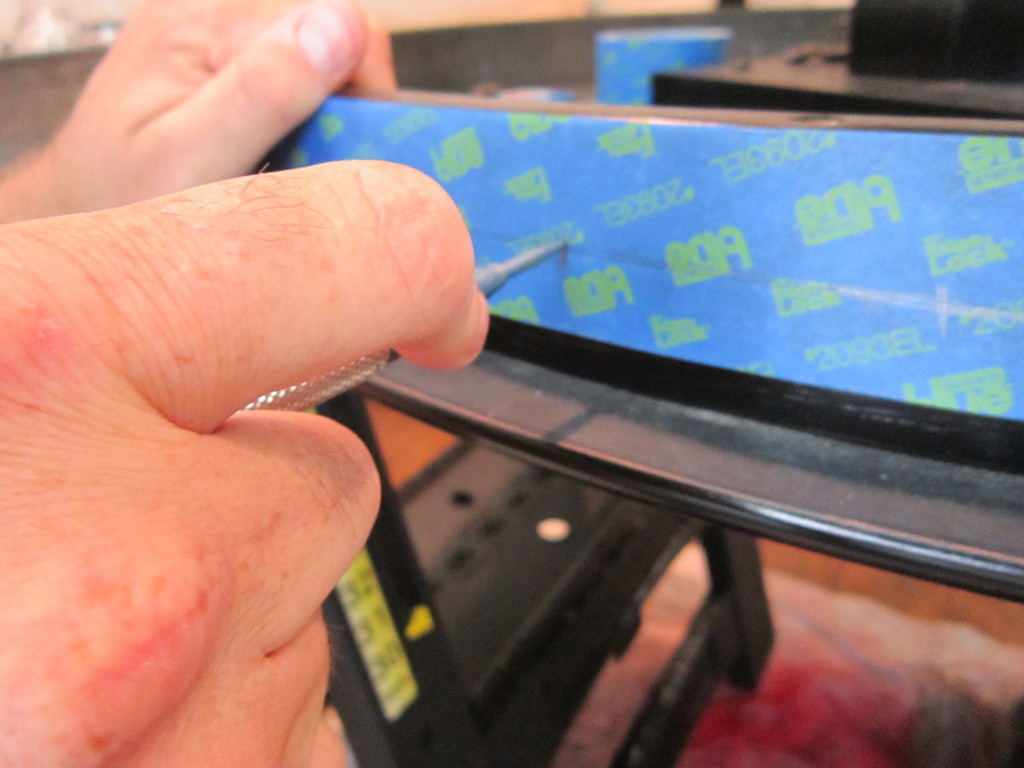 Then John drilled.  You want to use a drill bit slightly smaller in diameter than the nail.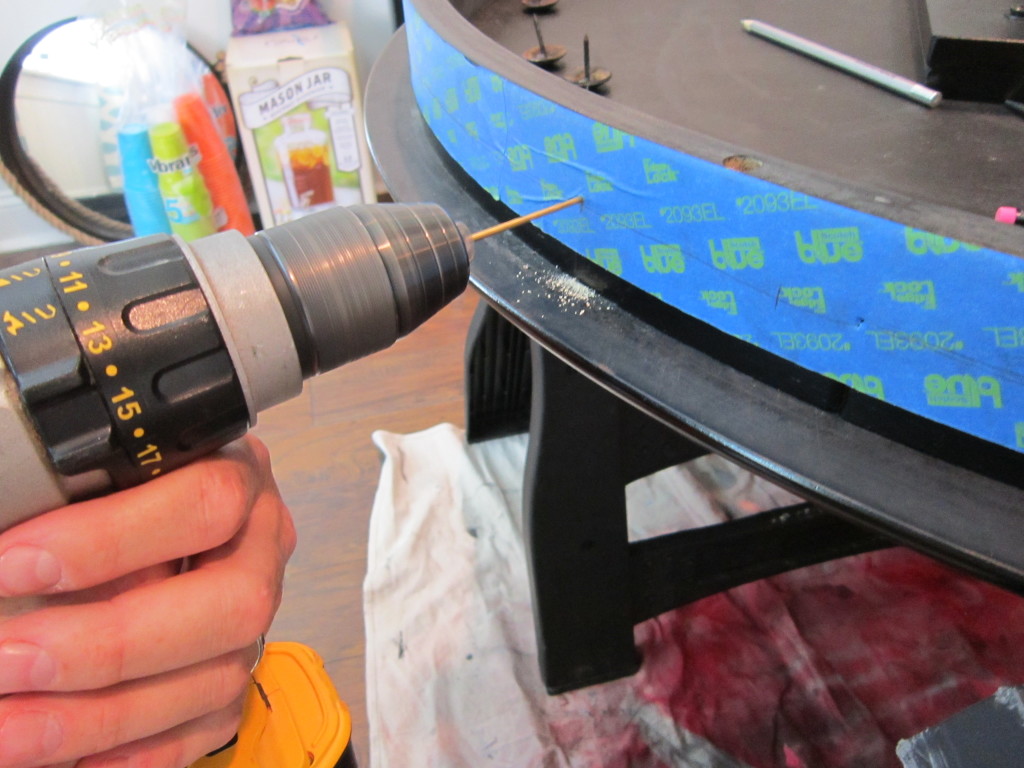 Lastly, we used a rubber mallet to hammer the nails all the way in.  I forgot to take a picture of that.  If you don't have a mallet, you could use a hammer, just cover the nailhead with a cloth to protect it.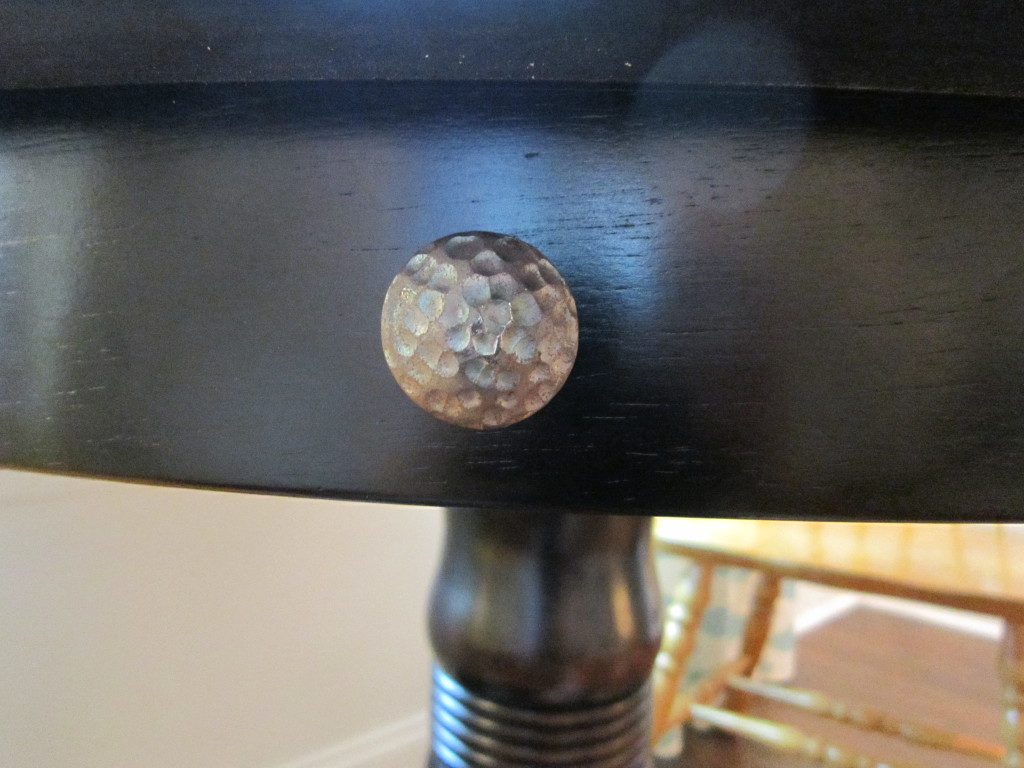 My helper, inspecting the props.
What do you think?  Do you love it??
 Update:  This table got it's second makeover,  see it here.