How to Decorate Around A TV
Simple decor ideas and solutions for how to decorate around a TV.
When you love interior design and home decor, the TV can really cause a problem when decorating. Nothing says unattractive like that big black box on the wall.
One day, I would love to buy a Samsung Frame TV. They look more like a piece of art on the wall, but until then I'm working around it.
I had hung a gallery wall around my living room TV a few years ago. Last year, my husband decided to upgrade that TV by about 2″. That stinking two inches completely threw off the entire wall decor.
It took me a while to redo it, but I think I've finally settled on a more minimalist look now.
One of the best purchases I've ever made was on this set of three small mirrors. I had bought it years ago and always loved it. So much so, that last year I bought a second set of them. Considering how often I change home decor out around here, anything that lasts for years must be good.
In addition to using those mirrors in several gallery walls, I've also used them for mantel decor as well as tabletop decor. Here I used one of them as a tray for candles.
After I bought the second set of mirrors, I bought a third. 🙂 Clearly, I love versatile decorating accessories.
Back to the TV wall; in addition to the mirrors, I hung this "flowers" sign above the TV. That was a gift from my daughter a few years ago.
On the console table under the TV, I have an old metal caddy that I found at a flea market last summer. I filled that with potted plants for now. Some are real, some are faux. Incorporating vintage pieces from the flea market is a great way to add character to an otherwise plain room.
I was able to fit the cable box under my TV table so that it isn't visible. You can see how we hid the cable box in our family room here. This TV table has been discontinued, but this one is even prettier.
The baskets are useful for extra storage in our small house.
The stool was also from a flea market, I painted it black and put it here to help balance the overall look of the TV wall.
I think this simplified gallery wall looks better than my original gallery wall did. Hopefully, my husband doesn't make any further upgrades for awhile (unless its the Samsung one!).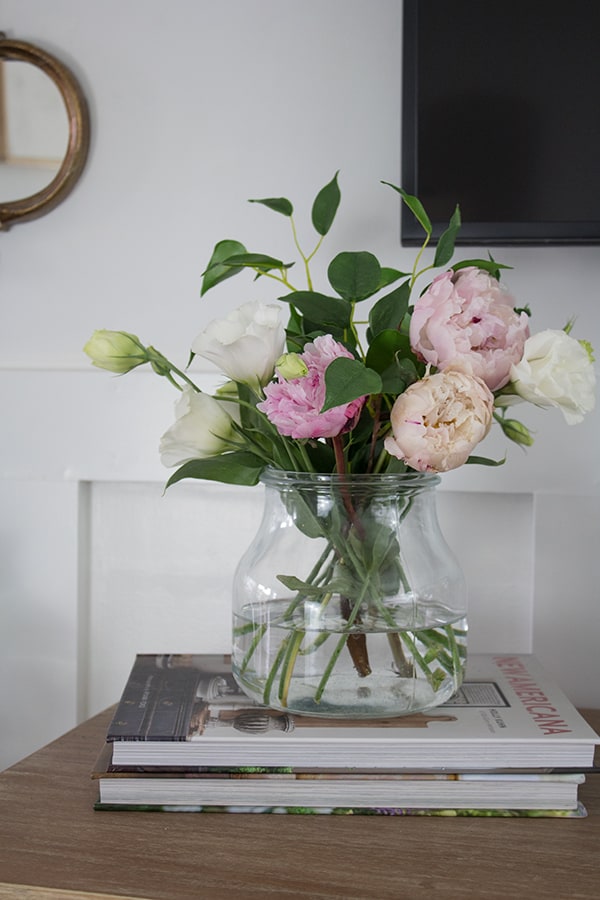 How do you decorate around the TV?
Please Pin:
This post may contain affiliate links, you can read my full disclosure here.