Get This Look – Classic Living Room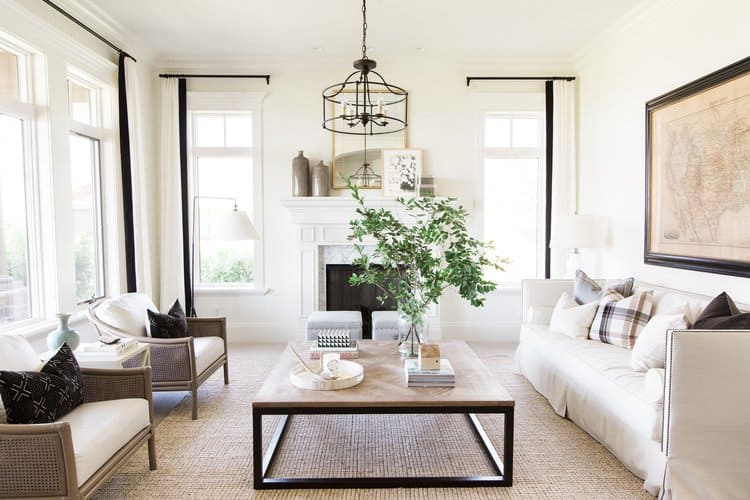 Because I'm design obsessed, one thing I like to do is study room designs from interior designers that I follow. I look to see what it is about the room that I like, and why it all works together. Studio McGee is one of my favorite designers and this classic living room above is an example of their work. Their Instagram account is amazing, tons of inspiration! I thought this would be a fun room to do a "get this look" post on considering I haven't done one of those in a while.
What I love about this living room from Studio Mcgee is the timeless design and the neutral backdrop. You could easily switch things up in this room by changing out throw pillows and/or the artwork for a whole new look without having to replace any major pieces in the room. Here is a design board I put together to replicate the inspiration room and show how you can recreate the look yourself.
White Sofa with Nailhead Trim/Barrel Style Cane Chair/Wood Top Coffee Table/Black Metal Chandelier/
Framed Map Print/Gold Framed Mirror/Curtains with Black Trim/Plaid Pillow/
Black Mudcloth Pillow/Gray Vase/Bamboo Branches/Jute Rug*
One thing that surprises me when I share a get this look post, is how much it would actually cost to recreate a designer room – so expensive! However, you know I'm always looking for ways to beat the high cost of decorating! You can shop for similar furniture pieces at flea markets (I bet you could easily find similar side chairs as shown in this inspiration room) and antique stores, some of which may need a little DIY to make it reflect the designer version.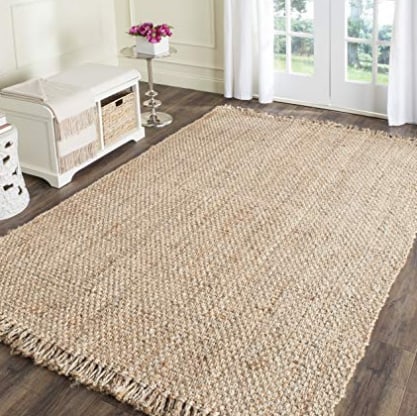 The jute area rug in my inspiration board is actually a very good deal, I like it every bit as much as the one in the designer's classic living room. In fact, I just ordered this rug for my home to layer in my family room.
As far as lighting goes, I also find this metal chandelier to be reasonably priced.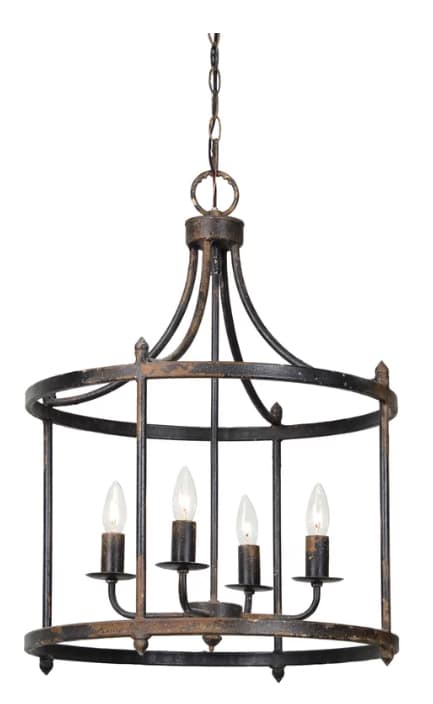 After seeing my niece's living room makeover, a few of you have expressed your concerns regarding keeping a white sofa clean. In my niece's house, we used several throw blankets to keep over the couch (mainly to keep pet fur at bay which is a problem regardless what color your sofa is), I would also invest in a good spot cleaner.
However, I think the best way to go about having a white sofa without the stress is to get a slipcovered sofa. This way you can entirely remove the cover to wash and bleach it. Pottery Barn is my top pick for slipcovered sofas, this is their Basic Slipcovered sofa shown below. You can find them cheaper at Ikea, but in my experience with Ikea furniture, it's not well made. I would pay more for better quality. Especially considering most people keep their sofas longer than their cars!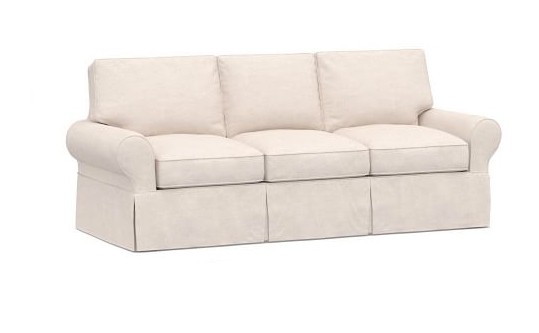 For curtains, pillows, and accessories, you can often find similar designs at Home Goods or TJMaxx. Etsy is a good place to shop for pillows also. For a more affordable map print, I would definitely look for that on eBay.
After making the design board, I found this coffee table which is very similar to the designer for under $100!
Another smart design element in this room is the white lamps. The designer room isn't very large, and keeping the lamps white helps them to blend in rather than standing out. This reduces visual clutter. This pretty set of white lamps would give the same effect.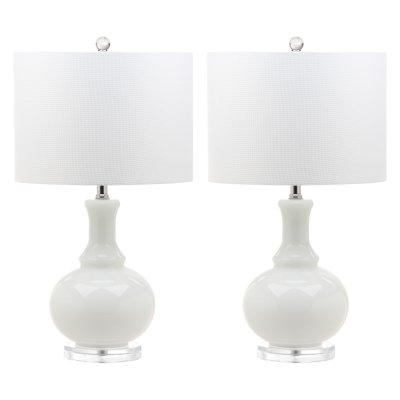 What do you love best about this classic living room design?
Looking for more living room decorating ideas? Check out these posts:
Eclectic Living Room Design Ideas
Get This Look: Designer Living Room
Home Decor Ideas for Living Room
*This post may contain affiliate links, you can read my full disclosure here.