Antique Four Poster Bed & bedroom refresh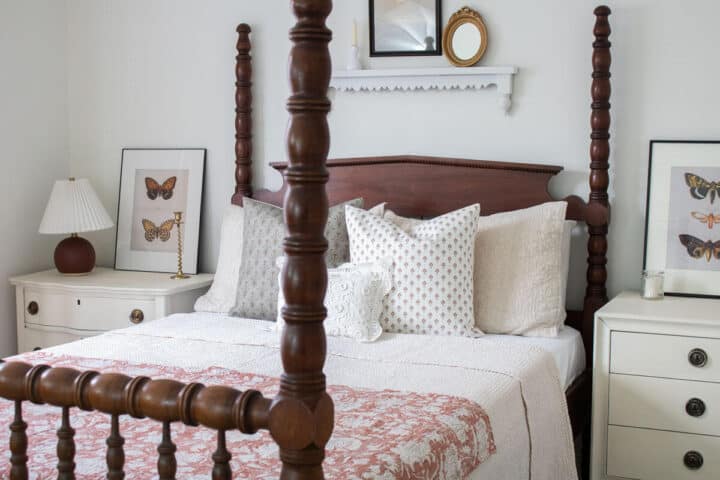 A few weeks ago I shared with you our beautiful antique four poster bed and the problems I had finding a custom mattress to fit it. Once I got that issue figured out, I spent some time refreshing my daughter's bedroom.
The last time I did a refresh in here, it was part of the One Room Challenge. After doing that challenge a few times I realized it wasn't for me. Decorating under a short timeline caused me to settle for decor that I otherwise wouldn't have.
In this room, it was the previous headboard that I wasn't happy with. I had ordered it online. The upholstery on the computer screen looked to be a linen color when in reality it was pinkish.
But once I got it upstairs and put it together, there was no chance I was returning it. At that point, I didn't have time to find another.
I'm finding the more vintage and antique pieces I incorporate into my home, the more I like it. Nothing beats original!
I had considered stripping the finish off of this antique four poster bed. However, I decided to live with it a while before deciding. I'm glad I waited because I really love the original finish now.
What helped me to love it, even more, were these lamps I found when I wasn't even looking for lamps. The dark red color of the base goes so well with the wood finish on the bed.
They're the perfect little bedside lamp. When I found them they were almost sold out. I was fortunate to find one left in stock not too far from me. My daughter scored a second one at her local store near Philadelphia.
They were from the Studio McGee line at Target. I don't think they're available anymore but I have my eye on this pretty lamp from that line as well.
You may remember this little dresser/nightstand used to be green. I loved the green dresser but it just was not working in this room. Painting both nightstands an off-white color was the solution. I wanted those to recede in the room to let the bed really stand out.
Finding something to hang above an antique four-poster bed was the biggest challenge of all in here. I tried artwork, mirrors, and combinations of both. Nothing looked right.
Finally, I found this narrow shelf at Hobby Lobby. Unfortunately, the wood tone of the shelf clashed with the bed. I ended up painting that the same color as the walls. As with the nightstands, I wanted the shelf to sort of disappear so the focus is on the bed.
The trio of a small framed landscape print, a single candlestick, and a tiny antique mirror is what I used on the shelf.
With the antique bed, I wanted a quilt but in a somewhat more modern style as to not be too over the top with vintage. This quilt in a floral pattern caught my eye. I love the subtle pop of color and how it blends with the lamps.
Part of this refresh also included a mix of throw pillows to add a little more color and texture to the bed.
Keep in mind, I started working on refreshing this room last summer. Though TV and the internet will have you think room makeovers happen overnight they don't.
I did a little at a time. Doing it slowly also helps to stretch out the budget.
The butterfly art prints on the nightstands and the art above the bed are all from my new vintage art shop, Shop Home Revivals.
The lace pillow was found on Etsy.
The tiny mirror was a Facebook marketplace find. My original plan was to hang that above the bed by itself. I thought a really-small-on-purpose look would be interesting but it really didn't work.
I loved the mirror so much that I wanted to find a way to incorporate it. That led me to the shelf idea.
The only thing I haven't changed is the curtains. I was originally planning to go with golden accents in this room but then I found those lamps and changed my mind.
I'm thinking a simple patterned curtain with a little color to match the quilt would be ideal. But this is real life and it may be another several month before I get to those.
Painting the molding is another option I'm considering. Finding a neutral paint color that looks good in this room has been a challenge. I may end up leaving that white and painting the walls instead.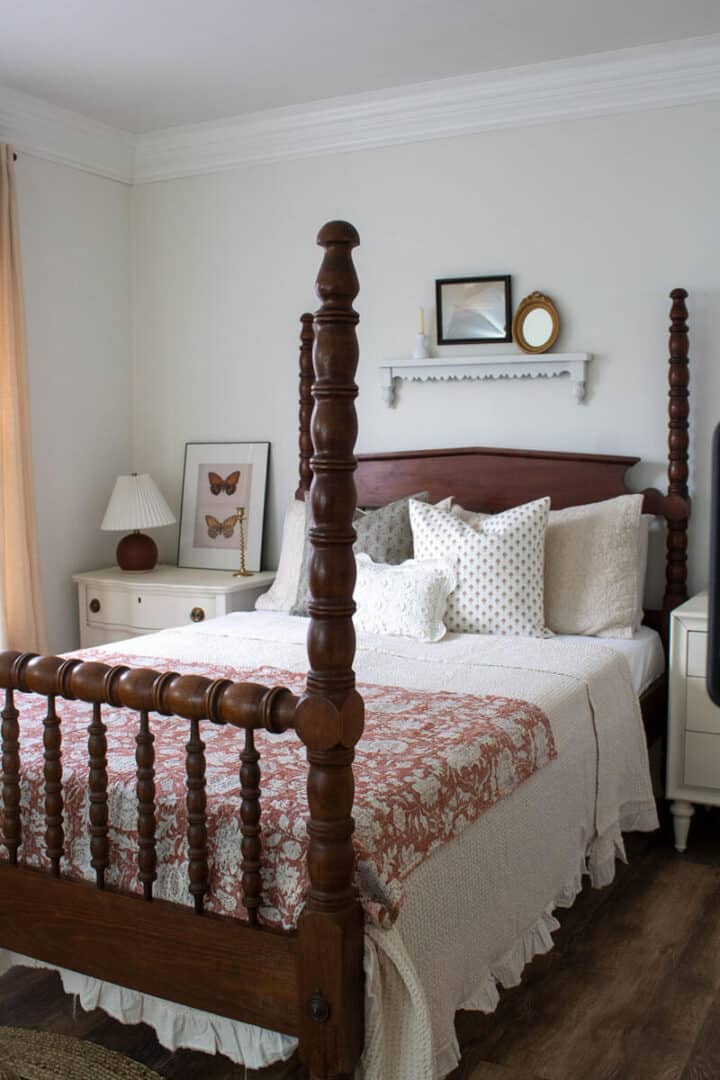 This is a north-facing room so it doesn't get much sunlight. The lack of direct sunlight also makes it trickier than usual to choose paint colors.
I'm now taking a break from this room and trying my hand at wallpapering my tiny half bath. It's my first wallpaper attempt so wish me luck!

---
YOU MAY ALSO LIKE: