Buying an Antique Mirror – What You Need to Know
What to watch out for when buying an antique mirror. Glass thickness, quality of the frame, and hanging hardware are important!
Antique mirrors make such a beautiful accent in the home, don't they?
They add instant character while also bouncing light around. There are a few things to consider before committing to purchase one. For instance, there is the age of the item and its style.
You also need to consider what type of surface you want it for, such as a wall or tabletop. The most important thing about an antique mirror is knowing how well made it is because when something breaks on these older pieces, they cannot easily be replaced with new items.
I've had this happen to me with an antique buffet mirror I bought via Facebook marketplace last summer. More on that later in this post.
So before you buy, consider the following points of reference! It will cover everything you need to be aware of when purchasing an antique mirror.
Antique Mirror Frame
The first thing you want to check out on any mirror is the frame. It can be challenging to tell if there are any issues without inspecting them closely, so this is best done in person versus looking online.
If you notice that the frame looks like it has been repaired at some point, make sure to check it for any loose parts. If the mirror has been repaired, it is important to ask how this was done because there are many different methods of fixing a mirror – some are better than others!
With the large buffet mirror I purchased, I realized after getting it home the mirror panels were very loose. One actually came out of the frame when I was carrying it inside.
I took it to a glass shop and they ended up replacing the glass panes for me. The new glass was much lighter than the antique glass which in this case was good because it made it easier (and safer) to hang on the wall.
If your antique mirror is very heavy and the frame looks cracked, I would reconsider hanging it on the wall.
If the frame is sturdy but looks beat up, consider painting the mirror frame.
Screws
The condition of the finish of screws in an antique mirror frame should also be considered. Look for any signs of rust or scratches to determine how well it has been cared for over the years.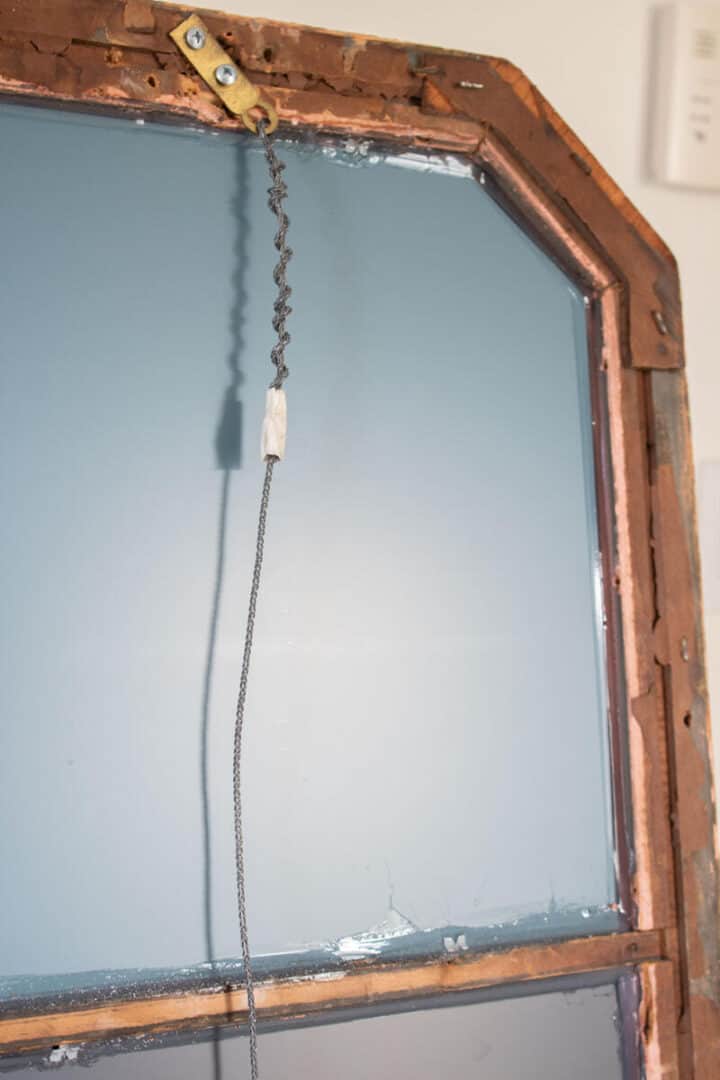 While inspecting the screws, make sure that they are hand-made or are marked by irregularity in shape. This will ensure that the mirror is antique as modern screws are more well-formed.
hanging hardware
If you're planning to hang this mirror on your wall be sure to check if it has hanging hardware on the back. Many beautiful antique mirrors were designed to go over a dresser or cabinet so there wouldn't be hardware on those.
If the wood frame is in good condition you can likely add hardware yourself.
I also picked up a second old mirror last year at the flea market for $15. That did not have any hardware on it so I had to add it myself. And if you're glass is thick and heavy as we mentioned, you'll need hardware that can support the weight.
Detailing
Often, the intricate detailing on antique mirrors makes them truly unique and special. Note how well the detailing has been preserved as this can also be a sign of how well the mirror has been cared for over the years.
The highest quality detailing work will usually have very fine or thin lines that curve gracefully throughout the design.
Glass Imperfections
With antique glass, you should expect some imperfections. This includes some bubbling or cloudy spots (oxidation) on the glass. Sometimes the cloudy spots add character. A few years ago, making new mirrors look vintage with DIY oxidation was trending (you can see an example of how to antique glass here).
Be sure to take notice of what types of glass imperfections are present throughout the mirror. These can be anything from minor scratches to significant pitting or damage to the glass itself.
Glass Thickness
Antique glass is typically thicker and heavier than modern glass to accommodate for the process of hand-blown glass production.
It is essential to take note of how thick your antique mirror is. If it's a high-quality piece, it will have a thickness that you can easily feel when holding the item.
As mentioned, I had to have my mirror panels replaced on the buffet mirror. Below you can see how the glass shop attached them.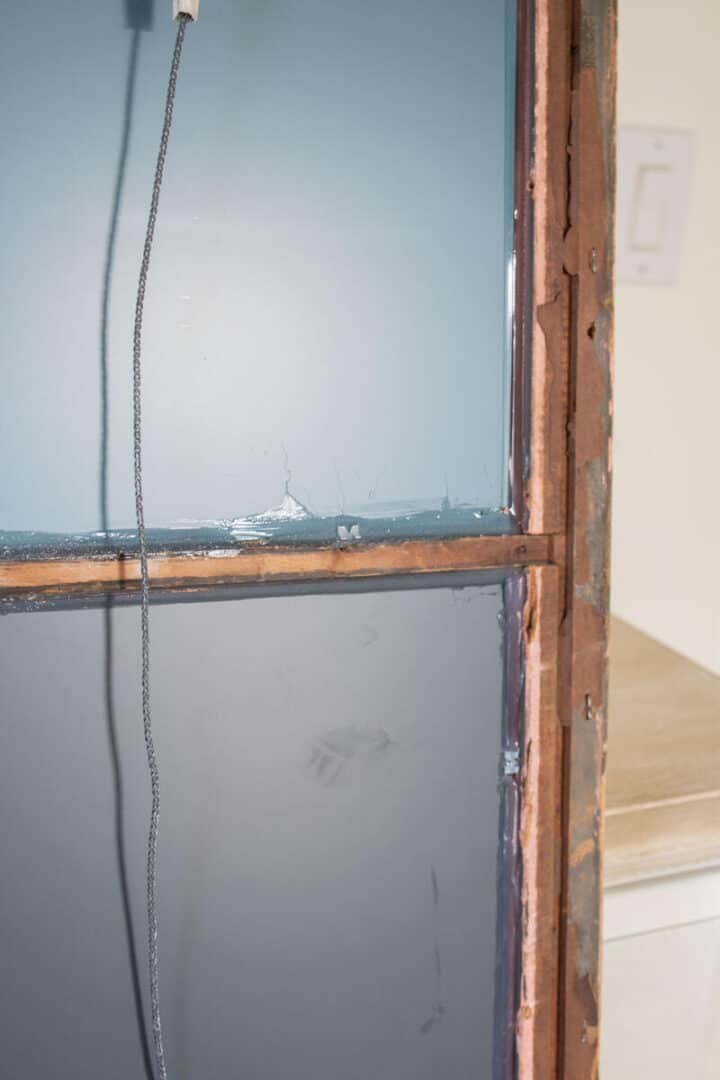 Glass Color
The glass in an antique mirror is can be grayish or yellowish due to age, while modern glass tends to be colorless. So this is something to keep in mind when antique mirror shopping.
Things to Keep in Mind When Purchasing an Antique Mirror
Now that you know what to look for when buying an antique mirror, it is essential to remember that not all mirrors are created equal. Many factors such as the frame, screws, detailing, and glass imperfections can make a big difference in terms of quality and value.
So take your time when shopping around, and be sure to ask lots of questions and inspect it well before making a purchase!
---