10 Warm Neutral Paint Combinations
Last year I began putting together this post and never finished it. I was reminded of it when writing the 2022 design trends. Warm neutral paint and earthy colors made several lists as far as trending predictions go.
It's fun to see how color pairings look in other people's houses. Thought I always use color samples before picking paint for my house because it can look very different from house to house depending on the lighting. And never trust the colors exactly as you see them on a computer screen.
That said, let's look at some pretty color pairings!
1. Walls: Sugar Soap / Trim: Delicate White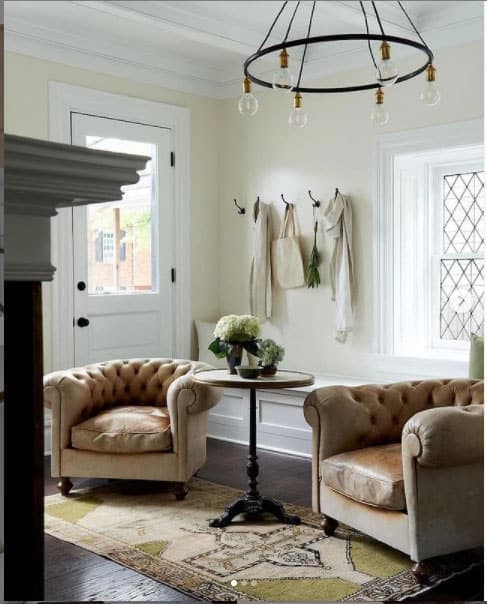 When does yellow color paint ever look good on walls? Never. Unless it's done by Leanne Ford. The subtle butter-yellow above is perfect, especially paired with pretty white trim and super cool leather chairs.
2. Walls: Wish / Ceiling: Baby's Breath
The warm gray on the walls above softens this space while still allowing the amazing ceilings to shine.
3. Walls: Kingsport Gray / Trim Gray Cahsmere
Though the wall color is called Kingsport Gray, it's more of a taupe color. It's really beautiful if you're trying to achieve an earthy tone.
4. Cabinet: Pewter Green / Walls: Original White
Neutral, muted greens are the biggest color trend this year. I hope they don't get so overdone that we get sick of them because I really love green. The muted color on the cabinet in this photo is really beautiful.
5. Upper Wall: Revere Pewter / Trim: White Dove
The two colors on the walls here are staples among designers, I see these everywhere. The Revere Pewter is a great neutral and the White Dove is my favorite of all white paint colors.
6. Far Wall: Dark Clove / Near Wall: Moth Wing
When you have a view of one room from another, paint is a really great way to add interest and draw the eye in. The far wall painted in Dark Clove achieves that perfectly.
7. Upper Walls: Simply White / Lower Walls: Baby Fawn
Simply White paint is another very popular choice for walls. It's a very neutral white with little undertones. Paired here with Baby Fawn on the lower walls and trim work, it creates a subtle contrast that perfectly highlights those details.
8. Walls: Alabaster / Trim: Accessible Beige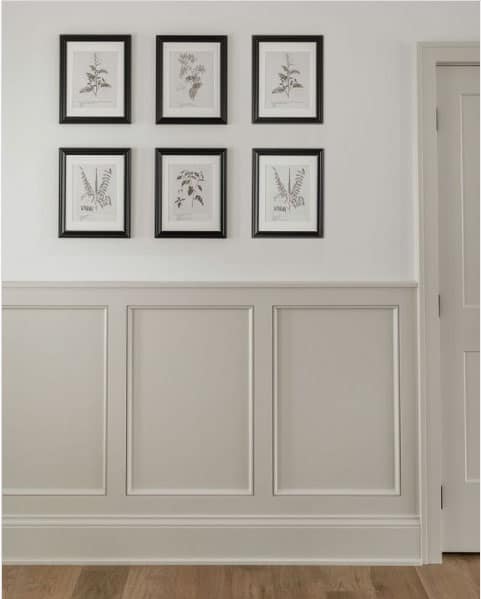 Similar to the previous combination, highlighting the trim in a subtle color like accessible beige really draws attention to the woodwork.
9. Lower Walls: Evergreen Fog / Upper Walls: Ultra Pure White
Evergreen Fog is Sherwin William's color of the year this year. You can see it's a muted green painted here on the lower walls and trim. It pairs very well with Behr's Ultra Pure White.
10. Walls: Limewash / Trim: Symmetry
When crown molding is as amazing as this should be highlighted. Here the trim is Symmetry and the wall color is Limewash.
Lastly, I noticed this image on Benjamin Moore's Instagram page and really loved this combination of warm neutral paint colors. I bought some samples of both to use in my daughter's room. We have really beautiful crown molding in her room that I've been thinking about highlighting with paint.
I wanted to try the darker color of her sliding barn door first. I was disappointed that the color looked lighter on the door than it did on the sample. To try and correct that I went back and had it mixed slightly darker and painted again. And it still looked lighter. It wasn't at all bad, just not what I wanted.
Rather than settle, I'm going to keep searching for a shade to better match the sample. It may take a while but I am not touching that beautiful molding until it's a color I absolutely love. Revere Pewter and Kingsport Gray will be my next samples. I'd like something with slightly more brown undertones as opposed to beige.