While I'm not making any predictions for the direction of 2022 design trends, I have been reading up on this topic from top designers and companies. I thought it'd be fun to take a look at those today.
It's crazy how fast interior design styles and trends change, which is why I try to keep the bigger elements of my home neutral or classic. It's much easier to change out paint and accessories than to remodel!
Trending in 2022: Earth Tones
Wayfair predicts natural elegance will be big in the way of earthy textures, rich leather, and woven materials.
They also mentioned plush touches in rounded shapes and chunky knits. Additionally, Wayfair designers anticipate retro accents in the way of graphic patterns, low-profile sofas, and shades of avocado and rust.
One article I read said that after rough periods in history (like 2020) trends usually lean toward brighter, bolder and basically happier colors which explains the colorful and retro predictions I've seen.
Less White, More Contrast
Houzz also mentioned retro making a comeback. Think kitchens in lively colors. with fun wallpaper and colorful appliances. Houzz designers also suggest creating contrast in the bathroom using black.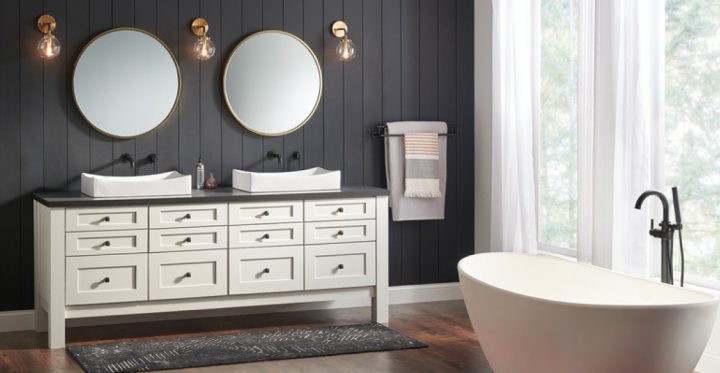 Black walls with white vanities or subtle accents of black. Additionally, statement lighting was said to be a trend to watch. Bold fixtures in unique shapes were mentioned.
I've definitely noticed more wallpaper and the use of darker colors on Instagram in 2021. According to designer Matt Mosher "dark is the new white".
warm Neutrals
Architectural digest – Predictions from AD include investing in the home office (thanks to all the Zoom calls), texture, bold designs, and connecting with nature with the use of warm neutrals as well as by adding more natural light when possible.
Curved Lines in Furniture & Decor
Better Homes and Gardens – The use of the color green was mentioned in several articles I read including Better Homes and Gardens. Also reiterated were the popularity of curved lines in everything from furniture to architecture, lots of texture, and the use of vintage items (you know I love that last one).
One reason vintage is said to be on the rise is the supply chain issues we've been hearing about. Due to that, locally sourced furniture, vintage art, and decor have been mentioned as a 2022 trend.
The use of neutrals will still be popular with a shift from cool to warm. Instead of white and gray it will lean towards tans and beige. Earth tone colors such as rust and camel will also be on the rise according to designer Joshua Smith.
2022 design trends are Bolder & Brighter
Apartment Therapy – Much along the lines of the trends we've heard so far, the designers interviewed by Apartment Therapy agree. Curved and rounded furniture, lots of textures, and bolder brighter colors were all on the list.
As well as retro furniture, vintage, and locally sourced items. One stand out here not mentioned elsewhere was a trend to maximalist decor. I have noticed that the last one trended a bit on Instagram last year as well, it's a more is more approach. Interestingly, warm minimalism was also mentioned in this article. Time will tell which trend will prevail there.
The Color Green
House Beautiful – The design experts at House Beautiful agree. Statement lighting, colorful kitchens, and the color green will be huge.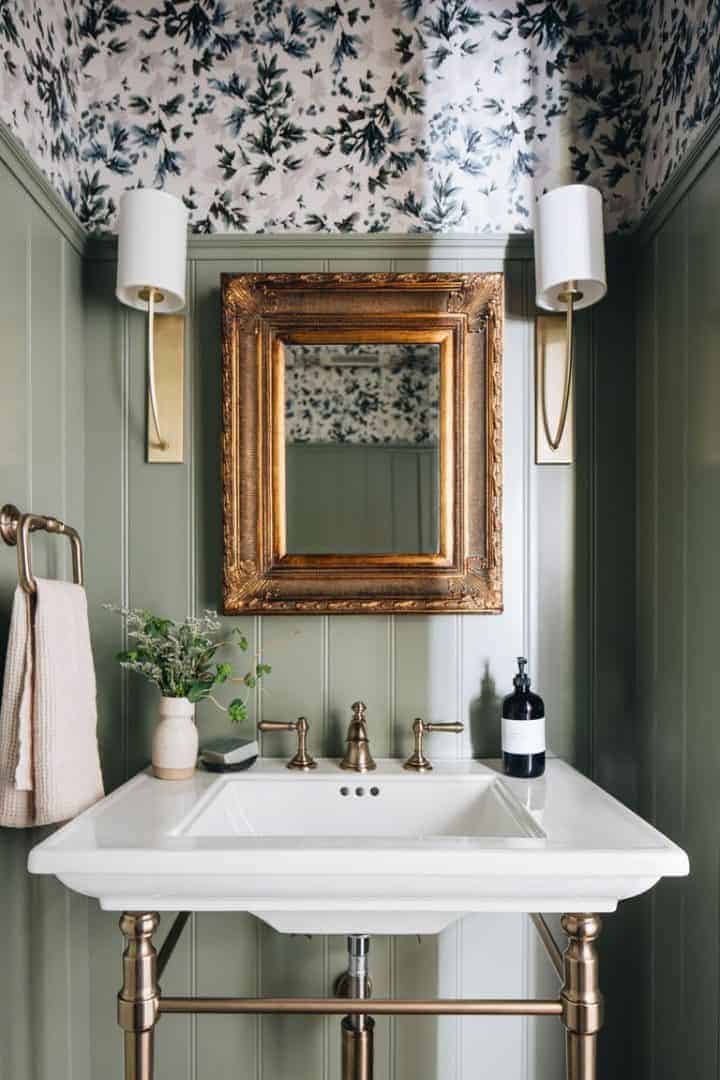 Additionally, going green was on their list. Reusing and recycling materials as well as buying from companies who keep the environment in mind and use recycled materials.
Vintage & Locally Sourced Decor
Jeremiah Brent and Yelp – Yelp made their predictions using data from rising search terms online with additional input from Jeremiah Brent. Again we hear texture, earthy materials, and shopping local or working with local artisans. Additionally, Jeremiah predicts that shades of dusty blue will be popular, something I hadn't read anywhere else.
Yelp mentioned that the search trends they've seen indicate a desire to add more thoughtful details to homes this year.
My thoughts on 2022 design trends are in line with much of this. While you likely won't be seeing any very bright colors in my house, and I don't plan on eradicating any white painted walls, I have been leaning toward more warm neutrals. Also aligned with Yelps data, rather than big projects I want to fine-tune many details that we've never gotten to.
I definitely am on board for green this year as well. I introduced green last year in throw pillows and accents. This year I'll expand on that as well with paint. My vintage art collection will be expanding, which will bring in bold contrast to my mostly white walls.
Lastly, I've been on the hunt for the perfect wallpaper for my tiny half bath. I want to add some interest in there and tone down some of the gray. I haven't found it yet, but half the fun is finding just the right thing!
What home projects do you have planned this year?