Natural Roman Shades In Our Dining Nook
Are you in the market for some new window coverings? If so, you may want to consider roman shades. Roman shades are a type of window covering that can add a touch of elegance to any room. They are also a great option for those who want something that is both stylish and functional.
A few years ago I traded in the Venetian blinds in my living room for pretty bamboo blinds. I've always been a fan of the one single blind on a double window rather than two sets side by side. Recently, I did the same in my dining nook with a new Roman Shade.
There are lots of companies and options to pick from with blinds, it can be a little overwhelming. I've been very happy with the blinds in my living room so I went back to the same company, Zebra Blinds, for my dining nook.
I narrowed it down to two choices: Artisan Highlights Roman Shades and the Crown Roman Shade. Ultimately, I chose the Crown Roman Shade because the Artisan didn't have the color I had in mind for the room.
Before I ordered the shade, I did order a few fabric samples to see the color in the room. It's impossible to tell from a computer screen.
There are several options for customizing these blinds. This is great because you're basically getting a customized window treatment at a normal retail price. The customer service is also very good if you need help with those decisions.
ROman Shade Customizing options:
Outside or Inside mount
Different styles available for each shade
Which side you prefer the cord or Cordless
Light filtering or Blackout lining
Color options
I ended up choosing the Crown Roman Shade in the plain style. (Though I really did like the style of the front slats look too). The color I went with is called Wilmington Natural 161. It's a pretty off-white neutral color.
For the cord options, I chose cordless. With the cordless blinds, you get these clear clips for lifting and closing the shades. You cannot notice them unless you are looking for them. These are great for keeping the natural roman shades clean.
Mounting them outside the window was necessary for this room. This window sits a little lower on the wall than a normal window due to a header. That really bothers me so to give the illusion of a higher window, I wanted to mount these above the window molding.
They were super easy to hang. I attached the brackets to the wall and the shade slips right into the brackets.
Getting blackout roman shades was also necessary here because of the low window. If I had gone with light filtering, you would be able to see where the window ends and the wall begins when it's sunny out.
I had begun a makeover in my dining nook area last fall but never fully finished. There was a major DIY fail when I tried to strip that black table down to natural wood. Turns out, underneath the paint were several types of mismatched wood. After a long day trying to remove the paint, I ended up repainting it.
I'll be keeping an eye out for a pretty secondhand wood table for in here. Until then this vintage tablecloth (or bedspread, not sure what it is) is a fun look.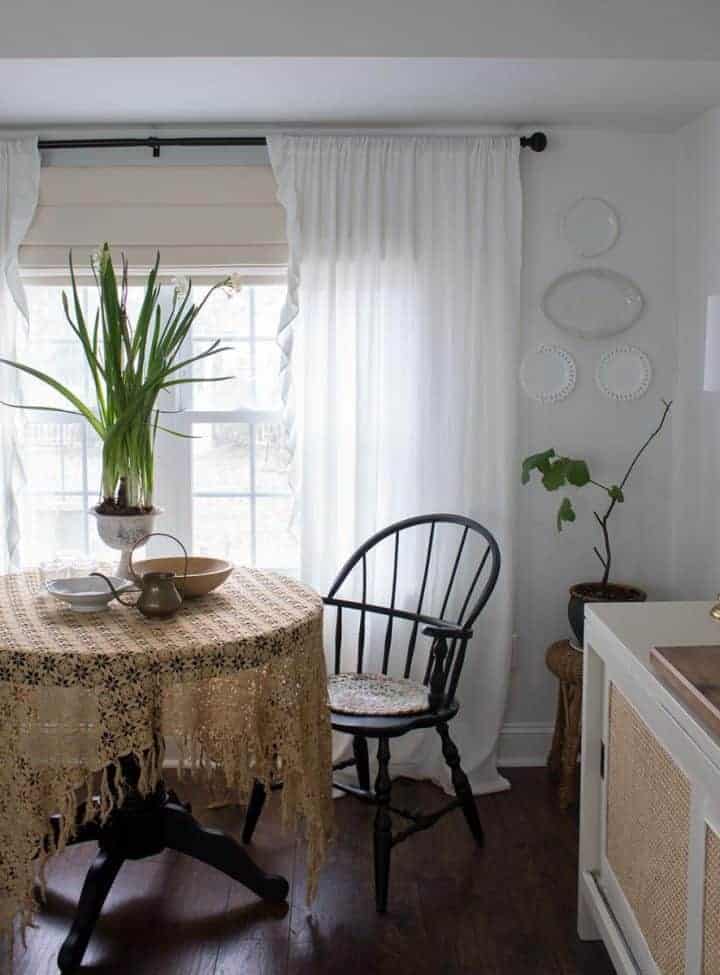 I'm also considering removing the ruffled curtains and adding cafe curtains instead. I think that would look especially cute in this dining nook area.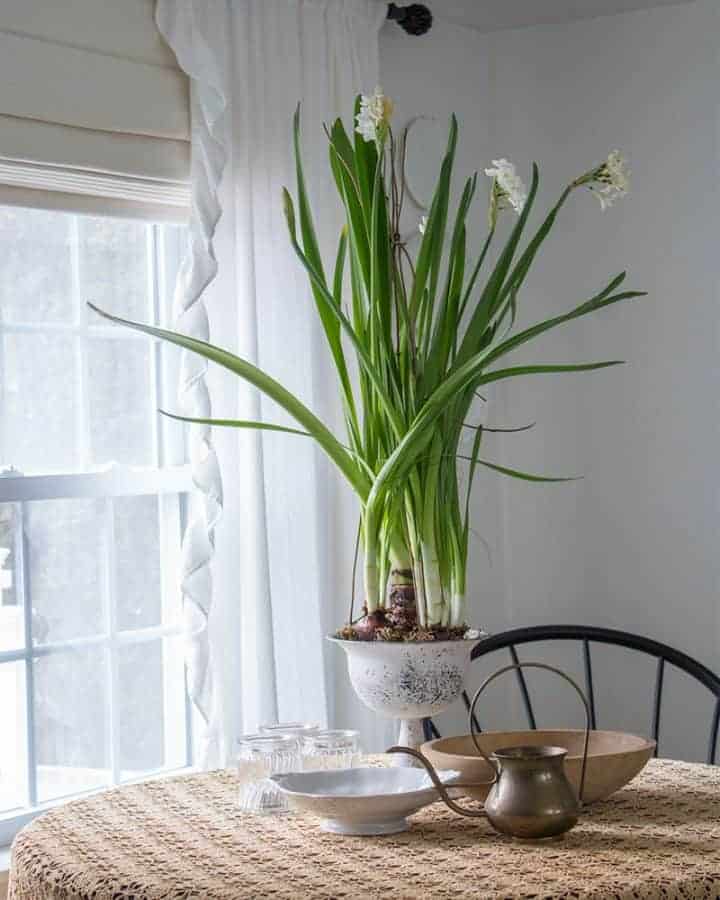 Now that I've got the natural roman shades I imagined in here, I'll be getting to work on the rest. Another thing I've been considering is a small settee bench under the window.
Here are the bamboo blinds in the living room I mentioned earlier. These were inside mounted and I love how neat and tailored these look.
Which look do you like better?
---