The 10 Best Air Purifying Houseplants
The best easy to grow, air-purifying houseplants!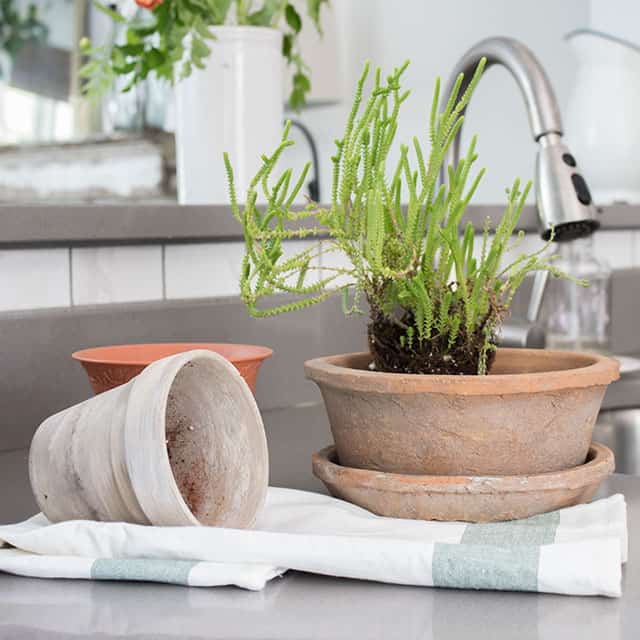 I'm so over winter already. This is the first week that we've had below freezing temps here in NJ and I'm ready for spring. I'm ready to get outside and start working on my flower beds. But since I have a long wait and we are expecting snow this weekend, I'm experimenting with some indoor plants.
I like to think I have a green thumb but my husband, John will try to tell you otherwise. As I always mention, fresh greens and flowers can really wake up your space. When picking house plants I try to pick varieties that purify the air as well, which is especially helpful when we are stuck indoors for weeks on end.
I put together this list of the 10 best air-purifying house plants, most of which are very easy to grow.
The 10 Best Plants To Purify The Air
1. Peace Lily: These top the list as far as air-purifying goes. I've had a peace lily plant for years and it's very low maintenance which is an added benefit. Just don't put it outside in the sun, I ended up losing mine when I did that.
2. Ivy: I recently bought a little ivy plant which I have displayed in a basket with several other pretty plants. Visually, it's adding life to the room while helping purify the air at the same time.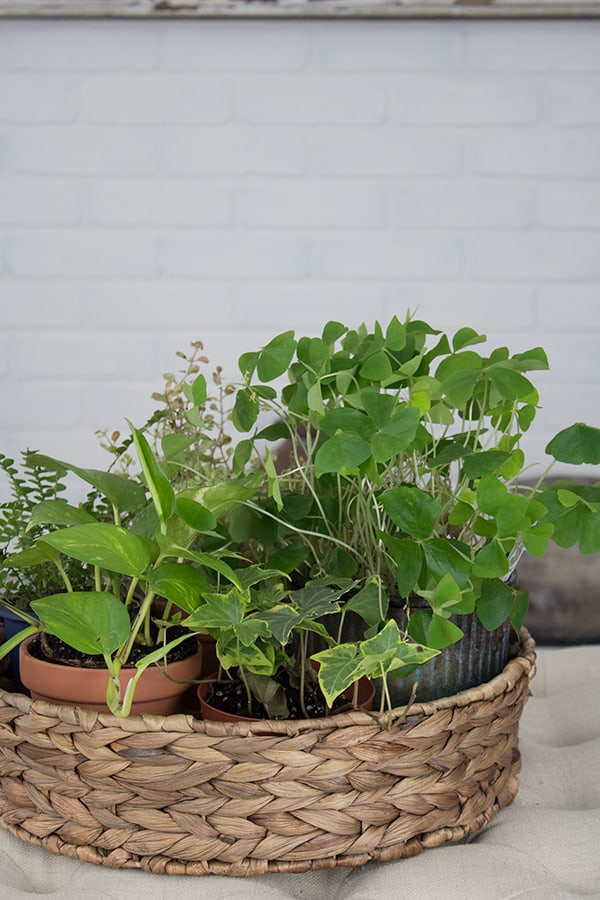 3. Ferns: These are resilient plants, I have one garden outside where nothing ever survives except the ferns. My husband calls those the prehistoric ferns.
These are great low light houseplants and come in several varieties. The one below is a Maidenhair Fern, one of my favorites because of its delicate leaves. However, the maidenhair is fussy and not as easy to keep alive.
4. Spider Plant: According to this article, spider plants are one of the most adaptable houseplants.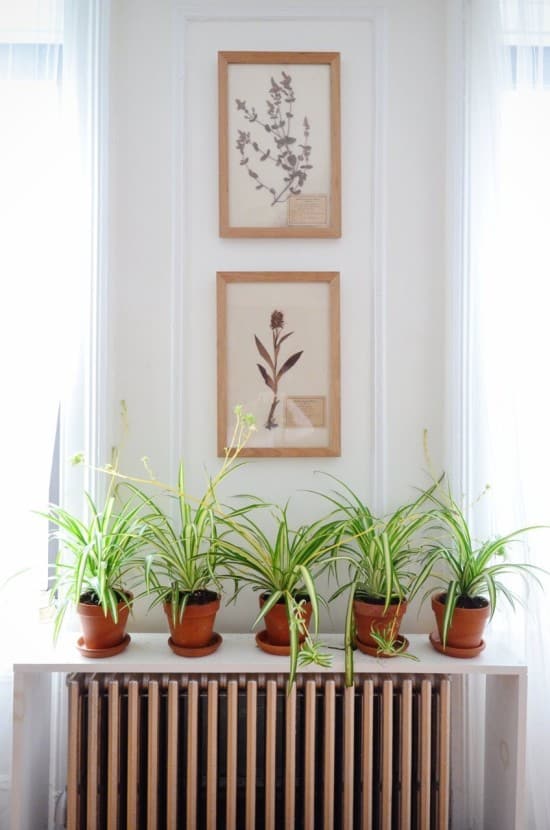 image via Apartment Therapy
5. Snake Plants: I read another article that the best place to keep snake plants (shown on the floor, center below) is in the bedroom because it converts CO2 into oxygen at night.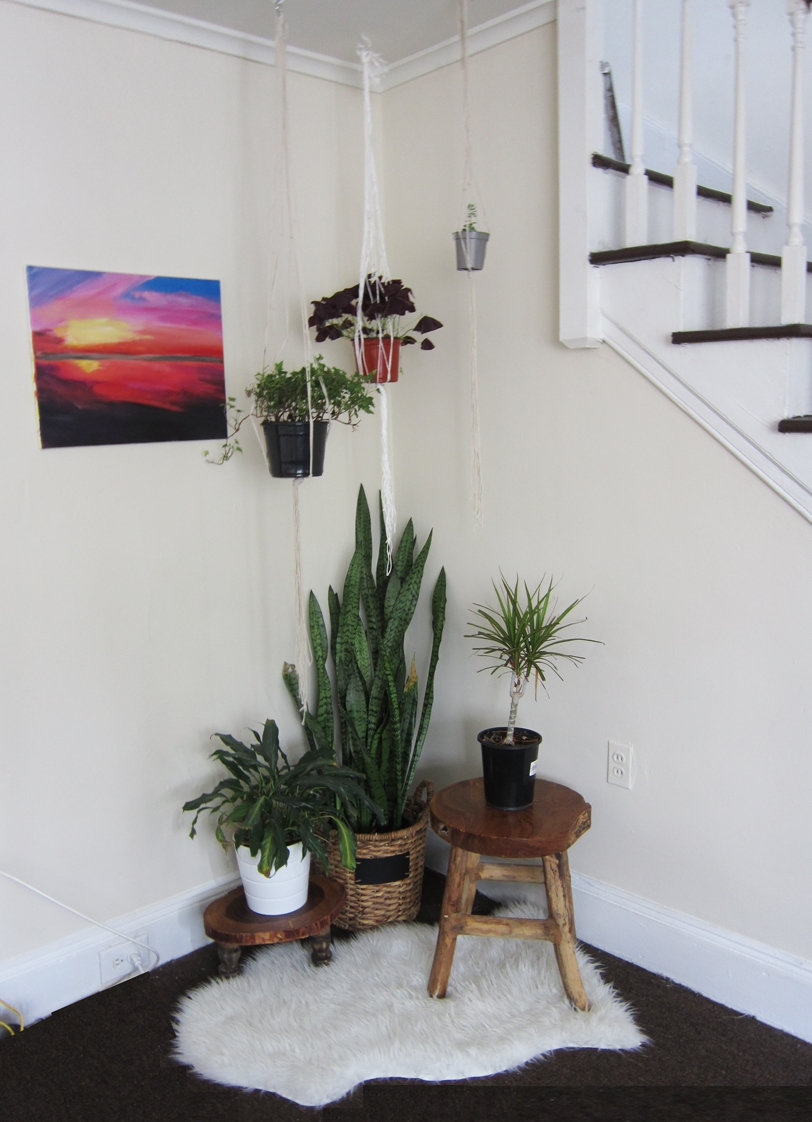 6. Aloe Vera: Aloe Vera plants are part of the succulent family and provide a multitude of benefits. Besides helping to clean the air, they provide a medicinal gel within their leaves. You probably already know that aloe vera is a good treatment for skin irritations such as burns, but it has other healing properties too.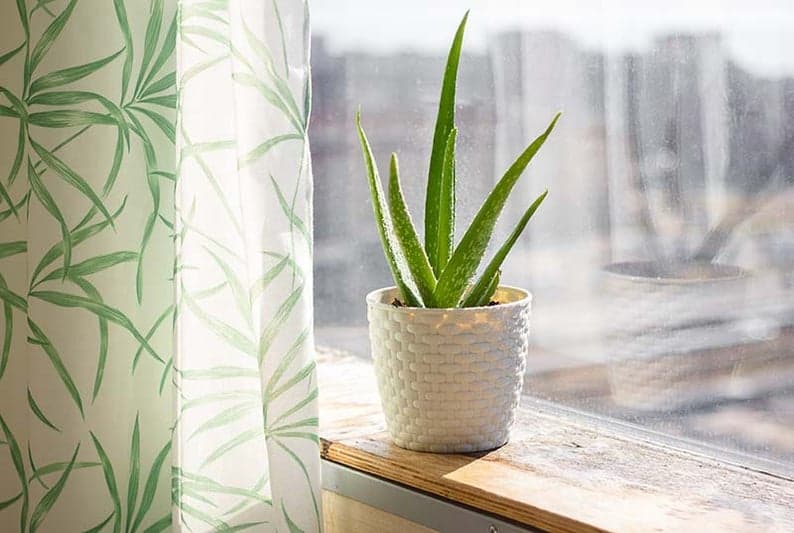 Sometimes I'll combine succulents into a single pot for a pretty indoor succulent garden.
7. Purple Passion Plant: The purple passion plant is unique due to its fuzzy leaves. In addition to keeping the air fresh, it's very easy to grow and very easy to propagate.
You can simply snip a piece of the plant and place it in a glass of water. Within a week or so, you'll see new roots sprouting. Once they look fully developed, place the new cutting into its own planter with dirt. This is one of my new cuttings below.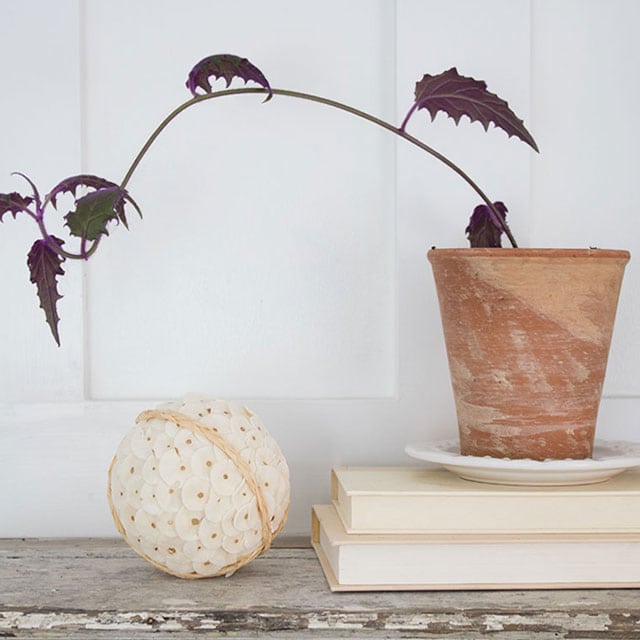 When it comes to displaying indoor plants, the purple plant is a beauty with long trailing vines.
8. Rubber Plant: The rubber tree plant is part of the fig family and prefers bright but indirect sunlight. It can grow up to 10 feet tall. Because of that, they may not be the best house plant for small spaces unless you want to make a dramatic statement, like this beautiful one below.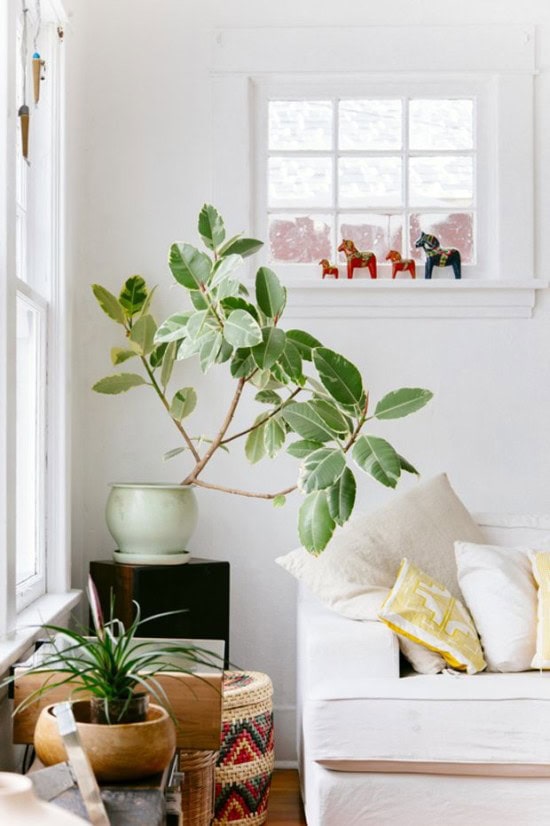 9. Weeping Fig: The weeping fig tree plant doesn't like changes in light or temperature, so keep it in the same place for the best results.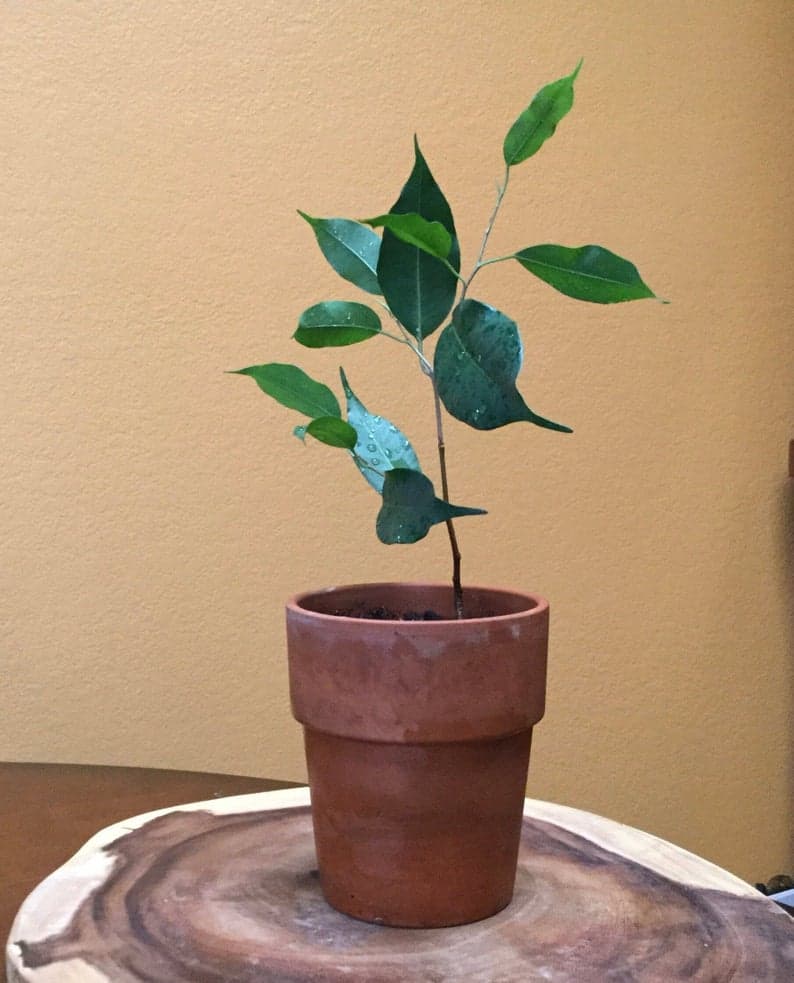 10. Pothos: Pothos plants not only clean and help purify the air, but they are also one of the easiest to grow indoors. They look amazing in hanging baskets as the leaves drape beautifully. They also come in several different shades of green.
In case my daughter, who is studying animal science, happens to read this I cannot end this post without mentioning that some house plants can be toxic to animals. If you have pets you should check with your vet on that. My dog doesn't bother with my plants but the cats are a different story. Case in point shown below.