Do you change out your accessories for the seasons? My family room has a nautical vibe in general so I love adding a little more summer in here. I took down the Spring items from the mantel and switched it out with some nautical decor. I wasn't even going to do a post on my summer mantel, because I didn't think I had enough summery things for the mantel.
I pulled everything summery I could find from all over the house and put it on a table. Sometimes that is the best way to decorate – remove everything and start again. Then I just switched things around until I found a vignette I liked for a summer mantel.
I love the little summer bunting. I found the bunting pieces at Michael's. I strung them together and added the letters with a chalk marker. I had picked up a whole box of sea fans on eBay a while ago for a great deal. I've used them for several projects already. You can see them here in my family room and more recently here in this project.
I propped them up with some starfish.
The little piece of coral is from our vacation in NC last year. We went to Topsail Island and found this walking on the beach one morning. I put it in the little terra-cotta pot and held it in place with some sand we brought home from our vacation to Bermuda several years ago.
I finally picked up some wall decor for the blank wall above the two chairs on the right. If you follow me on Instagram, you might have noticed that over the weekend we went to a giant Spring flea market here in NJ that we go to every year. They have tons of antiques and crafts. I came home with a couple of nautical pieces, I plan to do a gallery wall and still need a few more things to fill in.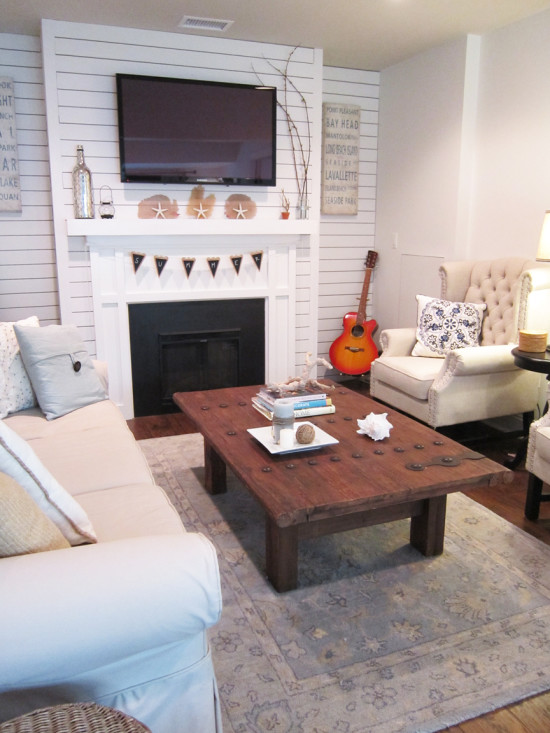 We also spent a little time working on our little downstairs half bath this weekend. We started that project LAST August! We removed the builder grade medicine cabinet back then and added a new mirror. Now we are working on adding some plank board. Hopefully, we can complete that project before NEXT August! (Update:  see the bathroom here!)
You can also check out this post for Outdoor Party Ideas!