Styling Bedroom Nightstands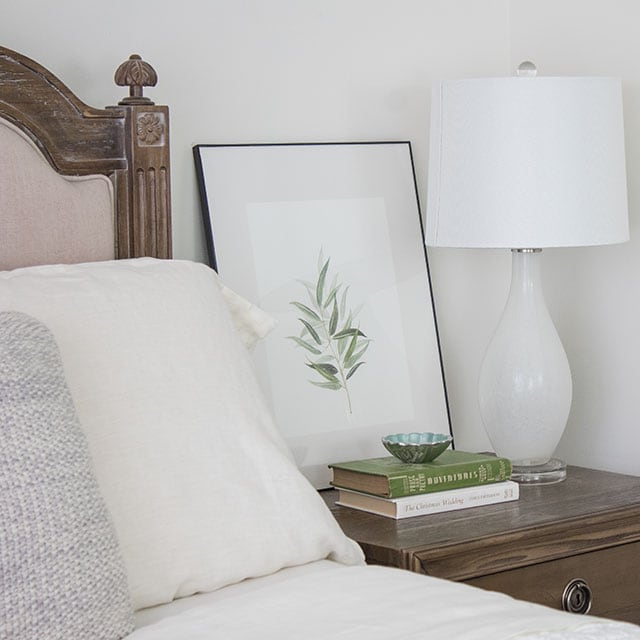 Do your bedroom nightstands ever become a catch-all for clutter? It happens over here all the time if I don't stay on top of it. I've been doing some updating in my daughter's bedroom this week and I really like how the nightstands now look.
You may remember I redecorated this bedroom room a few years back for a One Room Challenge makeover. Whenever I take on the ORC I end up feeling rushed and not really getting the final look I want. Though no look is really ever final over here, lol. Decorating takes time.
There are still a few things in this room that need to be edited but I wanted to show you guys where I am now. I also should mention that this room is SO hard to photograph. It faces north and it only has windows on one wall. My photography skills are still a work in progress but this one is extra difficult!
I wanted to bring in a little more green around the room to match the sliding barn door we built for her closet. And by we I mean my husband. 😉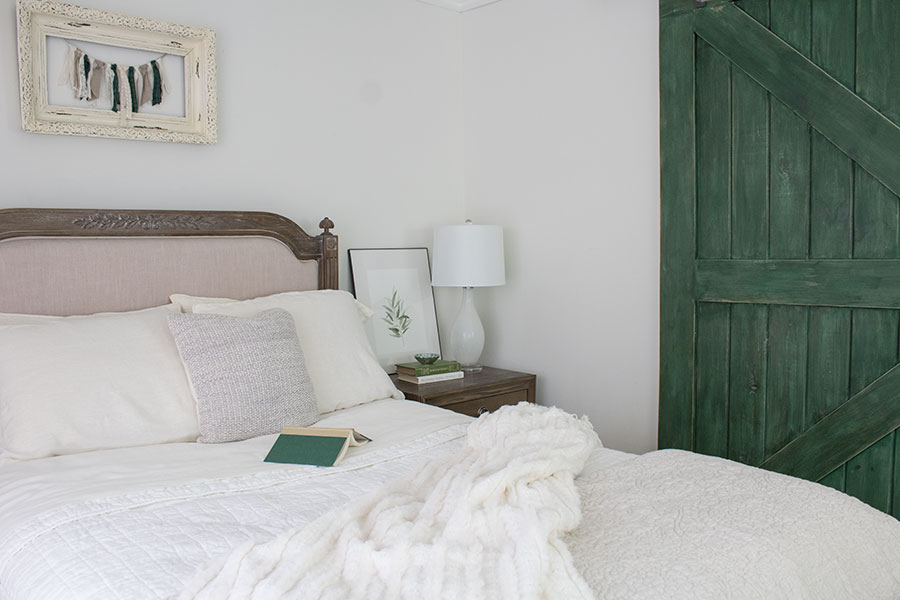 I started with a set of new art prints that I ordered from this online shop.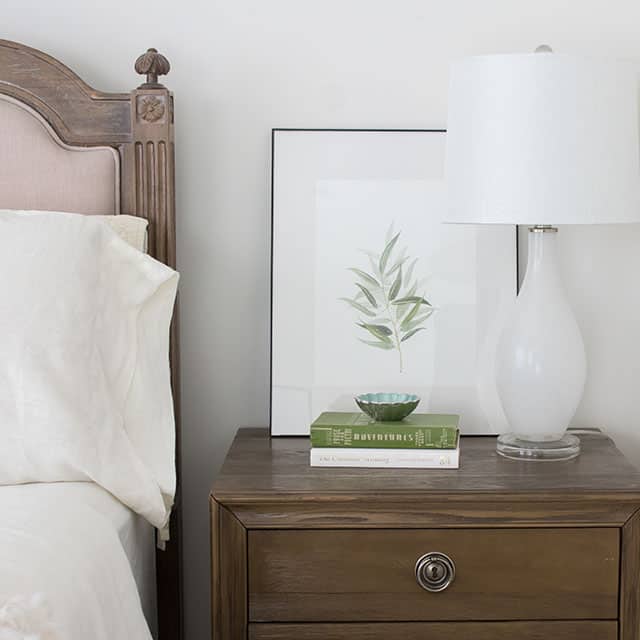 I ordered two of the eucalyptus prints in slightly different styles, in the 11 X 14 size. The frames came from my local Michaels store, they were size 20″ X 16″ and they came with the mats. I don't remember how much the frames cost because it was months ago, but I'm sure they weren't too expensive and I always use coupons there.
The white lamp was found on clearance in Home Sense for under $20. It was a total score and it ended up paring so well with the framed print. I wish I had a second one for the other nightstand.
And I always need a little bit of vintage, which the books are. When styling bedroom nightstands (or pretty much anything else) using an odd number of objects always seems to look better than an even number. I'm considering this vignette a grouping of three because the stack of books read as one.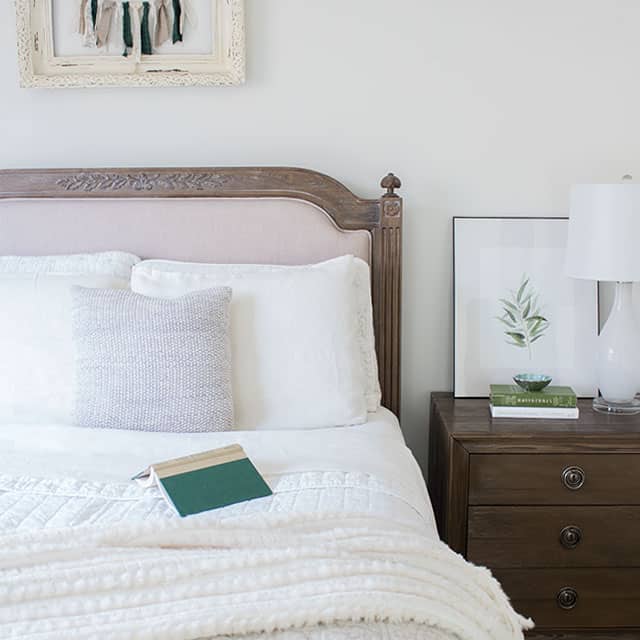 On the other nightstand, I went with a grouping of five. It started with the second eucalyptus print. The vase with the tall branches balances out the lamp on the other side. The fern plant adds a little life in this corner.
Want to hear something funny?
The alarm clock on the nightstand has been here since I've made the room over and we have never put a battery in it yet. It's forever quarter to eight in this bedroom.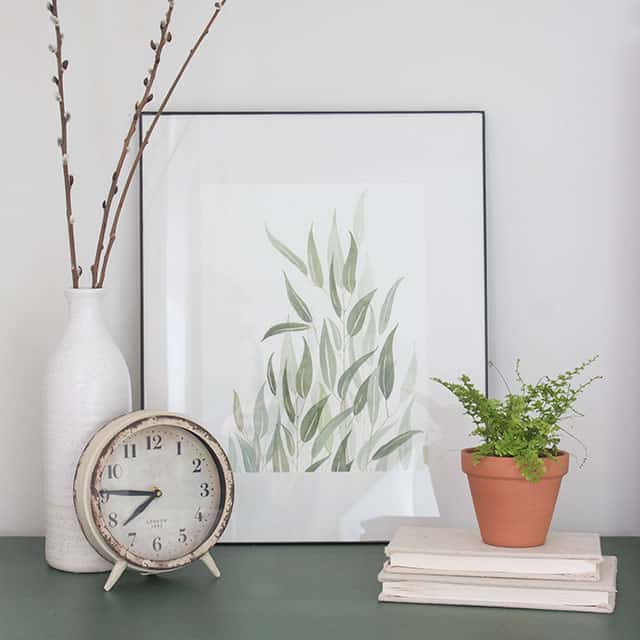 That tall white vase is another MVP around here. It looks good everywhere I put it. I'm on the hunt for similar vases to fill in a few bare spots. That exact one isn't available anymore but this vase is comparable in size and shape. I also just discovered this one that is very pretty.
Another tip for styling bedroom nightstands or other small vignettes is to picture an imaginary triangle. Imagine you are placing the items along that triangle. If you're having trouble imagining that, you can get a better visual here.
In addition to the newly styled nightstands, I freshened up the bedding in her room as well. For Christmas, I bought my daughter amazing new Belgian linen bedding. I got her both the sheet set in warm white and the quilt. It really feels as luxurious as it looks.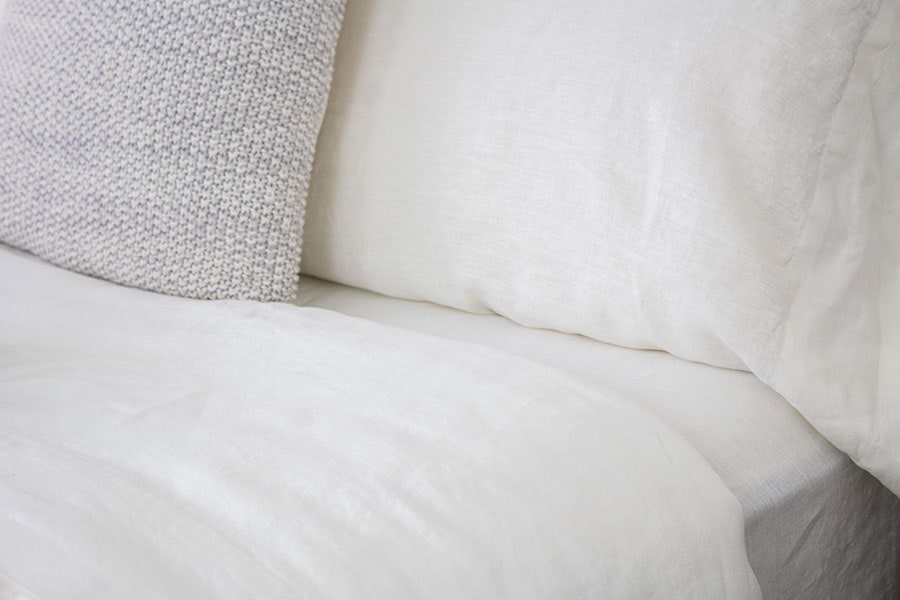 Honestly, my pictures really don't do it justice. In this next shot, you can better see the white linen quilt. Beautiful bedding is a little luxury that most of us can afford. It's definitely a treat at the end of a long day and my daughter puts in some long days between school, work and her internship!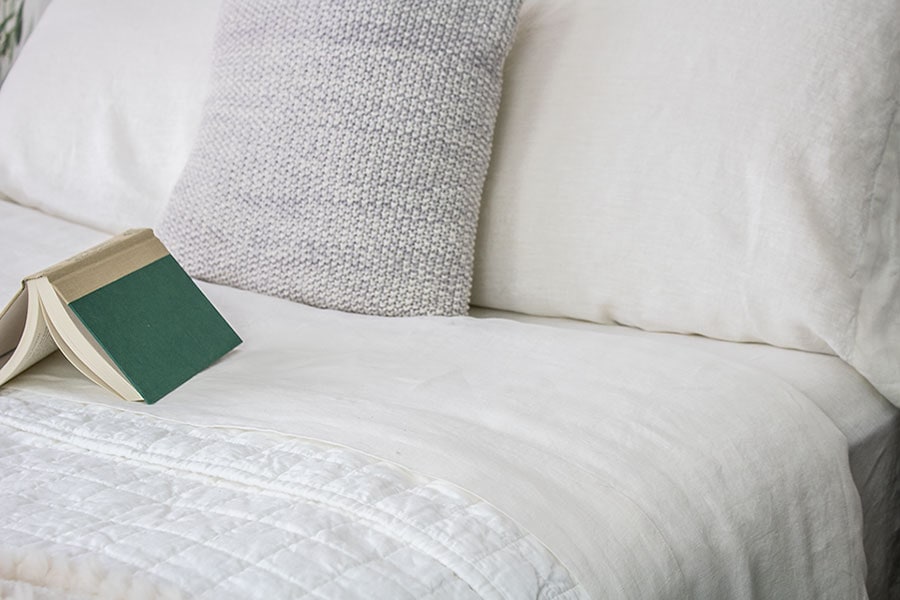 The nightstand on the left is actually a vintage dresser that I painted. It was a Facebook marketplace find and only $35! The one on the right I bought online, I'm debating painting that green to match the other. What do you think? It really fits this area perfectly and packs in a lot of storage space.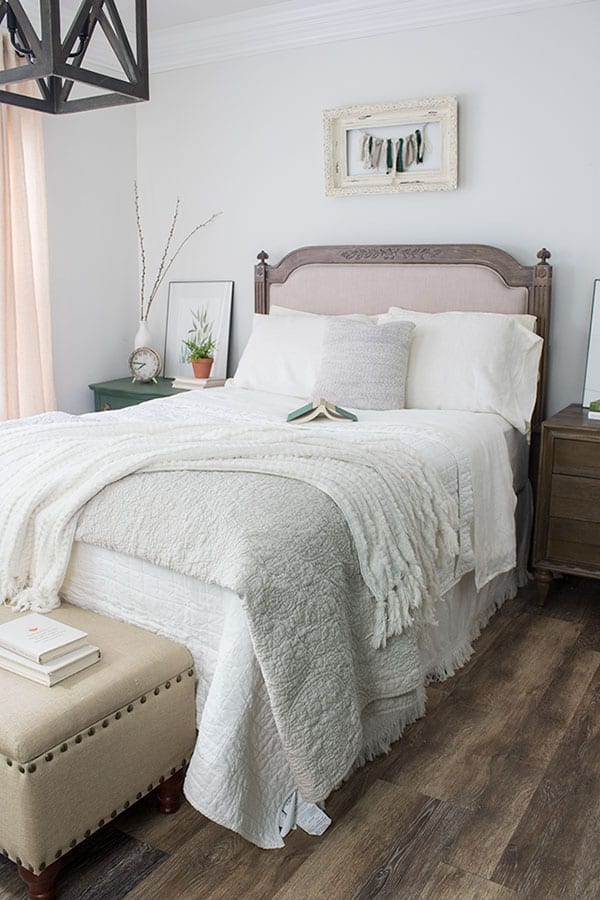 I really love the wood trim on the headboard, but I'm not crazy about the color of the upholstery. That was also an online purchase and I was a little surprised at the color when I received it. Sometimes it appears to have a pinkish hue that bothers me. I may sell it and find something vintage to replace it.
Lastly, I'm also debating adding some light color to the walls. I do very much love the all-white look but some color would really make the beautiful tiered crown molding pop in here.
On a side note, I am also currently working on a budget-friendly DIY art idea for over her desk, which I'll share soon.