Easy DIY Gingerbread Ornaments and Swag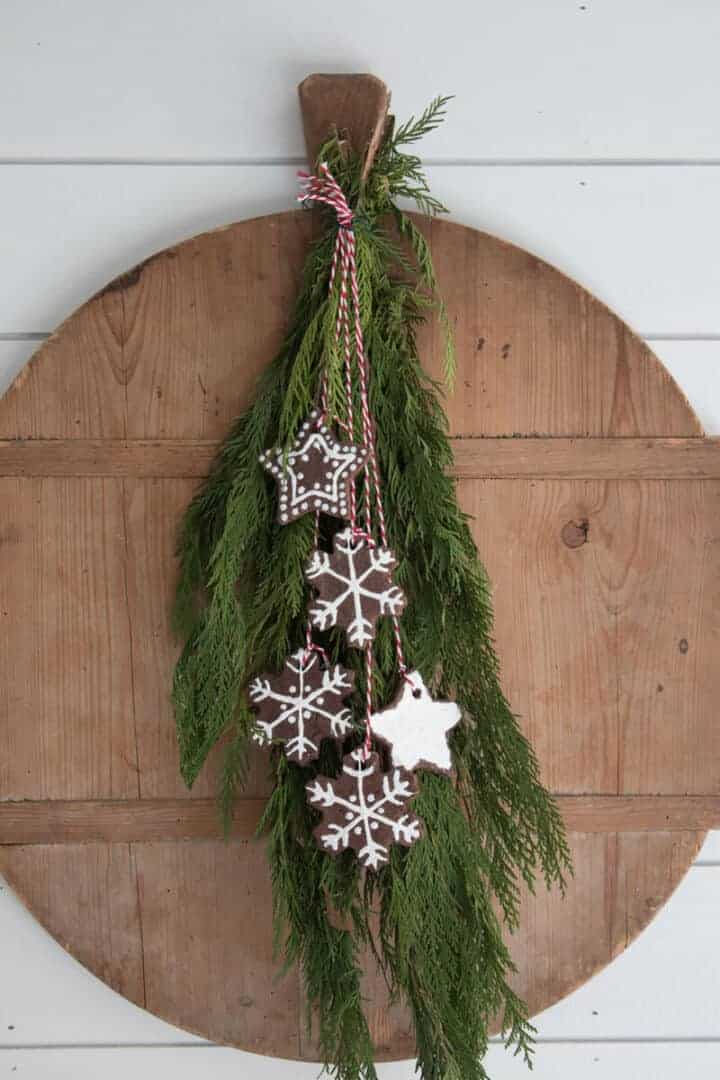 Today I wanted to show you guys how to make these easy DIY gingerbread ornaments. They are so cute for holiday decorating and can be used in a number of ways! At the end of the season, you can pack them away and use them again next year.
Supplies Needed for DIY Gingerbread Ornaments
Gingerbread cookie dough (non-edible recipe below)
Floral wire (for swag)
Fresh or faux greenery (for swag)
First, you'll need to make the dough. This is a NON EDIBLE dough recipe. You can find an edible gingerbread cookie recipe here, but this one requires fewer ingredients and I'm assuming will hold up longer.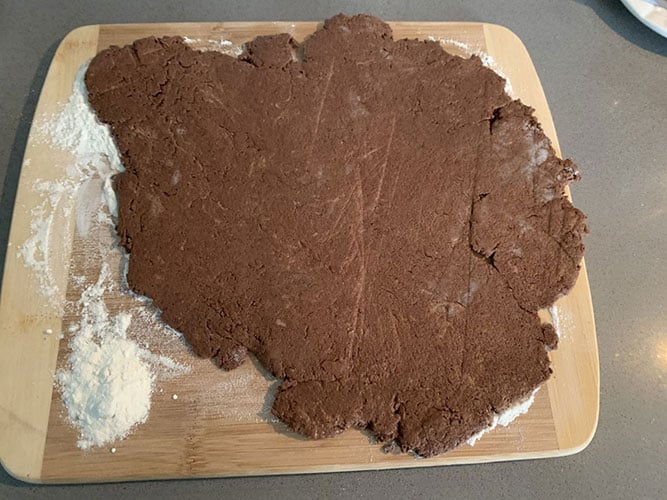 Roll out the dough onto a floured cutting board and use cookie cutters in your desired shapes. I used snowflakes and stars for mine.
Next, you'll need to make a hole for ornament hangers or ribbons to go through. I used a metal straw for these, it was a perfect size. I didn't have to clean it out between each cookie ornament, just once at the end.
Place them on a cookie sheet and bake at 100 degrees for 4 hours. I let them sit until the next day before decorating them.
For the "icing" I used white puffy paint. This worked so well and is much easier to control than real icing! It has a nice, thin spout that was perfect for this.
Let them sit until the paint is completely hardened. At this point, you could just string ribbons through them to hang on your tree or decorate with but I wanted to make a fun swag.
How To Make A GIngerbread Swag
My idea for the DIY gingerbread ornaments was for them to be staggered on the swag. It took me a few tries to figure out the best way to do this. Finally, I came up with the perfect solution.
Cut 5 strands of baker's twine to five different, graduated lengths. Knot them together at the top as shown here.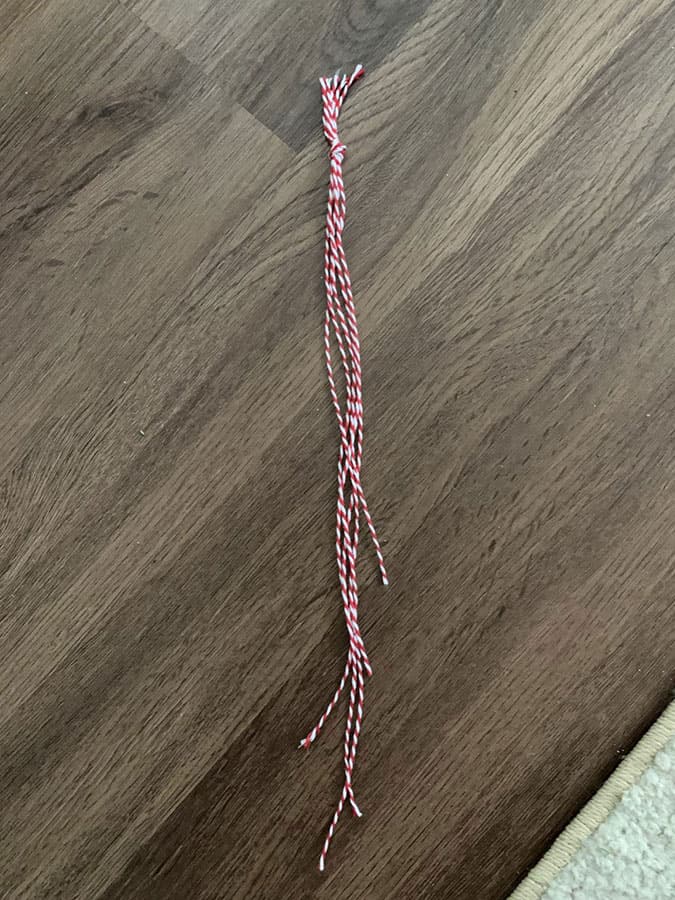 Now tie a cookie ornament onto each of the bottom strands. I used five for this swag but you could do as many or as few as you'd like.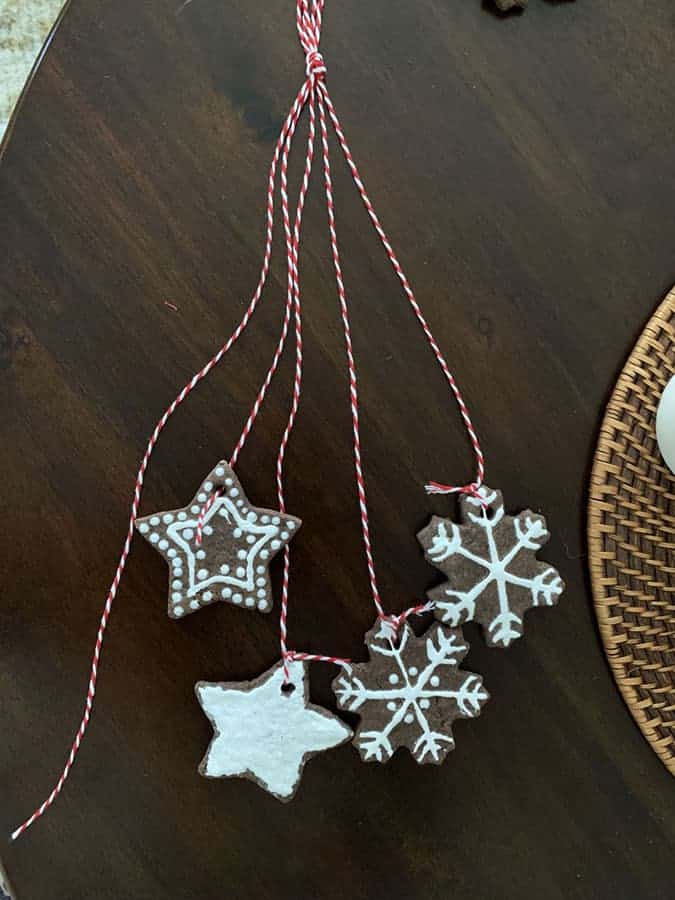 Next, I assembled the greenery for the swag. Take a few bunches of cedar garland and bind them together at the top with floral wire. I left some extra wire for attaching the cookies as you can see below. I had a little extra garland from my mantel and reused the wire that came with it for this.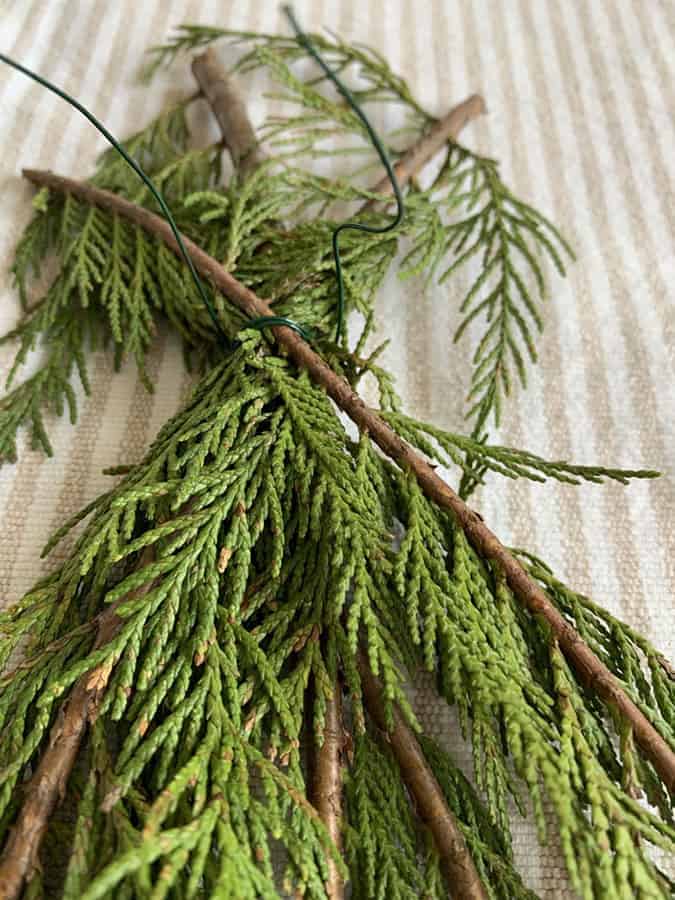 Tie the remaining floral wire right under the knot in the twine.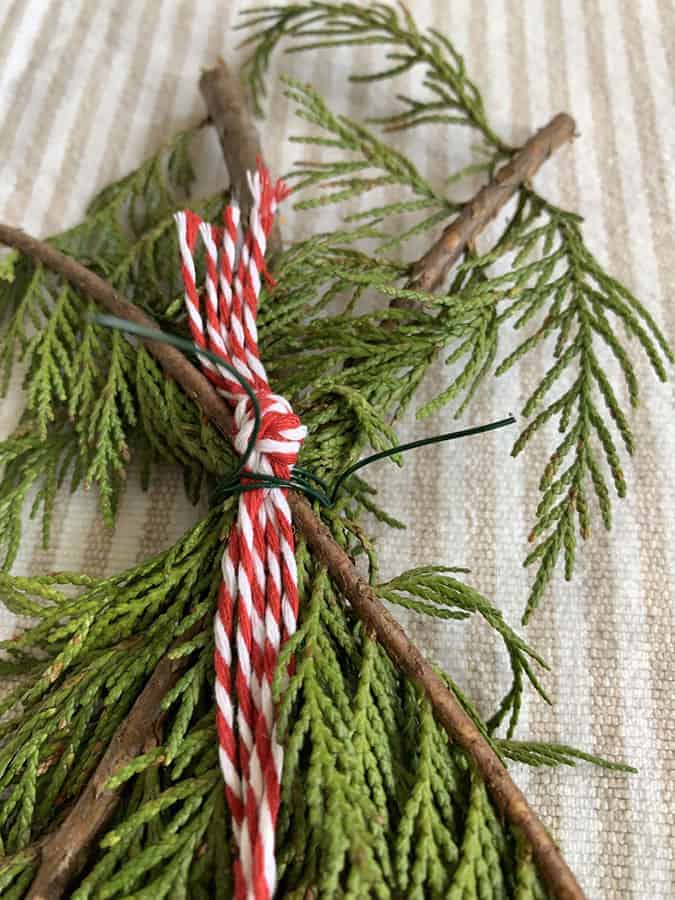 To hang the gingerbread swag you could make a hook with floral wire or use a clear fishing line. That's it! Easy & so festive. When the season is over, I'll remove the cookies and toss the greenery.
You could also make these into a pretty garland for a mantel or tree. Experiment with different cookie cutter shapes. You could use even them as gift tags. Additionally, the dough could be used for making gingerbread houses. (Note: if you want to make these into a garland, you may want to consider making two holes with the straw).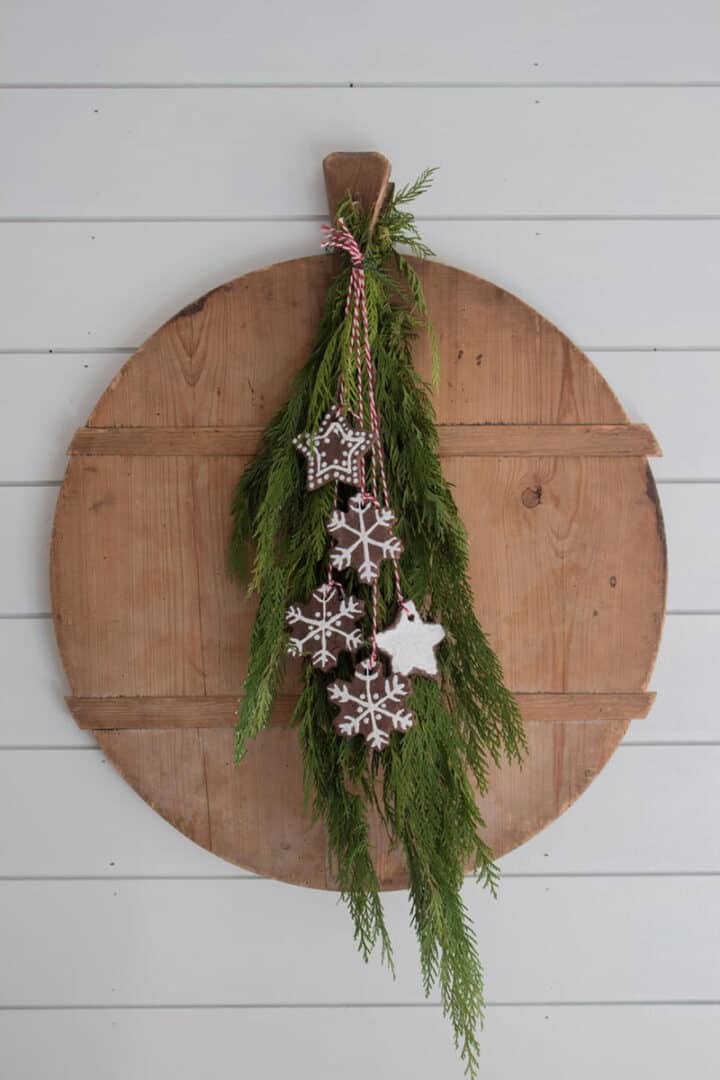 The possibilities are endless with what you can make from this gingerbread dough! If you like this idea, you should also check out this Boxwood Christmas swag I made a few years ago.
Non Edible Gingerbread DOugh Recipe
Print
Gingerbread Cookie Ornaments
NON EDIBLE gingerbread dough for ornament making
Materials
1

cup

flour

1/2

cup

salt

3/4

cup

water

1/4

cup

cocoa

1

tsp

cinnamon

1/2

tsp

ginger
Instructions
Mix all dry ingredients in a mixing bowl.

Add the water into the dry mix a little at a time until blended.

Bake at 100 degrees for 4 hours.

Alternatively, you can air dry for 4 days.