Angel Food Cake Frosting Recipe
THIS CHOCOLATE ANGEL FOOD CAKE FROSTING RECIPE IS QUICK AND EASY TO MAKE AND WILL SURPRISE YOU WITH ITS INCREDIBLE FLAVOR!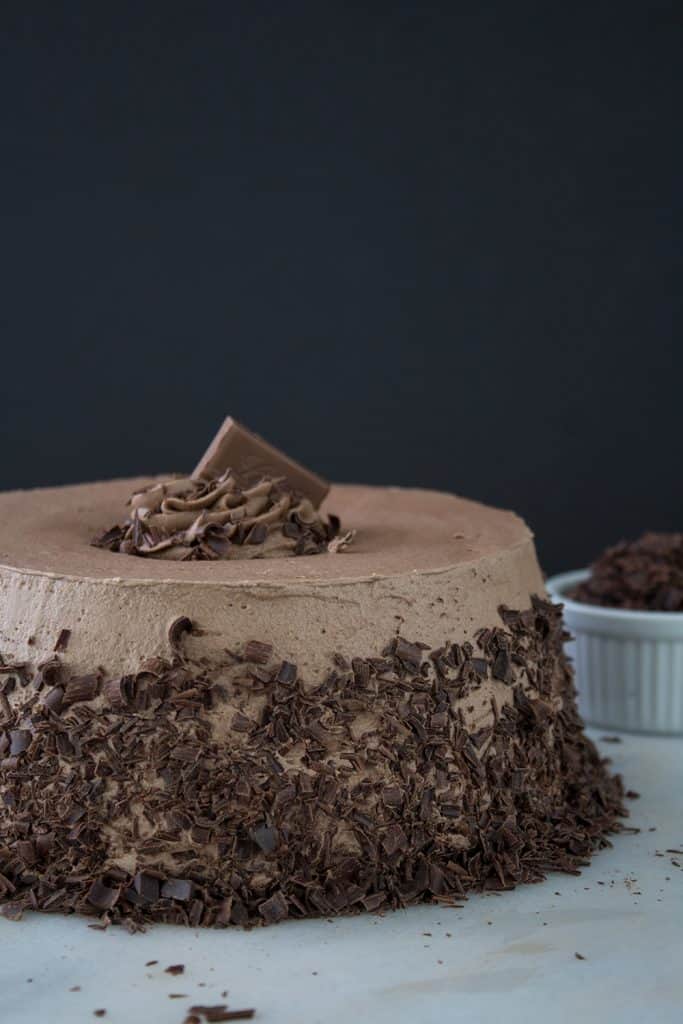 As I mentioned about a week ago when I shared the vanilla bean hydrangea cupcakes my daughter and I made, we've been on a bit of a baking kick lately. Our latest creation involves the most delicious recipe for angel food cake frosting.
My daughter was craving angel food cake, which is something my sweet mother-in-law used to make often. We decided to go with a simple box mix for the cake but create a light whipped chocolate frosting to top it.
This cake turned out so rich and delicious, but it's light enough to not feel guilty after eating a slice (or two)! Angel food cake isn't my favorite, but with the whipped chocolate frosting and dark chocolate shavings, I couldn't stop eating this one.
Chocolate Angel Food Cake Frosting
I'm sure everyone is familiar with how to make whipped icing using heavy cream. We wanted to go that route to keep it light, but add a little more flavor and make it chocolate. After experimenting we came up with a version that was better than I would've expected.
For this chocolate angel food cake frosting recipe, we used heavy cream, powdered sugar, cocoa powder, and vanilla extract. That combination was the winner by a long shot.
We used a flat bundt cake pan for the cake mix, so we'd have a nice flat top. The bundt cake pan we used is smaller, 7″ X 4.5″ deep. The boxed cake mix was way more than enough so we used the extra mix to make cupcakes as well.
We layered on a nice, thick coating of the chocolate frosting. To dress it up and add even more flavor, we topped it with dark chocolate shavings.
How to Make Chocolate Shavings
I'd never made chocolate shavings before this. I had a dark chocolate bar, and first I tried using a cheese grater but that didn't work well. Next, I tried a potato peeler and that worked really well. It took a little time but was well worth it.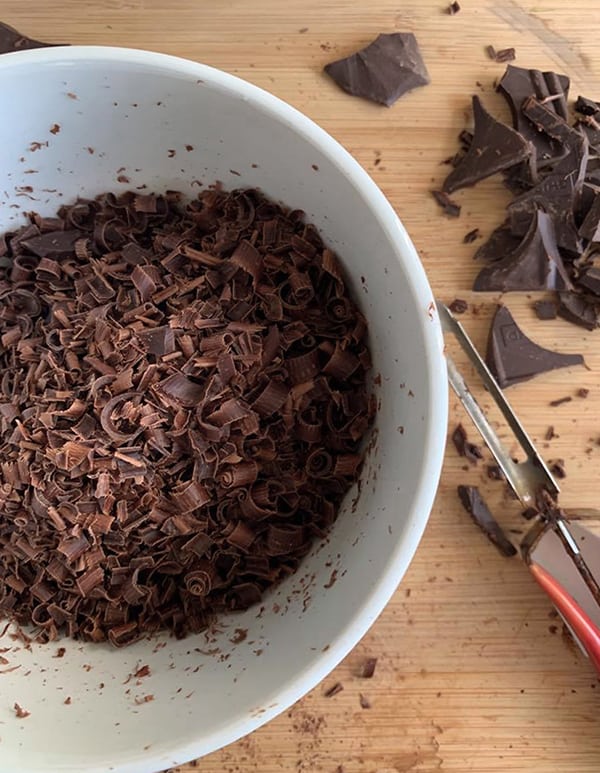 The bonus to this is you can eat all the pieces that are too small to shave any further. 😉
For the center of the cake that was hollow, my daughter filled it with the chocolate frosting. The top still looked a little plain, so I added one simple chocolate square into the center of the icing.
The chocolate frosting we added down the center is another little bonus when you cut into it. You can never have too much chocolate.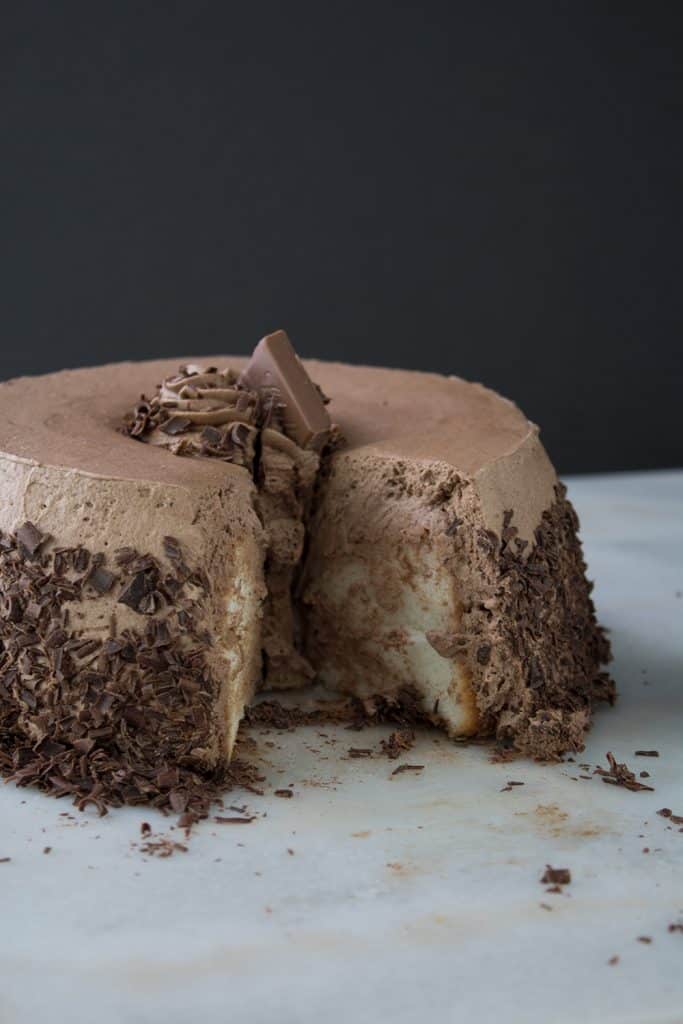 Angel Food Cake Frosting Recipe
This frosting recipe really surprised me, it came out much better than expected. I was craving it for days! We hope you enjoy it too. It's really perfect for Valentine's Day!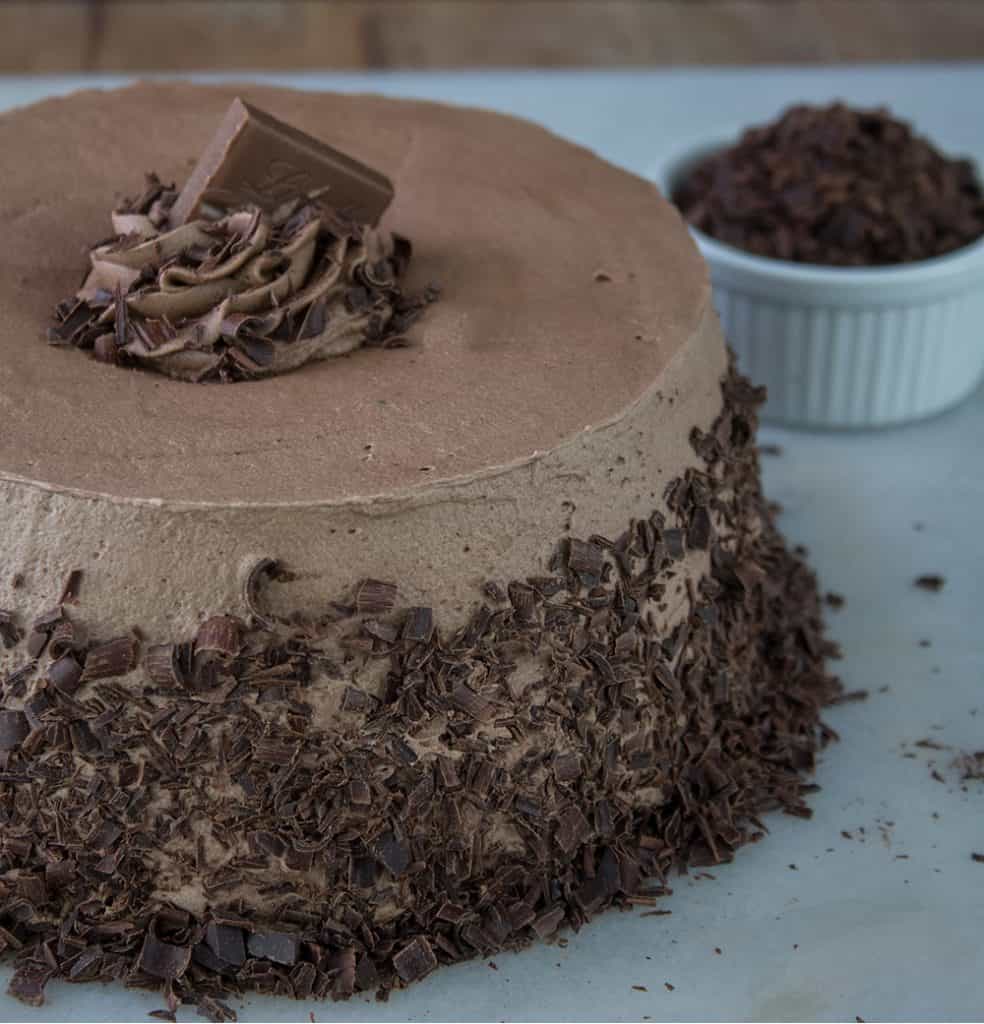 Enjoy!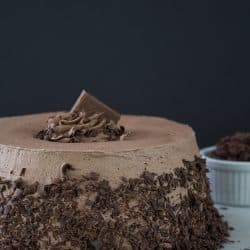 Whipped Chocolate Frosting (Perfect for Angel Food Cake)
This chocolate frosting is easy to make, rich and delicious and the perfect light consistency for pairing with angel food cake!
Ingredients
1 1/2

cups

heavy whipping cream

1 1/4

cups

powdered sugar

1/3

cup

baking cocoa

1/2

teaspoon

vanilla
Instructions
Chill mixing bowl and beaters in freezer for 15 minutes.

Add all ingreadients and beat on high speed until well mixed and fluffy.