How To Stamp Fabric (3 Ways)
EXPERIMENTING WITH HOW TO STAMP FABRIC TEA TOWELS – WE TRIED THREE DIFFERENT METHODS AND THESE ARE OUR RESULTS.
Let me begin this one by saying, this is a project I tried about a year ago and it was a total fail. This is why I wanted to experiment with a few different ways of stamping fabric this time around.
I had seen really cute fern stamped tea towels that Martha Stweart had made that I wanted to replicate. So cute for Spring! I'll start with the way it worked out best and then show you the other two ways I tried it so you can judge for yourself.
Supplies Needed to Stamp Fabric
Fern Stamps (I used this, this and this)*
How To Stamp Fabric #1
I purchased a few different fern stampers for this project and plain white tea towels. I had never worked with stampers before and I really didn't want to buy the ink stamp. There are two reasons for that. One, I don't think I'd ever use ink stamp again after this project. Two, I wasn't sure that would hold up to machine washing.
Instead, I bought a little pot of green fabric paint. It's much more likely that I will find another use for the paint after this project. Also, it's permanent so it should hold up to washing and drying.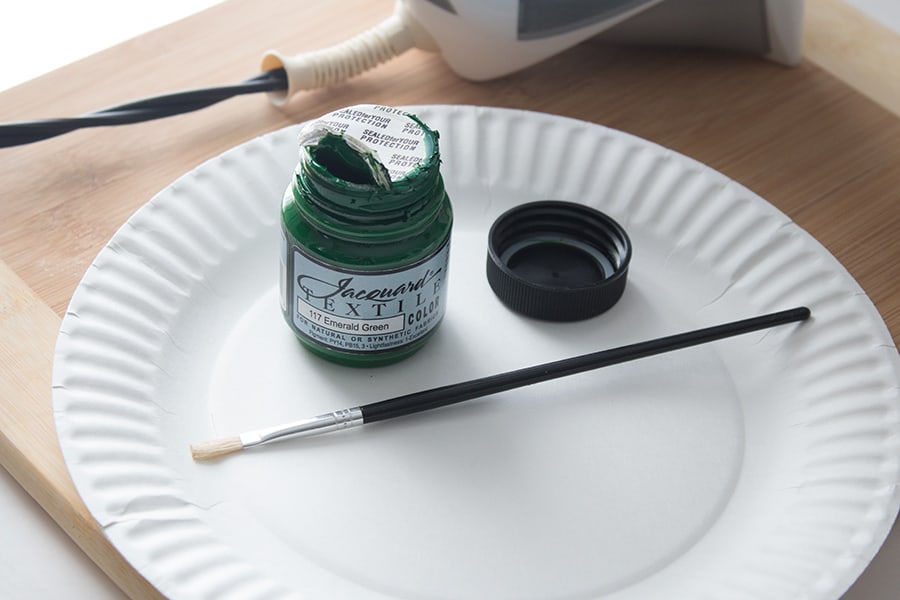 First, I ironed the tea towel. Then, I folded it in half and put a piece of wax paper between the two sides. These towels are on the thin side and I didn't want any paint seeping through.
To apply the paint to the stamp, I used a small artist brush. I buy these in bulk packs so I'm prepared when inspiration strikes.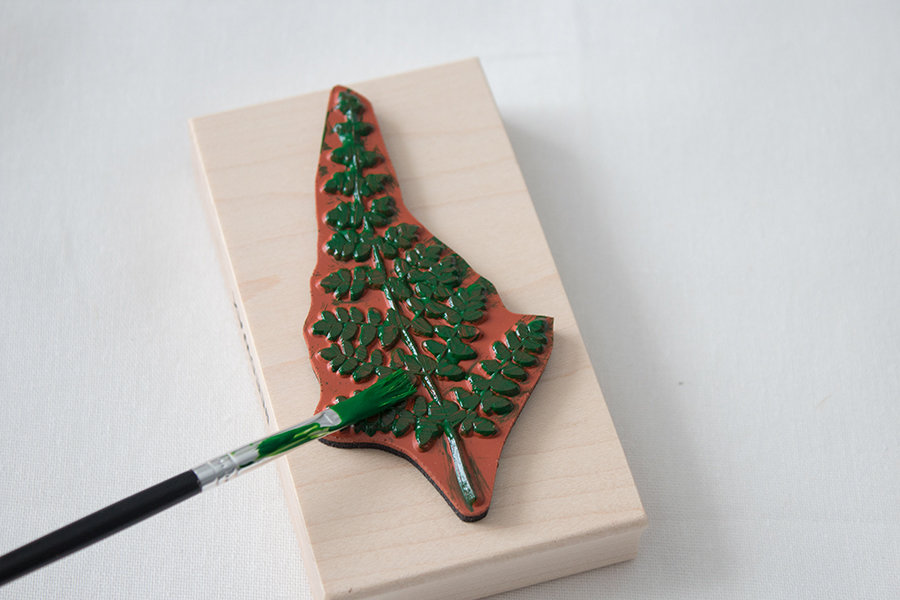 I lightly applied the paint to the stamper and immediately stamped it onto my tea towel. This came out great, no globbing, and nice and crisp!
I went ahead and did several different towels with this method making several different patterns. From minimalist to an all-over pattern.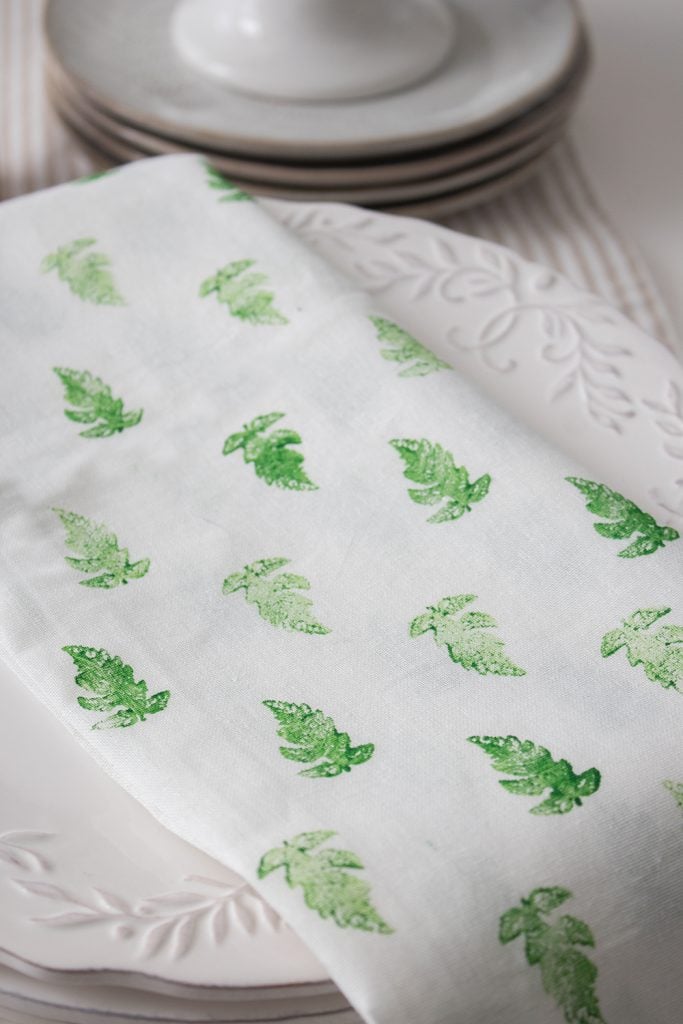 I loved how they turned out with the paint method, plus it was fun & easy to do which is why I made several of these.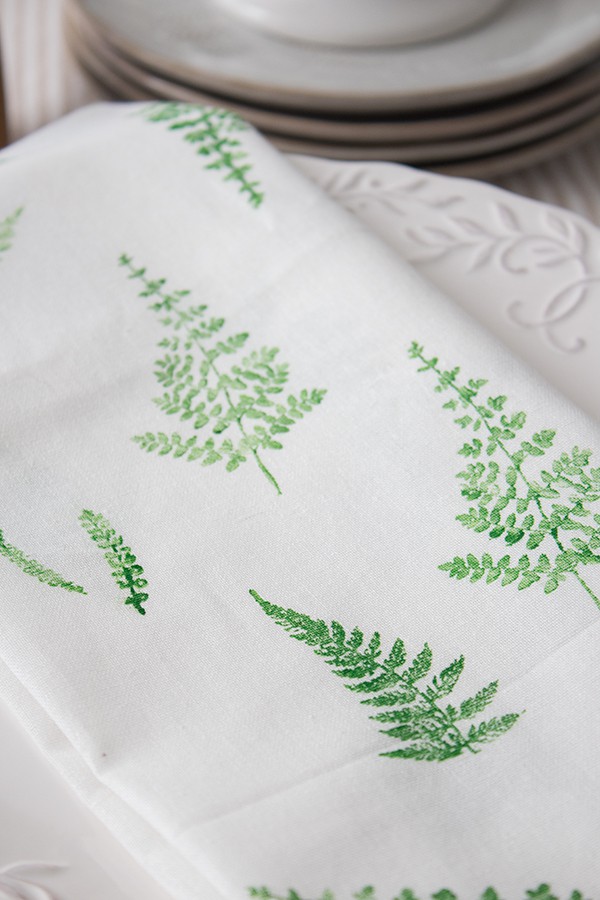 Stamping Fabric With Plants (#2)
Stamping fabric with plant cuttings was the way Martha did it, and the method I tried last year. For this option, all that you need is plant cuttings, an iron, a hammer, and wax paper.
Before I started this, I put a cutting board under the tea towels to protect my table. Again, I placed the wax paper between the two sides of the folded tea towel. Next, I placed two cuttings from my fern plants on top of the towel.
To flatten them out, I put another piece of wax paper over the cuttings and went over them with my iron.
Keeping the wax paper in place, I used a small hammer to tap down on the fern leaves. The idea is to transfer the color and shape onto the tea towel. I went over them several times until I thought it was enough.
When I removed the paper, the ferns looked like this (bottom left picture). I was hopeful that it worked this time.
Sadly, it didn't. I ended up with worse results than last time. It was very spotty and not at all defined.
The last time when I did it this way, I used this same method. I had tried it with the same fern leaves as above as well as maidenhair fern leaves. For some reason, the maidenhair ferns came out better. I did find a couple of photos of that still on my phone.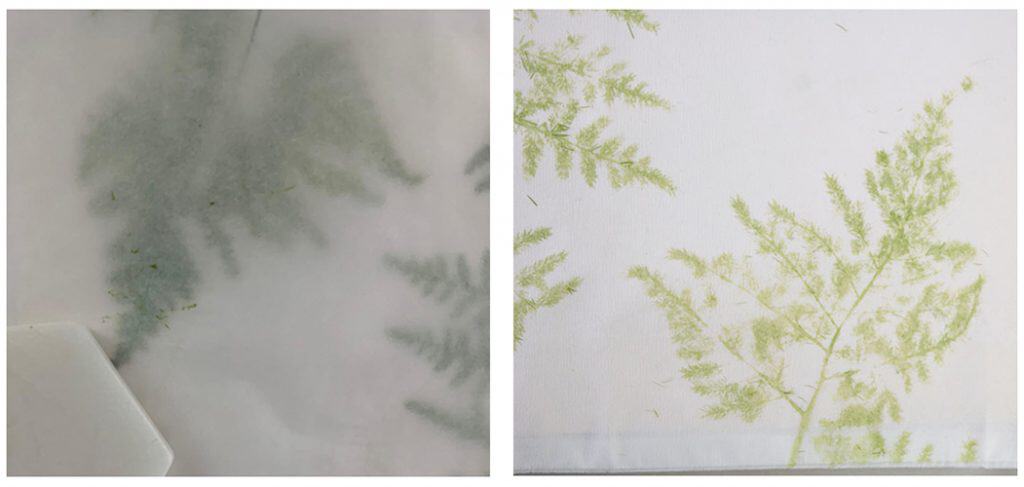 I guess it wasn't a total fail, but I'm definitely no Martha!
Another negative to method #2 is all the hammering can give you a headache quick.
How to Stamp Fabric #3
For my third attempt, I tried using fabric markers I had. I have a variety of colors in these and thought I'd see how that looked.
I set this up exactly as I did with the painting method, but instead of using fabric paint, I colored the stampers with markers.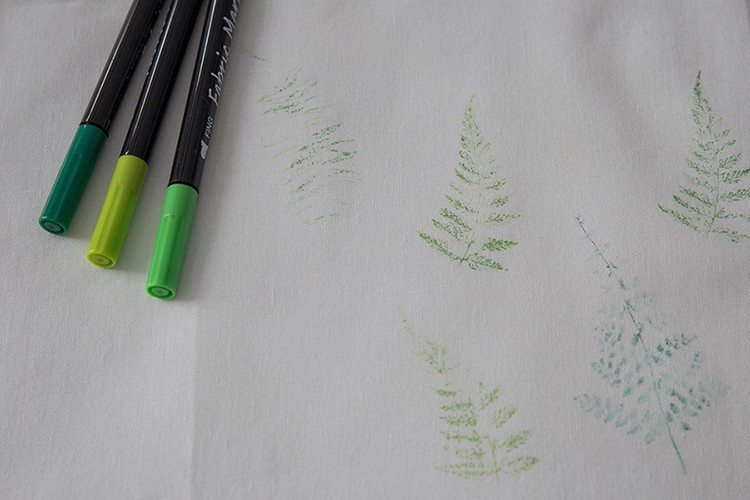 While this method worked out ok, it was a bit too light. It also took much longer than with the paint. You have to work much faster because the marker ink dries quickly.
DIY Painted Tea Towel – the Easy Way
Overall, the painting method was the most enjoyable to do and had the best results. Another fun thing about stamping fabric this way is you can use any stamps that you like, in the colors you prefer.
These would be super cute for holidays, too. Shamrock stamps for St. Patrick's day, anyone? Hearts for Valentine.s day? You get the idea. You could also reuse the stamps to stamp the outside of envelopes, birthday cards, wrapping paper, etc. There are definitely many uses for those as well.
Instead of tea towels, you could stamp pillow covers, aprons, socks, T-Shirts, or anything else you can think of. The possibilities are endless!
How To Clean the Rubber Stamp
To clean the stamps after use, I used rubbing alcohol. I had no idea if that would work, I was just winging it – but it did. I used a round cotton pad to wipe it off and q-tips to get into the crevices. It didn't take long, it comes right off.
These would fit right in with the Spring Table Decorations I put together last year. Hope you enjoyed this idea!
*This post may contain affiliate links. For more information, read my full disclosure.