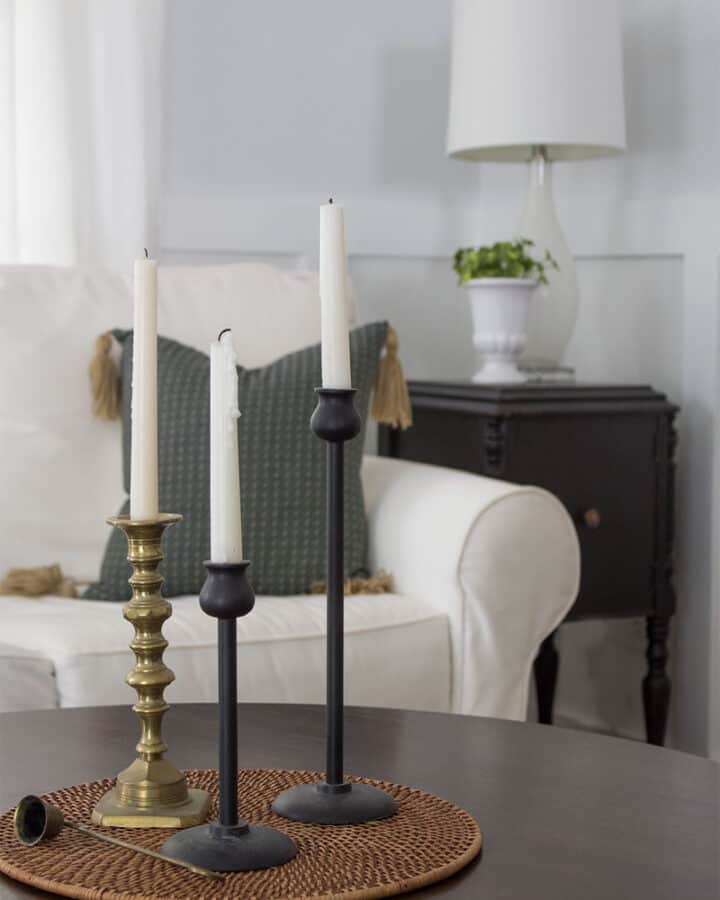 When you decorate as often as I do, eventually you figure out some decorating hacks that make things easier. I have a few tricks to share with you today.
Most of these photos are just quick cell phone pictures today to illustrate my points, not the prettiest but you'll get the idea!
Decorating Hack: Instant Tacky
I'd have to say my MVP of decorating hacks is instant tacky. I use this again and again. It can be used to hang lightweight items on the wall without making nail holes, like this gallery wall of baskets.
You can use it to straighten a crooked picture. I also use it to keep items secure on my mantel as well as a big mirror I have sitting on a dresser.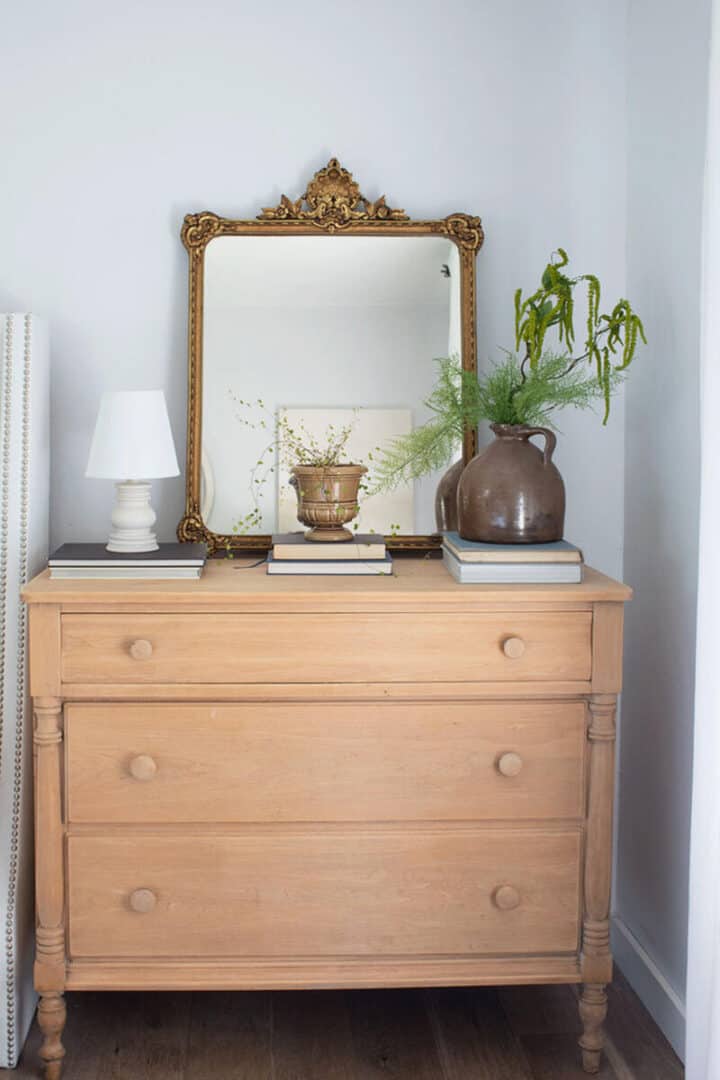 It helps keep the mirror and frames from sliding, or worse, falling. You can see a bit of the tacky peeking out in the photo below under the frame.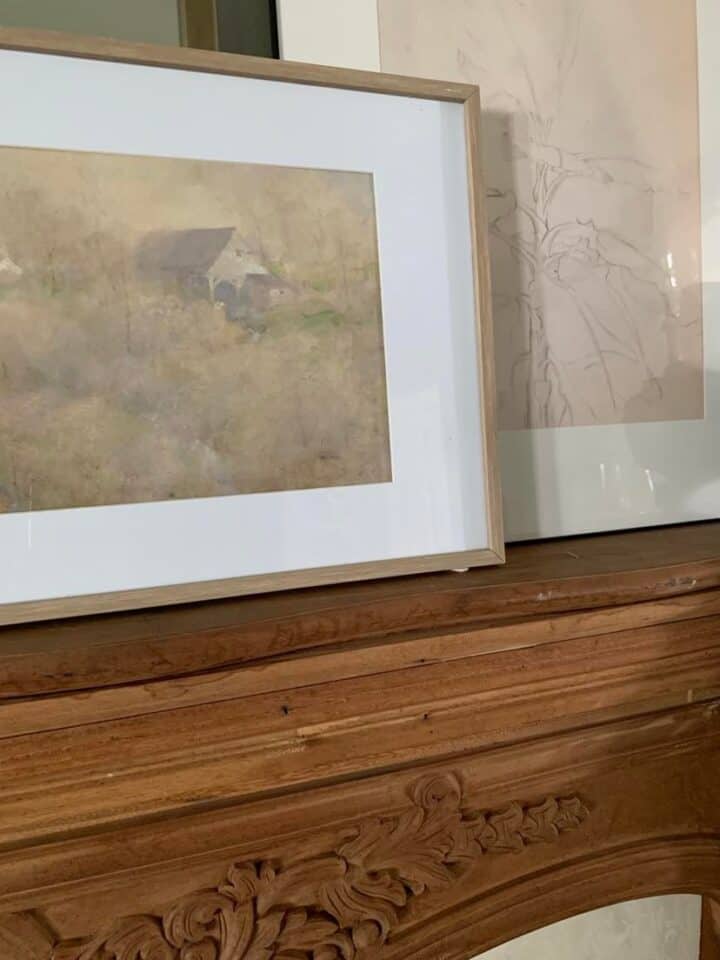 If you aren't familiar with instant tacky, it's a dry putty material. You pull a piece off, roll it between your fingers and apply it where you need it. It holds well but it's also extremely easy to remove with no residue. It won't pull paint off the wall.
Clear Fishing Line Is A Useful Decorating Hack
Another surprising item I use often is clear fishing line. I use that more for crafts and floral-type things but it's especially great for hanging wreaths.
Fishing line is really strong and virtually disappears. I also use it to assemble wreaths when I make them myself.
Even the mirror on my porch trellis is hung with fishing line.
No More Crooked Candles!
Is there anything more annoying than candles that don't stay straight in their holders?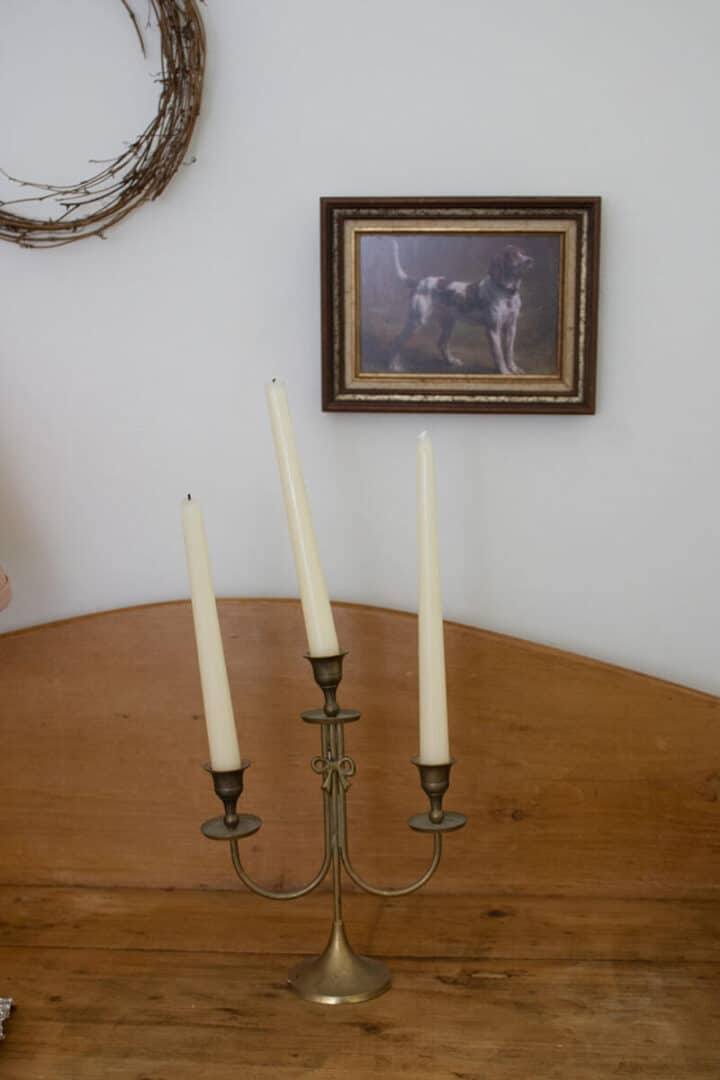 Not all taper candles are the right size for standing candle holders. If the diameter of the candle is slightly smaller than the holder it's impossible to get them to stand straight.
But there is an easy fix for this…aluminum foil! Just crumble a bit and tuck it into the bottom of the candle as you insert it into the holder.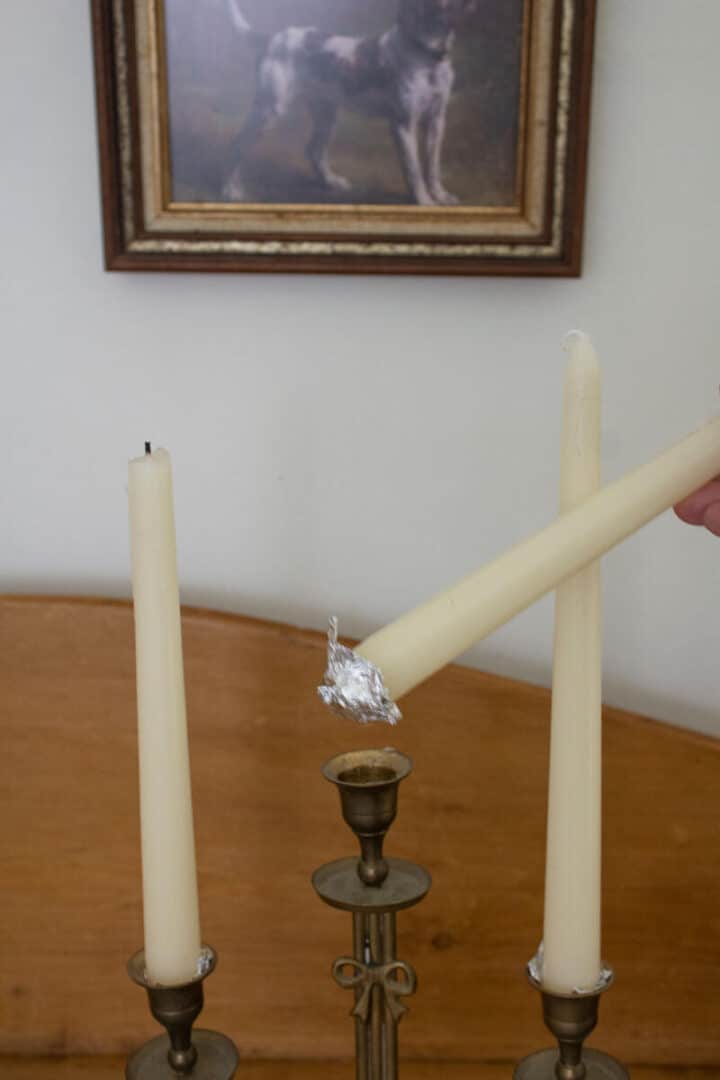 It only takes a few seconds and look at the difference!
Make It Look Plush
In decorating, abundance is always better than scarcity. So when it comes to decorative items in vases, bowls or baskets more is always better. When I need to make an item look plusher, I'll add tissue paper to the bottom to give it a boost and help fill it out.
There are several instances when I'll use this trick but here is one quick idea to give you a visual. I had these little notebooks in a holder on our desk.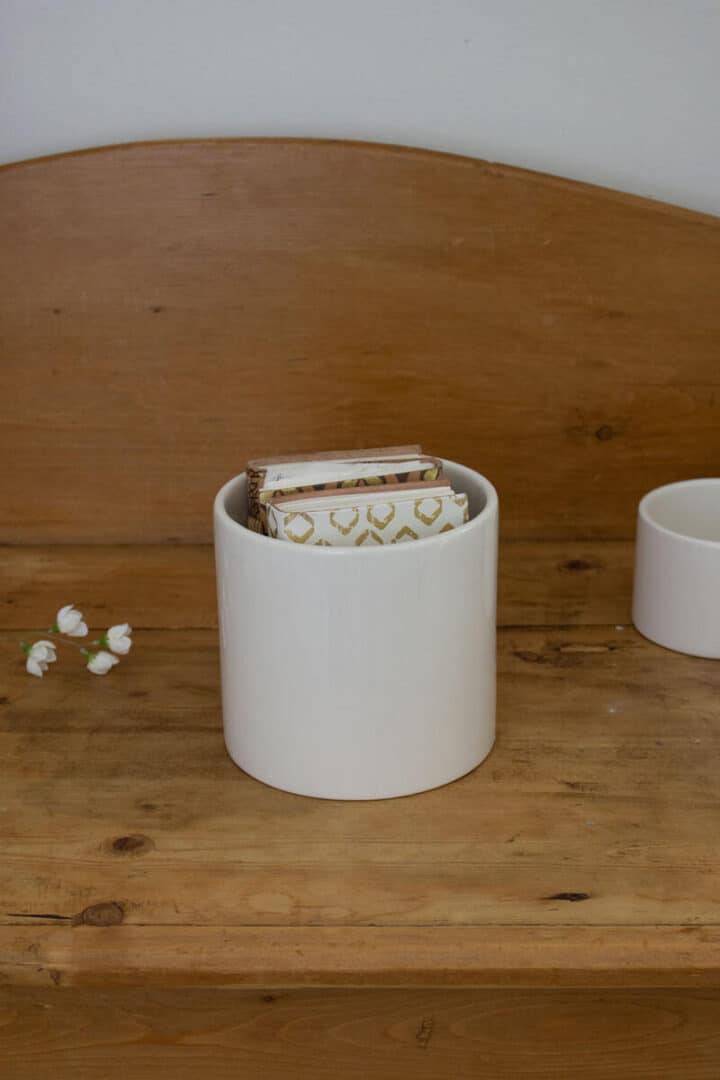 Obviously, that doesn't look very nice, but when I added some crumpled tissue paper to the bottom of the jar, it gave them a boost. Now it looks a bit more decorative.
Alternatively, you can use bubble wrap, newspaper or whatever you have on hand for this one. It works well for arranging faux flowers and plants.
This trick is really great when decorating for holidays. At Christmastime, I use it to display a bowl full of favorite ornaments or pinecones. In the fall think mini pumpkins, apples, etc.
How To Keep Indoor Plants Alive
I heard this trick about two years ago and have barely killed any plants since implementing it. Water your plants once a week, on the same day each week.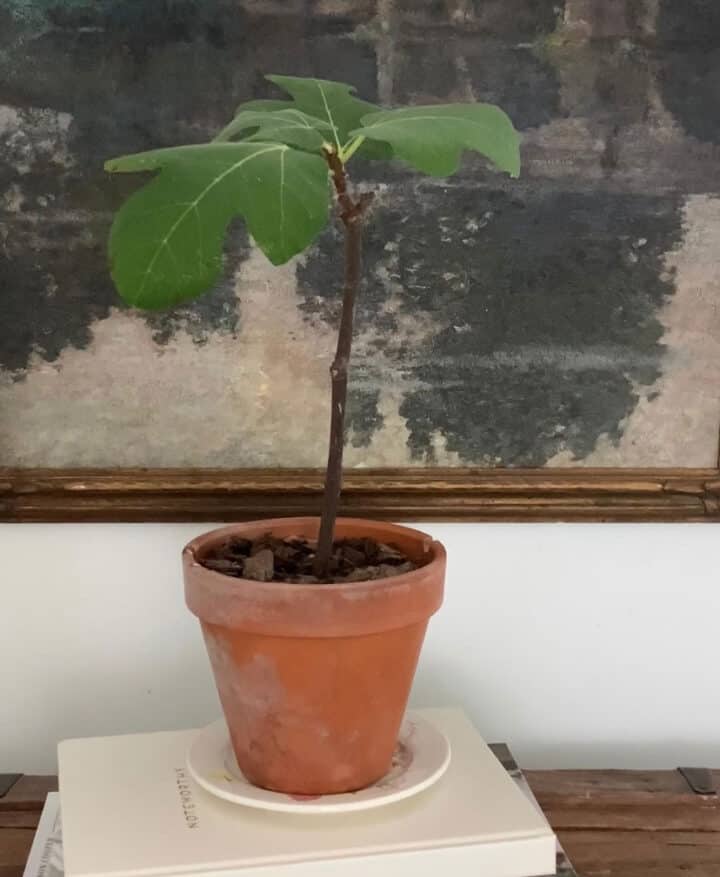 Doing it on the same day each week makes it routine and you're less likely to forget. I put all my plants in the sink on Sundays and soak them really well. I have not killed a plant since I started this!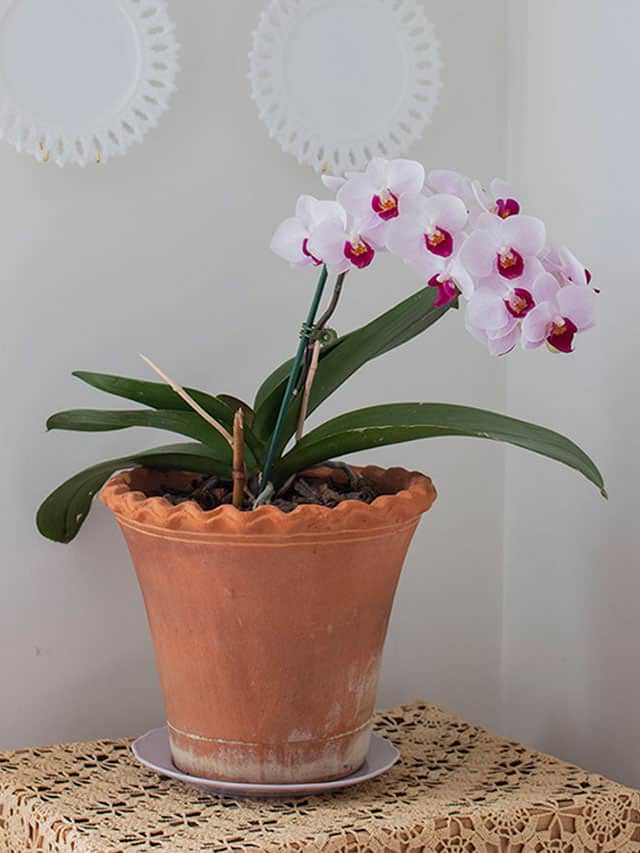 Do you have any useful home decorating hacks? Share them in the comments!
This post is easier summed up with a short video, so I've included one today! Click the picture below to see the video.
---