Hearty Spinach Mushroom Salad
You guys probably know by now, that I'm not big on cooking. However, we have to eat so when I find an exceptional recipe I like to share it. This spinach mushroom salad is a winner in my book! And I'm not a big salad eater, either.
It requires minimal prep work. You'll have to make hard-boiled eggs and bacon in advance. Which I guess is more work than traditional salads, but it's worth it. This salad is hearty enough to be the whole meal.
Spinach Mushroom Salad Ingredients
The ingredients for the salad are fresh baby spinach, hard-boiled eggs, mushroom, onions, and bacon.
What I really love about this spinach mushroom salad is the dressing. The dressing is a perfect complement to the ingredients.
Salad Dressing Ingredients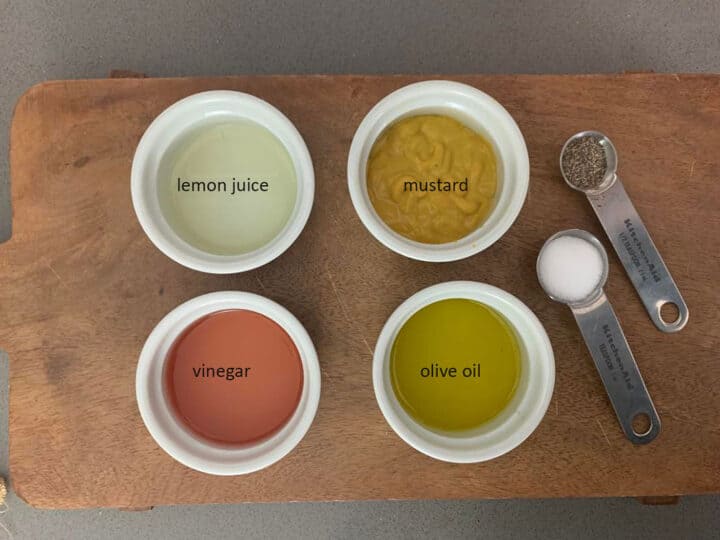 As you can see, it's a combination of oil and vinegar, mustard, and lemon juice. The mustard is perfect with the hard-boiled eggs and the hint of lemon juice just gives it that something extra.
Once you've prepared the bacon and eggs in advance, you simply toss the salad ingredients or layer them in your bowl.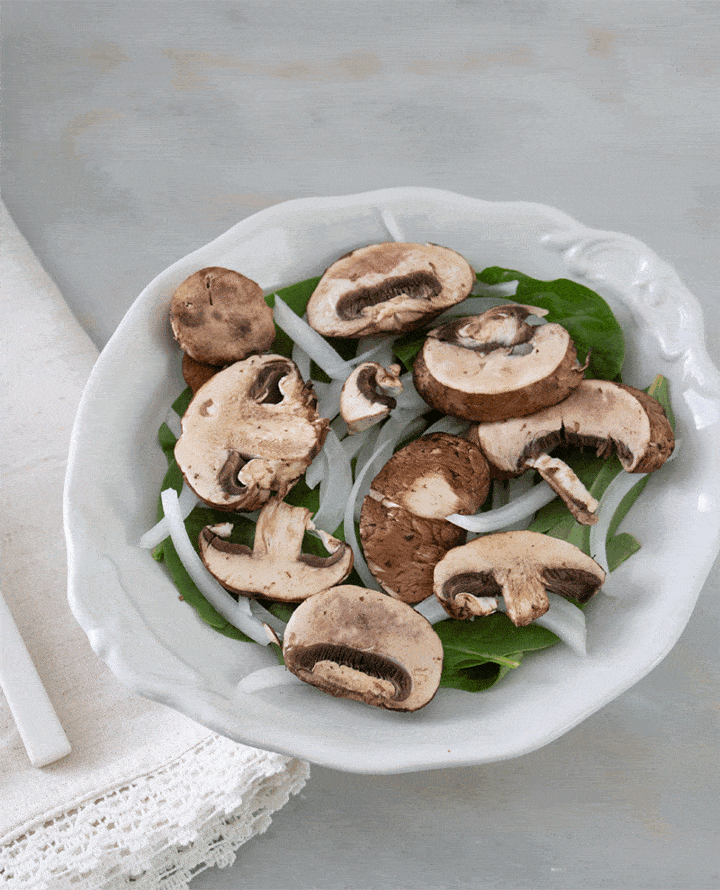 My husband always suggests that I sautee the mushrooms when I make this which is an option. You could sautee the mushrooms and make this a warm spinach mushroom salad. I like that idea better for the winter months.
I prefer my veggies raw and not sauteed so I usually make it this way.
When I do share recipes here, I like to pick easy recipes that are easy to customize. Salads are exactly that because you can add or subtract ingredients that you like.
My younger daughter likes this salad but (shockingly) isn't crazy about the dressing, which I think makes the whole salad. That's an easy fix because I can keep the dressing on the side and she can top it with something else she does like.
I got this recipe from my mother-in-law. She made it as a side dish one Christmas. She always made a feast to feed an army. This spinach mushroom salad is very hearty and can stand alone as a meal.
I also like this one because most of the ingredients are staples. When I see mushrooms on sale, or when they look especially fresh I can buy them knowing I already have everything else to make the whole salad.
spinach mushroom salad recipe
Here is the full recipe for reference. Feel free to customize it to fit your family's tastes!
Enjoy!
Spinach Mushroom Salad
This hearty salad is healthy and satisfying
Ingredients
10

oz

baby spinach

6

slices

bacon

cooked and crumbled

4

fresh mushrooms

sliced

1

small

white onion

sliced

3

hardboiled eggs

peeled and sliced
Dressing
8

tbsp

extra virgin olive oil

2

tbsp

red wine vinegar

2

tbsp

prepared mustard

1/2

tsp

lemon juice

1

tsp

salt

1/2

tsp

pepper
Instructions
In a large bowl, toss baby spinach with sliced onions. Top with fresh mushrooms, eggs and bacon.

For the dressing, combine olive oil, vinegar, lemon juice, mustard, salt and pepper. Shake well and pour over salad.
---
YOU MAY ALSO LIKE: