10 Products That Solve Common Household Problems
Have you ever heard about a problem-solving product from a friend that you were so thankful to find? As most working mothers today, I'm always trying to accomplish more things in a day than there are hours. I'm all about simplifying my life any way I can, so I'm always on the lookout for ways to save myself time and stress. Today I thought you guys might enjoy some of my favorite products that solve common household problems.
Household Odors
 A while back, I mentioned to a friend that I had bought a vintage steamer trunk but that it had a horrible musty odor in it. She told me about these volcanic rocks for odors* that she had bought. She let me borrow hers to try out and they worked so well that I ended up buying my own. They're not just for musty odors, but for pet odors, cooking odors, garbage cans, anywhere you can think of. My daughter had an issue recently where rain was getting in her car via the sunroof which caused it to smell. We put these rocks in there and it really helped eliminate the odor completely. They come in a mesh bag which isn't the prettiest to look at, so I keep mine hidden in a fluted bowl on my kitchen counter.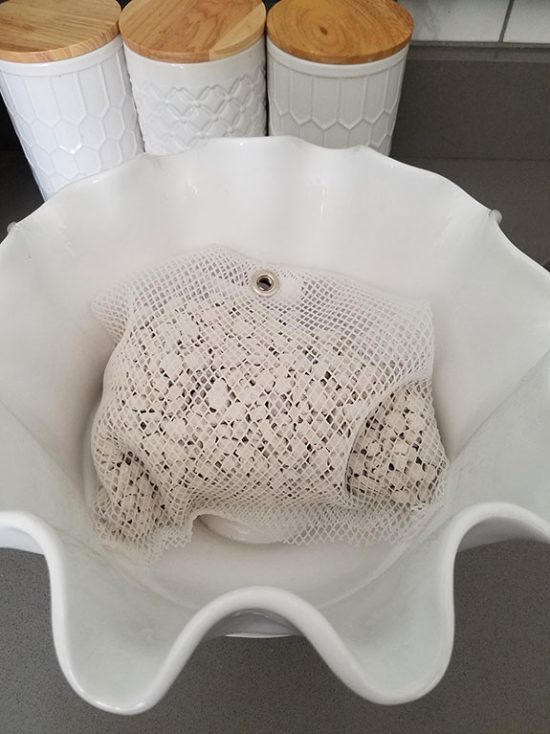 Unwanted Animals in the Yard
2. Another problem I had last year was our neighborhood stray cats using my front yard garden as a litter box. I'm a huge cat lover so I needed a way to deter them without hurting them. After googling a few solutions that did not work at all, my brother in law mentioned trying a motion activated sprinkler. I gave that a try and was so happy that it actually worked! Every time I'd hear it go off, I'd run to the window to see what kitty was out there. I did notice it was a little sensitive and would sometimes go off when a car passed, but it solved my problem. I recently recommended this to my friend who has a problem with deer eating her hydrangeas. Not only does it shoot water, it makes enough noise to spook the animal as well.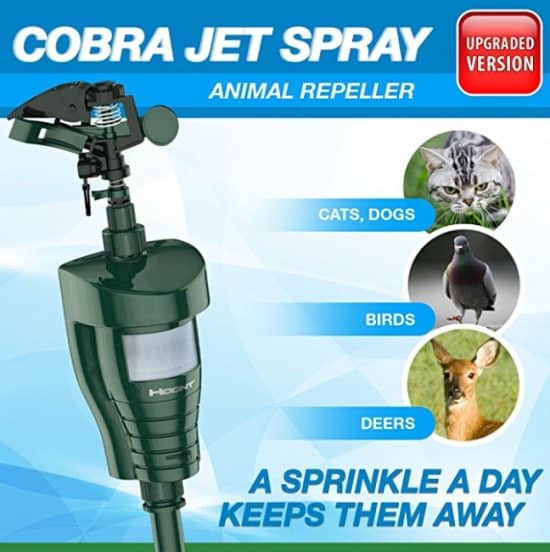 Carpet Stains
3. With a dog, 2 cats (actually 3 when my daughter brings her cat home with her from college) and a family, a good carpet cleaner might just be worth its weight in gold. I found Folex carpet cleaner a few years ago when I was looking for something to take black mascara stains out of my daughter's rug. I had tried other cleaners that didn't work and had just about given up on getting this now set-in stain out. I can't tell you how shocked I was when this actually worked and got every bit of that black mascara stain out of her light gray carpet. I have even used this to clean the upholstery on my linen colored chairs (I spray it onto a cloth, not directly onto the chair). If I could only keep one thing on this list, this would be it.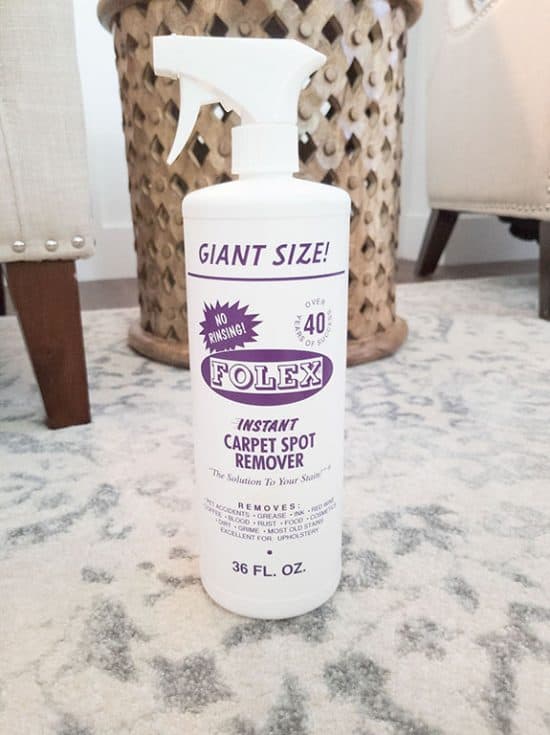 Baked On Food
4. Remember a few years ago when everyone used to have those in-home shopping parties? When one neighbor had a pampered chef party, I was gifted with these pan scrapers. You guys, I love these. They can scrape off the most baked-on foods without scratching your pans! I've also used them to scrape off dried paint spots of the floor occasionally happen when I'm painting around here.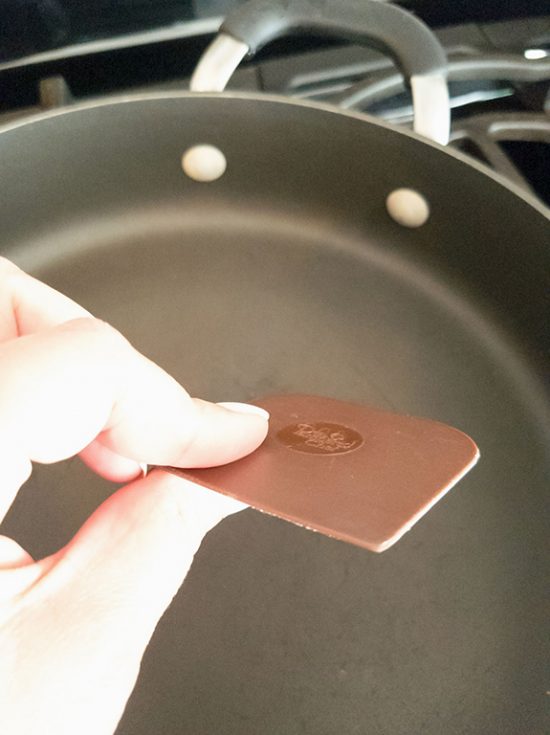 Cleaning Lint from the Dryer
5. I don't remember how I discovered the Lint Lizard, but I'm so glad I did. A few years ago I realized that the lint trap in my dryer wouldn't sit flush in the opening anymore. I figured out that lint was collecting underneath of it, preventing it from fully going in. The Lint Lizard attaches to your vacuum hose. You remove the trap and put this hose down into the hole to suck out the collected lint. I was shocked at how much came out! It was a serious fire hazard waiting to happen! I can't find the exact one I purchased online anymore, but here is something similar.
The Dreaded Chore of Ironing
6. Raise your hand if you hate ironing. For me, that ranks a close second behind the dreaded food shopping. I use an over the door ironing board which is definitely more convenient than storing and setting up a full ironing board, but I recently saw this ironing mat advertised that looks like a great idea as well.
Pet Hair on Furniture
7. After trying several products to remove pet hair from the furniture I had given up on finding something that works. I mentioned this to a friend of mine just the other day and she told me she uses this hair removal brush and absolutely loves it. Mine is on its way!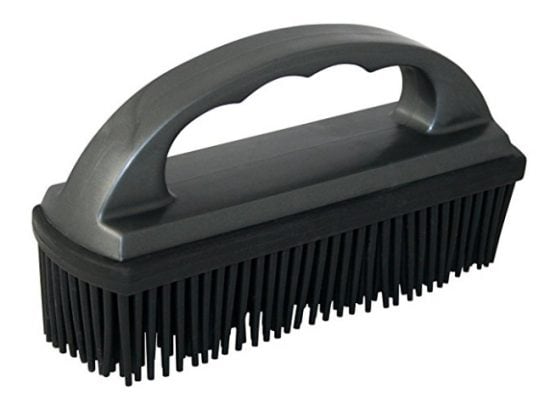 Organizing your Clothes
8. Can't find anything in your drawers? Me either. I've mentioned before organizing just isn't my thing but lately, I'm craving less clutter and more order around here. I plan to clean out one thing every day starting in September. Whether it's the sock drawer or a shelf in the laundry room I think it'll be less overwhelming to start small. I plan to order these linen drawer organizers to help tackle those messy dresser drawers!
Remove A Stripped Screw
9. If you've ever tried unscrewing something only to have the head of the screw stripped before getting it out, you know how frustrating that can be. An easy fix for this is to place a wide rubber band (you may need to use more than one) over the stripped head to give your drill some traction.
Squeaky Floor Boards
10. I haven't tried this one myself, but I have heard that quieting squeaky floorboards is as easy as sprinkling baby powder onto the floors. The dust will get into the cracks and prevent them from rubbing together.
Do you have any amazing solutions that solve common household problems? Share them in the comments!!
On a side note today, I'd like to ask you a favor. Domino magazine is accepting nominations right now for their best blog awards. I would so love to be nominated for the Best DIY blog category. If you have a minute, would you fill out this form to nominate me? It would mean so much to me! The internet is a very crowded place and it's increasingly difficult to get my little blog seen.
*This post contains affiliate links, you can read my full disclosure here.