Vintage Steamer Trunk Nightstand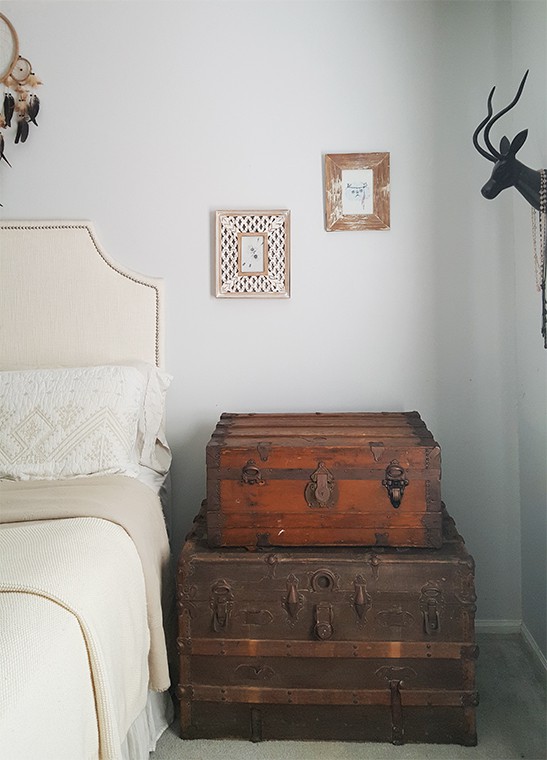 I have a confession to make. I'm a vintage steamer trunk hoarder. I've had the larger one shown above in my shed for years. The smaller one has been in the house, moved from room to room. There were more, but I sold them on Craig's List because I just don't have the room to be a hoarder. If I did, I'd have a little warehouse just like Joanna Gaines. All of them were found roadside or given to me with the exception of the large one, which I had bought on Ebay.
I finally decided it was time to put them to use. I started with the smaller one, which looked like this. We had added the casters to it at one point because I was going to use it as coffee table. The size was really too small for that, so it ended up hidden in a corner upstairs. I also wasn't crazy about the black hardware (some of which is missing) and gold latch.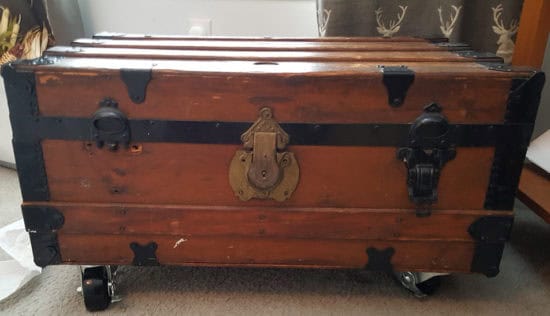 I knew I wanted to use the two steamer trunks together, so I had to make them a little more cohesive looking. First, I set out to get rid of the black metal. I picked up a tube of Spanish Copper Rub n Buff*, after trying one or two other shades that I didn't quite like. The Spanish Copper was just what I was going for. I had never used Rub n Buff before, and I can't believe how easy it was! You squirt a little on your finger and just rub it over the metal. That's it! I didn't even buff it. I'd recommend wearing gloves when you do this.
Much better, right? Then I removed the casters so I could use this for stacking. My husband and I pulled our larger steamer trunk out of the shed to finally bring that one inside. It had been way in the back for years so it was pretty dirty, lots of cobwebs and such. After we got it out, and looked it over I went in to make us lunch. While I was doing that, I was thinking about how to carefully and properly restore this piece. Around that time I heard a loud sound coming from the yard. I went to the door to look and I nearly fainted when I saw my husband doing this!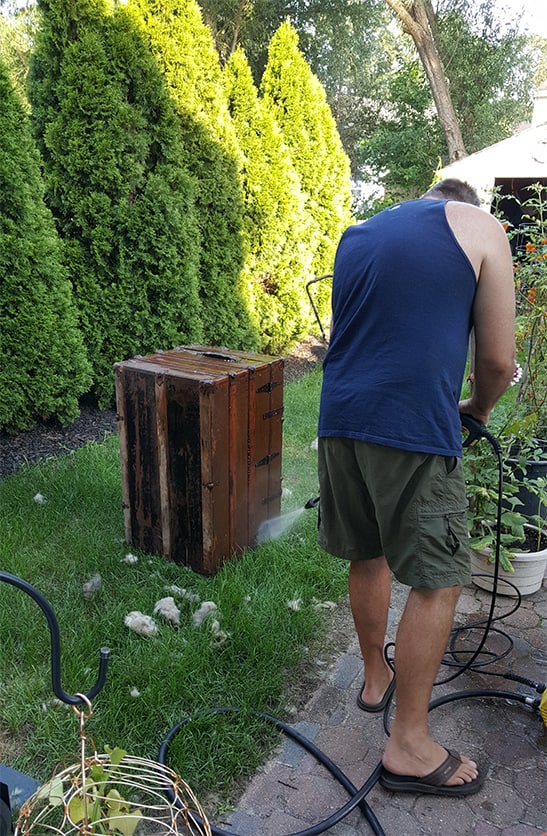 He had pulled out the power washer and was power washing my vintage trunk! He was in the zone (funny I can't get him to power wash the house!) so I let him go with it. Shockingly, the trunk was not ruined, and looked really good after he was done. And if you are wondering what all the white fluff is in the grass, that is not from the trunk. That is my dog's fur…we had just brushed him prior to this. He sheds like crazy! Once that was inside and dried, I used the same rub n buff on the hardware here too. This one is subtle, it just took away the dullness. The one on the right is done, left is not for comparison.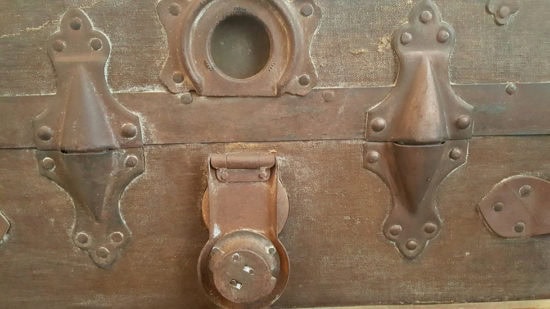 My next problem was that the larger trunk had a pretty foul musty smell. I had mentioned this to a friend who happened to have something for this problem. It's called volcanic rock and it's supposed to eliminate any number of odors. I thought it was worth a try. She didn't have the directions anymore but she said to leave it outside in the sun for about a day, then bring it in and put it where the odor is. I left it outside for 24 hours and then put it in the trunk for the next 24 hours. I noticed a big improvement with the smell, so I did this two more times and it worked amazingly well! I have to return these to my friend, but I'm going to buy my own to have on hand. They work for a variety of smells…pet odors, smoke, food odors. I found them online here*.
Finally, I was able to stack them next to the bed in my daughter's room to use as a nightstand. We hadn't had a nightstand in here for years, and this corner was becoming a catch-all spot. Now I can use the trunks for the catch-all stuff. The amount of storage they hold is unbelievable.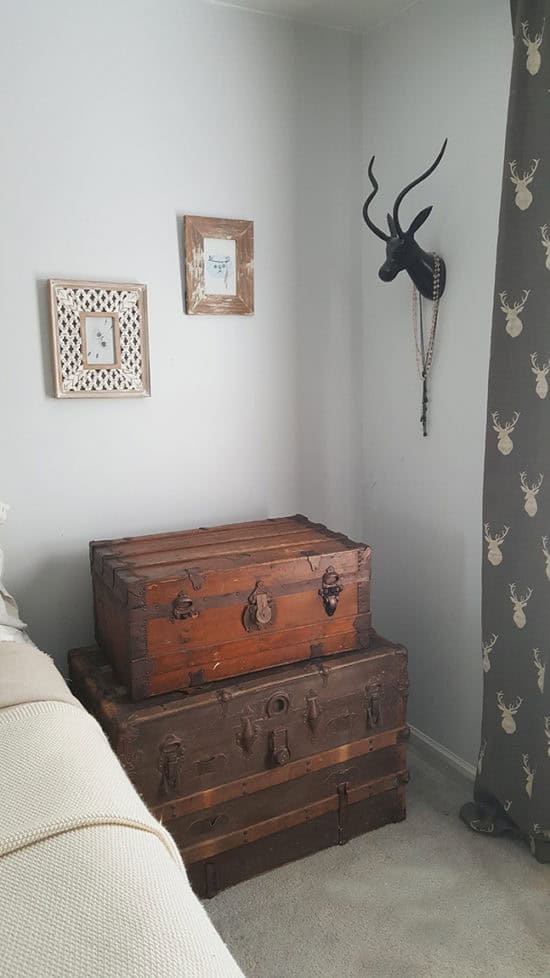 I'd like to eventually replace the broken hardware, and add new leather straps to the trunks, but for now they are working out great.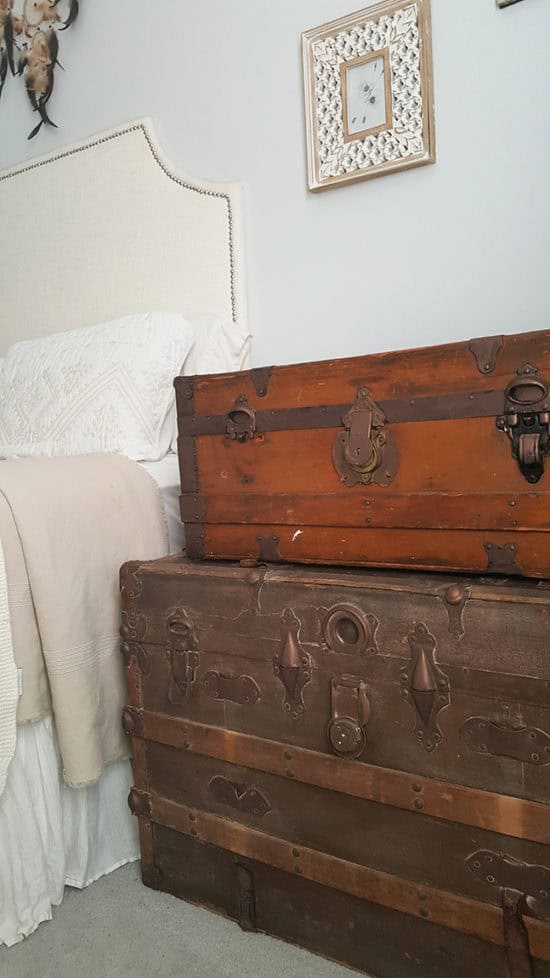 The hoarding of these trunks paid off, wouldn't you say?
*This post contains affiliate links, see my full disclosure here.