The Prettiest Landscape Art For Your Home
Sometimes choosing the right piece of art for your room can be daunting. Indecision leads to paralysis, at least for me it does. I used to use mirrors rather than art for this reason.
Until I developed a love of vintage landscape art.
There is just something about hanging a piece of vintage art that makes the whole room. Landscape art especially, because it's neutral and calming. I like to imagine the story behind each scene.
All the art shown here today is reproduced vintage artwork. Each one can be found online at Shop Home Revivals.
You can have your art printed on traditional photo paper if you like. There is also a printing option called Giclee, which is printed on textured paper for a more authentic look. I have both types framed in my house, but I do love the textured paper used in frames without glass best.
floral landscape art
You can never go wrong with flowers, right? In any capacity, including artwork.
Combining flowers and cottages is another no-fail look. What is it about cottage style that is so appealing?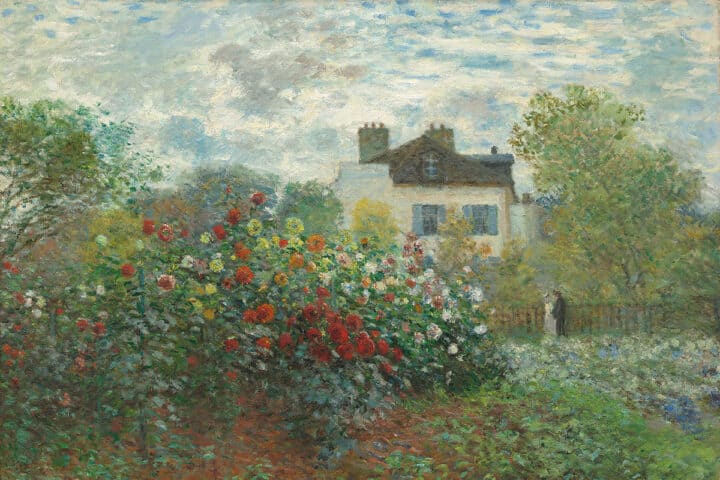 The field of flowers below is so inviting. You can almost feel the warmth on your back.
neutral landscape art
Neutral art has my heart. I am just not someone who loves tons of color. Neutrals feel more calming and peaceful to me. Especially in tans and browns.
This ship painting is a recent addition to the art shop. I have a vintage frame saved especially for this one, it's a new favorite. Ship paintings have been very trendy lately. What I love about this one is that it's not done in the expected blue/gray colors.
A winding path definitely invites you in. Hanging art with dimension like this one can also give the illusion of depth in a smaller space.
Another one of my favorites is below. It's so muted you have to use your imagination and the colors are perfectly soothing.
scenic landscape art
Scenic landscape art really draws the eye in. It makes me imagine actually being in these places.
Like floral art, any pieces with water are instantly calming. Again, the perceived depth of this painting makes it feel more expansive.
A cozy cottage in this watercolor art is another charming scene.
I love the pops of color in the farm scene below. It's just colorful enough without being too bold.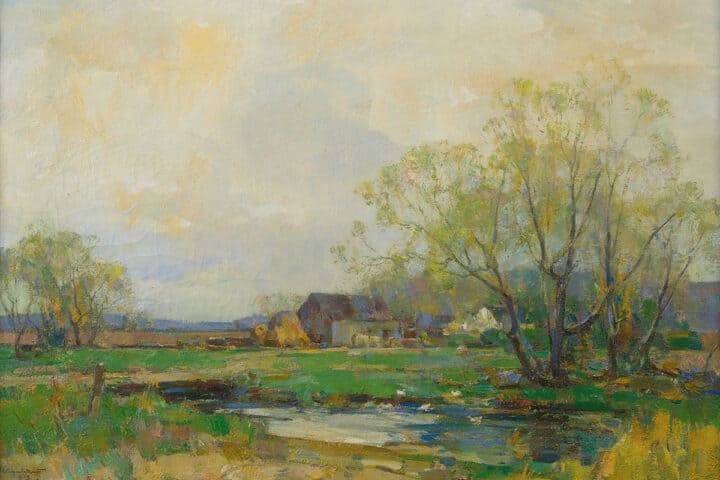 moody landscape art
If dark and moody is not your thing, hear me out. There is a case to be made for this regardless of your preference.
What I love about the moody vintage style art is the impact it makes. Even a small framed piece can elevate an entire room.
As well as add character and a bit of drama. It works in light and airy rooms as well as dark and moody rooms.
But what I love most about it is that you can use it as a backdrop for flowers.
Hang it over a table, or in my case stacked trunks. I change out the floral displays here often. When I put a vase full of bright flowers the dark backdrop makes them really stand out.
Every piece of landscape art shown is available in my online art shop, Shop Home Revivals. Finding affordable art was always a challenge for me and that's what led me to creating the shop. You can download the art yourself for only $13 or have it printed and shipped to you if you prefer to have it done for you. Shipping is free all the time!
Having your art printed gives you more flexibility. For one, you can print it out today and have it on the wall within minutes. Second, you can have it printed in odd sizes for use with vintage picture frames which is my favorite way to display it.
Which one is your favorite?
---