I have to tell you, that since I've taken these photos, the fall decor has been packed away and the Christmas bins are out. Yes, I went there already! Seriously, as any blogger will tell you, we have to be ahead of the seasons. It takes time to decorate and photograph everything. While I don't want to skip Thanksgiving, I do think it will be nice to have my home decorated and ready to go by Thanksgiving except for the tree. So here is one last fall vignette from me for this year, my Thanksgiving Bar Cart.
I rounded up a few of my favorite  fall decor items to add to my bar cart. That chalkboard shown below is actually a serving tray that I painted with chalkboard paint. It's a little too oversized for me to use as a serving tray so I thought it would better function this way as decor. I also pulled some Magnolia branches from the tree in my front yard. I wanted to preserve some of the leaves and make a wreath from them, but time got away from me and I think I'll be skipping that idea. Maybe next year.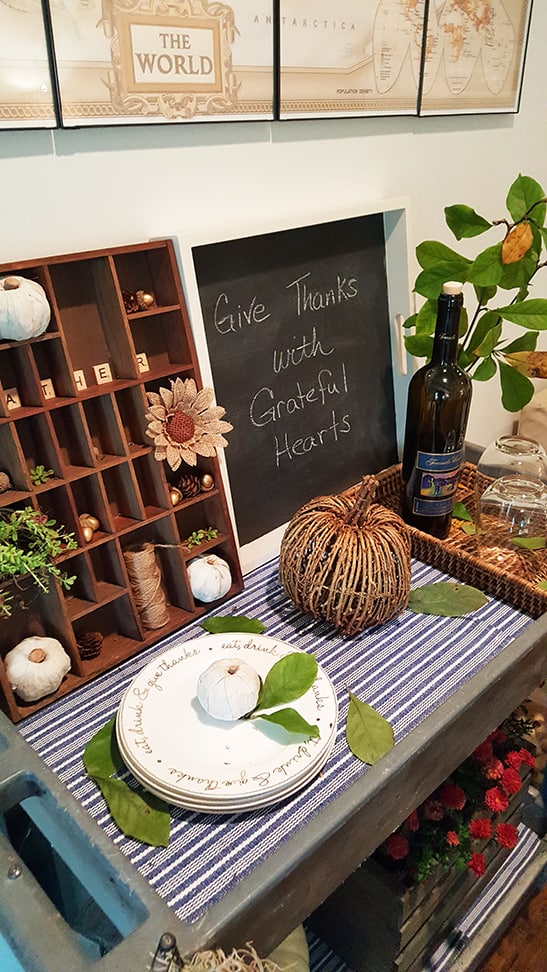 The cool printers tray on the left was a gift from a friend. I love these things, there are a million ways to decorate them. I used all of my mini decor in that. Mini pumpkins and acorns, and a few succulents. And scrabble letters that spell out "gather".
I'm also proud to say that I've kept that mum alive longer than any mum I've ever had! apparently,  being vigilant with sun and water helps, lol.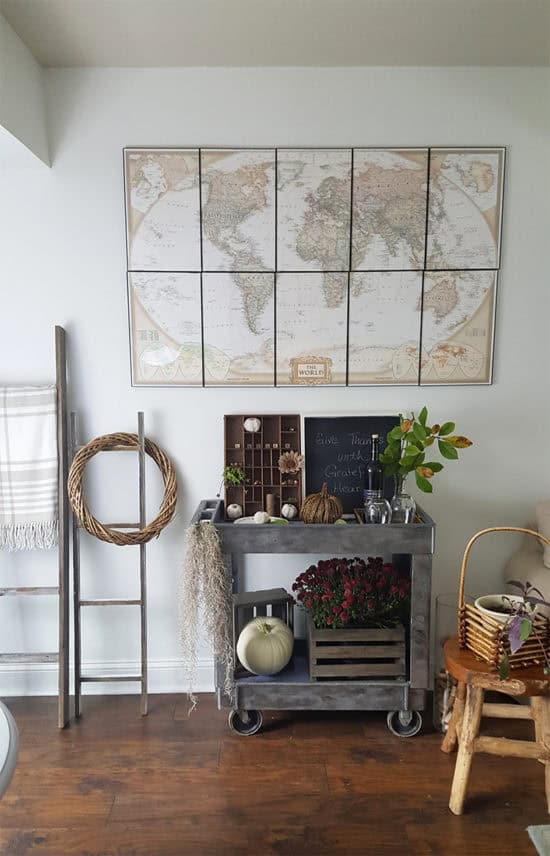 If you are looking for Thanksgiving tabletop ideas, you can see this post on wrinkle free tablecloths (not terribly exciting, but very useful!), and this one on Thanksgiving table setting ideas.
Also, in case you missed it last week, I also have a giveaway going on right now. There is $650 in PayPal cash up for grabs just in time for the holiday season! Good Luck!