Textured DIY Easy Canvas Painting
A while back I was scrolling on Instagram when I noticed a beautiful canvas wall art painting from one of my favorite designers. I clicked over to see the price of that piece of art and my jaw dropped when I saw it sold for $928! Yikes!
But I couldn't get that painting out of my mind. There was no way I could buy it, but when I looked at it again I thought it really wouldn't be so hard to make my own version of that.
A few days later I was again scrolling Instagram and I came across a video from Fusion Mineral Paint. They were featuring a product called Fresco that is specifically made to add texture to paint. It was like the universe was telling me I really could make this canvas wall art myself. So that's just what I did.
You guys, this one is really easy. And fun!
Supplies Needed For Textured Easy Canvas Painting*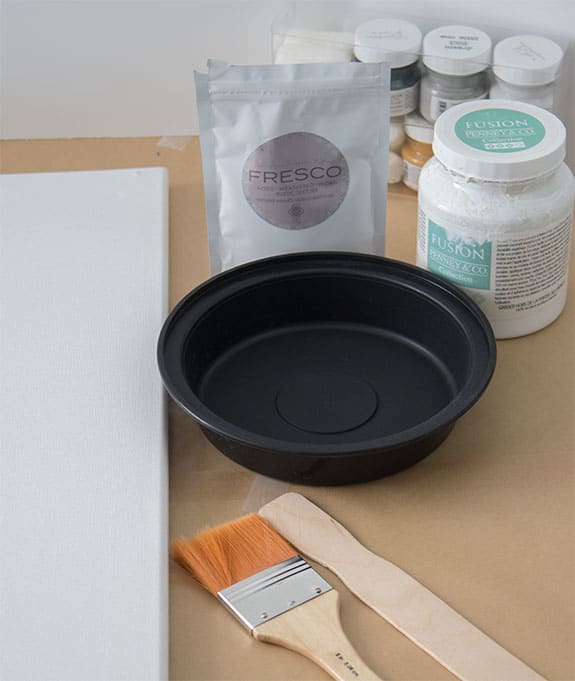 Canvas ( I used size 18 X 21 )
White Paint – Picket Fence from Fusion Mineral Paints
Gray Paint- Little Lamb from Fusion Mineral Paints
Paint Brush – (I like these and always keep some on hand)
Wood for the frame (optional)
I should mention here, I made my art in a smaller size than the inspiration piece because I had a very specific spot in mind to hang it. However, this is a great way to get large scale wall decor at a bargain price.
How To Add Texture to Your Paint
Adding the Fresco to your paint is as simple as mixing them together. How much you use is up to you. The more you add, the more texture it will create. For lots of texture mix equal amounts.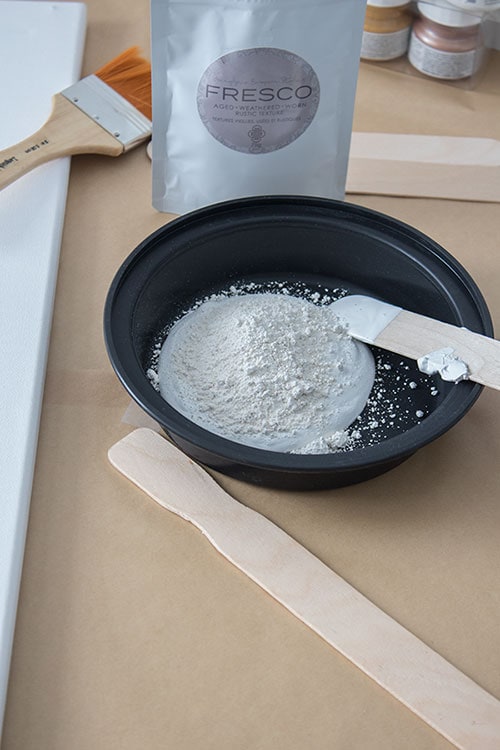 I started with less and added more as I worked to create the right texture for me. Mix it well.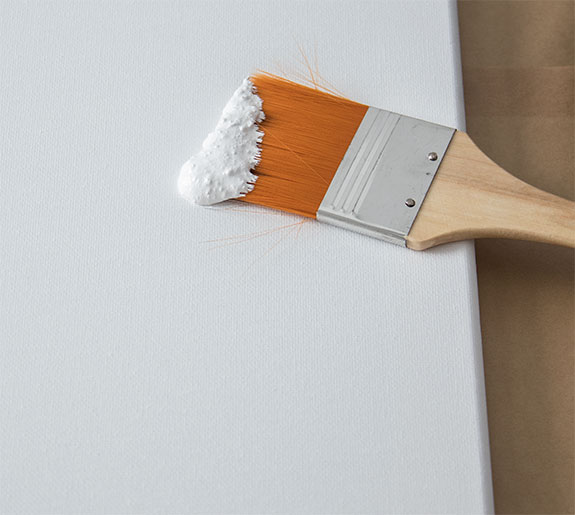 Next, brush it onto your canvas. This is one instance where you actually want to see brush strokes, it adds to the texture.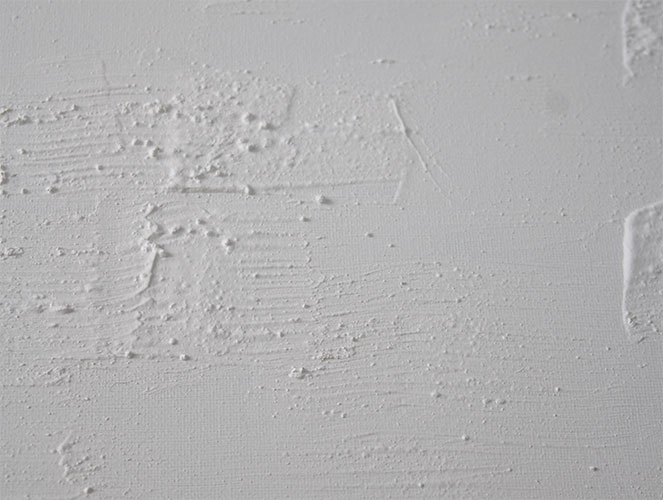 To create more patterns, I held the brush perpendicular to the canvas and dabbed more of the mixture onto the canvas that way.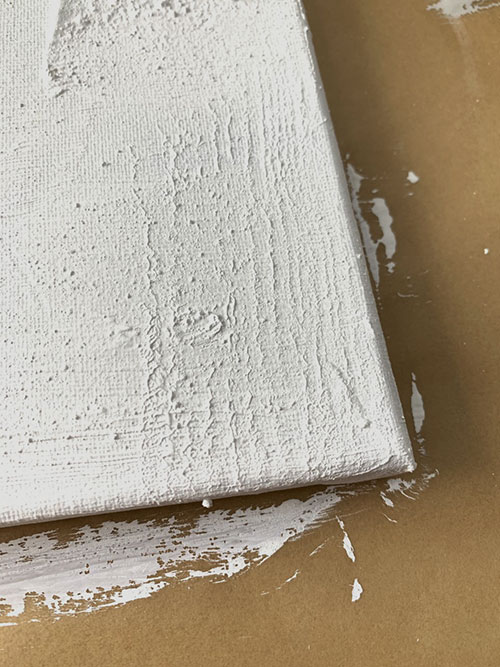 Side note: once I had this finished and on my wall, I realized that unless you were close to it, it looked like a blank canvas. Surprisingly, my husband didn't make fun of me for this one, he said he "gets it".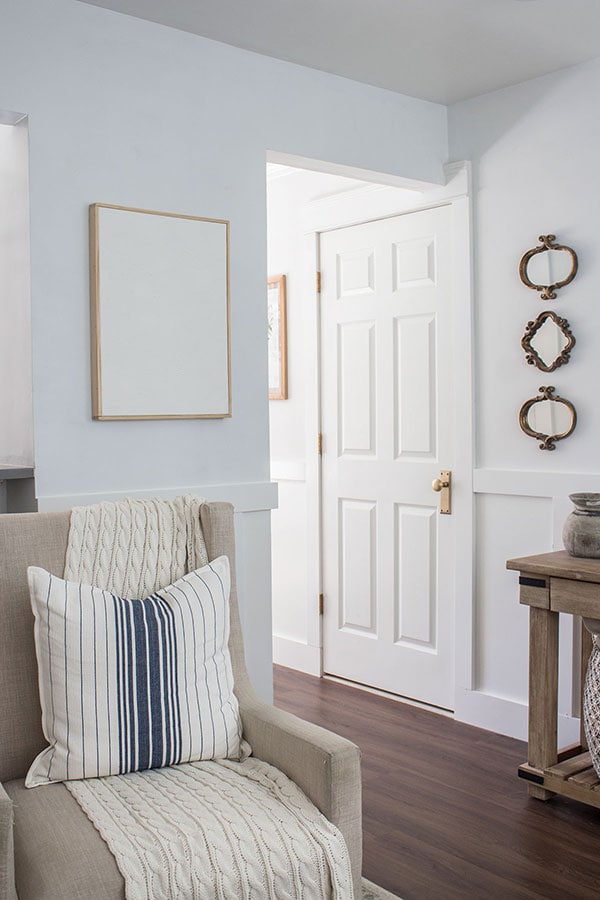 But it bothered me, so I took it down and added more texture and shaded the edges of the textured areas with a fine paintbrush and gray paint to create shadows. A little went a long way.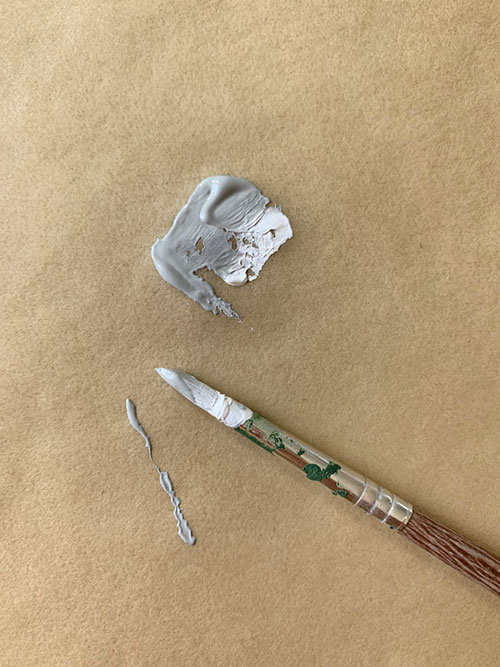 Here you can see how it looks with some gray shading added.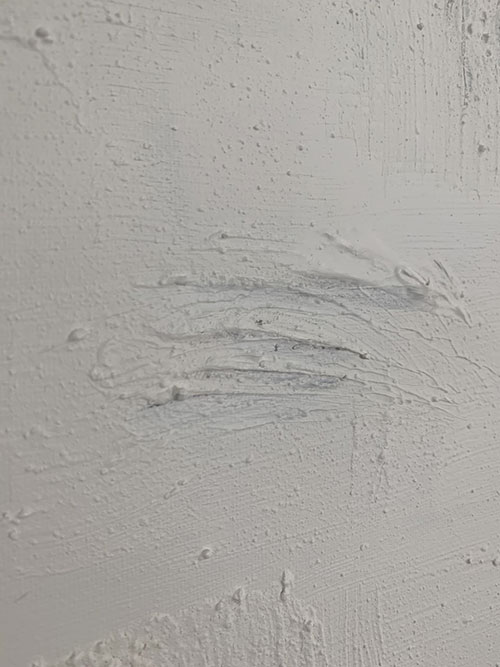 It's just enough to make the texture stand out more.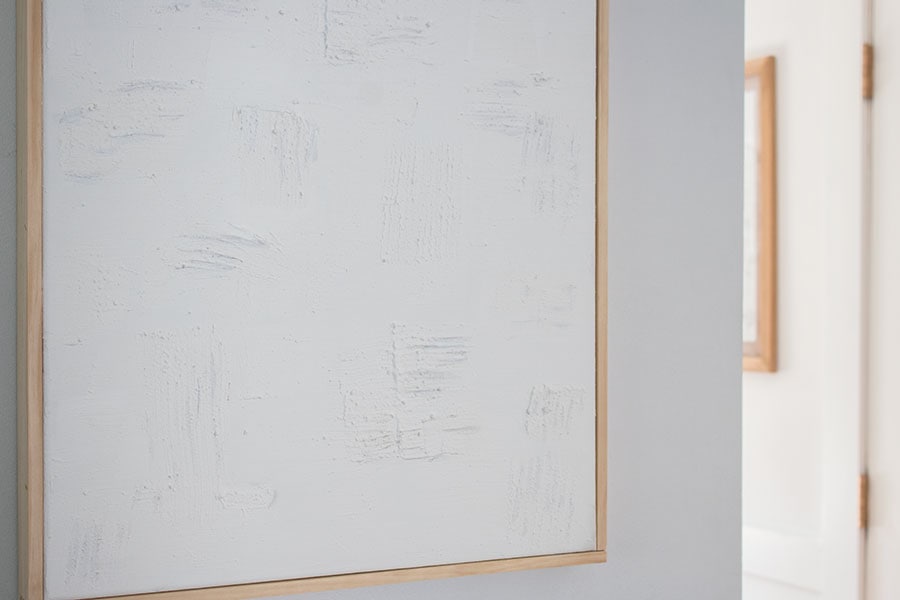 That was all it took to make it a bit more visible from across the room.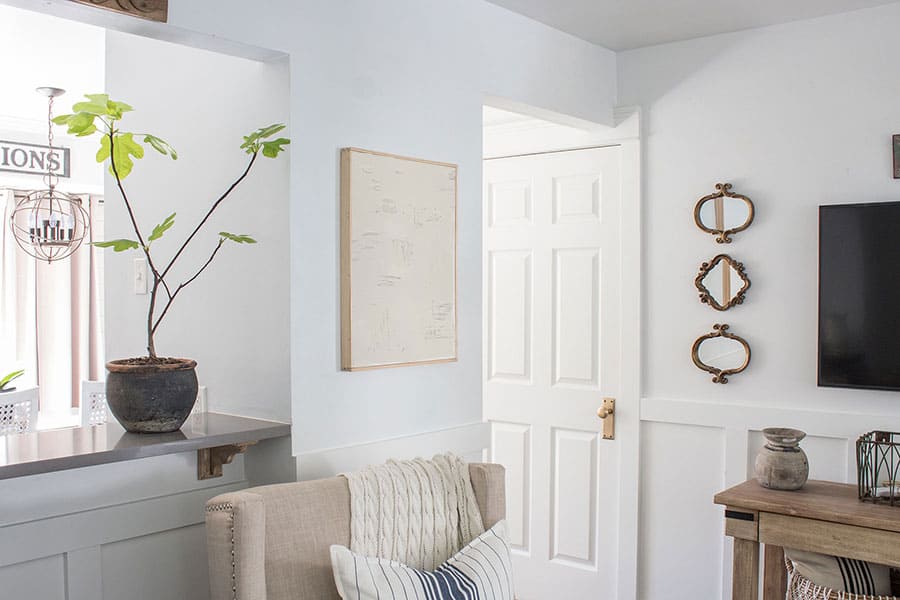 How To Frame A Canvas Painting
I really felt my wall art wouldn't be complete without a frame. I tried buying a framing kit online but sizes are very limited in those. So I went to Home Depot with my husband and we picked out some thin wood.
My husband cut the wood for me into four pieces. I did not want angled corners, I wanted them to be straight and flush.
He then used his nail gun to attach the wood to the canvas for me.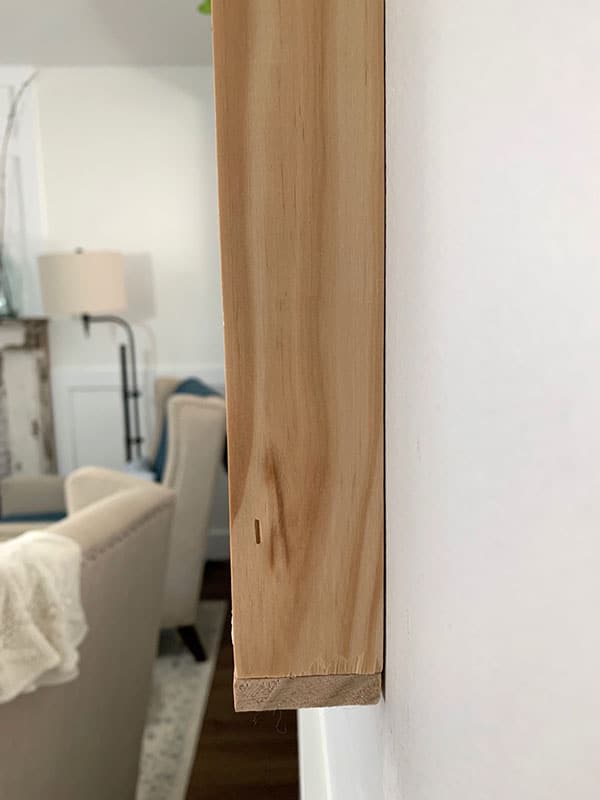 If you don't have a saw available, you can have the guys at Home Depot cut the wood to your dimensions.
For now, I liked the look of the unfinished wood with the white canvas painting so I didn't paint it or stain it. I can always do so later if I change my mind.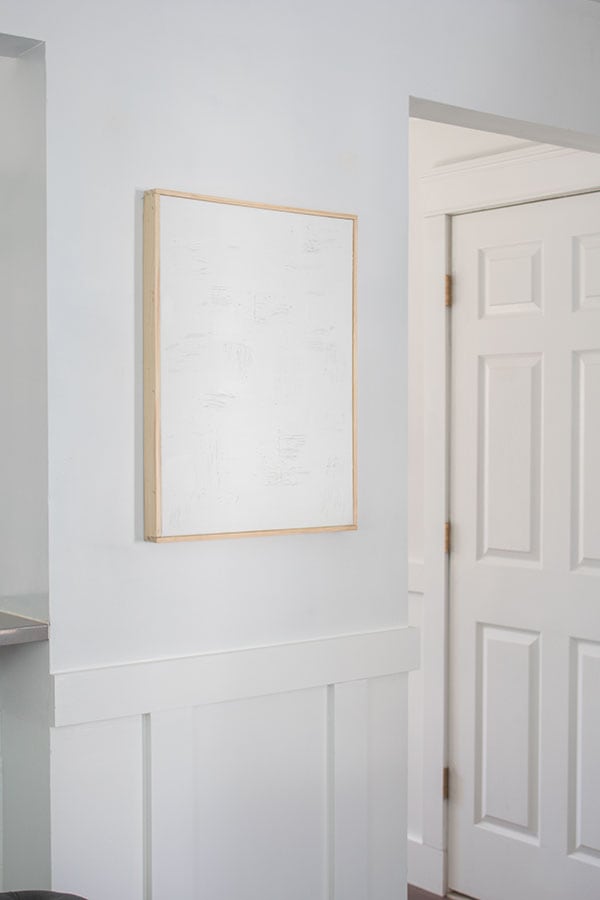 For a relatively simple project, I am really happy with the results. And so is my pocketbook!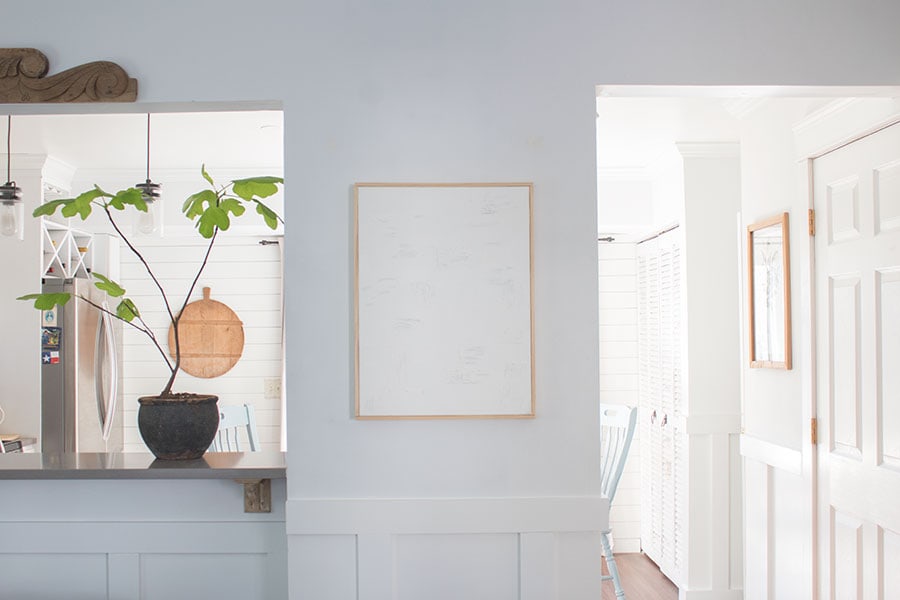 If you liked this idea, then you should check out my DIY laser cut paper wall art, which is also full of texture!
*This post may contain affiliate links, you can read my full disclosure here.