Shamrock Cake With Rainbow Inside
I haven't done a post on St. Patrick's Day in a few years, but it is a holiday I enjoy. My daughter recently made a shamrock cake with rainbow colors inside that is so cute I thought I'd share the idea here.
This is not a recipe post, she used store-bought cake mix and icing, this is more about how to assemble the cake in layers to create a shamrock with a rainbow inside.
Supplies needed for shamrock cake
She spent a while searching for the perfect pan and ended up with this baking pan of small hearts. It was surprisingly hard to find one!
Baking the cake in layers
First, mix up the cake mix as per the directions on the box. Next, divide the batter into smaller bowls. Use the food coloring to tint each bowl of batter a different color.
How many will depend on how many layers of cake you want and how many colors you want for the rainbow inside the cake. My daughter did 5 layers, and the cake was pretty tall. But it's not very wide because the baking pan is small, so it ended up being about the same amount as a regular cake.
Pour your colored icing into the heart shaped pan. She ended up only doing three shamrocks (hearts) for the cake but you could do four or five. Figure that out first to determine how many of each color you'll need.
We only had one of the heart-shaped cake pans so she had to bake them in sections. I'd also recommend baking extra for the stem of the shamrock cake. That was sort of an afterthought while creating this cake to be honest so I'd probably rework that part if I were to recreate this.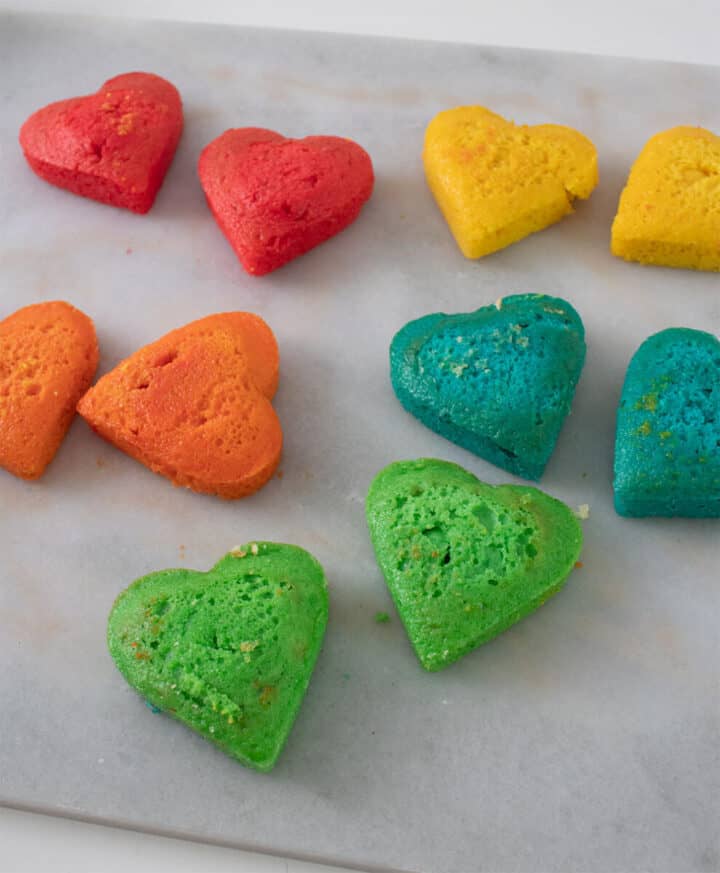 Assembling the layers
Now you begin assembling the layers. As I said, my daughter opted for 3 shamrocks per layer.
She covered each layer in icing so that they'd stick together.
The top part of the hearts were a little rounded so she also shaved off a bit of each layer with a knife to make them flat. That step helps them to stack better. You can see that better in the next photo.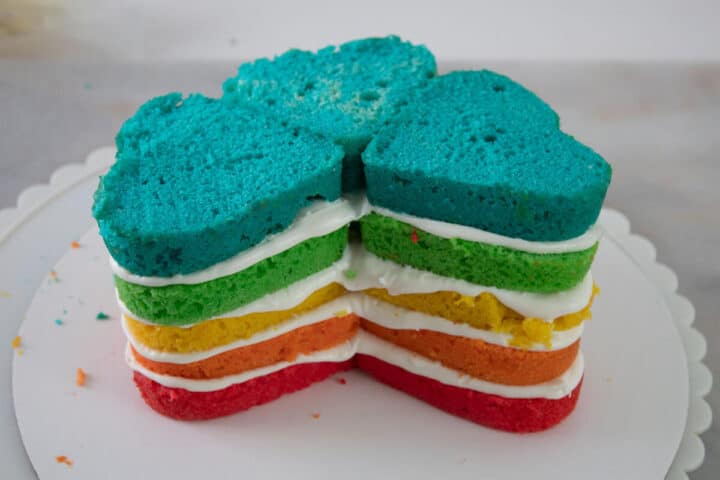 At this point, my daughter put the cake in the freezer for a few hours. It helps during the next step to have the icing set so the layers aren't sliding around.
While that's in the freezer, tint your vanilla icing green. I really don't know how many cans my daughter went through exactly but I believe it was 3 or 4.
When you take the cake back out of the freezer, it's best to separte each layer of hearts. This is so you can add the icing all around the outside of each stack. We found out through trial and error this really helps hold it all together and not slide apart. I didn't get a photo of that part.
After that step, she once again put the cake in the freezer to set for a bit.
making the stem for the shamrock
Because she wasn't following a recipe and making this up as she went along, she really didn't plan out the stem part. What she ended up doing was cutting up the leftover hearts and stacking them into a stem as best she could.
Then she used piping bags and decorating tips to pipe on a little design around the edges. I bought her this great set of cake decorator's tips for Christmas and she really loves it. She and I both enjoy cake decorating.
Honestly, the stem part doesn't look 100% perfect, but it's still super cute overall. I think if I were to recreate this I would do four hearts for the shamrocks and somehow stick a skinnier stem in there. You could probably cut one easily from a pound cake but that involves buying or making a whole additional cake.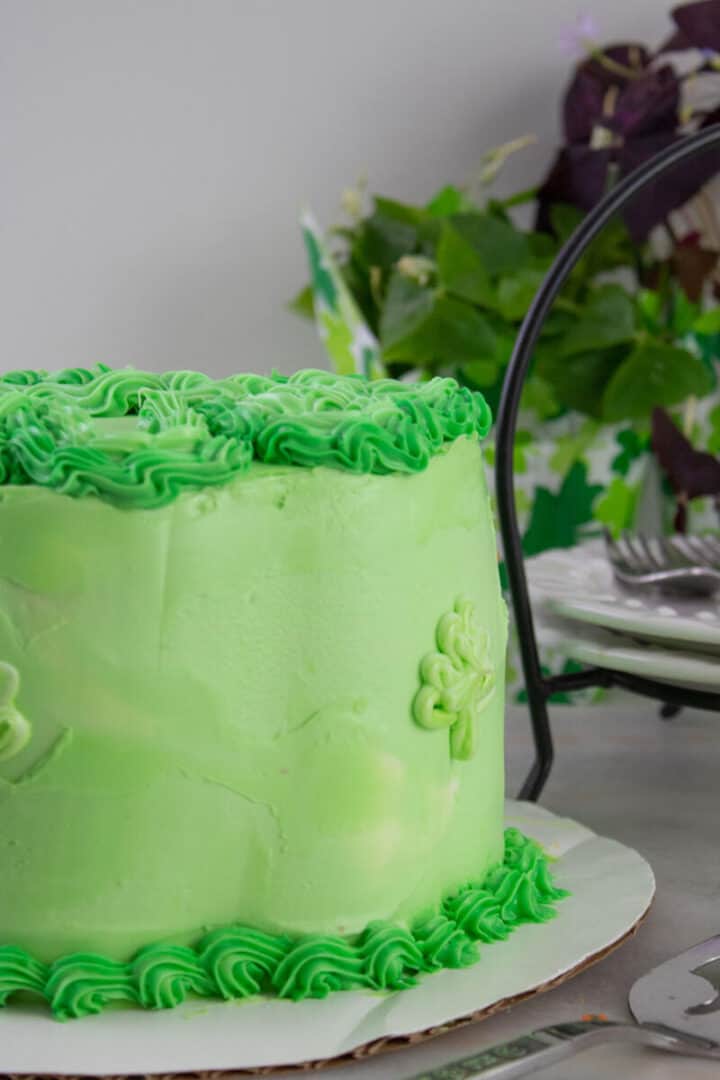 Check out the show-stopping inside.
Isn't this little shamrock cake so cute?
---
Happy St. Patrick's Day!
---